Captain's Grille
Hanging helpful and amusing posters around the resort really works up an appetite.
We had dinner plans with 3 others (SueM from the FAQ thread, her daughter and her friend) at the Captain's Grille at the Yacht Club.
Sadly, there were two people missing from our meal, but not from our thoughts. Teena had planned to join us after her scheduled shift that day along with our friend Lauren. We are grateful that Lauren was with Teena most of that day at the hospital and at home while they waited for Jeanne to arrive from Las Vegas.
This was the first time I had met Sue in person. She has been a kind, compassionate friend to me and to many other friends who have come together through the Beach & Yacht Club FAQ board.
She came bearing gifts from her homeland.
I just happened to have 3 stuffed monkeys left, so the ladies picked out the colors they wanted and became official members of our mischievous band.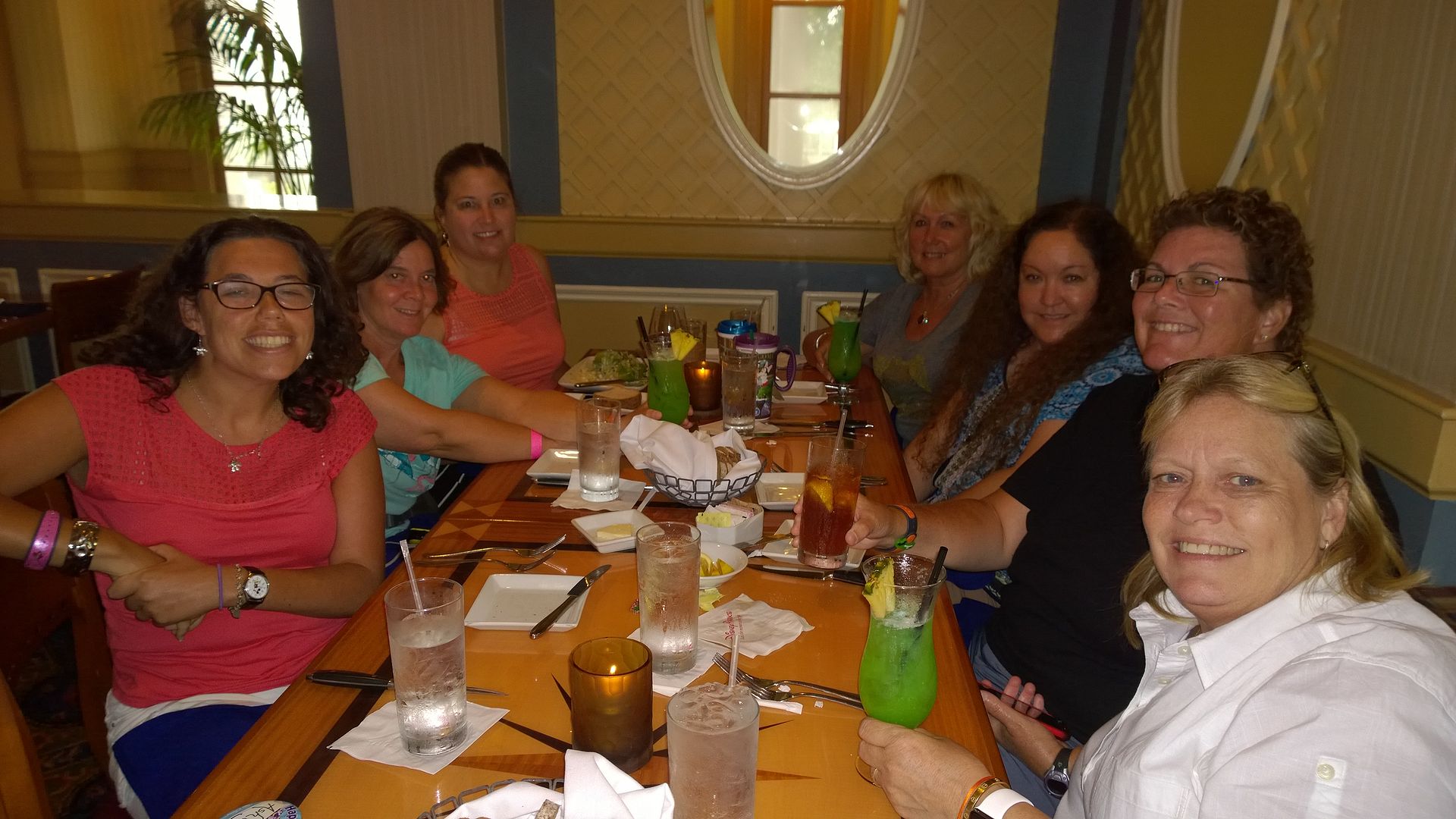 As you can see in the picture, a few of us were enjoying the official beverage of our people: The Sunken Treasure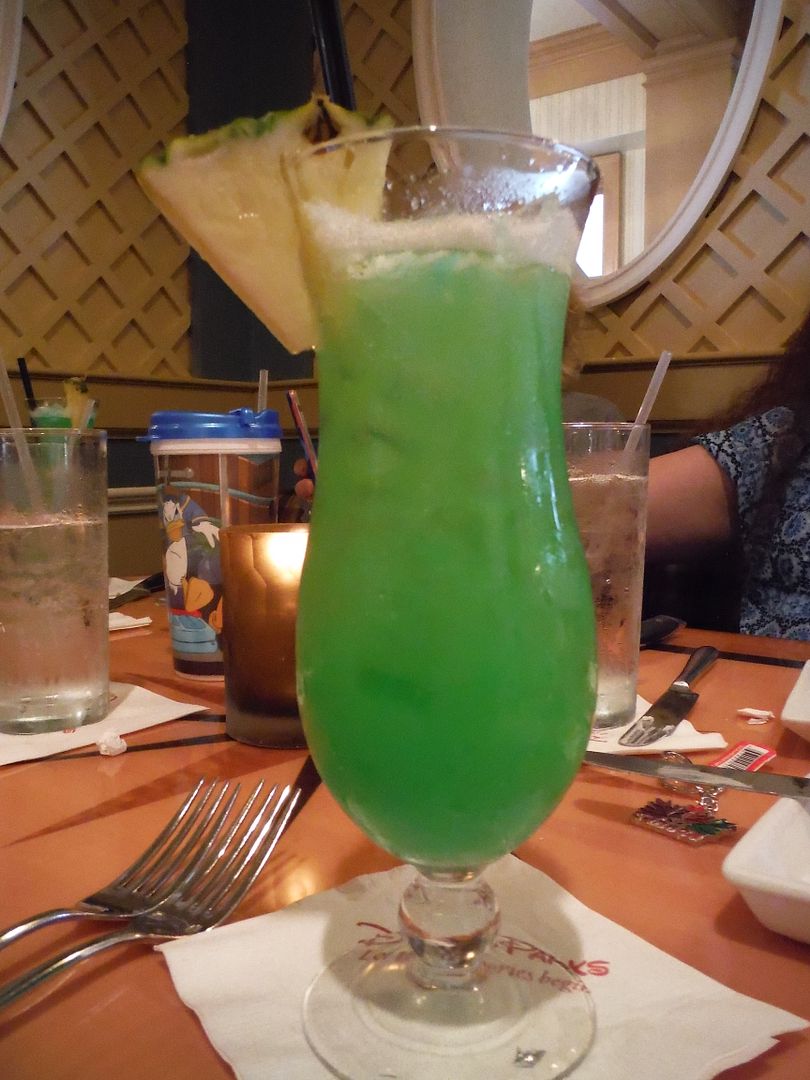 Contents: Malibu Rum, Midori, orange juice, pineapple juice and Sprite with a splash of BOLS Blue Curacao.
Although the food was secondary to the bonding with friends, here is what we got, to the best of my ability to figure it out. The problem with trying to write about a trip that happened more than 6 months ago is not only the fuzzy memory of the author, but also the seasonal change in menu at restaurants.
I was still fairly full from my late lunch at Tangierine Café, so instead of an entrée, I ordered two lighter appetizers:
Farmers' Market Salad
- Walnut Granola, Granny Smith Apples, Dried Cranberries, Marscarpone-Blue Cheese Cream, and Champagne Vinaigrette - $7.49
Although I am still sad about the loss of the Roasted Beet and Goat Cheese salad at Sunshine Seasons, I was encouraged to find many yummy substitutes at other restaurants.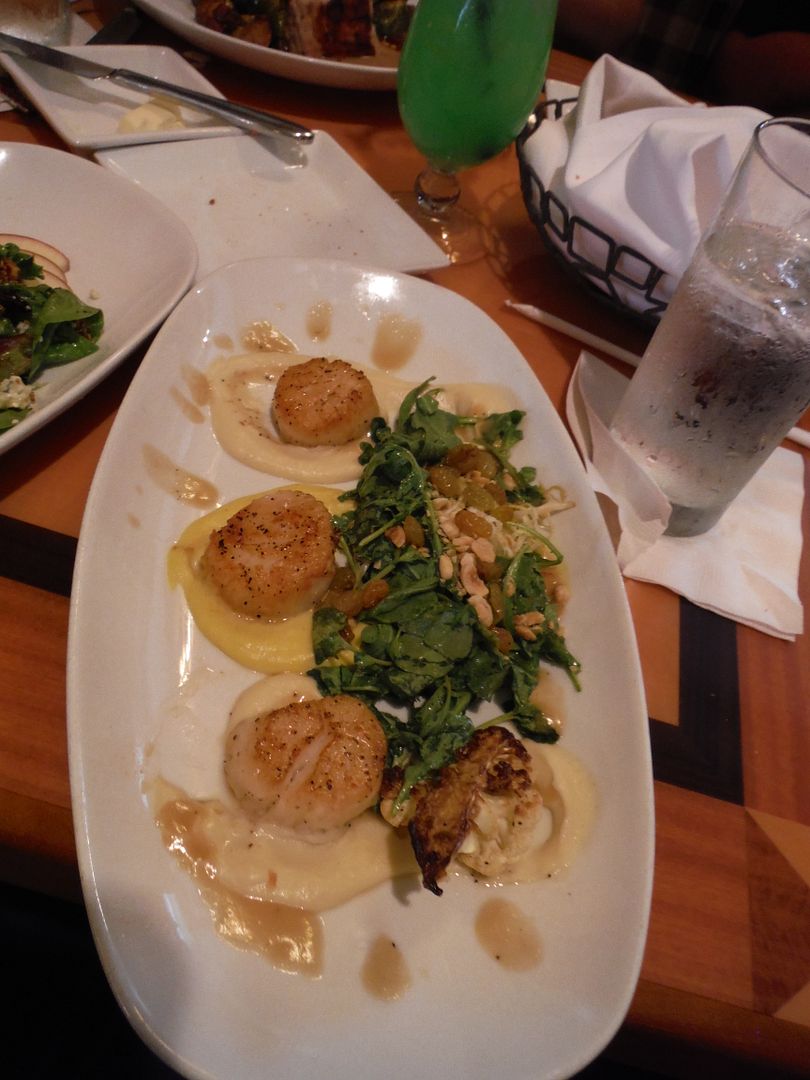 Seared Scallops
- with cauliflower puree, golden raisins, and tree nut vinaigrette $12.99
Both of my orders were delicious, but I was also eyeing this dish ordered by Sue's daughter: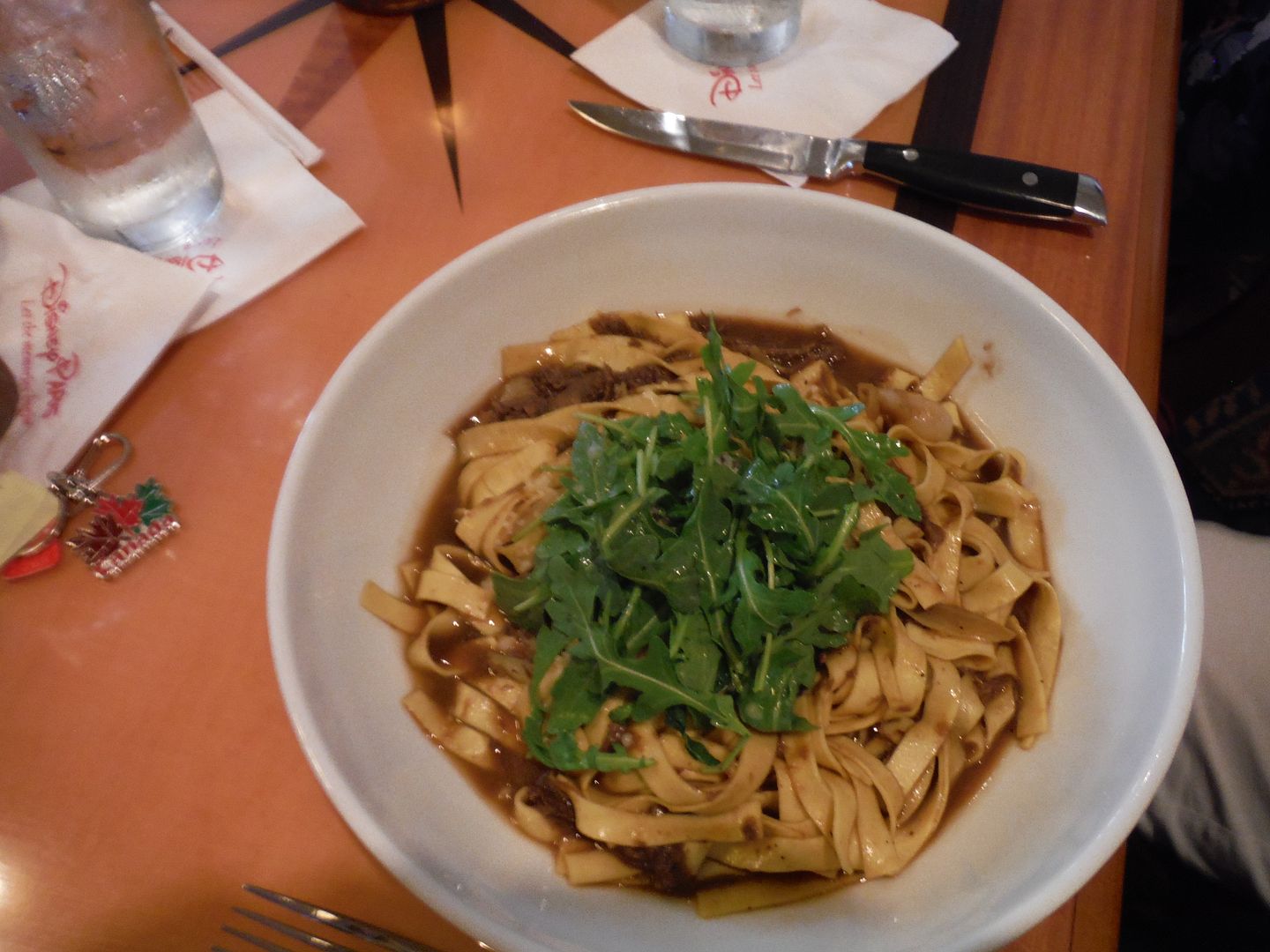 Cabernet-braised Short Rib with Tagliatelle and Arugula
- ~$26.00
When my family dined at Captain's Grille during our 2013 trip this was the pasta special that night. Both my husband and I ordered it, which is unusual because we usually strategize and order different entrees to share. Although it was one of my favorite meals at Disney, it was too heavy and hearty for me to order at this meal.
The other meals at the table: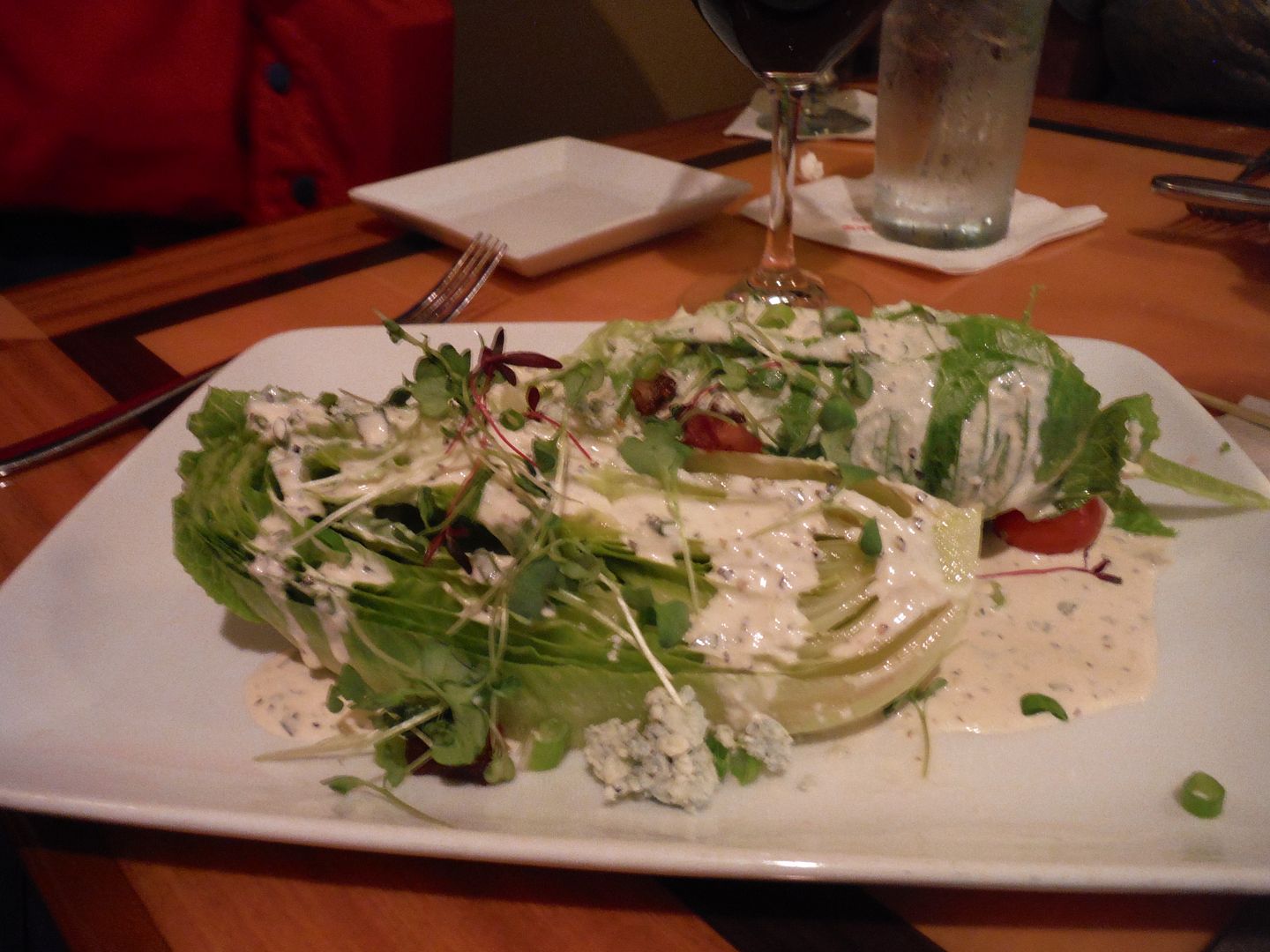 Wedged Romaine Salad
- garlic-peppercorn cream, bacon lardons, confit tomatoes, blue cheese $8.99
Pan-seared Chicken
- $21.99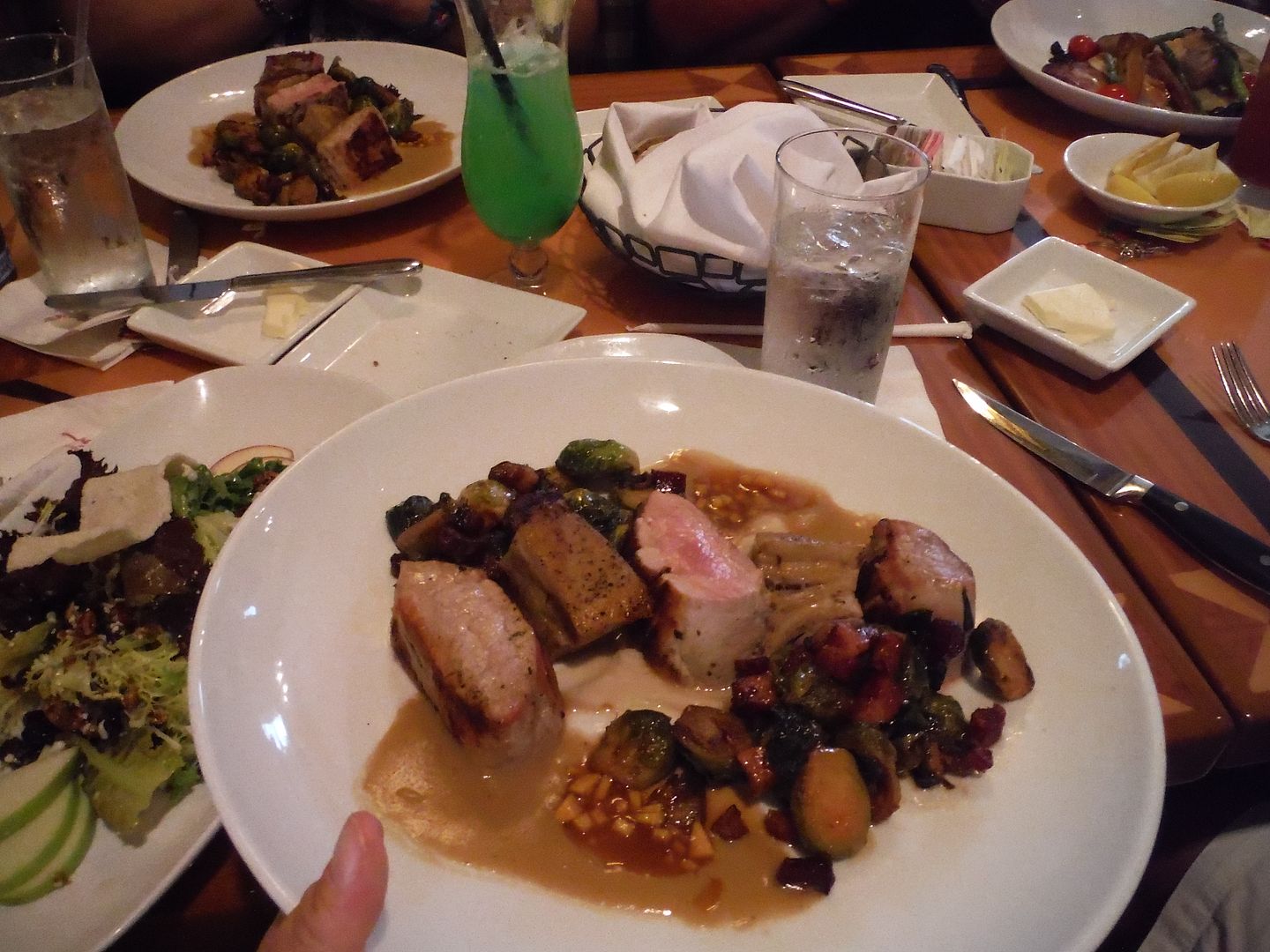 Rosemary-brined Pork Tenderloin
- $23.99
Once again, it was wonderful to share a meal with friends, getting to know each other better.
Our time together was over too soon, and we were literally stuffed monkey, but there were still some sparks left in our day.
Next Up: Finding a Hidden Object in Morocco

.
Last edited: