Once I had completed my photo-spread of the room, I went down to the Marketplace to take care of an important detail for the following morning. I purchased a cup of coffee and filled my travel mug with ice.

Normally I prefer to drink hot coffee (black), but I didn't want to disturb my roommates by running the coffee maker first thing in the morning. So what I did in 2012, while staying at All Star Movies (no coffee maker) on Nate's class trip was I would get an iced coffee the day before to get me to breakfast. I grabbed a couple of creamers and an Equal sweetener, because I can't drink iced coffee black.

I took lots of pictures of Marketplace, which was not easy while carrying my cup of coffee and my travel mug. I won't post those here, but I plan on adding them to one of the Marketplace Photo Threads when I have a chance.

I returned to the room and stashed the cup of coffee and the ice in the fridge.

By that time, it was approaching the time for my dinner reservation.

As soon as I had booked my plane ticket for this trip, I knew EXACTLY where I would be eating.

I have always wanted to try this restaurant, but my family has never been interested.

Greek food is my favorite cuisine. I once dated a Greek boy. I broke up with him when I started seeing Mark and I have no regrets, but boy did I hate breaking up with his family. The food was awesome!

And this restaurant would be closing FOREVER on September 30. This was my chance to try it out.

Kouzzina at the Boardwalk.

I started my walk through the hallways and out the door (I found a second secret exit in between the Beach Club and BCV).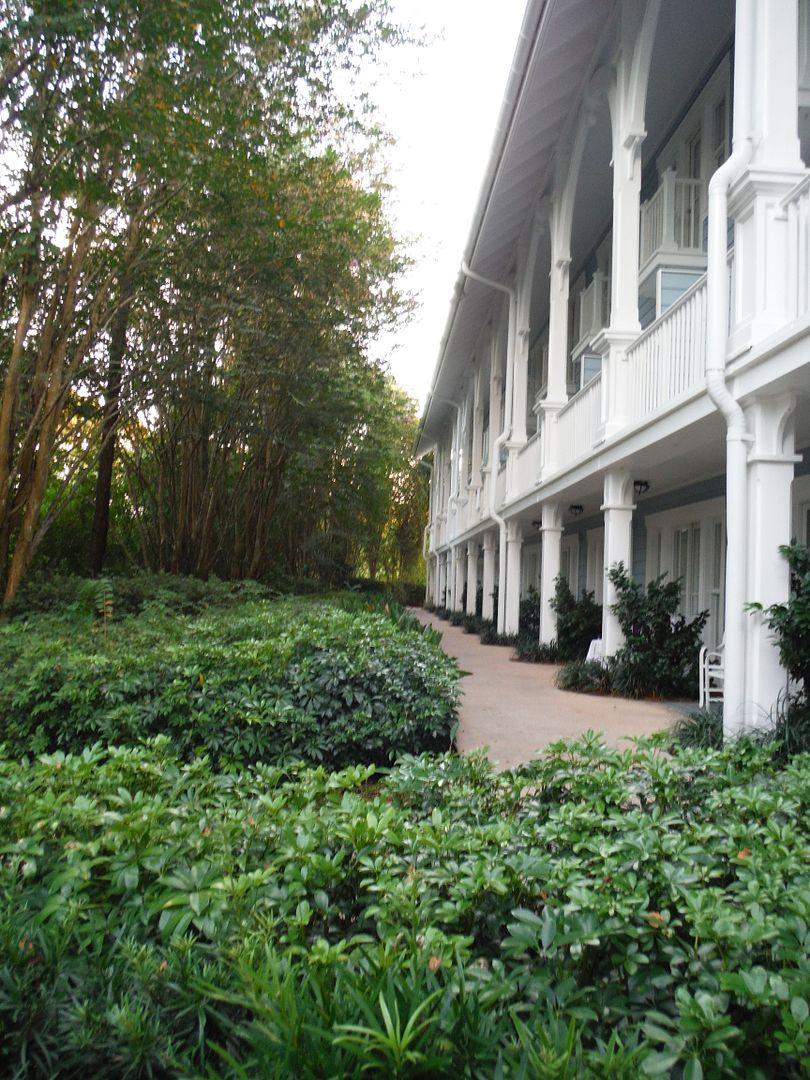 It was a pleasant night, if a little warm.

I walked at a casual pace, taking pictures of the beautiful scenery as the sun was setting.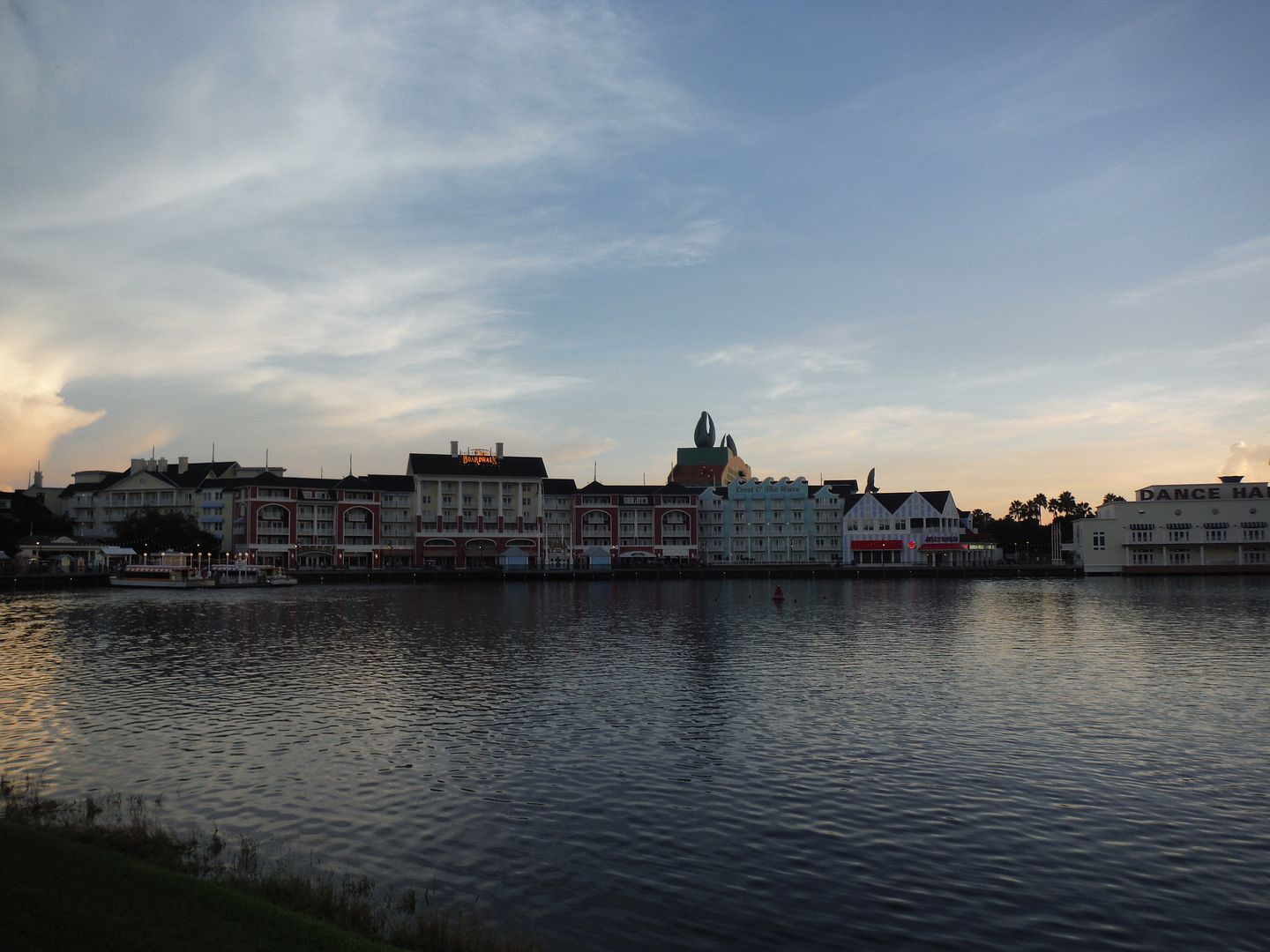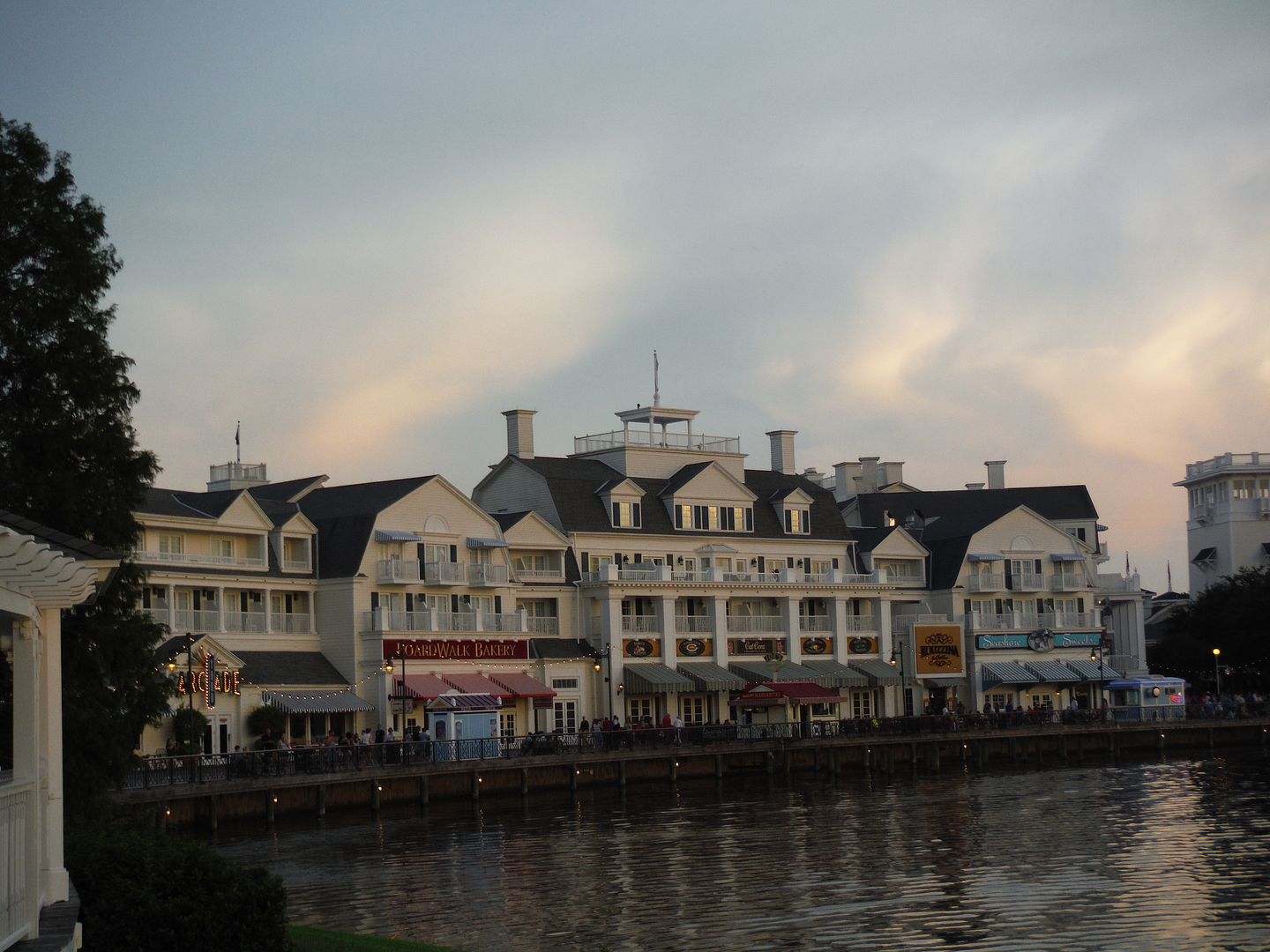 And when I got to this point, almost to my destination, I discovered the dreaded red

"Battery-low"

light on my camera.

That would not do. I had some serious food porn on the agenda!

My backup camera had been charging back at the room, so I went all the way back and retrieved it.

Retraced my steps, more quickly this time, although I still took the time to snap a few pictures along the way.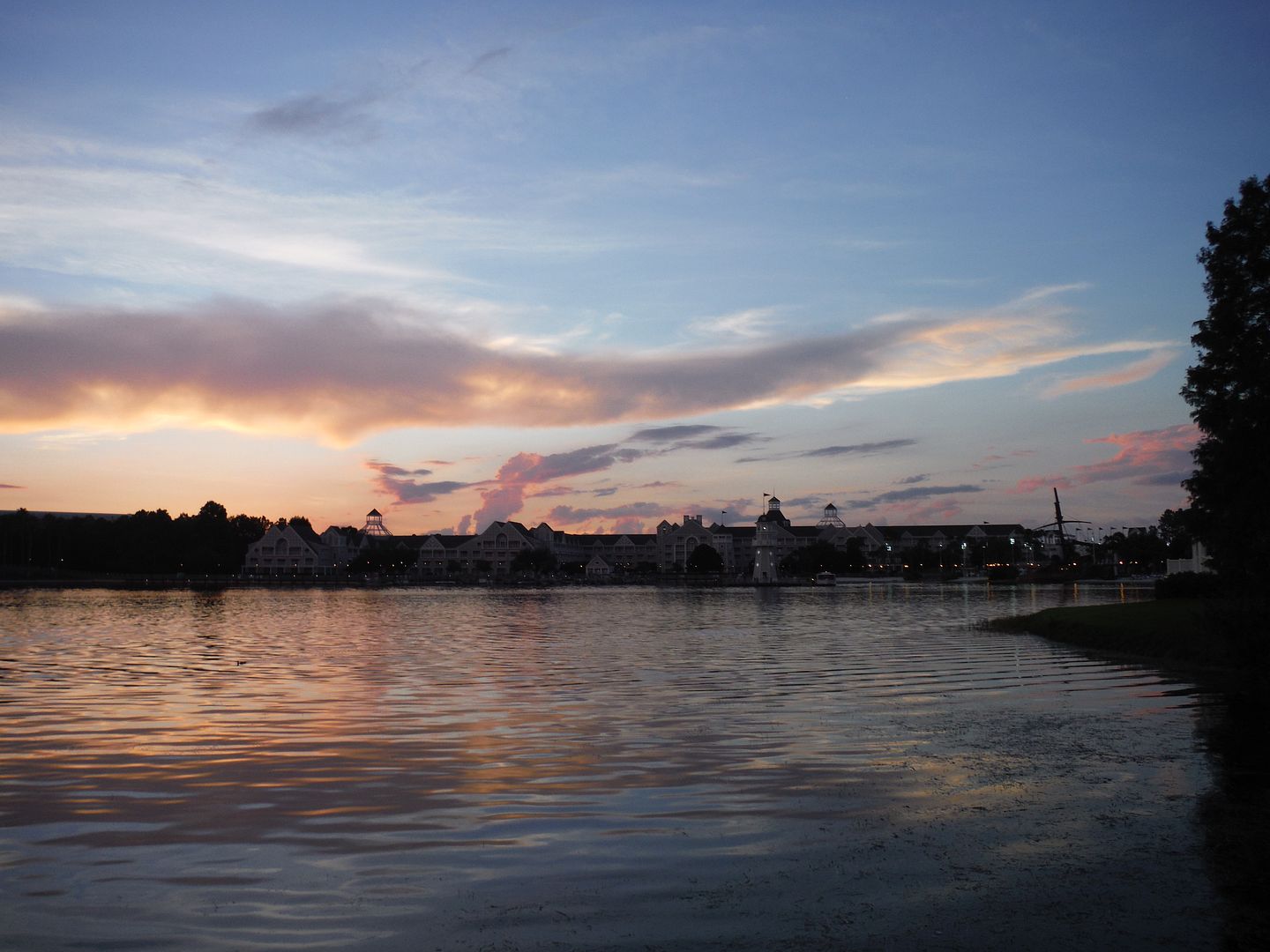 I arrived at Kouzzina just a minute or two past my 8 pm reservation time. I checked in with my name and they said "We wondered where you were" I thought that comment was a little strange. I was given a beeper and waited around 10 minutes for my table.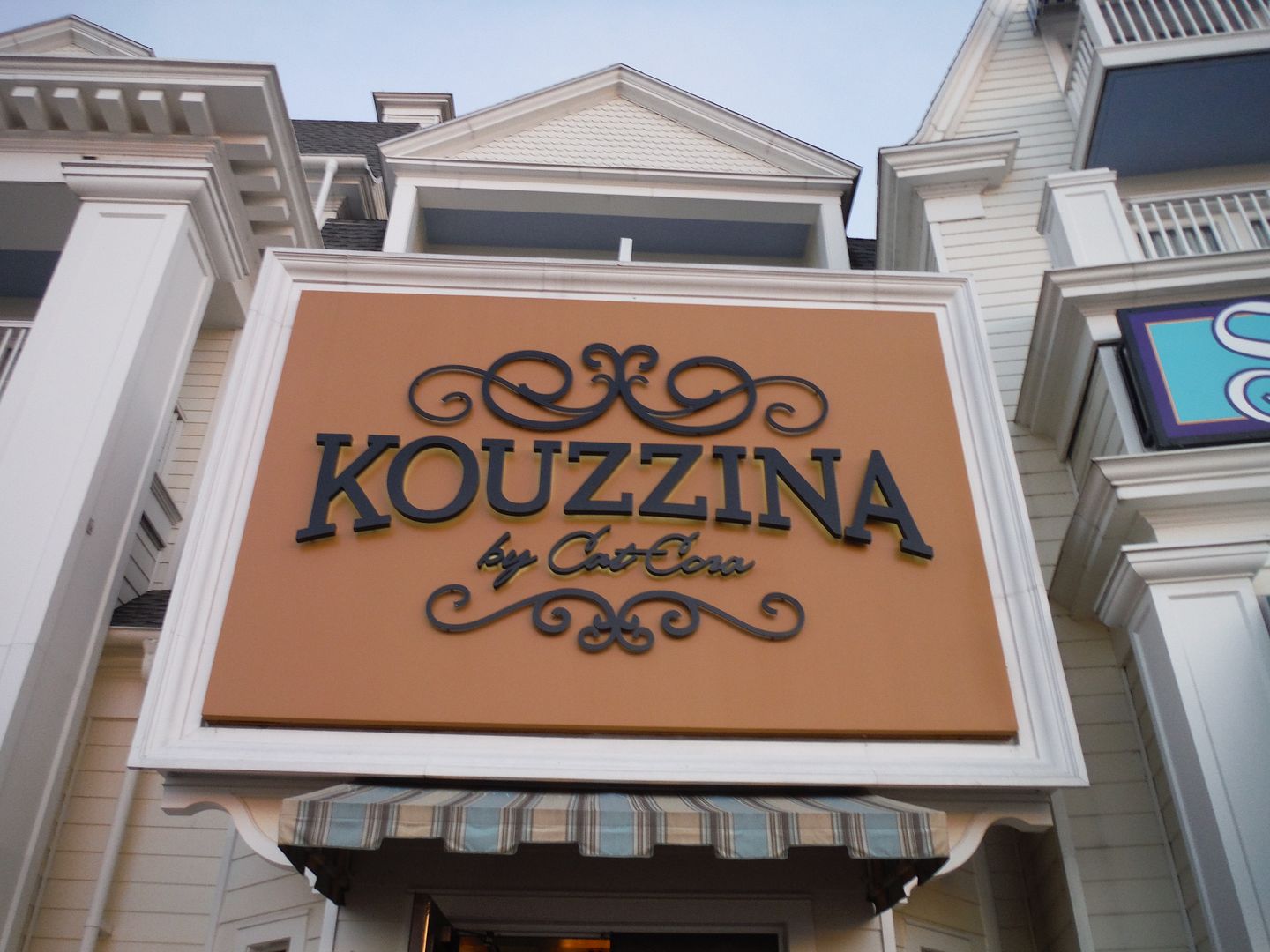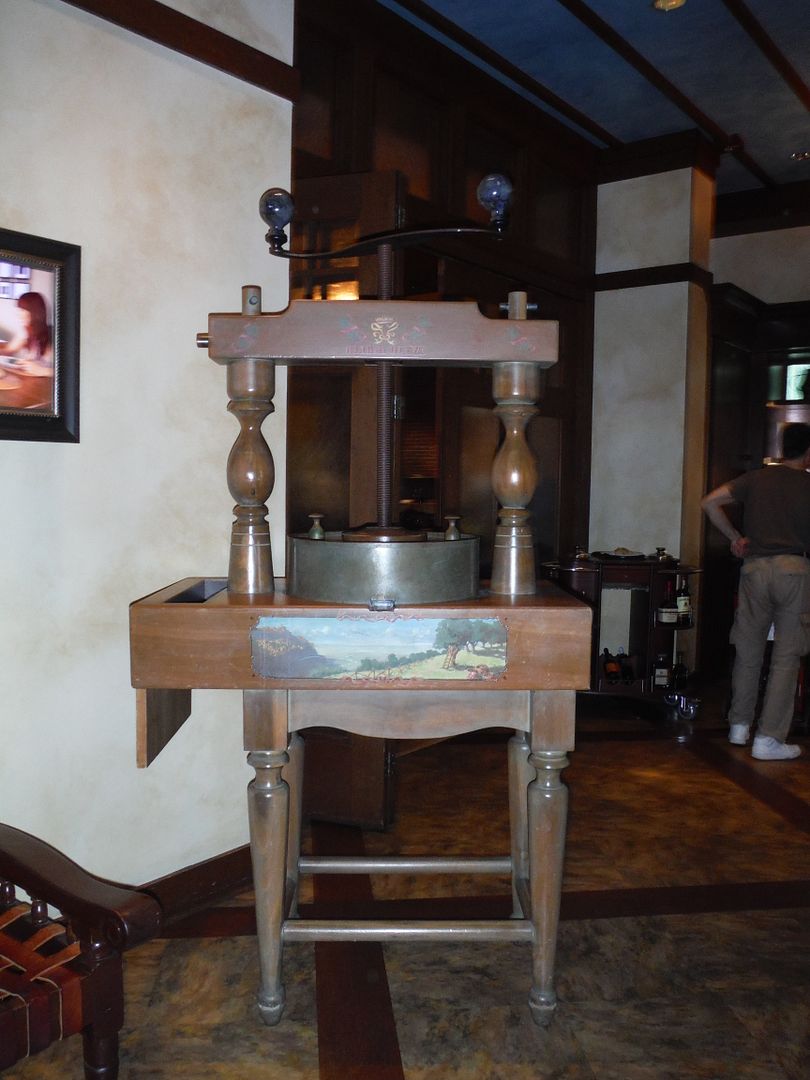 The restaurant has a casual, but elegant vibe. There is an open kitchen where you can watch the chefs. There were a lot of celebrations happening throughout my meal and during each one, the guests were encouraged to cheer "OPA!"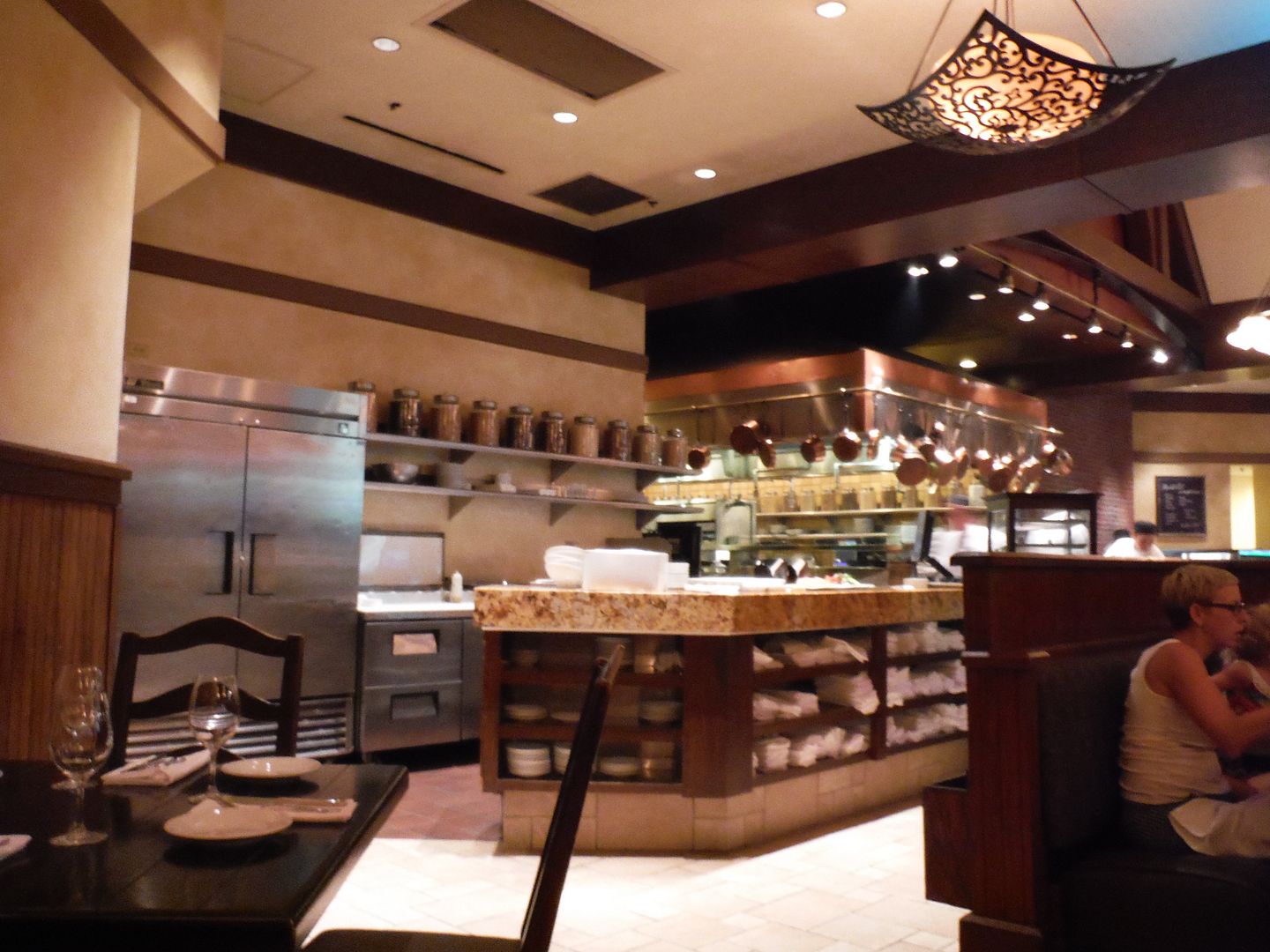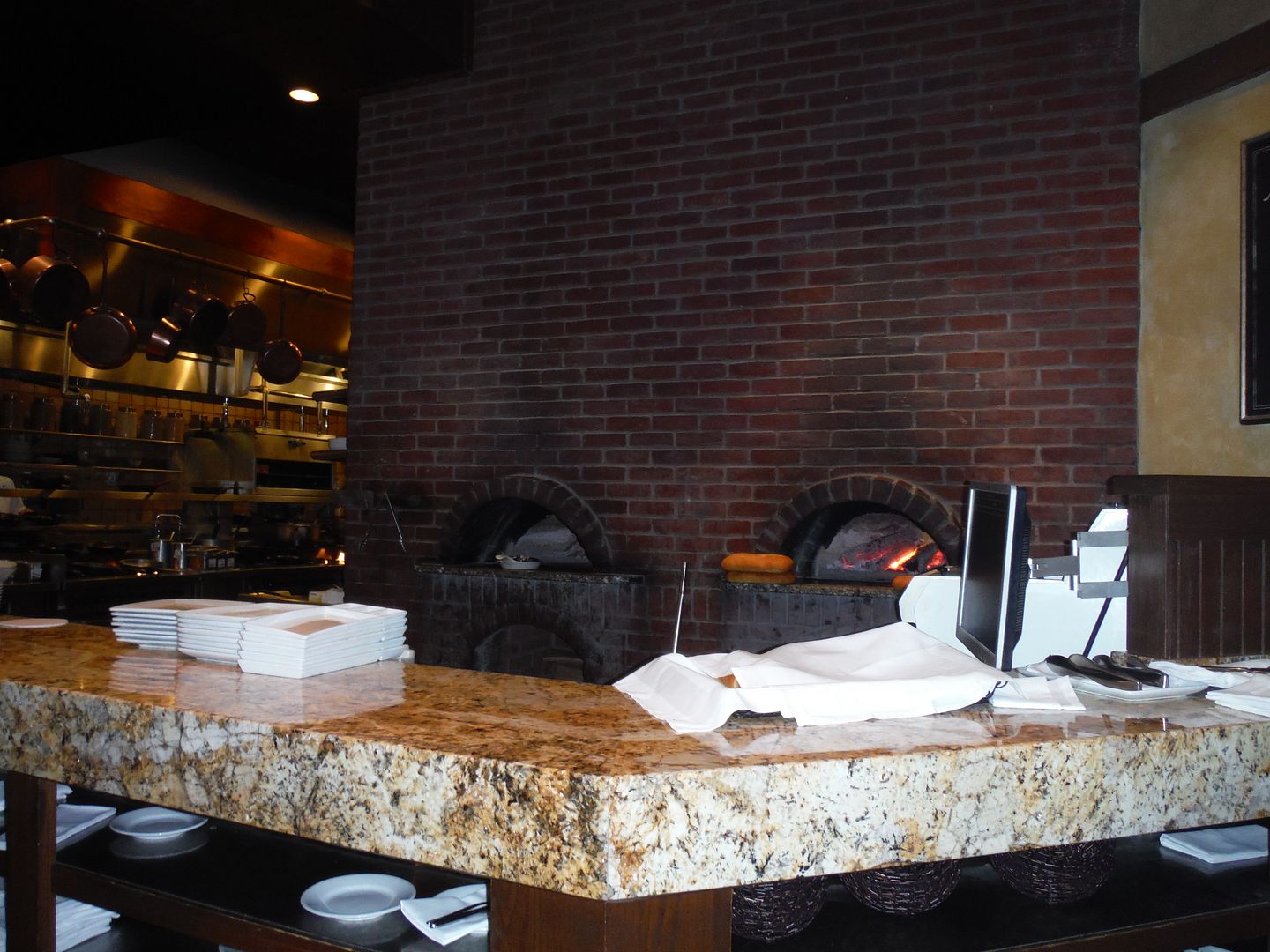 When the waitress came by to get my drink order, I told her I was ready to order. Since I was alone, there really was no reason to stretch out the meal.

I was tempted by both the Pastitsio (Greek Lasagna) and the Cinnamon Stewed Chicken with Orzo. I make my own pastitsio on occasion, but it is a lot of work to put together the pasta, meat sauce and béchamel, so I order this out whenever I can. I made the chicken once from a recipe I found on the DIS, and it was really good. I was very torn about which one to get, but when I reviewed the menu at home, I saw they had a combination plate where you could chose tastings portions of 3 different items.


Kouzzina Trio - Tasting size portions of Greek Style Lasagna, char grilled Lamb Burger and Cinnamon stewed Chicken with Orzo - $23.99
On the menu, there were other options, too, for the 3 choices like Gigantes Beans and Brussels Sprouts


The waitress brought over bread and a plate of olives, with two kinds of olive oil. She described the flavors to me. One had hint of apples and the other had a sharper flavor, I think she said. I liked them both.





Within minutes, in fact before the waitress even brought me my drink, my entrée was delivered to my table. Again, as a solo diner, that was fine with me.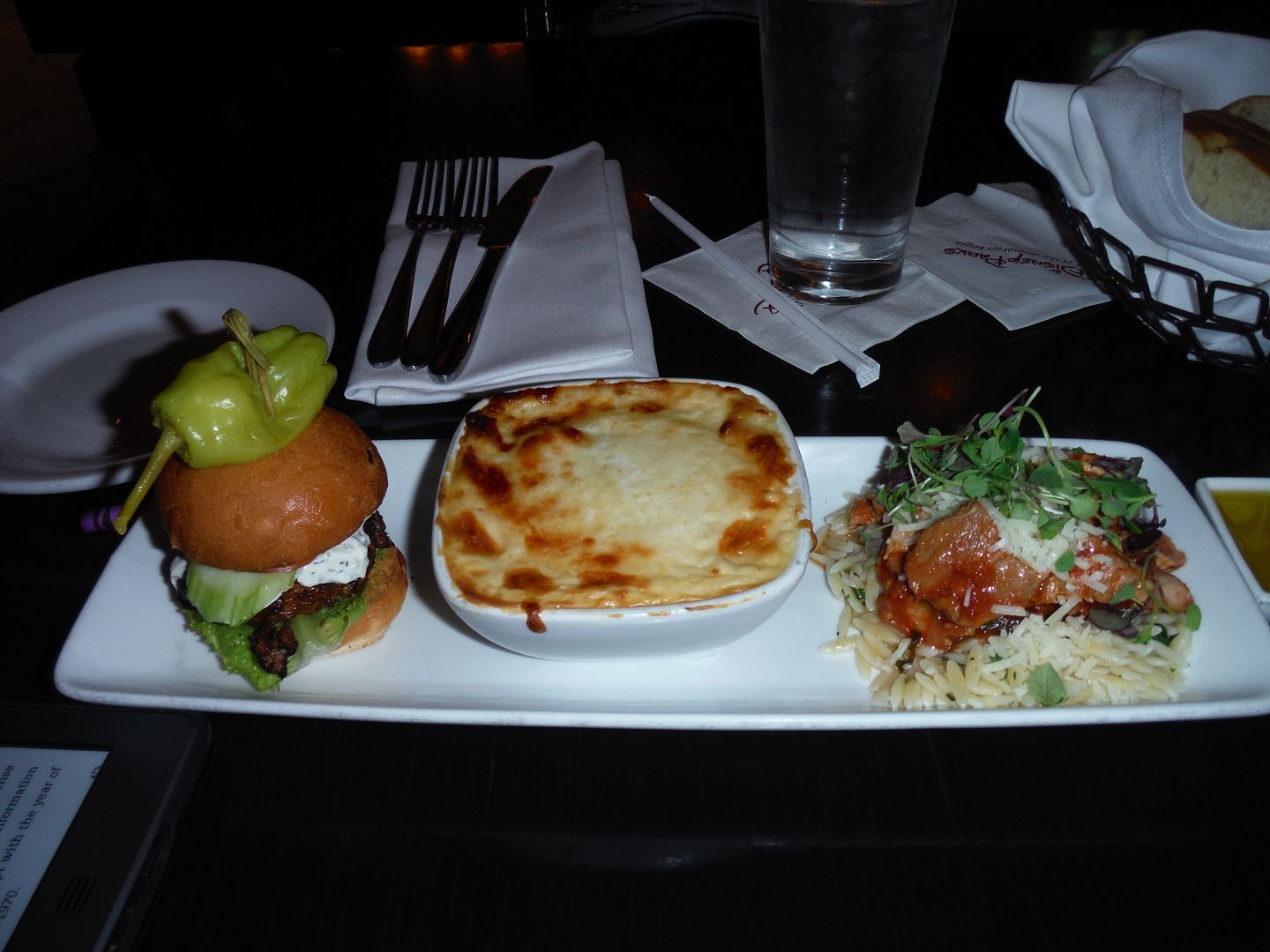 Lamb Slider- I don't see a description on the menu, but this was really good. The dressing was a tzatziki (yogurt with cucumber and mint) and the cucumber and tomato on the burger really gave it a fresh taste.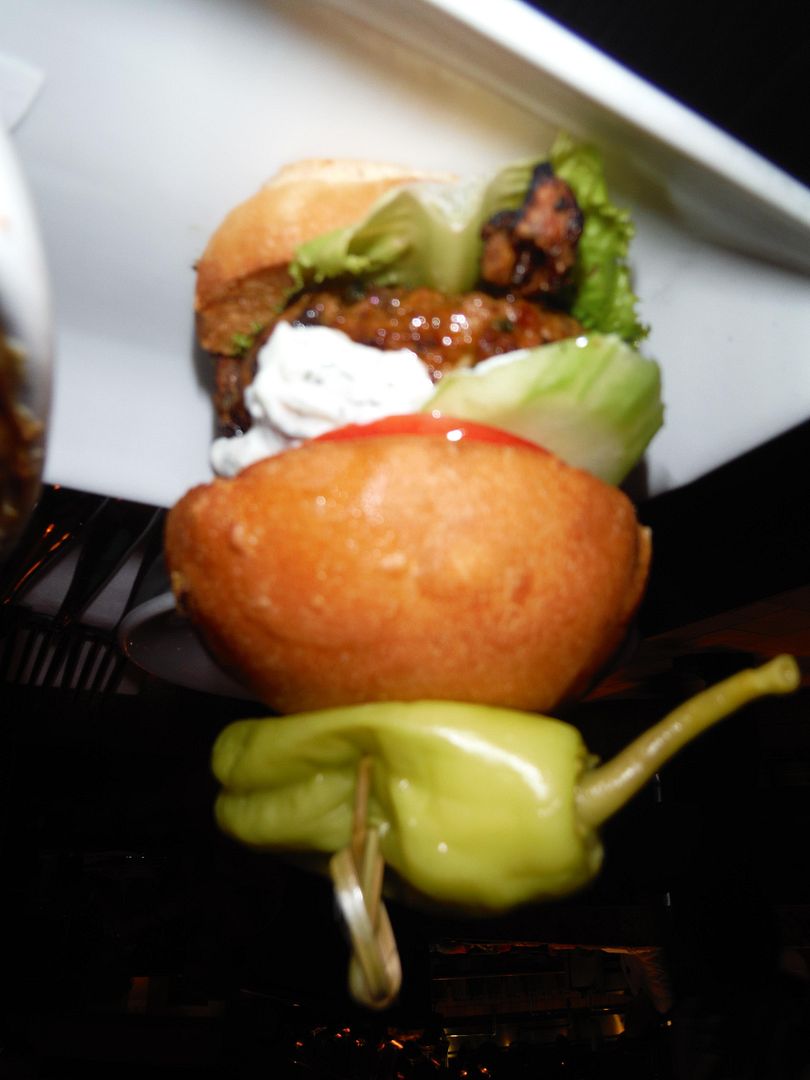 Pastitsio - Greek Styled Lasagna with Bucatini Pasta, Cinnamon-stewed Meat sauce and Bechamel

I didn't take a separate picture of this. This was the most disappointing of the three entrees. It was good, not great. There was not enough meat and sauce to cut the richness of the dish.


Cinnamon Stewed Chicken - With Tomatoes, Herbed Orzo, and Mazithra Cheese.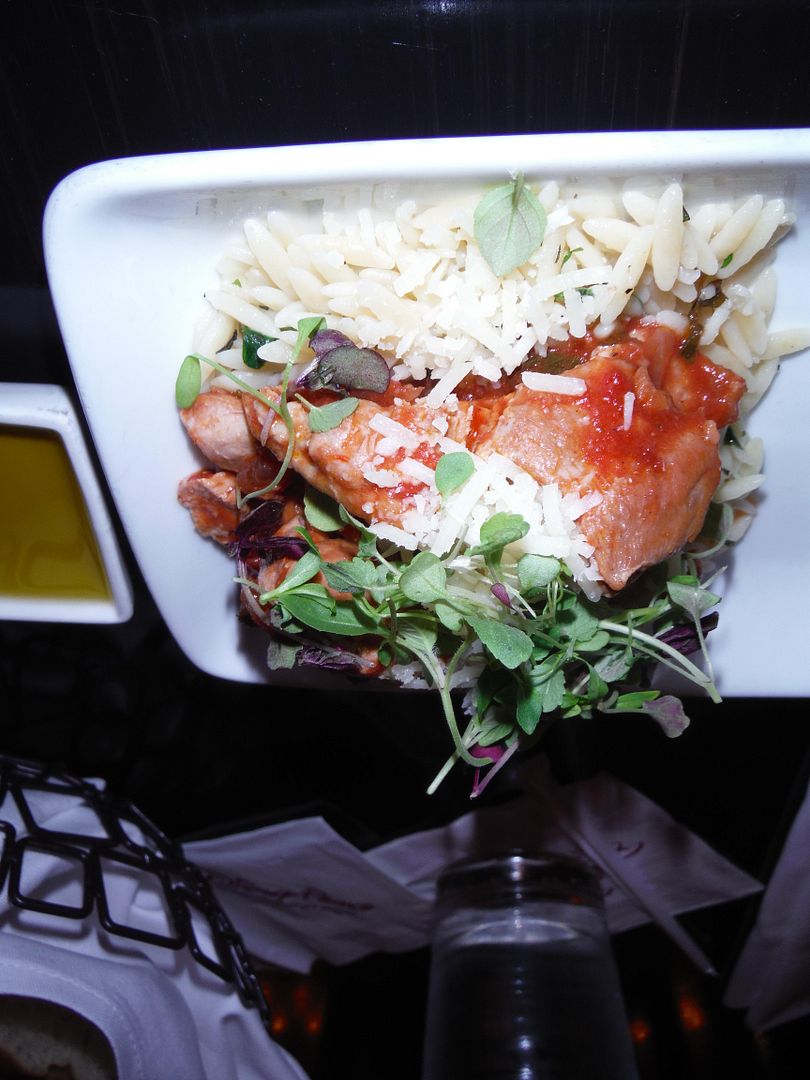 This was really tasty. The chicken was tender and the orzo soaked in all of the yummy flavors of the dish.


Lemonade with Wildberry Foam





My waitress was delightful. She complimented the meal I ordered, asked about my trip and when I told her I was coming back on Tuesday for breakfast, she told me what she likes to order.

I skipped dessert and figured I could get something later if I wanted it.

The total of my bill was $27.01 (before tip) after my 10% discount for using my Disney Visa card was applied.


Fireworks as Far as the Eye Can See
Continued in Next Post or Click Here