In Search of the Tag Fairy
We crossed over into Fantasyland next. There were two rides there that had piqued my interest. The first one was It's A Small World. This is normally one of my favourite rides, but for some reason I had not been on that ride up to that day. It's A Small World at Disneyland is very different from the versions at Walt Disney World and Disneyland Paris, but the changes were not made until 2008, which was a while after our last visit. 30 Disney characters were added, each in their native land, such as Ariel under water, Pinocchio in Italy, Cinderella in France with England hosting Alice, the White Rabbit, Peter Pan and Tinkerbell. The former New Guinea Room was transformed to North America with Woody, Jessie and Bullseye, and the South Seas room is home to Dori, Marlin, Lilo and Stitch. I know when I first heard about this, I thought this was a seriously bad idea. I am a firm believer of "don't fix it if it is not broken". When I first heard about this, I really could not understand why anybody would want to add Disney characters to this classic. I think this is probably why it took me right until the end of the holiday until I decided to try this. Normally this is one of the first rides that I do whenever I go to a Disney park. Even on this occasion I was just about ready to give up as there were people standing on the entrance plaza and there was no posted wait time. I figured that the wait time would probably be longer than I was willing to wait if people were already standing in line at the entrance plaza. However, I decided to take some photos of the façade as this is much prettier as in the other parks and when I got closer, I realized that the entrance plaza led straight to the ramp leading down to the loading platform. So I decided to go for it after all. I am glad that I did. What they did with this ride is amazing. Rather than the characters sticking out like a sore thumb as I had expected, they blend in well and actually add something to the whole experience. The characters for this ride were created very much in the style of the original Mary Blair dolls. I can't wait to do this ride again in May.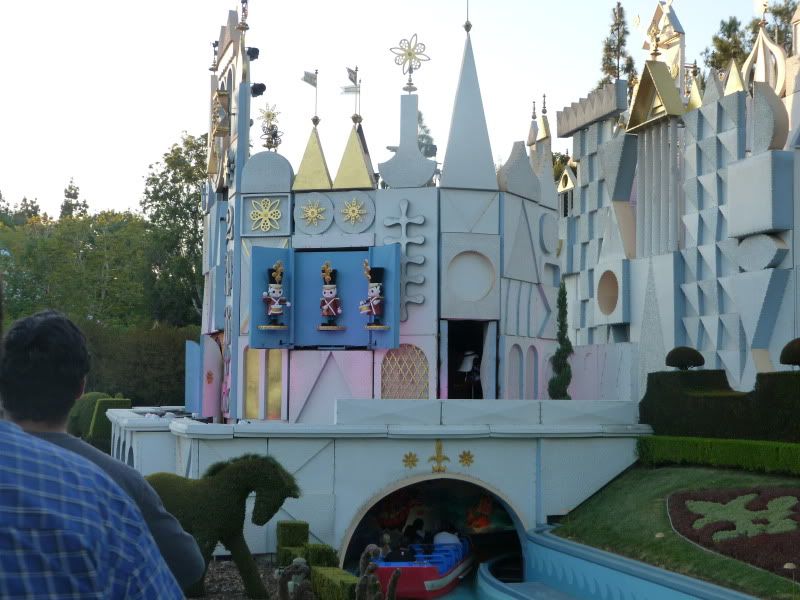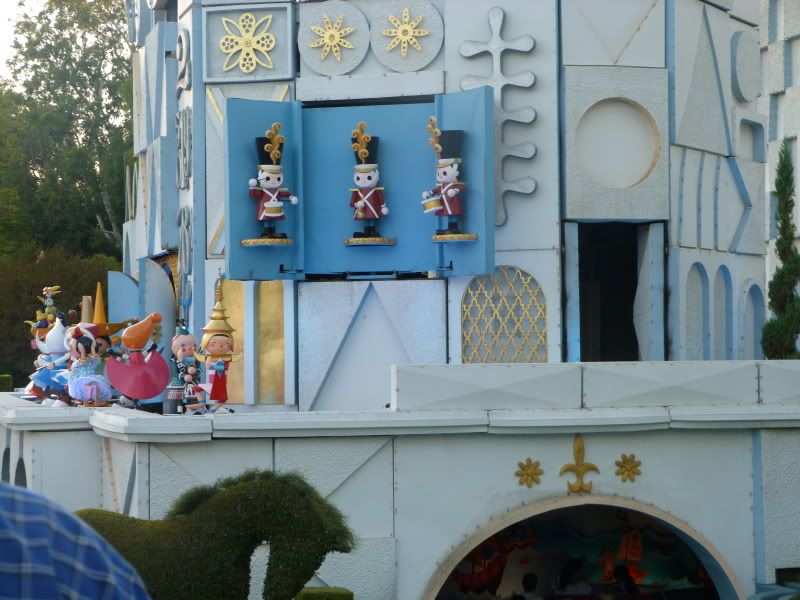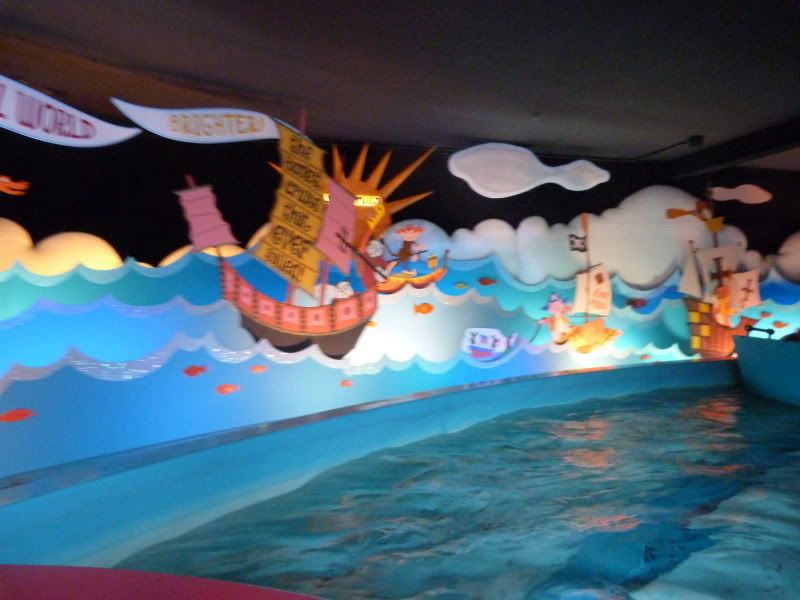 http://youtu.be/6Efp1EmR1Mc
Next up was Matterhorn Bobsleighs. This is Graham's all time favourite ride and therefore was a must do. Again the lines for this were very short and we waited for only about 5 minutes. This amused us as we came across huge lines for the trick or treat trails and the Villains Meet and Greet that we passed on the way from It's A Small World to Matterhorn Bobsleighs. In a way, it was a shame that the wait was not longer as it was quite amusing to see bobsleighs whizzing past full of people in Halloween costumes. This time round there were far more people dressed up than this had been the case during the first party. However, soon it was our turn and we both enjoyed the ride. We did the Fantasyland side of the ride, which is the only one I have ever done. Rumour has it that the Fantasyland side of the ride is a bit slower and more sedate and the Tomorrowland side is a bit faster. I offered Graham to do the other side as well, but once had been enough for him.
We carried on towards Tomorrowland. Graham spotted that there was next to no line for Autopia. As this is normally a serious crowd puller, he could not resist this. He asked me if I was up for this and I told him that I was as long as he was doing the driving. That was a deal. I very quickly remembered why I do not like this ride: it is noisy and smelly and frankly not very exciting. Right next the exit from Autopia was the entrance to one of the Trick or Treat trails. I had no planned to do any during this party, but Graham said he should experience this at least once. So we got in line. The line ran parallel to the line for the Finding Nemo Submarine Ride, up the ramp to the monorail platform, up on one side of the platform and back on the other and down the exit ramp. Most of the Trick or Treat Stations were up on the monorail platform, but there were a couple on ground level, too. This was the longest line we had encountered all day and it was moving painfully slowly. I went for traditional treats which were a mixture of fun-size Milky Ways and Kitkats, Tootsie Rolls in a number of different flavours, M&Ms, Peanut Butter Cups, Skittles and Fruit Jellies. Graham went for the healthy options which were little packs of raisins, Craisins, bags with carrot sticks or apple slices and some apple crisps.
We headed to Space Mountain Ghost Galaxy next. The posted wait time was 20 minutes, which is right at the top end of the timescale that Graham is willing to wait. However, I convinced him that this ride is well worth the wait. We did wait the full 20 minutes, but it was quite fun to have a look around at all the costumes. So of them were very well thought out and imaginative. I loved a whole group of people who had come dressed up as Snow White and the Seven Dwarfs. For me at least the time went a lot quicker. We also saw something interesting once we got inside the building. Near the loading area, they have a short stretch of track that consist of multiple pieces of track that run parallel and can be switched. This is how they add the wheelchair accessible car to the ride and remove it again when it is no longer needed. They put the whole train (should I say rocket) into this area and one normal car is disconnected from the other cars. The normal car is then switched for the wheelchair accessible car and the normal is put into a siding. Once they the accessible car is no longer required, they repeat the process to add the normal car. Very soon it was our turn to get on the ride. We both really enjoyed it, but decided that once a day is enough for both of us.
We then headed across to Buzz Lightyear Astro Blasters. As much as I love this ride, this is usually a humbling experience when I am doing this with Graham as he tends to beat me by quite some margin. Still, with a 5 minute wait, this had to be done. In the end, we did this 3 times in a row. On the second turn, something unexpected happened. I still don't know what target I managed to hit so I will never be able to replicate this, but suddenly my score went up by 30000 points. I managed to win that round. Graham got still best out of three though.
After our first turn on Buzz Lightyear Astro Blasters, we spotted some Storm Troopers just outside the exit of the ride. It looked like they had no line at all. Unfortunately the line was on the other side of the exit. Still, it was still manageable and you do not come across a photo opportunity with Storm Troopers every day. So we got in line and waited about 15 minutes. I don't think the Storm Troopers were not impressed that we were not suitably scared of them.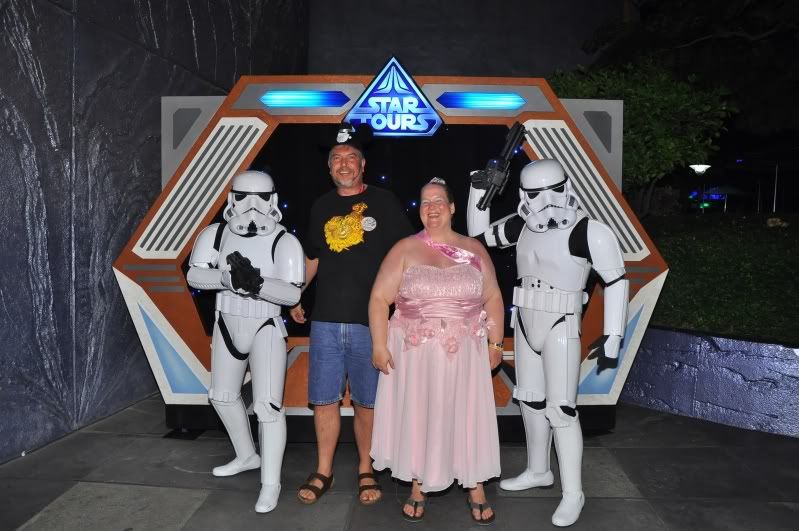 I had waited on purpose to try out the new Star Tours ride until I could experience this with Graham. The old version of Star Tours is one of those rides that guarantee to make me ill, but I had heard that the new version is much smoother and therefore decided to give it a go. I was not sure though how I would deal with the combination of the motion and a 3D film. Still, I was rather curious on what they had done with this ride. When we first entered that part of Tomorrowland, the waiting time was 45 minutes, which was far too much for both of our liking. By the time we had finished with Buzz Lightyear Astro Blasters and the photos with the Storm Troopers, the waiting time had gone down to 20 minutes and with this, this had become a must do. The waiting area contains all kinds of interesting props and displays so it did not feel that we were waiting very long. The ride was much smoother than before and the 3D effects definitely added something to the experience. However, this is a ride that falls into the "I am glad to have done it once, but I doubt that I will do it again" category for me.
Once we had done Star Tours, we had finished with what we wanted to do in Tomorrowland and it was nearly time for the fireworks. So we decided to hang around the hub area. We both were thirsty and got something to drink from the Refreshment Corner. Graham then spotted the Little Red Wagon and as we both had not eaten anything since our early lunch, we decided to get a corn dog each. We got a very funny look when we asked for the apple slices to go with this rather than the crisps, we got a rather funny look. I love corn dogs, but they are essentially a little heart attach on a stick so we thought we could make this a little better by adding some fruit. The line for this was actually the second longest line that we had encountered all day, but it was so worth it. We got our corn dog just in time before the fireworks started. So we staked out a spot near there and enjoyed our corn dog while watching the fireworks. I enjoyed them just as much as the first time round, but the perspective from this spot was very different. I saw a few things that I had missed the first time round when I was standing much closer to the castle. Graham enjoyed the fireworks as well.
Once the fireworks were over, there was only on thing left to do. I really wanted to experience Haunted Mansion Holiday with Graham at least once. The normal Haunted Mansion makes it quite easily into my top 10 rides and Haunted Mansion Holiday has just blown me away. As I knew that it was doubtful that we would return to Disneyland during the Halloween season, I really wanted to show this to him. So we headed towards New Orleans Square. When we got to Haunted Mansion, there was no line at all. We walked straight onto the porch and we only just missed out on going into the stretching room straight away. We were the first people into the stretching room when they let the next group in. Unfortunately Graham did not share my love for this ride. He was decidedly underwhelmed by it all.
When we were walking back towards the exit through Adventureland, we came across a rather lonely Genie. I could not believe that he had no line at all as he is not a particularly common character. I only had one previous opportunity to get a photo with Genie and that was at a character meal during our honeymoon in 1998. So I jumped at that chance.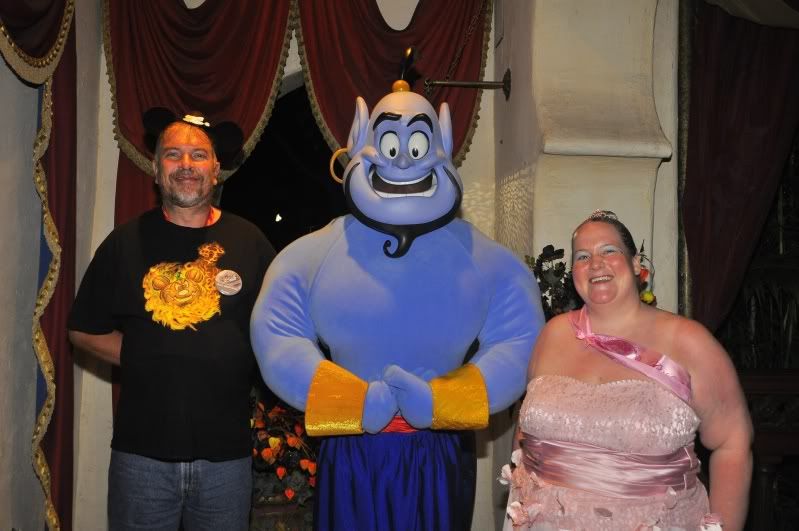 Once we had our photos taken, we headed towards the exit. The park had definitely emptied out after the fireworks and Disneyland felt a little strange with so few people around. Once we had left the park, we picked up our belongings from the locker. We then headed back to the hotel, where we fell into bed tired, but happy.