Welcome, my friends, to what may be one of the more amusing TRs you've read in recent times - or at least, I hope it is!
It may or may not involve the following:




Pretty hilarious one-liners (like that gem in the title) from my partner-in-crime for this trip (who you'll meet in just a moment)

Getting stuck on multiple attractions (Did we even have to be evacuated? You'll have to read and find out!)

Ridiculously amazing amounts of pixie dust being chucked at us left and right
If you're joining me after following along with my PTR, thanks for being such a loyal reader and friend and joining me here! It means the world to me that you've decided I'm interesting enough to continue on this ride with me... No seriously, I'm glad knowing people are actually reading this!
And if you're just joining? Uh, why weren't you following along with my PTR? Yeesh... Just kidding, I know PTRs can be kind of boring since it's just a bunch of planning, so it's all good if you're only here for the good stuff. (Though if you're wanting to read my PTR, you can go here and sift through my ramblings!)
That being said, I'd like to extend a huge WELCOME to you and I hope you comment just to say you're following along, even if that's your only comment this whole TR (I'm kind of notorious for doing this myself
). Don't feel like you can't just pop in and say hello because you feel like an awkward turtle or something, because I've gotta tell you (and I have a DISer or two who can hopefully back me up on this), I'm a pretty friendly gal who enjoys sharing a serious love for Disney with anyone and everyone who is up for it! So please, comment away, even if you join this TR in the middle or towards the end!
So, with that out of the way, I just want to warn you now... I'm a ridiculously goofy person (and yes, consider myself a goober), I love parentheses, I sometimes ramble, and I took 1500 photos on our trip
...
I hope you're ready to enjoy the crap out of my TR, which will be full of magic and happiness and smiles, more than anything else... You are in for quite an epic trip with two of the coolest people you'll ever meet. Which leads me to...
(If you read my PTR, you can skip this, or you can just re-read it and get a little refresher as to who the two dorks featured in this TR are...)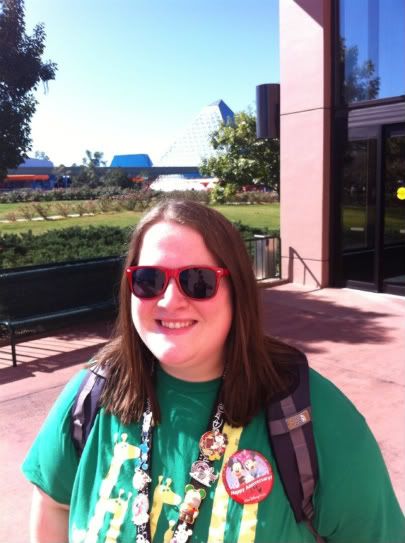 That's me, Danielle, or Dani for short (my husband calls me this). I'm a huge fan of Disney World, instagram (my name is dmags, you should follow me on there!), photography, the TV show LOST, video games, board games (I'm addicted to Ticket to Ride, no lie), and my dogs. I work in the financial industry, even though I was an English major, buuuut thankfully it's in marketing so it's not so awful.
Like I mentioned, I'm a total goober, goofball, and more than anything else, I love laughing and being happy. I have a ridiculous sense of humor and always have (yes, I was voted Class Clown in high school), and really enjoy making other people happy!
My favorites:
Disney movie: Tangled
Pixar movie: Wall-E (Up is a VERY close second)
Disney character: Tie for Eeyore and Pluto
Disney World attraction: Expedition Everest, with Splash Mountain a very close second
Disney World snack: Well, you'll just have to wait and find out in my TR!
Disney World restaurant: Via Napoli
Disney World park: Magic Kingdom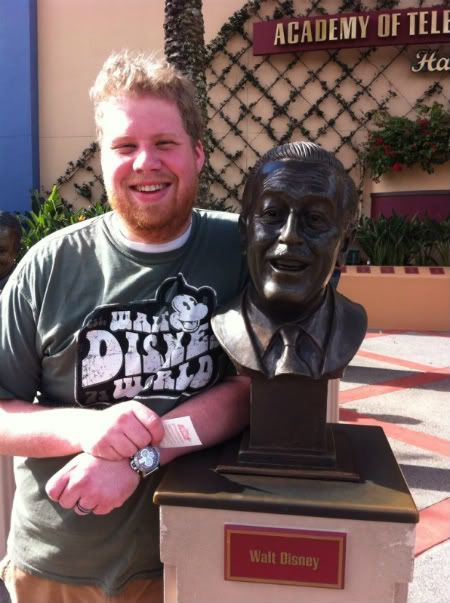 That guy? That's Matt, and he's my awesomely awesome husband. We met almost 9 years ago when he went to school in Boston, and we've been married for just over a year. Matt works as an analyst for a top 50 web company, and enjoys Disney World a whole lot! He's been there 23 times now, and is the reason I'm super into Disney World as much as I am. He loves video games, board games, reading, movies, playing the banjo (yeah, my husband rules), and loves Christmas as much as I do (perhaps even more fanatical about it than me?!)
Matt is the kindest person I know and has a heart of gold. I feel beyond lucky that we found each other, because he is literally my other half and my best friend in the whole world. Okay, schmoopiness aside, he really is a wonderful person, a bit more introverted than I am, but where we are different, we balance each other very well.
His favorites:
Disney movie: Lilo and Stitch, Tangled, Brother Bear or Hunchback of Notre Dame (He has a lot!
)
Pixar movie: Ratatouille
Disney character: Stitch, Pooh, Donald and Chip and Dale
Disney World attraction: Haunted Mansion
Disney World snack: Tied between Churro and School Bread
Disney World restaurant: Raglan Road, with Via Napoli and Whispering Canyon Cafe a close second
Disney World park: Epcot, with Magic Kingdom a very very close second
Okay, intros are done. Phew! I'm hoping for a Chapter One update either this evening or tomorrow, but we'll have to wait and see because I need to begin the organization of my photos!
And on that note...
LET THE WILD RUMPUS START!
​
Last edited: