Headlines don't sell papes.
Hey! Welcome back to Walt Disney World Resort! The theme park resort where all of the wait times are made up and the crowds don't matter. That's right, the crowds don't matter, just like the amount of sunblock you put on before heading to Epcot for the day.


We just got back from another fabulous week at our happy place and I can't wait to share our thoughts and experiences with you all! It has been a hot minute since I was able to share a report like this. I hashed out a more condensed version of a TR for our March trip this past year, but the Parks were at a different phase of reopening back then, so we were taking it easy. While not everything is open yet, the Parks felt more "normal" this trip than our March trip, leading to another epic summer vacation for us. There were highs and lows, great meals and disappointments, and some wonderful memories made-- even some of our mistakes ended up being hilarious along the way. Just like "Whose Line is it, Anyway?," we had to improv in the face of these crowds and this ungodly HEAT... BUT, we made it work and laughed a lot!

So who are "we?" Sadly, we are not Colin, Ryan, Wayne, and Drew, but when we're at Disney together, we can be just as goofy! Come meet the Newsies family: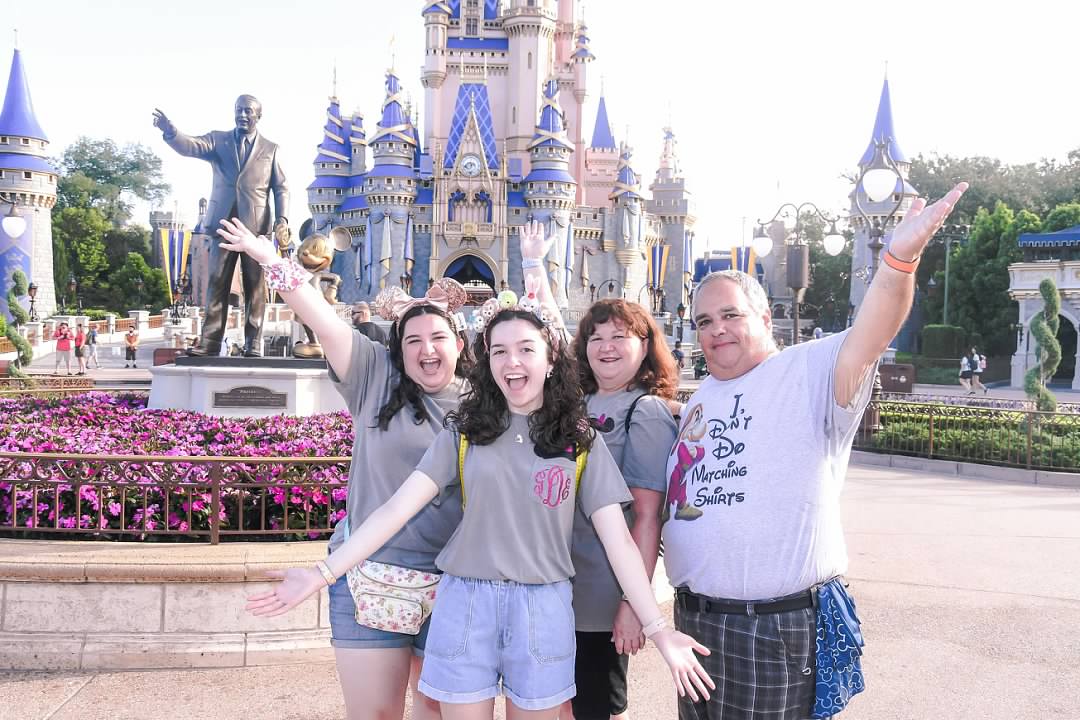 We are a family of four adults from the great state of New Jersey! We have been visiting the Parks since 2010 and have stuck with WDW through ups and downs, changes good and bad. We made our love for Disney a lifetime commitment back in 2017 when we joined the Disney Vacation Club and became owners at the Polynesian Village Resort. We're Annual Passholders for another month and hope to re-enlist as soon as APs go back on sale. Typically, we visit WDW annually, but we did a cash stay and a points stay this year and hope to continue going twice a year now that Grace is out of high school and I'm a whole adult. We LOVE the Poly, 7DMT, Mickey & Minnie's Runaway Railway, and Teppan Edo.

Here are the brains of the operation, Mom/Susie and Dad/Tom: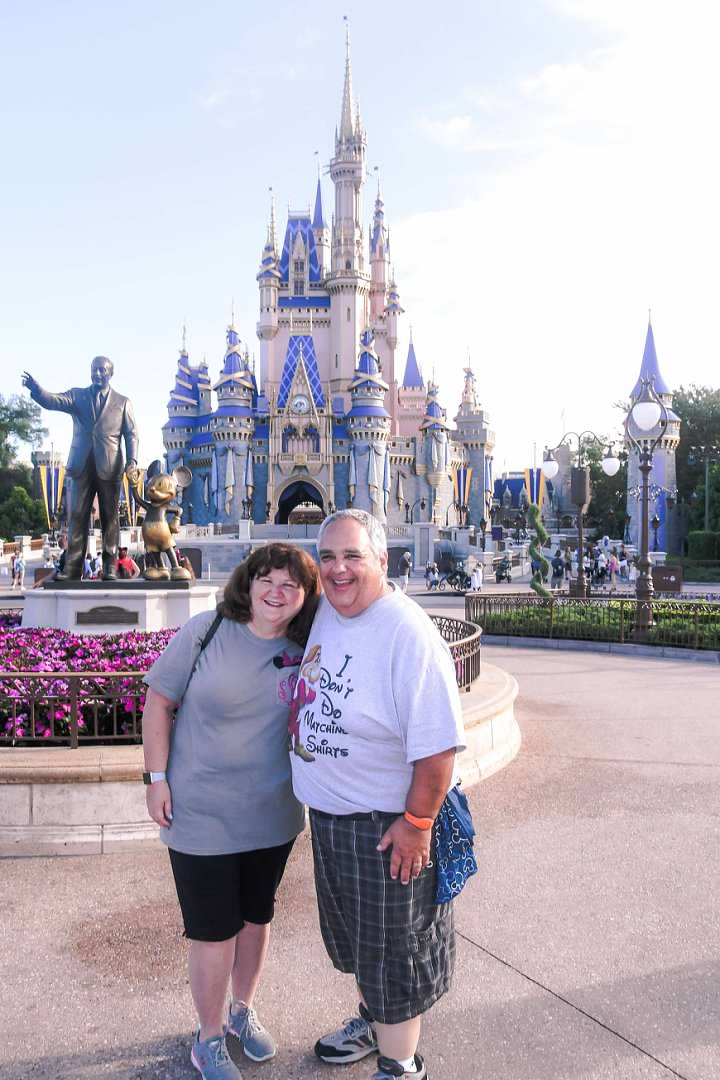 Our two amazing, hard-working parents who LOVE DISNEY! They are just a few short years away from retirement and our eventual move to Florida, but until that happens, mom is a successful manager in her company's real estate division, and dad is a zoning officer. Grace and I are proud of both of them, but we are particularly proud of dad this year-- he just lost almost 100 pounds through a weight loss surgery and a series of incremental lifestyle changes, AND he recently was able to find a new job working for a township that he absolutely loves. He had been working to find a new job for a few years, so this has been a big year for him and we are so happy for all that he has accomplished!

They both watch their favorite Vloggers, specifically ResortTV1, TheTimTracker, and Paging Mr. Morrow, like the morning news. They love Magic Kingdom, and they loooooove visiting the resort pool on a hot afternoon! Dad is a huge fan of all things Grumpy and the Country Bears, whereas mom is a fan of Winnie the Pooh and the Haunted Mansion. Dad will normally do whatever mom is doing at the current moment, and mom loves sleeping in late, hitting the pool in the afternoon, and spending the evening at a Park.

Standing here with me is my younger sister, Grace: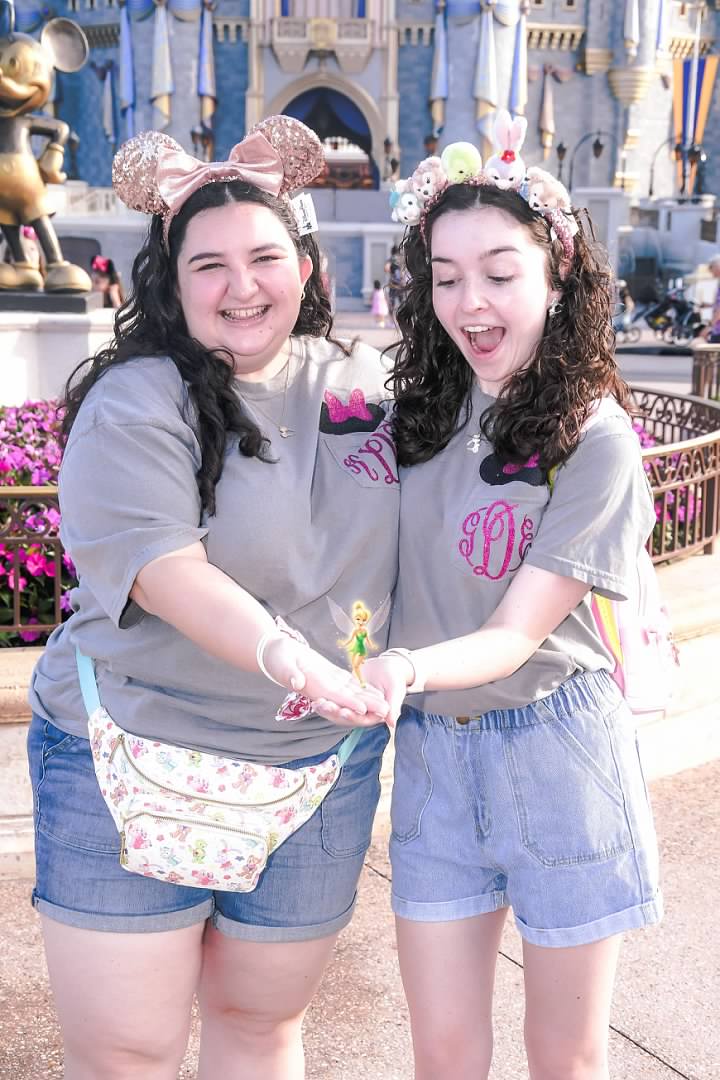 Grace is a college student who turned 20 YEARS OLD (!!!!!) on the first day of our vacation. We celebrate her birthday with a Disney vacation more often than not, and I am somehow always surprised when she turns a year older every year. She turned thirteen during my first TR for the boards back in 2014 and today she is TWENTY. Insane.

Grace is studying to become a teacher. She is involved in too many on campus activities to name here, but she works very hard in her academics, on campus job, and extra curricular activities. During the summer, she is a camp counselor and an assistant for a YMCA after-care program. She loves Kitchen Nightmares, chicken tenders, her Squishable strawberry milkshake, and of course: all things Disney! Her Disney favorites include Toy Story Land, the PeopleMover, and Gideon's Bakehouse.

Last but not least, I'm your host, Kaitlyn!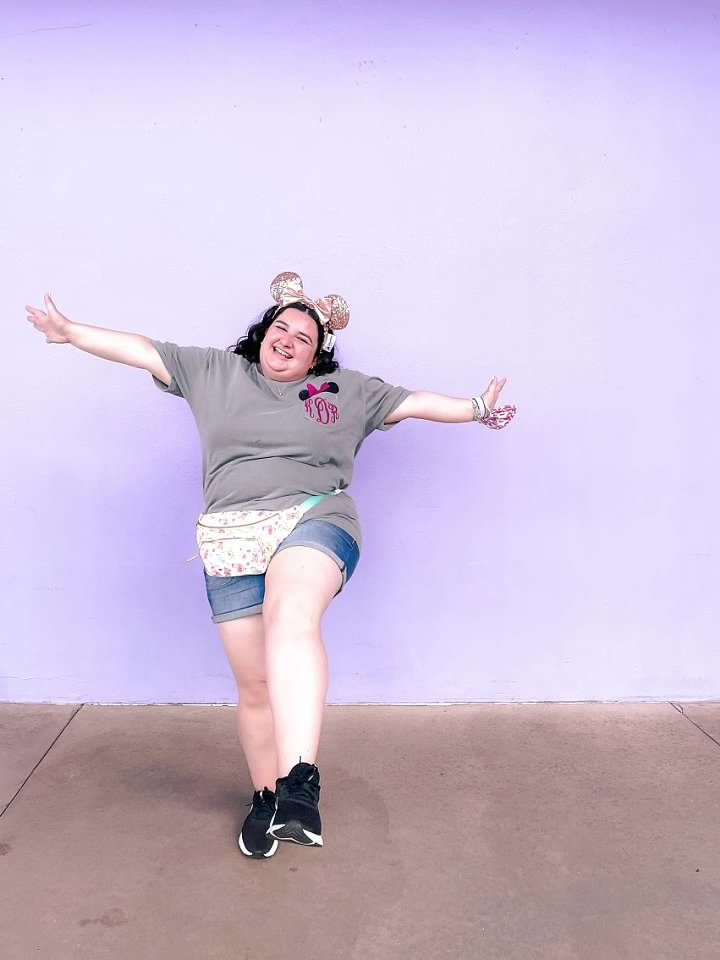 I am 24 years old and graduated with my BA in Communication Studies in 2019. Today, I am a full-time customer service rep for a company I love. My interests include Squishmallow hunting, baking, writing (specifically about Disney), and of course: the Walt Disney World Resort. I've been writing trip reports for DISboards since 2014 and completed two Disney College Programs during Fall 2016 and the short-lived Spring 2020, where I was an Attractions hostess at Peter Pan's Flight/its a small world and a Character Attendant in Magic Kingdom, respectively. Disney is, was, and always will be my home! I love shopping on Main Street, grabbing a Joffrey's Coffee, and my favorite attractions are Rock'N'Roller Coaster, Expedition Everest, and Slinky Dog Dash. I also love meeting Characters and I am IMPATIENTLY waiting for more entertainment to return to the Parks!!!

Now that we've got our introductions all settled, I want to go over some quick details of our trip so that you all have some context and a better idea of what's happening:

We spent a week, July 11-17 2021, on a DVC points stay at the Polynesian Village Resort - Deluxe Studio, Standard View. With our Annual Passes, we booked park reservations for every day, and visited every park, including the first day of Food & Wine at Epcot. We also visited Disney Springs for dinner one evening. We had a LOT of dining and ate some really great food! I took more photos this time than I did last time, and they were all captured on my iPhone 12 or via PhotoPass. We drive from NJ to Florida and back-- it is an 18 hour journey, but we don't mind!
​
I can take a pretty long time to update my TRs, so I just want to drop some fast suggestions/tips from our week at the Parks for anyone visiting in the immediate future:
Invest in a high-quality water bottle, bring a bottle of Benadryl cooling gel or a similar hydrocortisone topical gel. I know that this sounds like a given for Florida in July, but we've been visiting the parks every summer for a decade and I lived through some of the hottest months of the year in Orlando and I've never experienced heat like this. I got Disney rash for the first time in my entire life this week, so even if you've been immune to it in the past, be sure to bring some type of gel or be prepared to visit first aid for some Calagel during your trip. Please stay hydrated and enjoy some air conditioning as often as possible!​

Cancel your 'Ohana reservation until the menu changes again. We'll talk more about it later. All you need to know right now is that it's not worth your money and the new dishes are downright bad. We heard fabulous things about Kona Cafe dinner and enjoyed breakfast there as usual.​

The Plaza Ice Cream Parlor is OPEN and worth the wait!​

Upcoming Poly reservations: be prepared to wait for a bus to and from each park, don't hold your breath for the monorail station, join the walk-up list for Kona Cafe in the morning for a quiet, delightful breakfast. Captain Cooks was good, one of the better QS options at the resorts. And yes: the Cast is just as friendly and incredible as they were before the Parks closed

​
ANYWAY... I think I'm done talking now, I know that my intros are always a lot
If you're ready to read about the summer crowds, a little bit about the Food & Wine festival, and a lot about some terrific snacks and meals, come on and join in! Away we go!
Click
HERE
to Start!
​
Last edited: