Day 6 - Rome (Continued)
So when last we left our intrepid travelers, we were in the Vatican Museum, heading towards the Sistine Chapel.
This painting on the ceiling is actually totally flat. It's only painted to look 3-D. What an amazing job!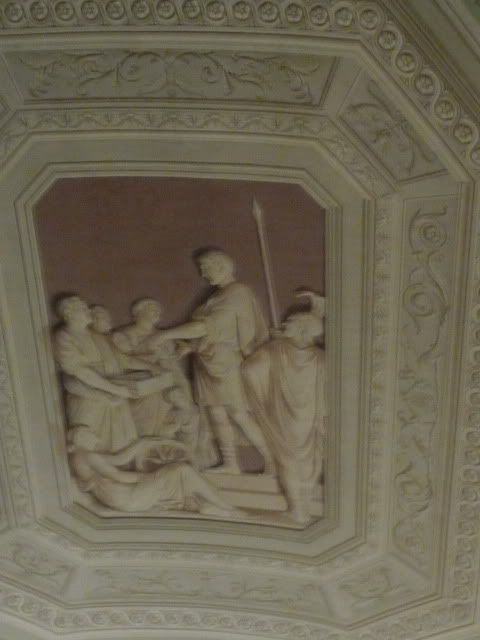 More ceiling. (The figures on the corners of this one *are* 3-D.)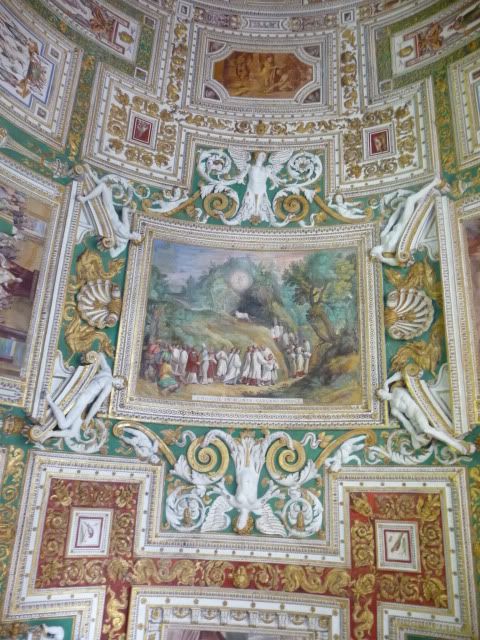 This painting, in a dome just outside the entrance to the Chapel, is "Angels and Demons". (If the title sounds familiar, I don't think it's a coincidence!)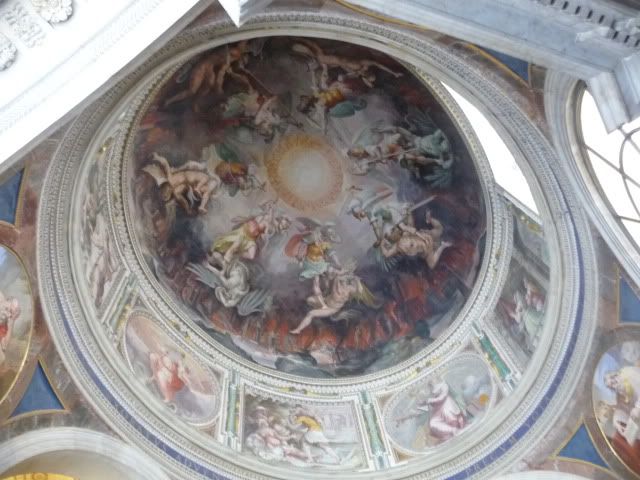 Unfortunately, you're not allowed to take any photos in the Sistine Chapel. Or maybe it's a good thing, because I was looking at the Chapel without trying to work out the best angle for a picture... That sounds good, right? ;-) Anyways, I didn't want to take any chances. The Swiss Guard were in there, hushing everyone on a regular basis, and the last thing I wanted was for some Guard to come up to me and throw me out or something! So I contented myself with finding a spot on one of the benches ringing the walls (my poor neck was just not happy with craning in the middle of the room). I sat there and just stared, and took in all the incredible details of masterpiece after masterpiece, all concentrated on the ceiling of one room. Of course, the most famous panel is the one of God reaching out his finger to Adam. But it's only one panel (and not the largest, as I'd thought it would be) out of dozens of gorgeous, detailed, amazing paintings. I could have spent hours there. But eventually, it was time to meet up at the exit, and continue on to other places. But I will always remember that sense of awe from sitting and absorbing the ceiling of the Sistine Chapel.
We then filed out of the Vatican museum, past a
large
line of people waiting to get into St. Peter's Basilica. We kept going past them, and out into St. Peter's Square. There, the Guides told us that since we'd been so good, and all met up at the correct time at the Sistine Chapel, they had a special treat for us. We then walked *directly* up to the front of St. Peter's, and walked right in! (Ah, the Magic of the Mouse!) And St. Peter's was not on the ABD itinerary!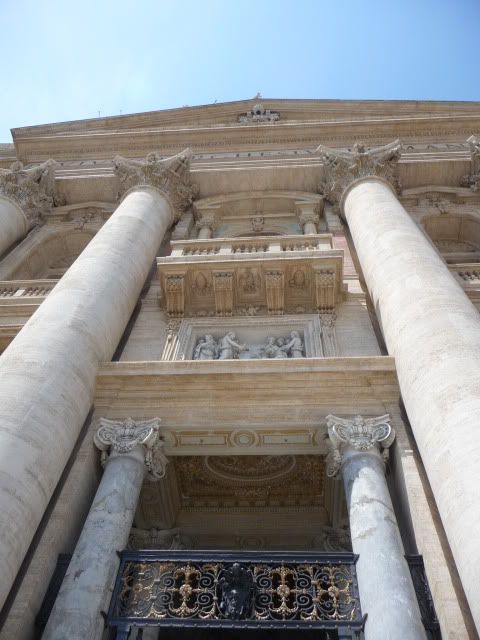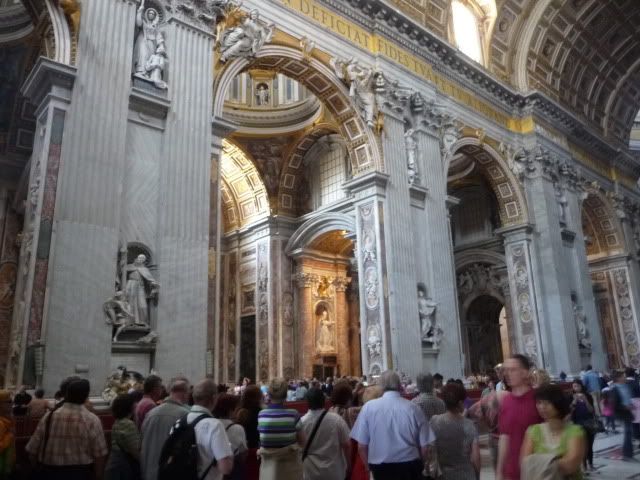 We didn't have very much time there, but we had more than enough time for me to worm my way to the front of the crowd admiring -- the Pieta! It is, unfortunately, behind glass now. (Apparently some insane person ran up to it & broke off a toe with a hammer! 0_o ) But I had plenty of time to admire the incredible detail and beauty and pathos of this fabulous sculpture, and get some pretty fantastic shots of it, even *through* the glass!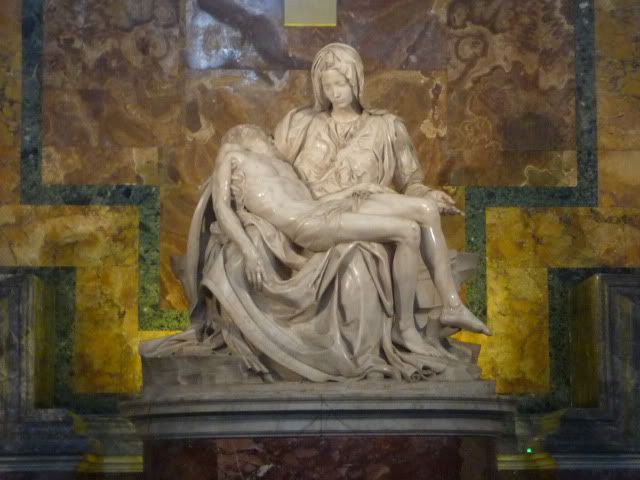 I wandered around, and got some photos of other miscellaneous areas of the Basilica, but it was the Pieta that really stood out for me. Just magnificent.
The Swiss Guard of Vatican City and their distinctive uniforms.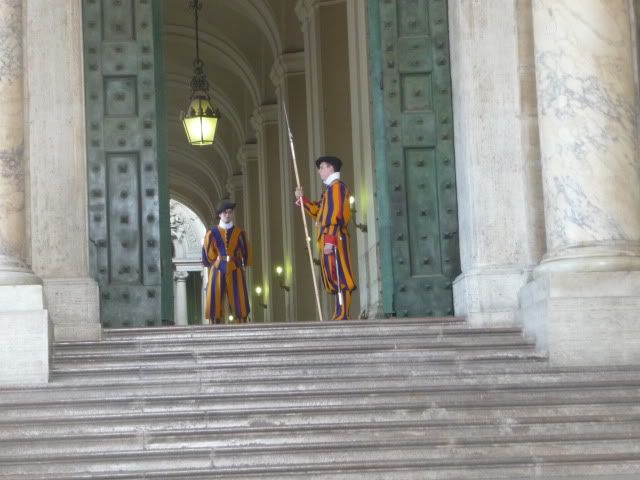 We then exited back out into St. Peters' Square, where we absorbed all the surrounding architecture & statuary, and took pictures of St. Peter's (notice how you can't see as much of the dome as you could from the Vatican Museum!)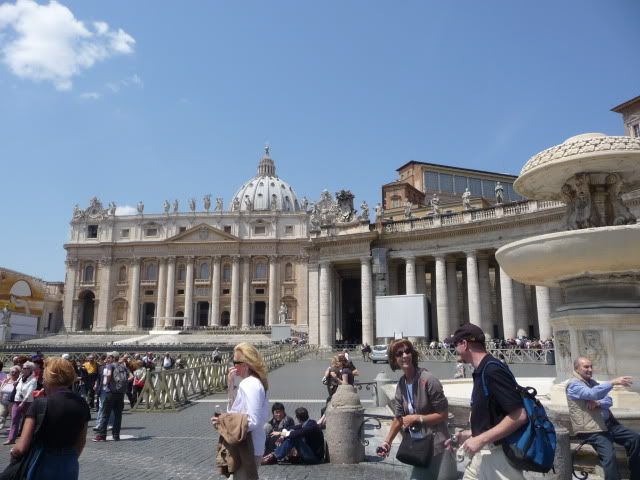 The exterior of the Sistine Chapel and some of the myriad of statues ringing St. Peter's Square on top of Bernini's colonnades.
St. Peter's Basilica and the Egyptian Obelisk from the Circus of Nero.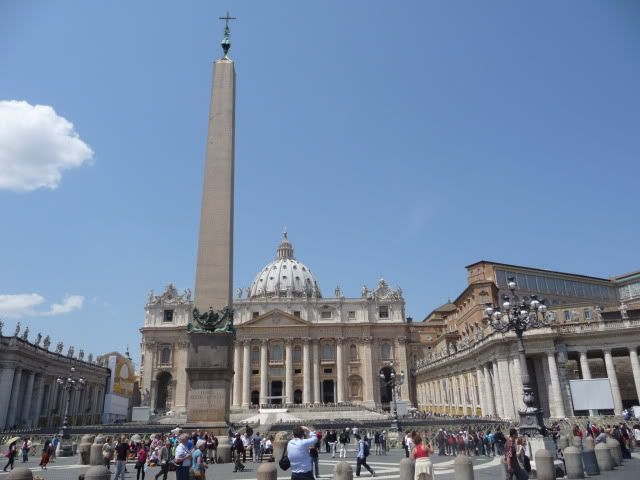 Here's the whole group in front of St Peter's and the obelisk: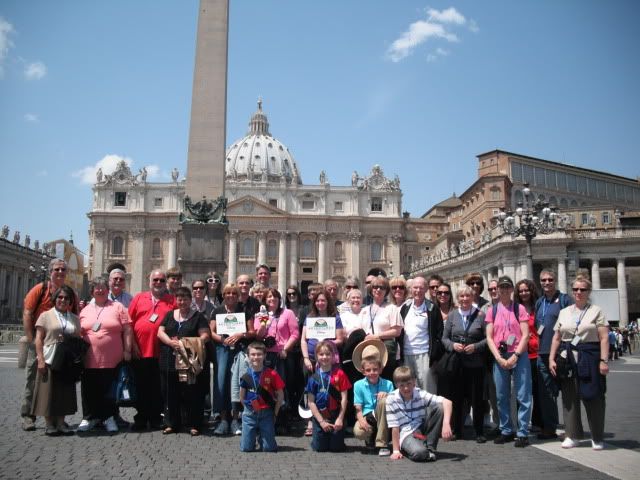 We then were given some time to explore the shops at the edge of St Peter's Square. I purchased a cameo. It's a gorgeous cameo, but when I bought it, I was focused on how gorgeous and beautifully detailed the cameo is. It wasn't until I wore it onboard that I realized just how large it was. I probably should have bought something smaller and more practical, but it *is* so pretty. And, honestly, it's a piece of art. I need to find a way to display it at home when I'm not wearing it...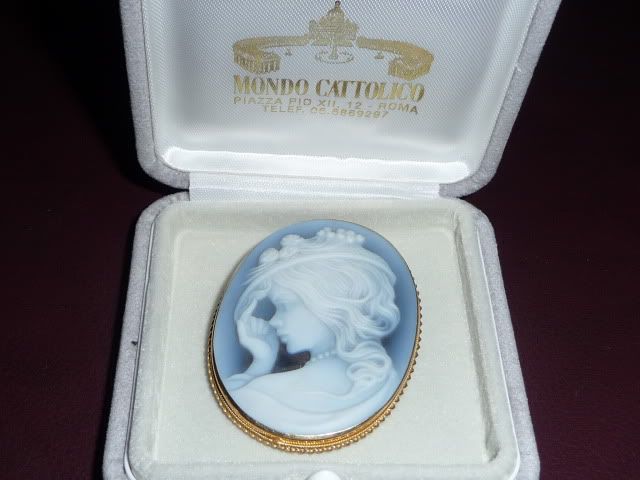 The good part is, it kept me from buying all sorts of other souvenirs. Kind of busted the souvenir budget all on its own. But I didn't really want to worry about shlepping all that extra stuff onto the plane, anyways! (And I kept picturing people admiring it, and asking "Oh! Where did you get that?" To which I'd reply, casually, "Oh, at the
Vatican
". ;-)
Next, we wound our way to where the motorcoach had been taken, and rode to the restaurant we were having lunch at. It was a very pretty place, in a hotel I don't recall the name of...
Once again, they were a bit confused as to what to feed me (at least for the "appetizer" course) because they were giving everyone pasta in a tomato-based sauce. They made mine with olive oil, butter & spices, and it was quite tasty. I'm pretty easy to please.
It was a very nice, relaxing lunch, in a very elegant setting.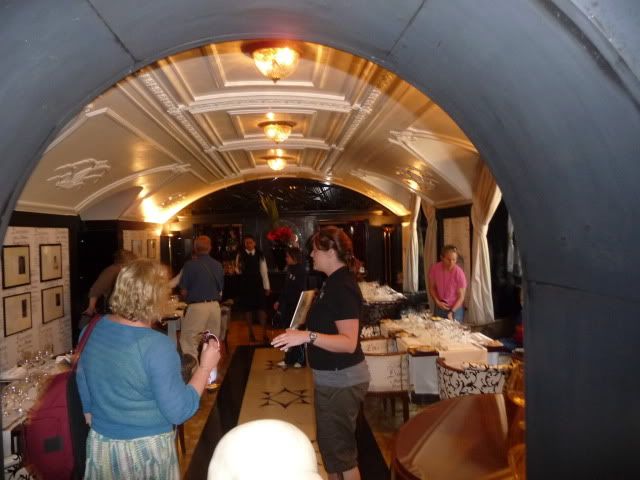 After that, we started walking around Rome, visiting our afternoon destinations. I really loved all the fountains & statuary scattered all over the place.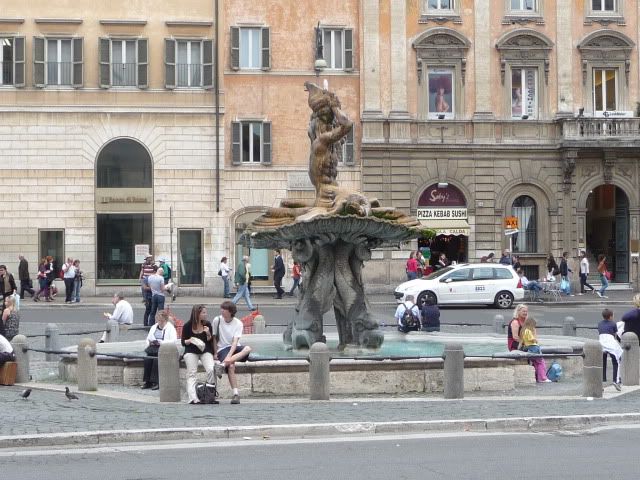 I really love how they had a building façade painted on the material covering the front of this building that was under renovation. It really helped to keep the look of the street, instead of marring the view.
[FONT=&quot]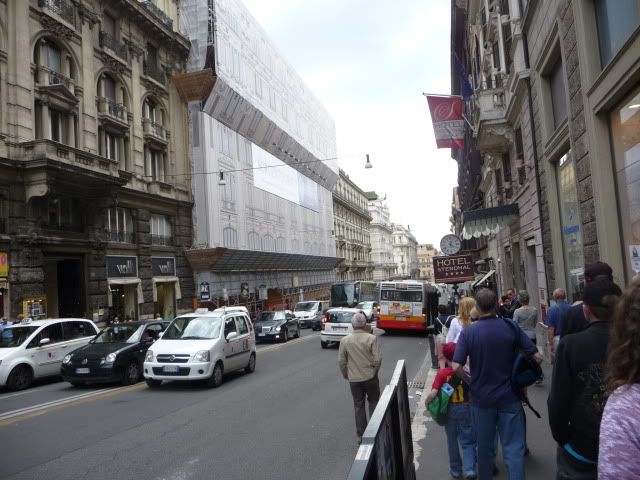 [/FONT]
Smart cars were extremely common in Italy. Look at how they parked this one! We saw this done all over the place. Couldn't do that with a normal-sized car! Bizarre!
[FONT=&quot]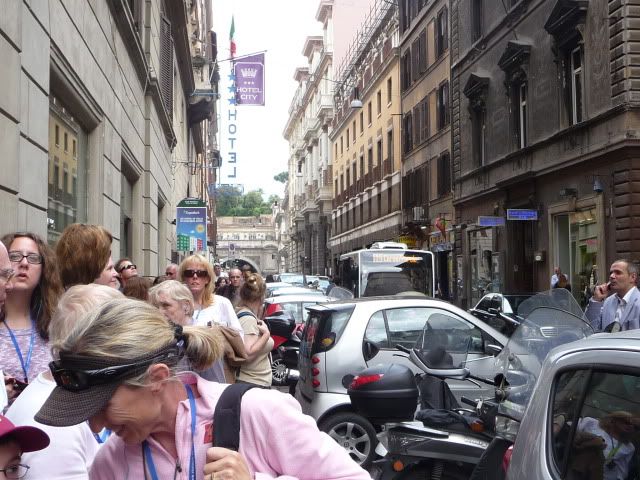 [/FONT]
I really liked the detail on the base of the Column of the Immaculate Conception (with the Spanish Embassy behind it).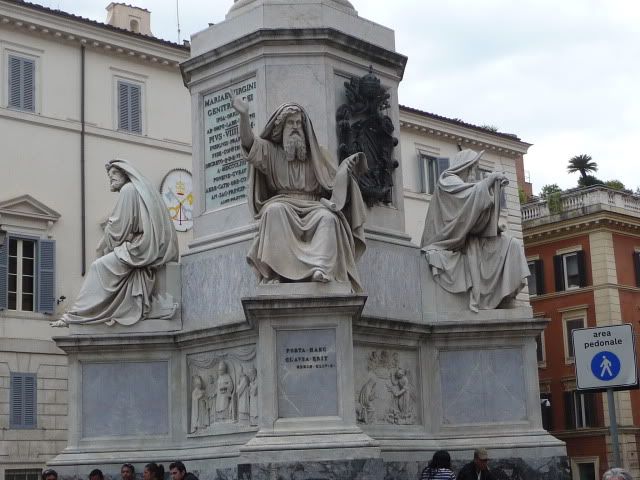 And, opposite the Spanish Embassy, the Spanish Steps. These steps (supposedly the longest & widest staircase in Europe) run from the French Trinità dei Monti church, down to the Plaza in front of the Spanish Embassy to the Holy See. They are very crowded, as, for some reason, people seem compelled to go there & sit down. I think it's one of those things that you do to say you've done it...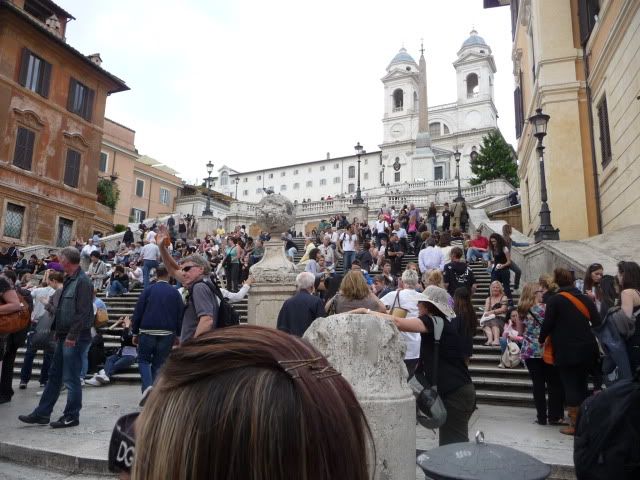 This fountain, by Bernini, is also in the Plaza at the foot of the Spanish Steps. Apparently all of the fountains in Rome are built off the Aqueducts that feed Rome, and are fresh, drinkable water. Robyn & Tina had told us to hang on to an empty water bottle, and we found out it was so we could fill our bottles at this fountain. The water was cool and very fresh & delicious. Imagine that!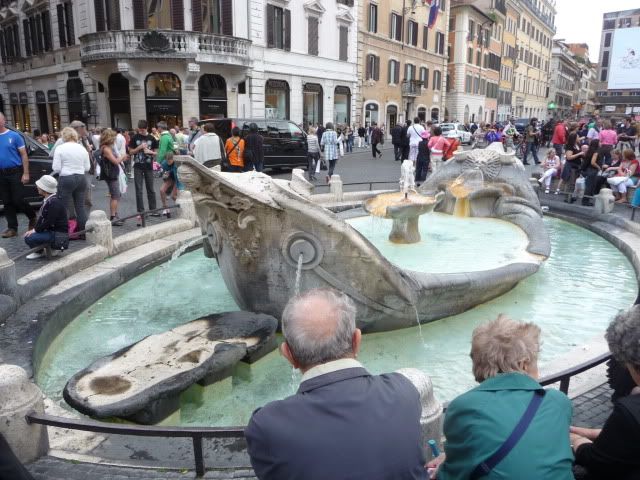 They actually had drinking fountains scattered all over. This one, you put your finger over the bottom, where water was coming out, and it re-directed the water up to a spout that you could easily drink from. Of *course* we all had to give it a try!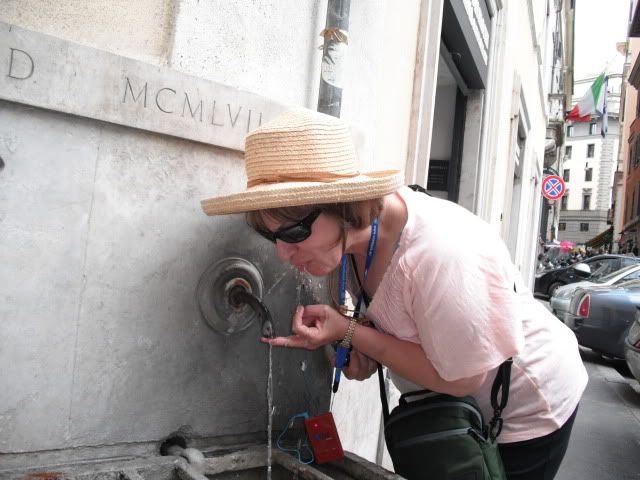 I honestly don't remember what this specifically was a picture of, but I love the mix of 3 different architectures & textures...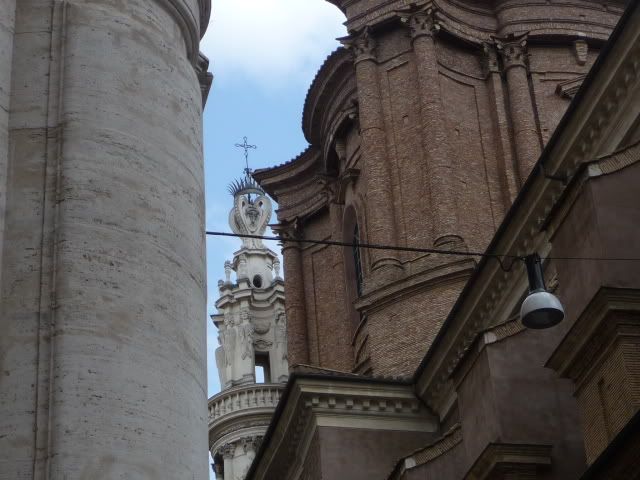 And then, we made it to the fabulous, spectacular spectacle that is the Trevi fountain. It's massive, and totally gorgeous. There is *so* much detail in it, almost despite the size. The power of the water is very impressive, and it's one of those things you can stand & look at for ages. But you don't want to just stand there. The Trevi fountain really compelled me to walk all around it, take pictures from all sorts of angles, climbing up onto various steps & overlooks. I really love how it's integrated into the façade of the building behind it, making that a part of the sculpture. It was very crowded there, but the crowd was surprisingly easy to maneuver, and we managed to find our way to a spot directly in front of the fountain, where Tina & Robyn took pictures of each of us throwing a coin over our shoulder, into the fountain. It's said that if you do that, you will return to Rome!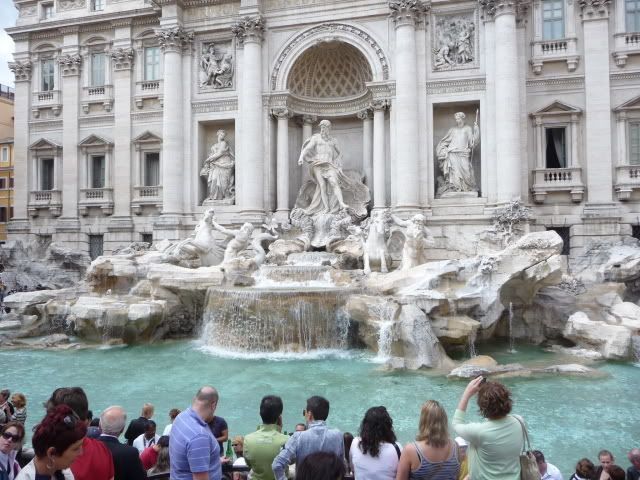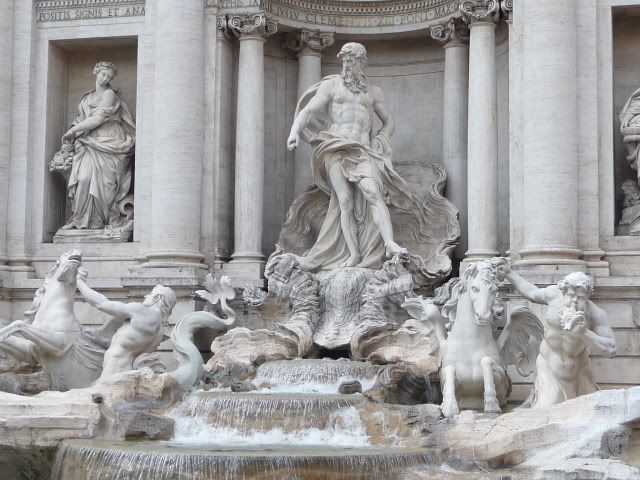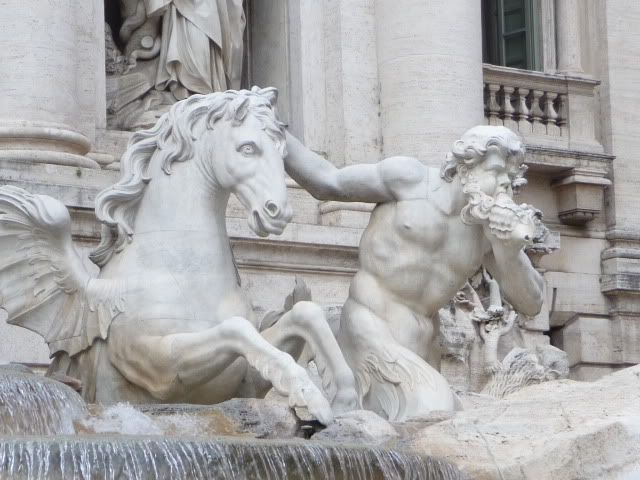 After that, we had yet *more* gelato (not that we were complaining, except with 39 people, each stop for gelato dug into our touring time. I'd've rather spent those 45 minutes, say, visiting the Pantheon, one of the sites in Rome I'm sorry we missed). Robyn & Tina admitted the fact that pretty much every tour in Italy included gelato was a bit of over-kill. But if my biggest problem is that we had "too much" gelato, I'm doing fabulously!
The National Monument of Victor Emmanuel II, the first president of unified Italy. It's often called the "Wedding Cake" building. I thought it was pretty neat looking, but apparently it was seen as gaudy and over-done when it was built. Oh, well, I guess you can appreciate it more if you don't know the politics behind it, or what was razed to make way for it...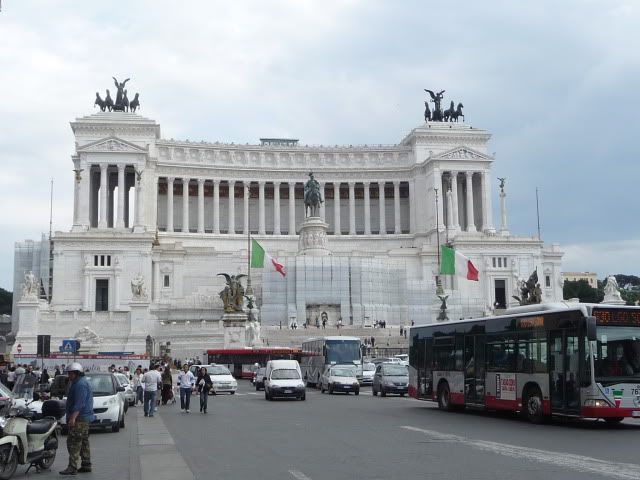 Continued below: