Hey y'all I hope everyone getting ready for nice mother's day weekend. I for sure our planning my mother's day for Mama Jay, I will be making her some yummy cupcakes. Today I watched the Modern Family episode where they visited Disney and I loved it. Did anyone else see it? But it made me want to go to Disney again soon. I also just wanted to let you know that this report will have A LOT of pictures in! But let's get on with the report.
When we last left off we left our first park for a quick rest in preparation of our first ADR! Mama Jay, Sara and Sophie slept and had a good nap, I edited some pictures and watched some mindless television and Cole played on his DS.



I don't know why Sophie was watching her hands but I thought this picture was too cute.

But soon enough it was time to head out to our ADR. We walked across the road to the hospitality house to the bus stop. Soon enough the Magic Kingdom bus arrived and we hopped on. Every time we were on the bus to the Magic Kingdom when we got there and they played the Welcome to the Magic Kingdom recording we would get all excited because Sophie loved the Princesses and this is the first time we got excited to see Cinderella's Castle although we wouldn't be getting too close to that today.

When we got off the bus we passed the bag check and walked our way up to the Monorail. And before we knew it was arrived and we bored the bus, I was carrying Sophie because we were in a hurry and she was still half asleep and a nice man in his mid-twenties let me sit so that I wasn't hold her and trying to stand on the crowed monorail. So, if this man is reading this on dis I would just like to thank you once again.

We disembarked at the first stop because tonight we would be eating at Chef Mickey's! Now I know a lot people aren't a fan of Chef Mickey's because of the food but I complete disagree with people and love this restaurant so it was a must for me when traveling with children.

We quickly made our way to Chef Mickey because we knew that we were running late. We checked in and got in line to take our family picture. I don't have a copy of the picture but I'm pretty sure that Sara did buy it. Waiting to be seated at Chef Mickey's was probably are longest wait. But we were still seated pretty quickly.
When we seated the first napkin dance was beginning so we attemped to teach to Sara, Sophie and Cole but it didn't work. Now for any one who hasn't been to a character to meal after they do their little show like the napkin dance they go and eat some cheese, bird food or whatever else the characters might eat.

So, Sara, Mama Jay and Cole went to get their food and stayed with Sophie and when they returned it was my turn and I went up quickly to get my food. I must say that Cole and Sophie stayed very patient waiting for the characters.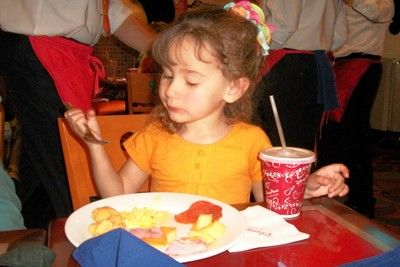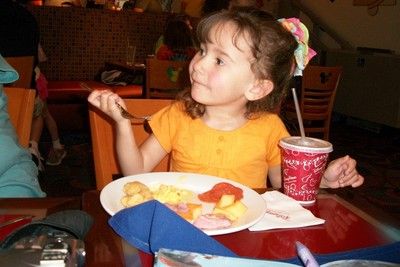 Before we knew Donald made his way over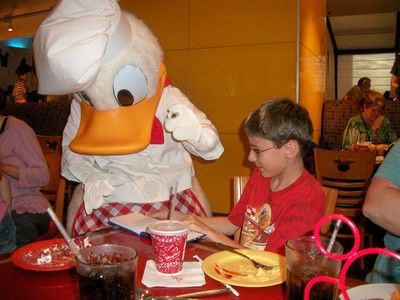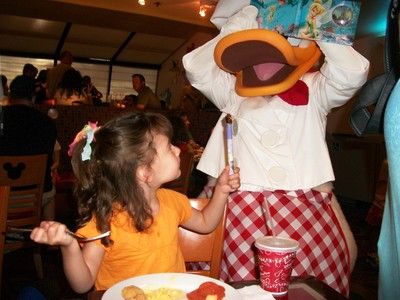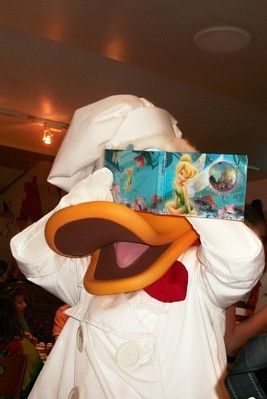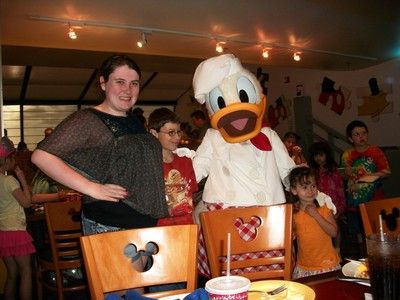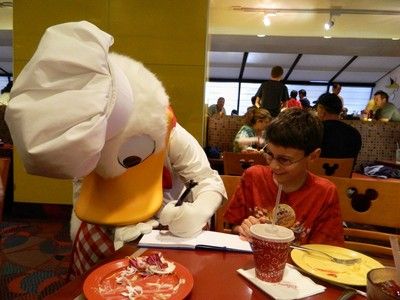 Then Goofy came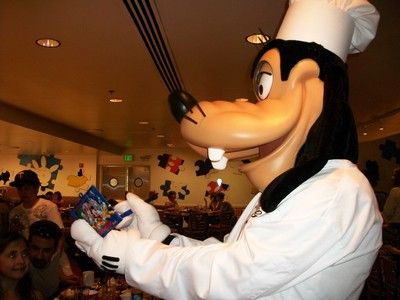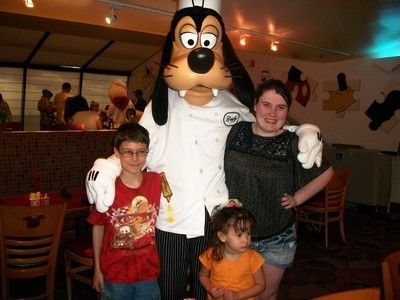 Goofy surprise hugging Cole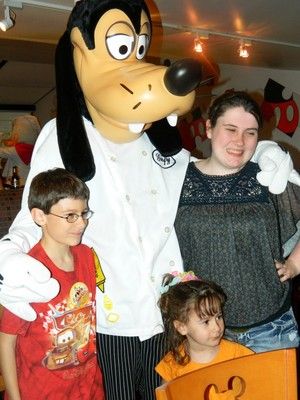 Soon Minnie made her way over which excited Sophie every much because she loves Minnie from Minnie Mouse clubhouse.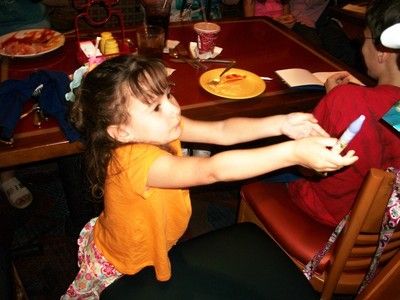 Giving Minnie her pen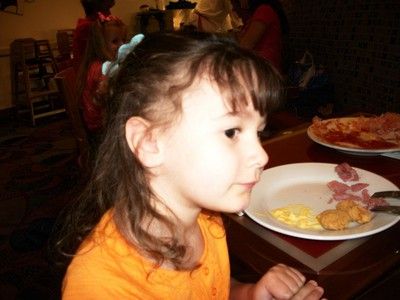 She's watching Minnie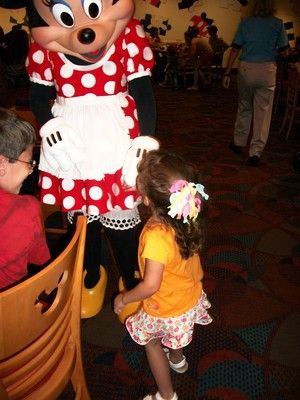 Meeting Minnie Mouse!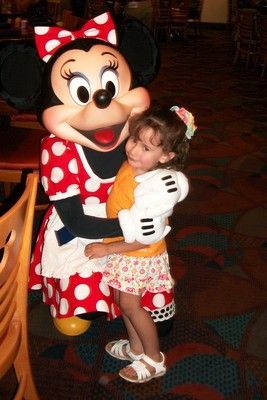 Getting hug, she looks so happy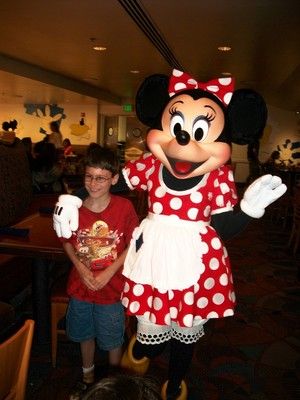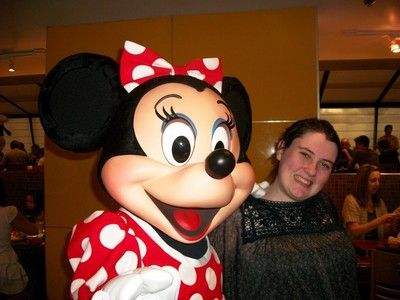 Now I believe I forgot to mention that Mama Jay told the waiter that Sara birthday had just passed and we were celebrating her birthday tonight. After Minnie came we didn't see any characters coming so Sara went to get food and Mama Jay secretly went out to pick up Sara's birthday. While they were away the waiter brought Sara's birthday cupcake and the next napkin dance was getting ready. Mickey was in charge of area of the restaurant.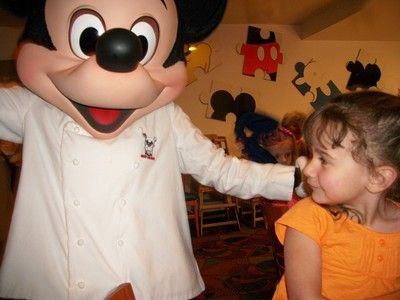 He saw Sara's birthday cupcake. He wanted to know whose birthday it was but had a hard time understanding where Sara went. When she returned he stopped and posed or a picture with Sara. The Napkin Dance happened and he and the gang went in for a quick break.

When they returned we got a visit from Pluto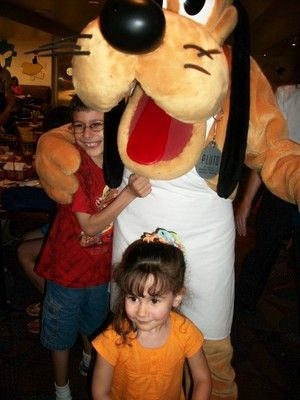 Cole looks so happy in this picture! I think its one of my favorites of him.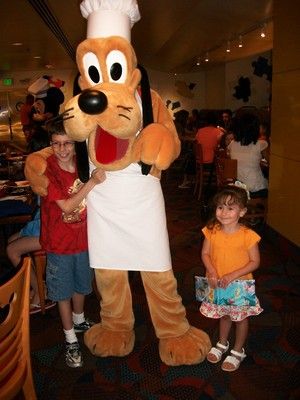 Continue in Next Post