Hi! I'm Em and I'm starting my first ever Trip Report! Before I left I knew I was going to do a trip report on this trip so I brought a notebook and took notes so hopefully my reporting of this trip will be good. So I guess I'll start with the who, the what, the when, the why and the where. Although I will be ending with who.
The What:
A Walt Disney World Vacation
The When:
My April Vacation
The Why:
This trip was my high school graduation present. I was given to options either I could go on a seven day cruise or I could spend seven days in Disney world with my mom, her best friend and her friend's children. Well I chose the latter which is probably making a lot people go What?
Why?
Would you chose ciaos instead of relaxation? And I chose to go with them because I wanted to Disney through little kids eyes!
The Where
Disney's Old Key West
The Who:
Me: Like I said I'm Em and I'm a soon to be high school grad!
And when I say soon I mean 54 days but whose counting LOL. Anywho I'm going on to college for Education and special education and hopefully I will do the Disney College Program. I'm shy when you first meet but as you get to know me I'm very outgoing as you may see in some of the pictures. My favorite character is Stitch.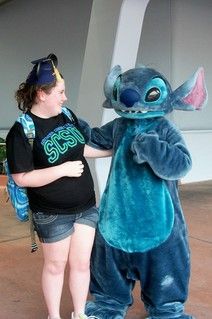 Mama Jay: Mama Jay is my mom and one of my best friends (I know, weird but true). I'll be calling her Mama Jay because whenever I talk about her I call in Mama our last name which start with "J" so I figured I'll call her Mama Jay. My mom is a Disney fan and loves Disney cuz it gets her away from reality. She isn't a big fan of Animals but we did her to go into Animal Kingdom this year which is a pretty big deal. Her favorite character is Pooh.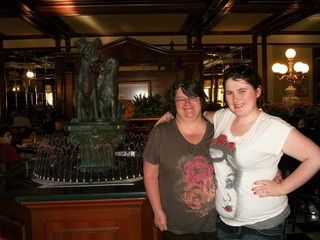 Sara: Sara is my mom's best friends.They are like sisters. They live about 15-20 minutes away from us so we see them pretty often. She grew up in Florida so when she'd go to Disney it wold be like day trips instead of a real vacation so by going to Disney on this trip it was like a whole new experiece. Her favorite chacater is eeroye. She request that we don't put any pictures of her online so I'm going to repect her on that.
Cole: Cole is Sara's 9 year old son. Cole has done one day trip to Disney so we were counting this as his first real Disney Trip. Cole thinks about everything in a very engineer way so he asks a lot of questions. He also doesn't like surprises so he would ask a lot of questions before going on a ride. I don't know who his favorite character is but I do know that he LOVES the Haunted Mainson.
Sophie: Last but certianly not least is Sophie. Sophie is Sara's 3 year old daughter. She has never been to Disney before. She is very outgoing and sweet. Her favorite characters are Minnie Mouse (she watches Mickey Mouse Clubhouse) and Belle.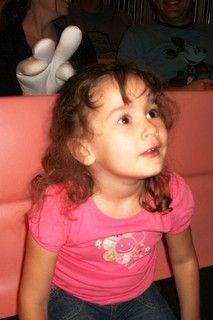 There were a couple other guest apperence through out the trip of others but I'll talk about them later. I will try to get the first real update on hear for either later tonight or tomorrow.