Travel Day: Wrapping up the Day

I left us off, waiting for the bus to head back to the resort. While we were waiting, I got the Room Ready text! We were staying in the Gran Destino Tower for this trip and I had requested a high floor. We got Room 803. (which of course, I had no idea what that meant) But we were glad that we were going to be able to go straight to our room once we got back!

If I remember correctly we did have to wait a little while. Nothing too crazy, but it was hot and we were tired. I do have that we were on a 2:26 on bus and a good old floor phoot to time stamp that we made it to the hotel at 2:38.

We went straight to our room, navigating the VERY strange elevator in Gran Destino. If you have never used it, you use a touch screen on the outside to say what floor you are going to. And then it tells you which elevator to go to. When you get into the elevator itself... there are no buttons. It is a very strange feeling to be in a box with what feels like no way to get out! Anyway, we figured the elevator out.

And when we got out of the elevator I got a call from Garden Grocer that our groceries were delivered!

Our room was all the way on one end of the hallway, and we were able to get in just using the app on the phone! (Cause I didn't take our magic bands out of the bags before we gave them to bell services, it's like I have never been to Disney before!)

We were welcomed in the room with this message!

IMG_0488
Which was a nice touch!

We booked a Standard View Room but I think we got "upgraded" to a Water View.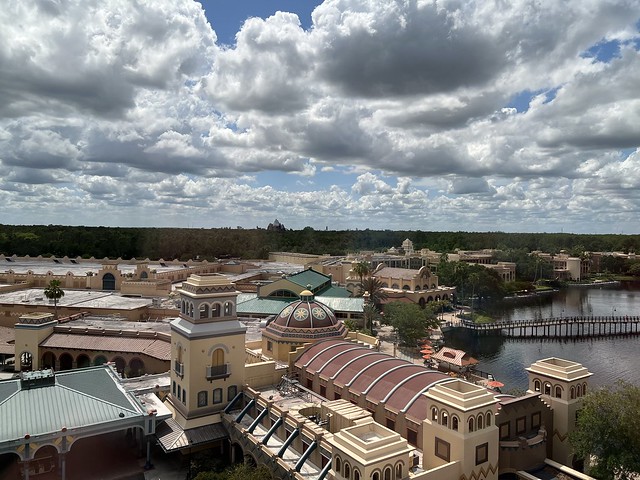 IMG_0488
We could see Everest and the Tree of Life from our room. Which was cool. But I was slightly bummed as I was hoping we could see the Harmonious Fireworks from the room.

Room itself was very nice, although we could have used more drawers, we are unpackers in a hotel. And use the suitcases with dirty clothes. Shower in the bathroom was really nice as well, but it was all glass, so if someone showered the whole bathroom was occupied. So, not great for families. Overall I would say it was DEF designed for convention goers and not families.

We called for our bags & Groceries to be brought up and rested for a bit.

I have been using Garden Grocer to order groceries. I am old and stuck in my ways.... But we usually order bottles of sodas, seltzer water, Iced Coffee and skim milk (for coffee), goldfish and pringles for the girls to have as emergency snacks.

We finally decided to go down to the pool for a little bit. Andy and the girls headed down, and I stayed behind to set out the Tinkerbell Gift for the day! If you are new to my trip report, Tinkerbell gifts is something we also started a long time ago. It was also to help curb the request for every 65 dollar princess dress. I had stock piled Target versions on sale and would leave those out on trips. And it just stuck as a little extra magic to the girls trips.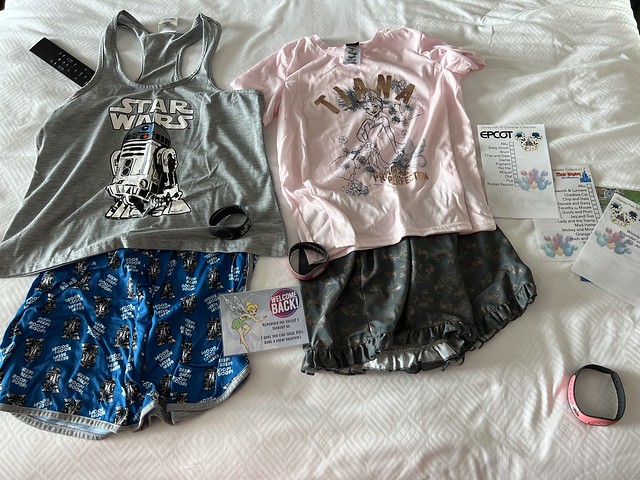 IMG_0488

The first day is always Pjs! The Star Wars pjs were for Morgan and Tiana pjs for Gwen. I also made check lists for finding all of the golden statues. And magic bands of course!! I had actually gotten a 2nd set when I saw that they had a birthday one. Which I got for Andy. But of course, I was saving that for his Birthday... And you know what he says when they see the gifts... "How come I didn't get one?" I wanted to scream, I am trying to keep it a surprise, here!!!

Anyway, I laid out the items and ran to catch up with Andy and the girls. It was about 4:00 by now and the pool was closed. No one really said why, but I think someone poo'd in it?

IMG_0488
Coronado is a beautiful resort! And I do think gets a little bit of a bad rep.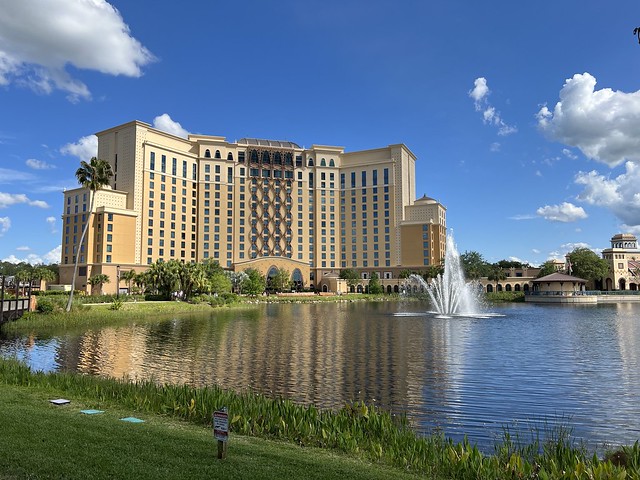 IMG_0488
We sat and waited a bit for the pool to reopen but it was really hot and finally decided to just go to a quiet pool once we realized it wasn't closed for lightening. Which ended up being a good call, as there only a few folks in the pool and it was so refreshing after sitting in the sun for 15 minutes waiting for the big pool to reopen.


IMG_0488

The quiet pool was a lightly salt water. Which was intresting, as later on we did make it to the big pool and I don't think that one was salted. We swam for probably an hour before heading back to the room. 5:00.

I saw on social about kid who climbed up pyramid that day. So, a rough day for the life guards! Between some kid climbing the pyramid and another pooping in the pool. They were probably all like, I don't get paid enough for this job.

We went back to the room, changed and rest a bit. I had hoped to go to Three Bridges for dinner, but no one had any interest in sitting in a restaurant. So, we decided to go down to the quick service to bring back to the room.

Around 6:15, we headed down to El Mercado de Coronado (counter service restaurant for Coronado) for dinner. It was all premade food that you just grab and go which I didn't realize at the time. I was debating on ordering something from 3 Bridges to go but Andy said he wasn't hungry and the food looked like more what the girls would want there.

BIG MISTAKE!!!!! Spoiler Alert, this was by far the most disgusting food I have even had in Disney!!! It was terrible! And I don't understand why such a large resort is STILL serving food this way.

Morgan grabbed the Philly Cheese Steak
Tender sliced Rib-eye with Onions and melted Cheese on a Hoagie roll. Served with Lettuce, Tomato, Onion, Fries and Pickle Spear

IMG_0488
She liked it but I didn't try it. I think it was fine but it was $17!!!! And came with no sides!

Gwen decided on the kids Macaroni & Cheese
Served with Seasoned Fries, Yogurt Smoothie, Apple Slices and choice of Small Lowfat Milk or Small DASANI® Bottled Water

IMG_0488
It was fine basic mac and cheese. But the fries were under cooked and the mac and cheese was cold.

I decided on the Crispy Santa Fe Chicken Sandwich
Crispy Chicken Breast tossed in Hot Sauce, Pepper Jack Cheese and Cool Herb Aioli. Served with Lettuce, Tomato, Onion, Fries and Pickle Spear

IMG_0488
It was so gross! The chicken was NOT crispy.... and I am not sure what the cool herb aioli was but it was nasty and the hot sauce was sweet not hot. I have never had something so terrible in Disney before. My fries were also under cooked, like raw in the middle! If we weren't so tired, I would have gone down and complained. And my sandwich was $16, at least mine came with Fries.

We also grabbed 2 refillable mugs. Filled one with soda and one with hot chocolate. The refill machines were no touch points, which was interesting. You just kind of stuck your finger in between the sensors and that made it work. Very odd. And they only place I saw that the whole trip.

We did take everything back to the room to eat which I am sure contributed to Gwen's mac and cheese being cold. But the whole meal was very underwhelming.

But we were tired....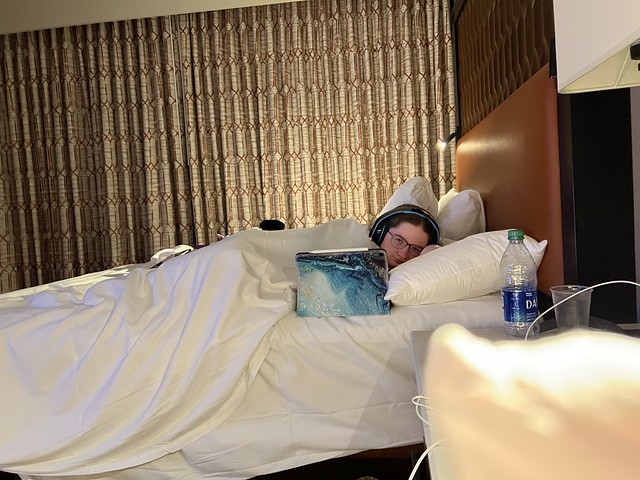 IMG_0488
This was Morgan at 8:15! And both girls asleep by 8:30!

Andy and I followed shortly after, around 9. Which was fine, as we had a busy day ahead!

Tomorrow was Easter!