<font color=deeppink>a little on the OCD side<br><
Monday 7th February 2011
We woke about 9am. I hadn't felt well during the night but had managed a few hours sleep by 9, we got up and ready and caught the bus to Magic Kingdom. We had a look in the shops on the right hand side of Main Street and I picked up a couple more bits, one being a glass which I had engraved with my name. I guess it has become a tradition now as I have done this on my last four trips.
Once we had finished we stopped off in Main St Bakery for some breakfast, we were quite hungry as we hadn't eaten since dinner mid afternoon the day before. We got a Ham, Egg & Cheese Croissants and a Café Latte each then I had a Cinnamon Roll and Lee had some Donuts (which are Krispy Kremes):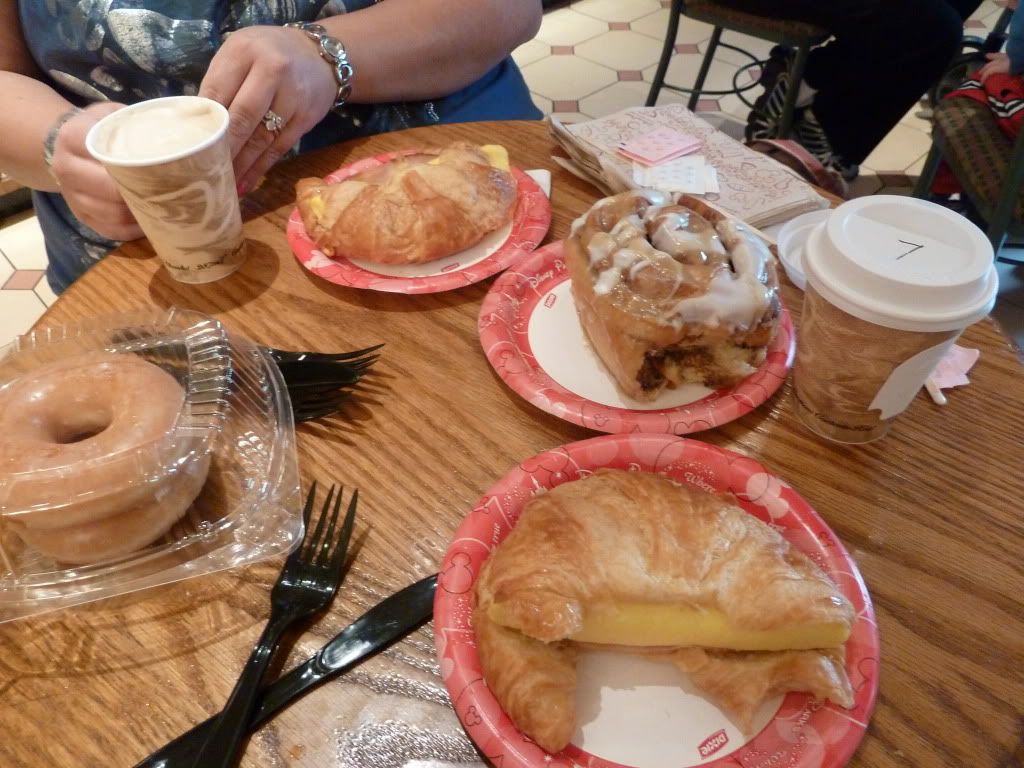 After brekkie we went on Buzz Lightyears Space Rangers Spin, where as usual Lee whopped my butt, followed by Stitches Great Escape, then we walked around to Fantasyland and watched our favourite Mickey's Philharmagic.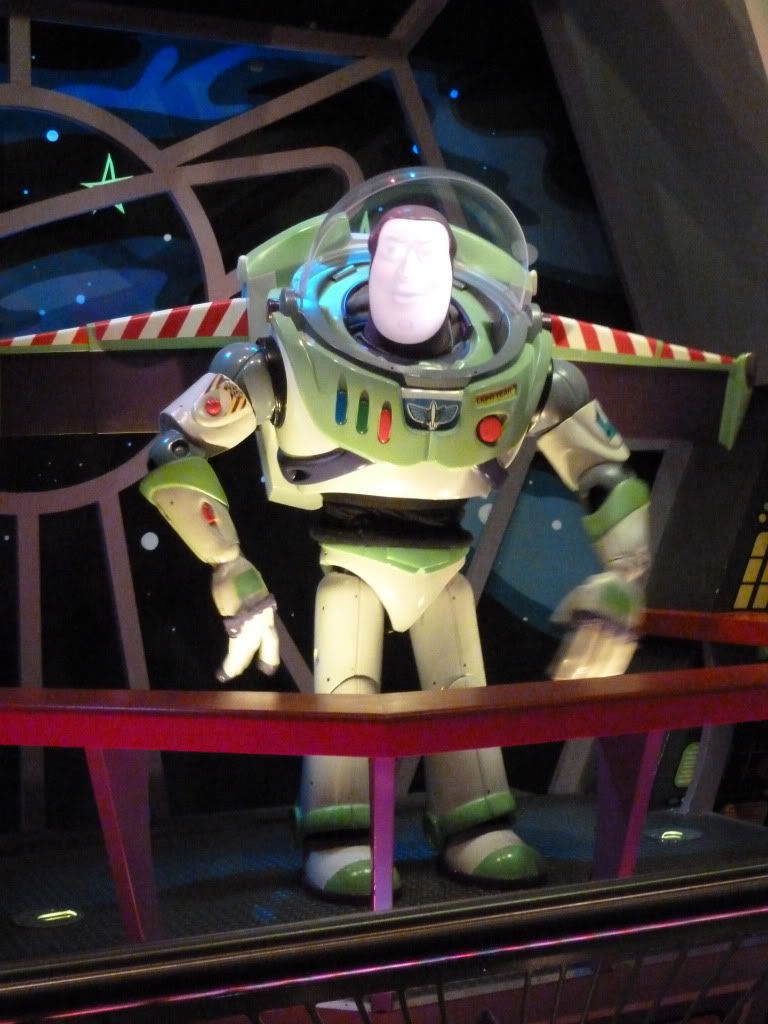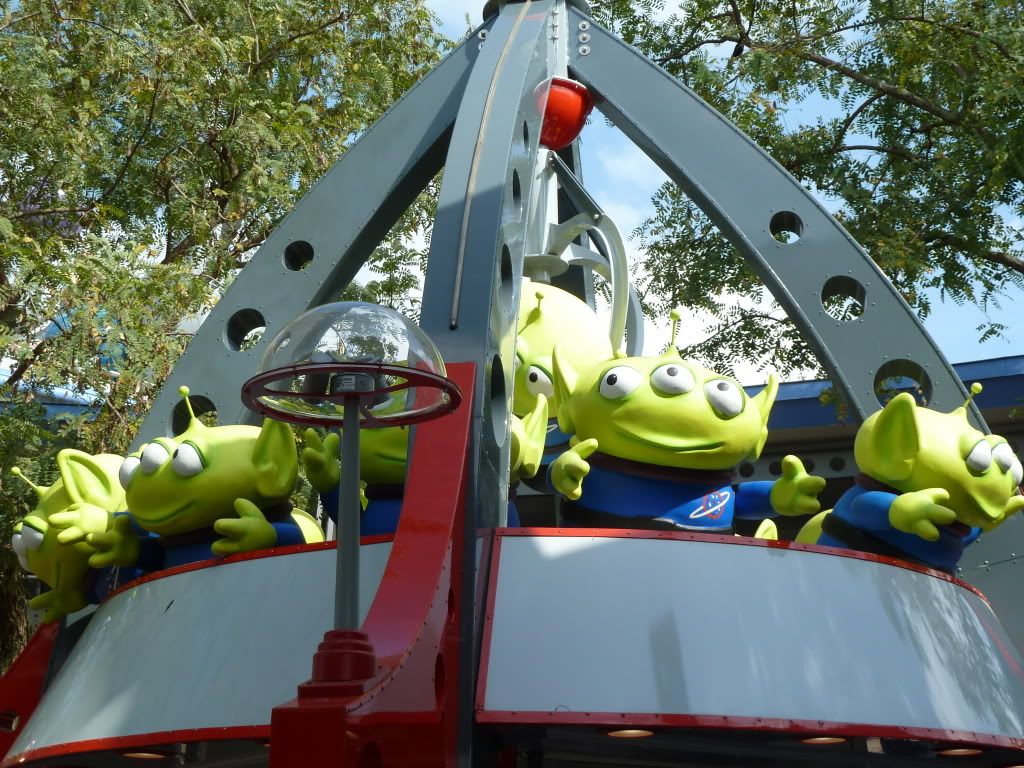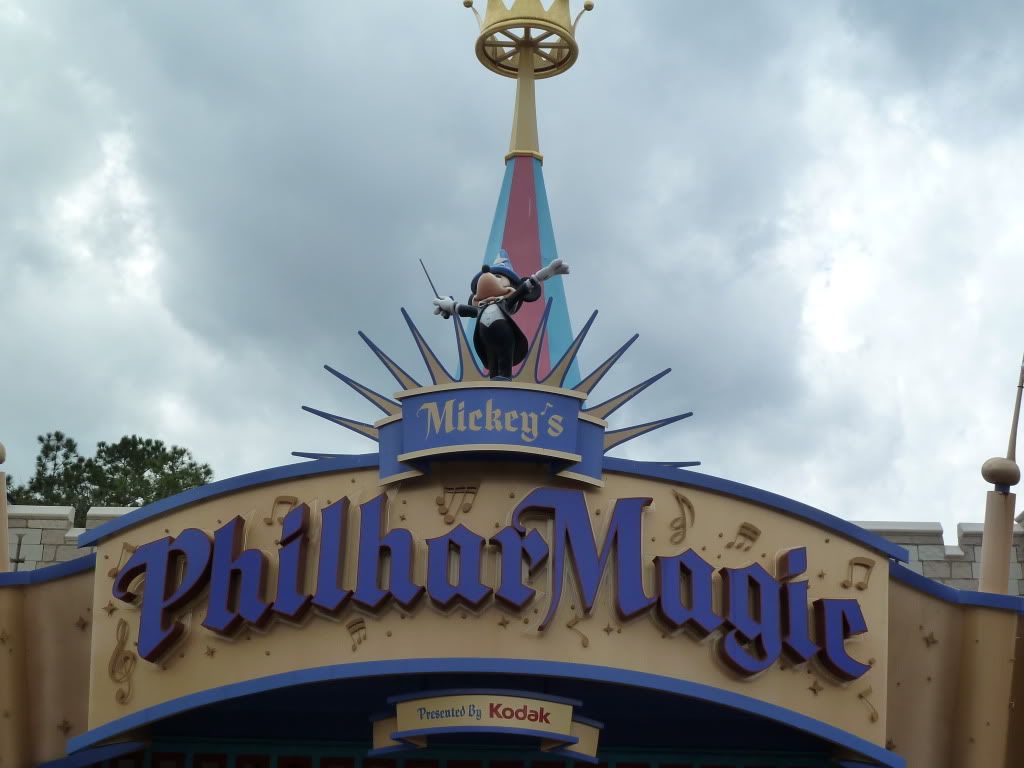 We took some photos of all the screening which blocks off the contruction area's. I can't wait to see it all when it's done.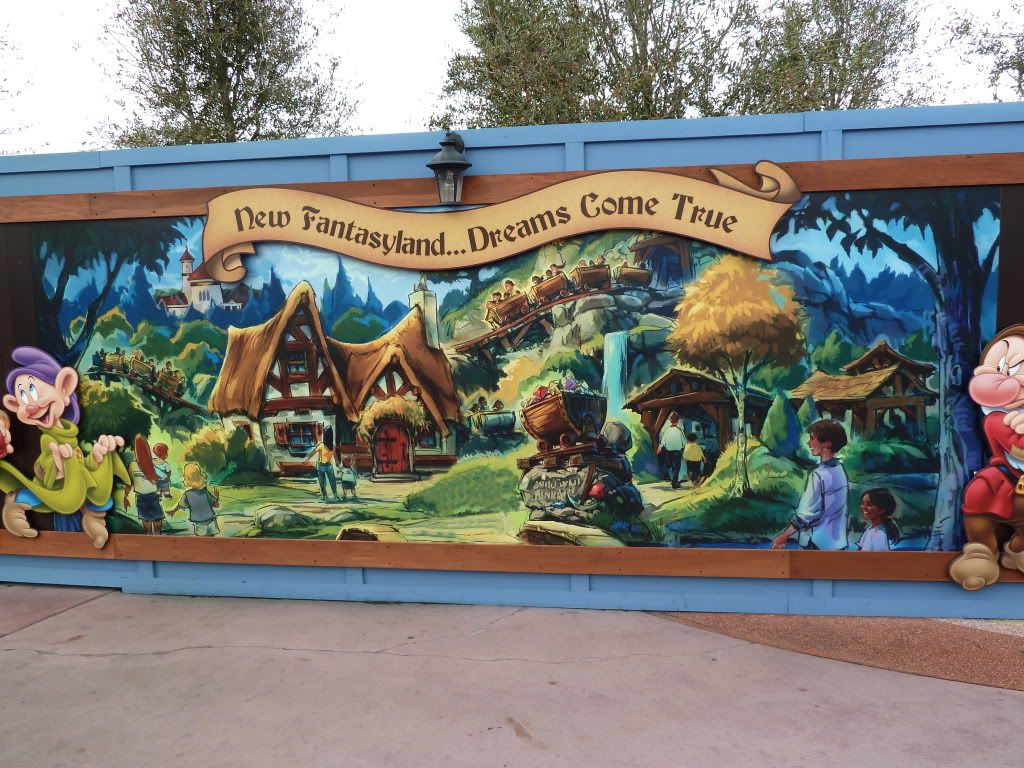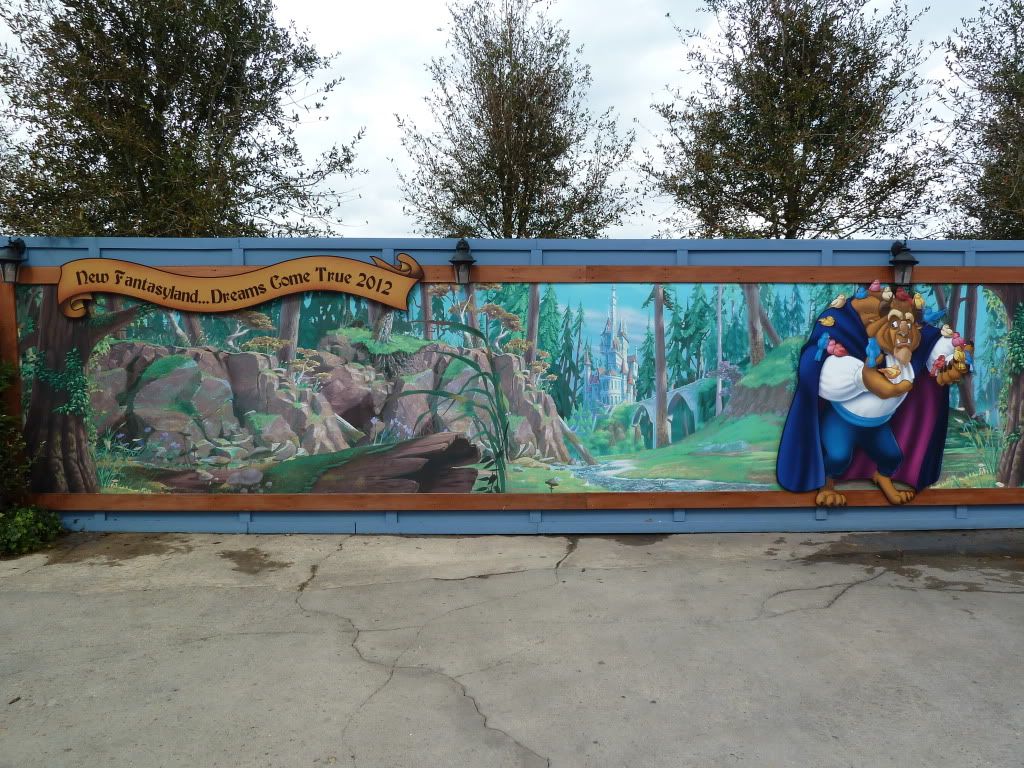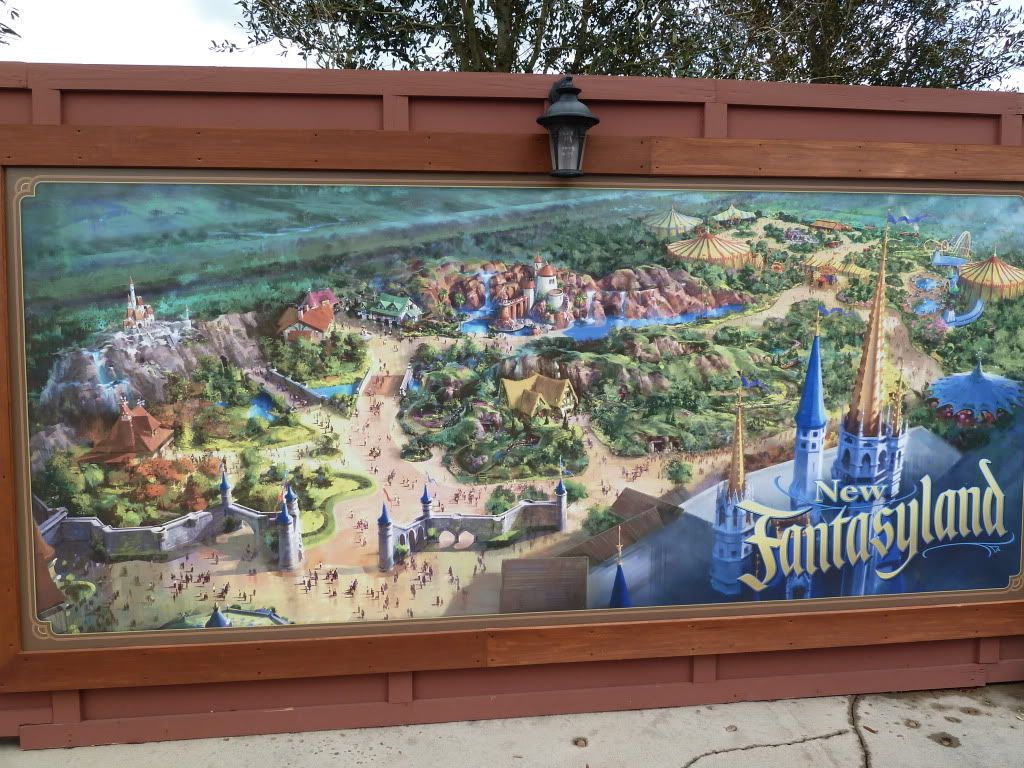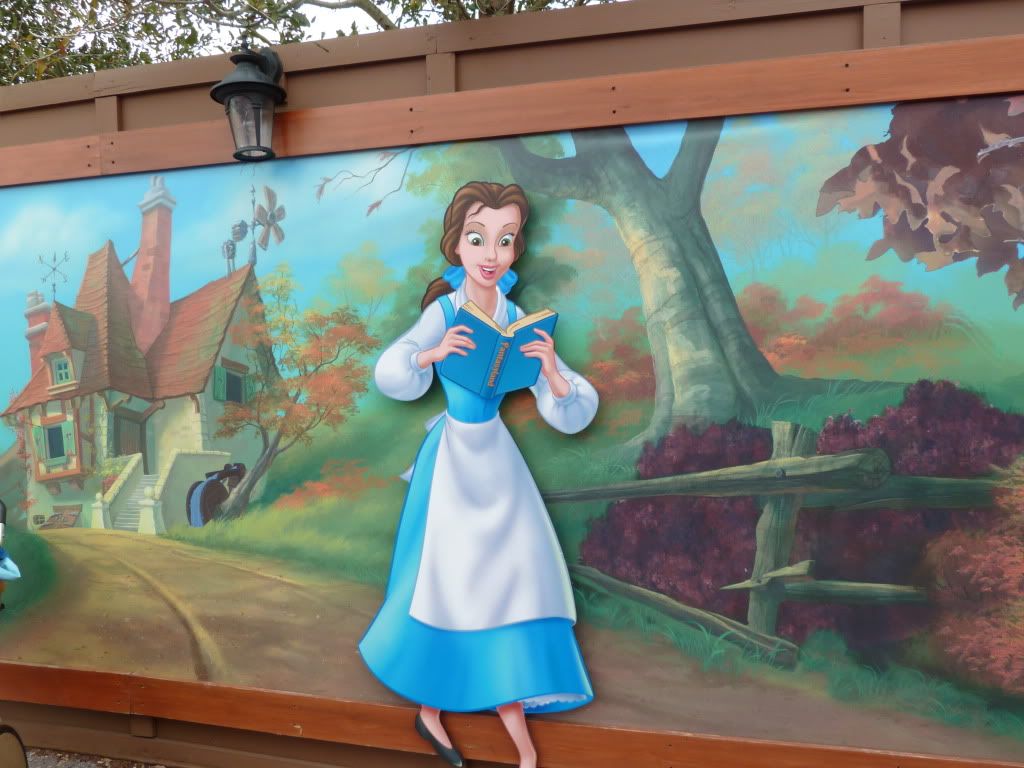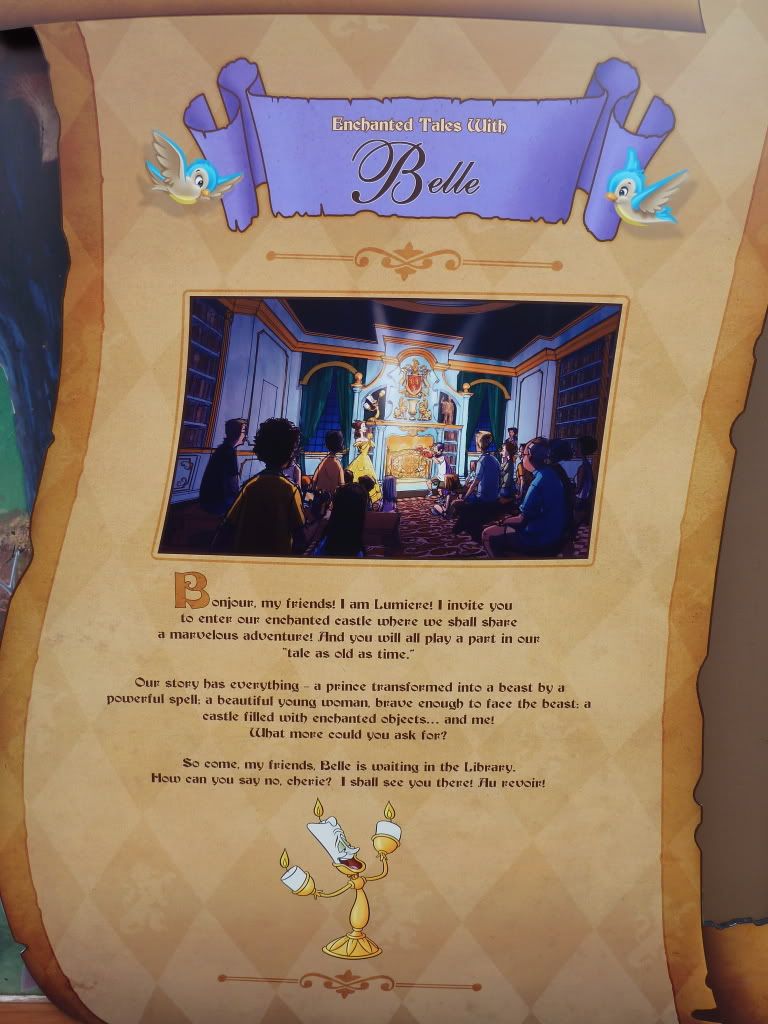 When we were looking at the Beauty & the Beast "Be Our Guest" restaurant poster Lee noticed how in the bottom left corner Lumiere is on a serving trolley being pushed by a waiter, we wondered if they plan to do somethink similar to Remy in Chefs de France?
I hope so, I love Lumiere!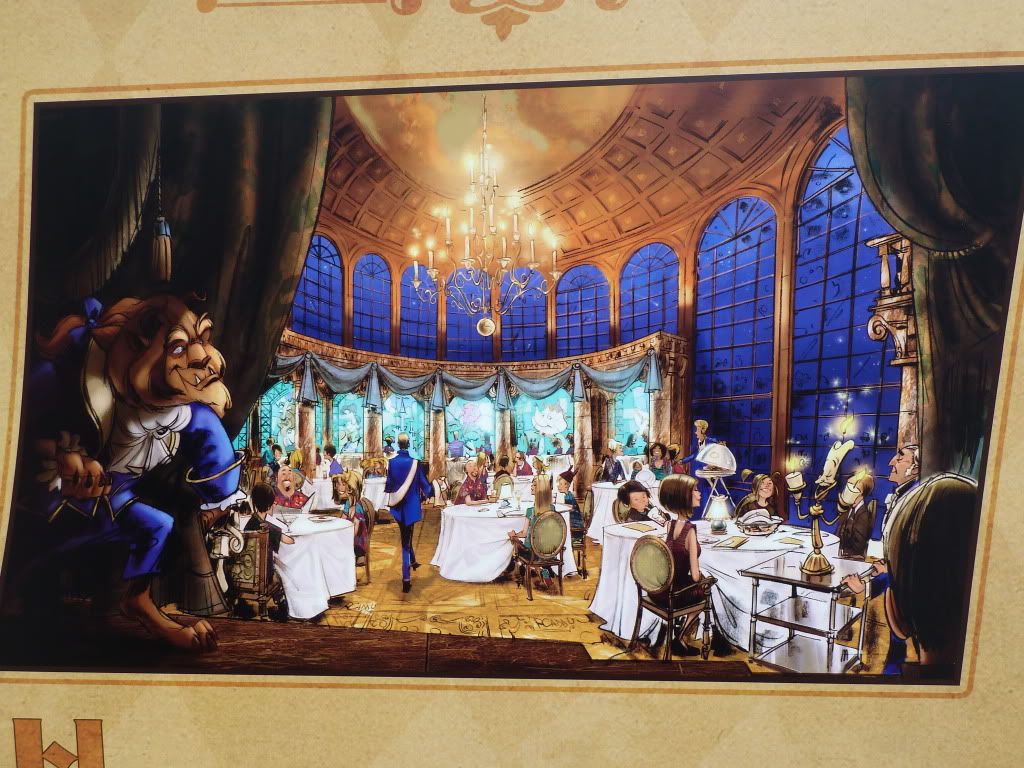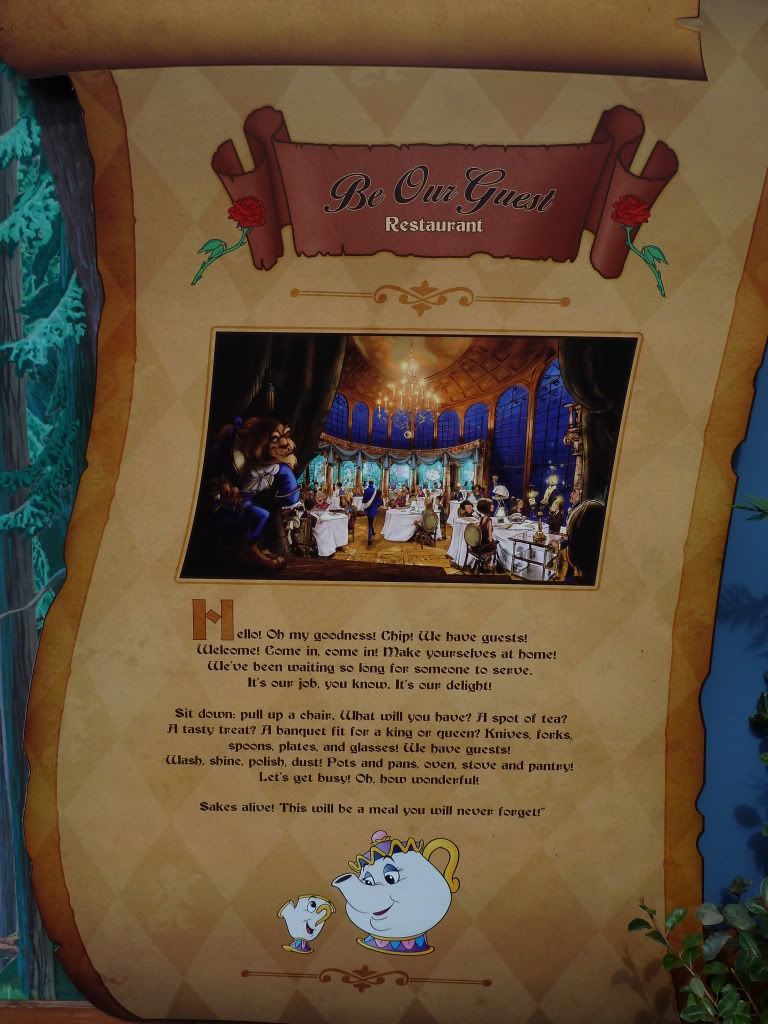 We went on Haunted Mansion and Jungle Cruise before stopping at Caseys Corner for a drink and a Hot Dog. It was just coming up to 3pm and Main Street was crazy busy!
We decided that we would head back to AKL before the post parade mass exit, so that is what we did. We found out a little later when we saw it on the news channel that one of the Super Bowl players (Aaron Rodgers from the Green Bay Packers) was paraded down Main Street before the parade - that explains why it was so busy!
When we got back to the room Lee chilled out watching tv whilst I finished off most of the packing. I filled the spare holdall and had loads left over so I opened up the other three cases which were already all over weight and put even more in each one until they were fit to burst.
I also filled the three hand luggage bags and we still had some stuff left out that we needed for the morning.
We showered and got dressed up ready for our last evening meal at our favourite restaurant - Yachtsmen Steakhouse. It was pouring with rain this evening and I got soaked just walking from the lobby to the car park, my feet were drenched and kept slipping off my sandals. It was not a great start, we looked like drowned rats by the time we got to the Yachtsmen. We checked in about 15 mins early and were given a pager, we decided to get a drink in the Crews Cup Lounge whilst we waited. We both just had a coke, I had been taking some strong pain killers throughout the day so wasn't drinking much tonight. We waited for about 30 minutes before Lee went back to the podium to check why we were still waiting, lots of others had arrived after us and already been seated, they told him it wouldn't be much longer. We finally ended up being seated 50 minutes after arriving! Unfortunately our evening didn't get much better, we waited about fifteen minutes before our server came over to take our drinks order. It was then a further twenty five minutes before he came back to take our food order. Our drinks were never refilled, he didn't come back during the meal to check if everything was ok with the food, service was non existent but thankfully the food was good.
The delicious onion rolls: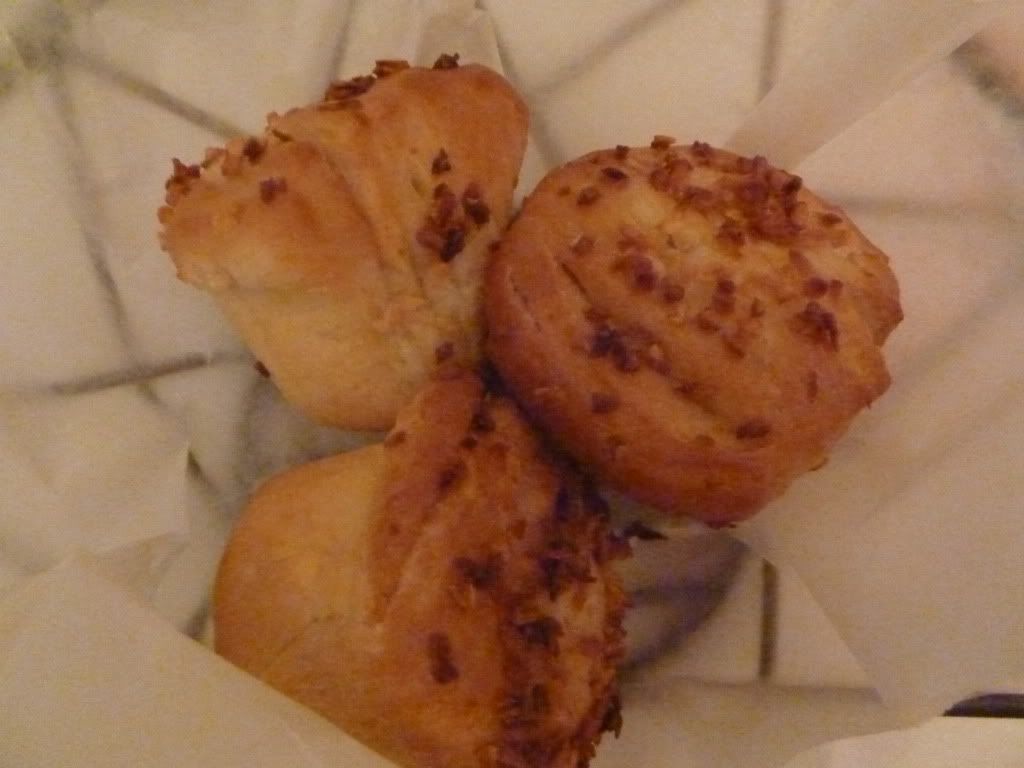 My starter - Ceasar Salad: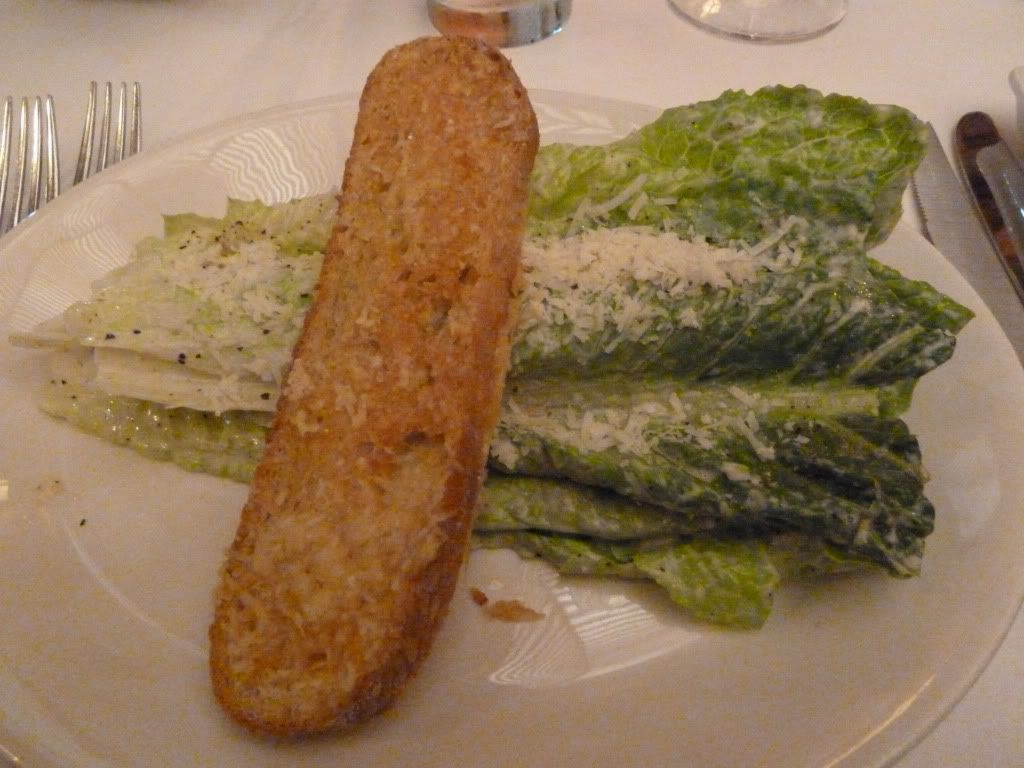 Lee's starter – Seared Maine Diver Scallops:
My main – Yachtsmen Filet Mignon with double cooked fries…YUM!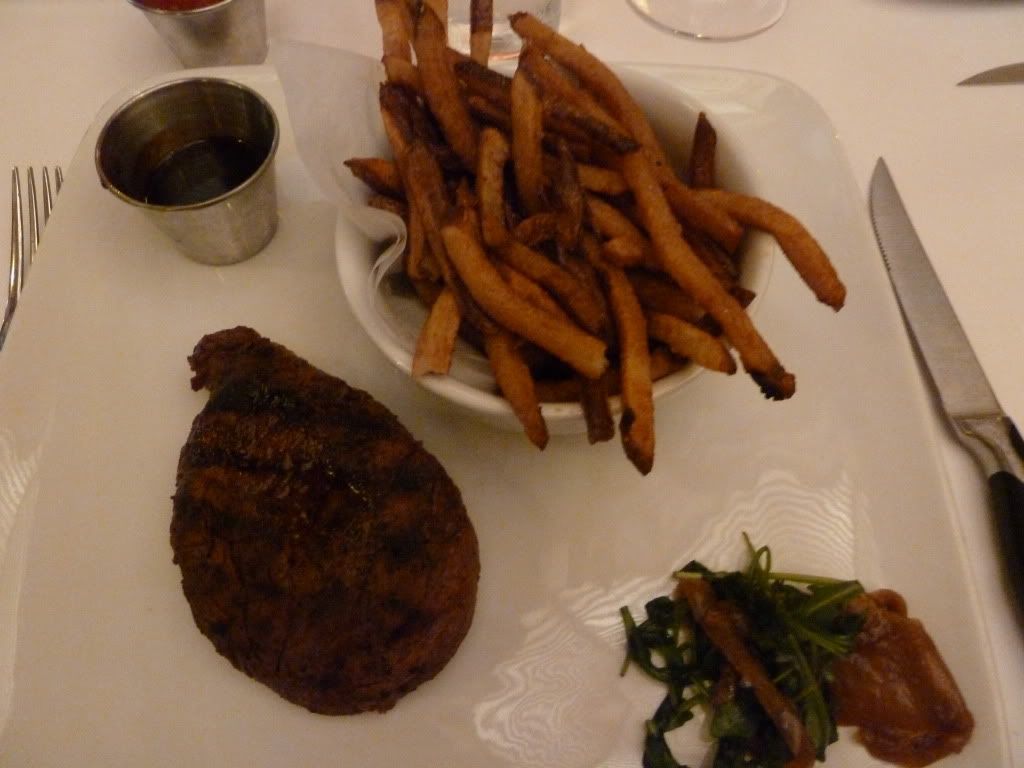 Lee's Main course – Oak fired Rib Eye with piped mash potato:
Whilst we were eating we could see Illuminations in the distance: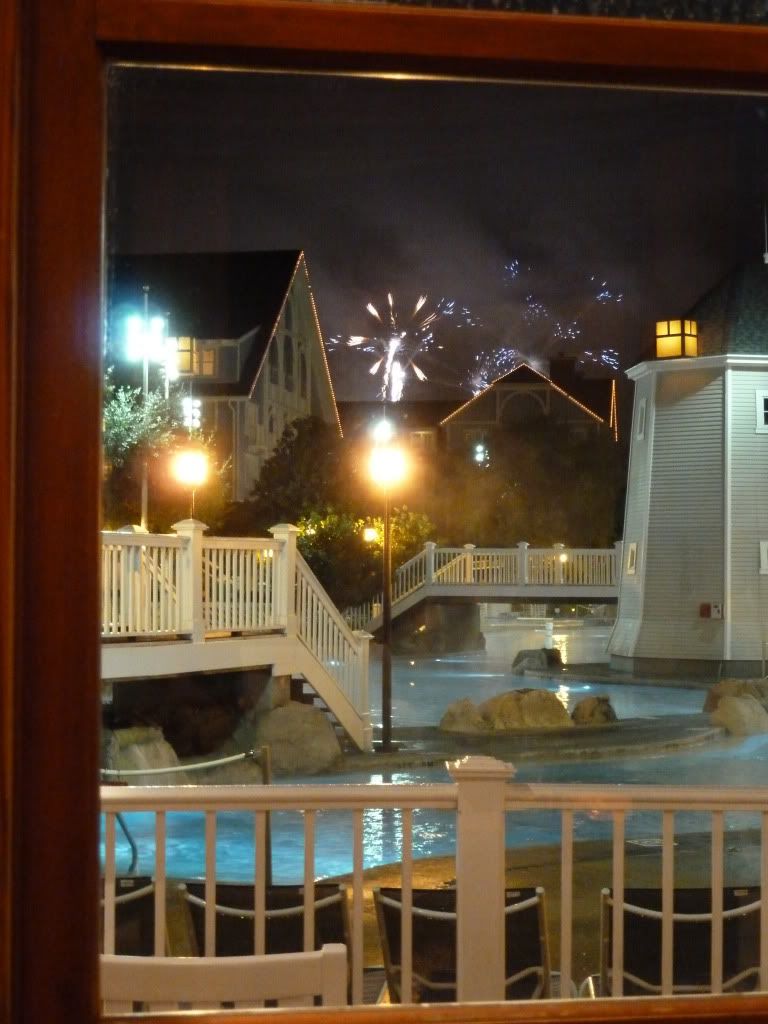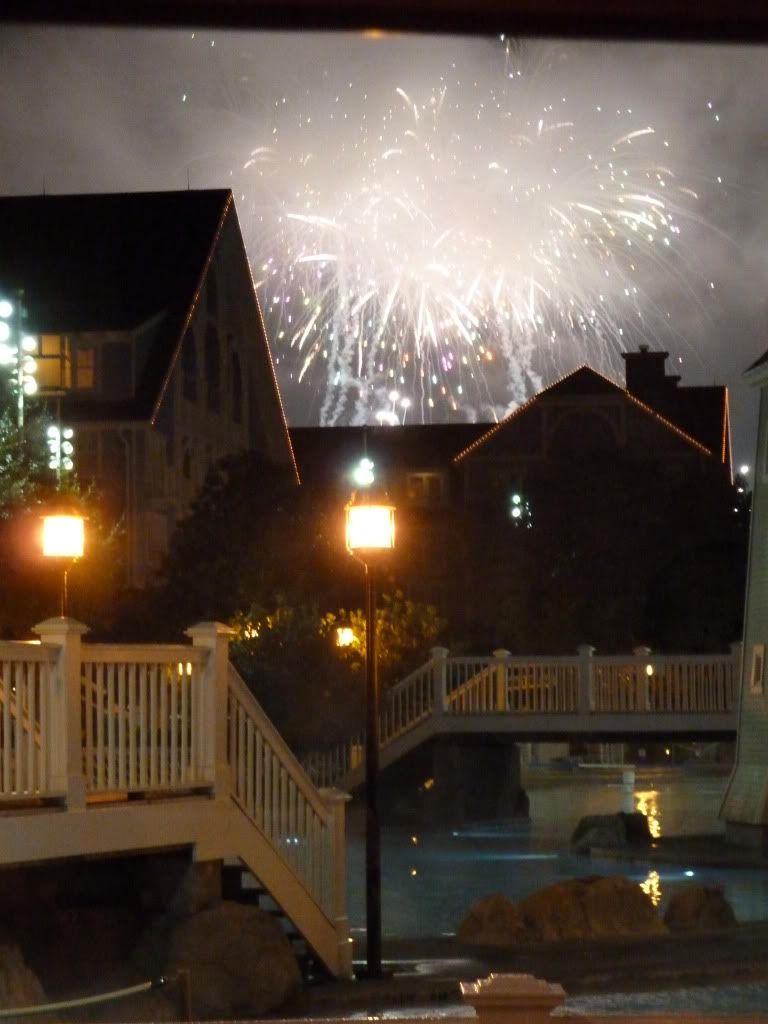 We decided against having a dessert or a coffee as we had been in the restaurant two & a half hours already, not including the hour in the bar beforehand. So we paid up and called it a night, it was such a shame to end our fantastic holiday on a bit of a low. I drove back to AKL and we got some Hot Chocolate's from Mara and headed to bed.
Coming soon…….How on Earth did we get everything home?!??!​