The question of weather at DLR arises frequently and invariably invites a host of anecdotal responses based on individual visitor's experiences and those who live near DLR. I decided to gather the best, most recent and (most importantly) free data that could be found on the Internet for DLR and Anaheim, California to give some objective information on weather.
How Hot Is It at Disneyland Resort?
Chart 1 shows that the average high temperature in the summer at DLR is 81-89 degrees F (27-32 degrees C). Summer lows are 61-65 degrees F (16-19 degrees C). Winter average highs are 70 degrees F (21 degrees C) and average lows are 47-50 degrees F (8-10 degrees C).
While the average high temperatures year round and in the summer are not especially hot, the record high temperatures are (see Chart 2). It is not uncommon for a summer heat wave to take temperatures above 100 degrees F (38 degrees C) for several days.
Chart 1 tells you to expect moderate summer temperatures at DLR while Chart 2 warns you to be prepared for very high temperatures.
How Humid Is It and How Much Does It Rain in Anaheim?
I could not find the rain and humidity data for DLR itself and so looked at the city of Anaheim.
Anaheim, California has a semi-arid climate with 10-12 inches (25-30 cm) of rain per year. Charts 3 and 4 show what rain does fall is predominantly in the December-March time frame. They also show that it almost never rains in the summer at DLR.
Chart 5 shows that the peak humidity each day occurs in the morning and it is about 80%. The low humidity in the evening is also fairly constant at 55%.
Summer Visits to DLR
Contrary to popular belief, DLR can be enjoyed in the summer time and whatever heat happens to exist can be worked around. I discuss my advice for summer visits here:
"Getting The Most Out of a Summer Visit To DLR"
www.disboards.com/showthread.php?t=1345319
Conclusions
DLR average temperatures year round and in the summer are moderate while it is possible for very high temperatures to exist during temporary heat waves. Summer visitors should expect moderate temperatures but be prepared for excessively high temperatures. For summer visits we personally wear tee-shirts and shorts from dawn until midnight without any need for sweaters.
Non-summer visitors will find a mixed bag. It is not at all unusual to be able to wear shorts and tee-shirts during winter days, with sweatshirts needed at night. However, colder, blustery days are also possible. Winter visitors should be prepared for both.
Chart 1. Monthly average high and low temperatures at DLR
Chart 2. Monthly record and average high and low temperatures at DLR
Chart 3. Monthly average rainfall in Anaheim (also shows Orlando, FL)
Chart 4. Monthly average number of rainy days per month in Anaheim (also shows Orlando, FL)
Chart 5. Monthly average humidity in the morning and evening in Anaheim (also shows Orlando, FL)
Table 1. Monthly average and record high and low temperatures at DLR
Table 2. Monthly average rainfall and humidity in Anaheim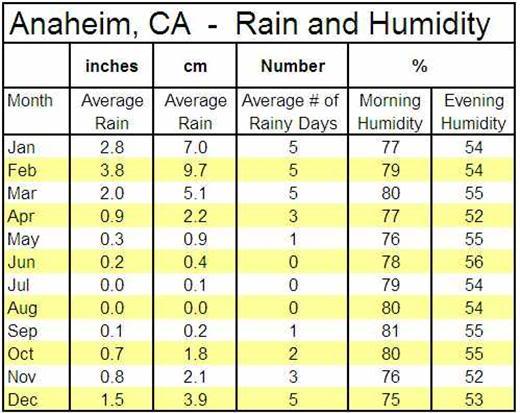 Comparison of Weather For WDW and DLR
www.disboards.com/showthread.php?t=1711098
Detailed Weather History for WDW
www.disboards.com/showthread.php?p=23004631
Southern California Weather Averages (DIS)
www.wdwinfo.com/disneyland/plan/weather.htm
Data Sources:
DLR Temperature:
www.weather.com/weather/wxclimatology/monthly/USCA1306
DLR/Anaheim Rainfall:
www.wrcc.dri.edu/cgi-bin/cliMAIN.pl?ca0192
Period of Record : 8/1/1989 to 6/29/2007
DLR/Anaheim Humidity:
www.weatherreports.com/United_States/CA/Anaheim/averages.html
Data taken over 47 years
WDW Temperature:
www.weather.com/weather/wxclimatology/monthly/USFL0615
WDW/Orlando Rainfall and Humidity:
www.weatherreports.com/United_States/FL/Orlando/averages.html
Data taken over 26 years
Last edited: