Orange Banded Monkeys go to the Zoo. BlueZoo.
When we left off, the monkeys were headed off to dinner. We had reservations for Todd English's Blue Zoo at Disney's Dolphin Resort. Apparently, the signature restaurants don't vet (get it) their prospective customers, so they let us in.
I have never dined there before, in fact, this would be my first signature restaurant.
The restaurant is gorgeous!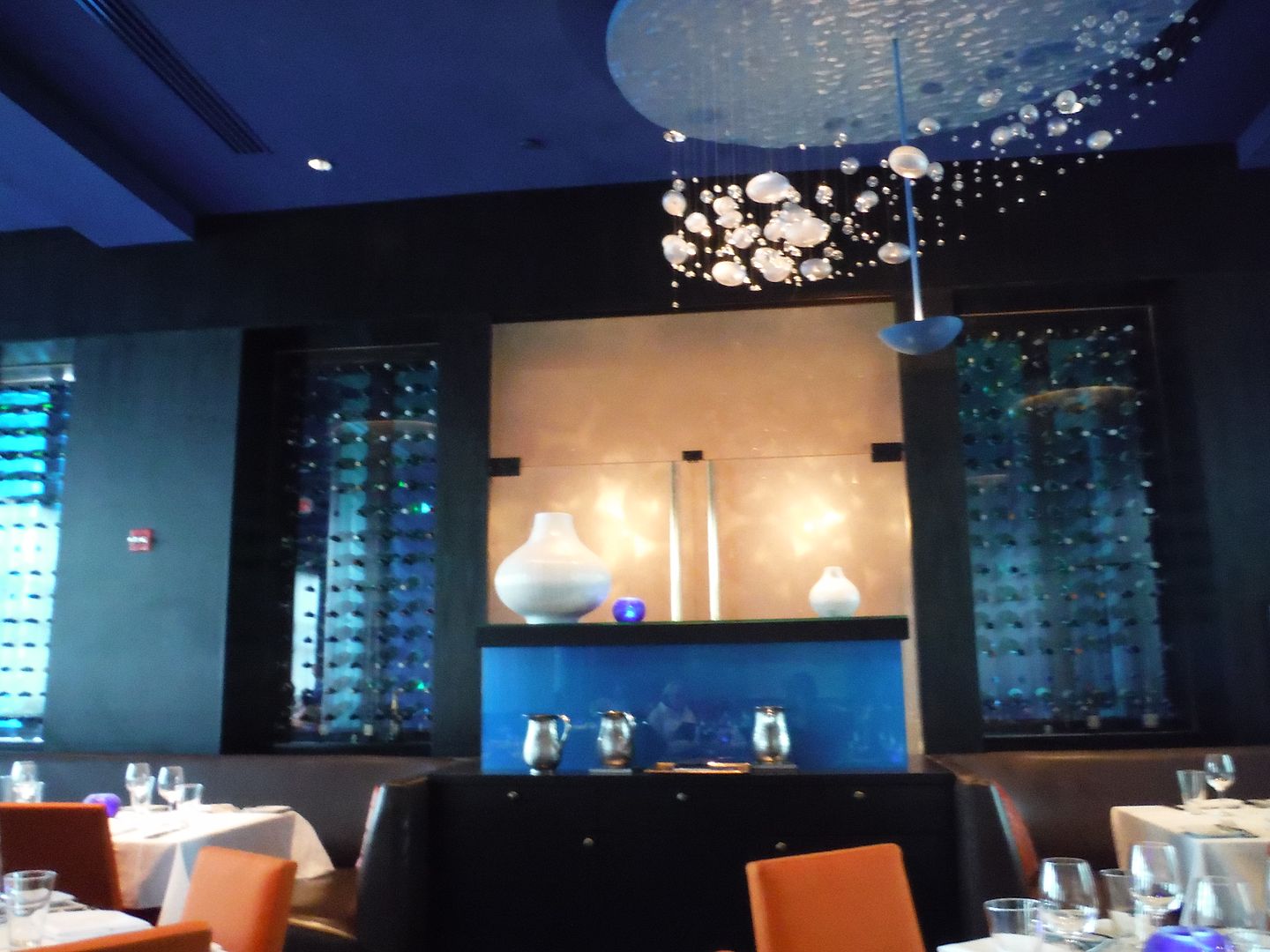 We were distracted by menu. Not the food, menu, however. The drink menu. In between our yapping, we fervently studied all of the amazing and unique drinks available. We all decided what we were ordering when our waiter came over with a bottle of wine. Nannette's daughter had called the restaurant and ordered a bottle of wine for our table.
It was a sweet white wine, I believe it was Gewurztraminer. (Monkeys, correct me if I am wrong). I am not normally a wine drinker, but this was delicious and I enjoyed a glass or two.
Nannette called her daughter and we all said thanks for her thoughtfulness and generosity. We promised her we would do our best to make sure her mom had a great time on the trip.
Coincidentally, shortly after the wine arrived, I got this text
"Are you drinking?"
"Is this Ben? As a matter of fact, yes. Nannette's daughter just sent a bottle of wine to our table. Everything go ok at the airport?"
The boys were at the gate, getting ready for their return home from Orlando.
I had let my family know that I thought there might be a fair amount of drinking during this portion of my vacation.
Mark and I don't drink very much. Rarely at home, but sometimes when we are out if it is a special occasion.
The reason the text was funny to me and that I thought it was from my son is because several years ago Ben announced to his 2nd grade class and teacher that "My mom has a drinking problem!" This was during a time when my best friend was moving from our city to Florida. Her family is very popular and we had a number of going away parties for her. Ben was concerned with the frequency I was going out to bars and parties in a short period of time.
Although a comment like that is one that is subject to mandatory reporting, fortunately due to the huge amount of time I spent volunteering in the schools, the teachers and administrators all know me and realized that this was not very likely to be true. When I explained the reason behind the comment, they understood. PHEW!
The waiter told us about the dinner menu and checked back with us several times, but we were so busy chatting away, that it took us a while before we decided what we wanted to order.
Blue Zoo Menu
After ordering, we were given some bread and butter and they also offered to provide some fresh baked gluten free bread for one of our monkeys. This was a great touch, unfortunately, it took a really, really long time before it was ready.
Our appetizers arrived:
Rafiki and I both ordered the Beet Salad - walnut vinaigrette, goat cheese fondue, beets $15.00
This was delicious and helped to ease the pain of the removal of the Roasted Beet and Goat Cheese salad from the menu at Sunshine Seasons (more on that in a later installment)
Bubbles had the Heirloom Tomato Salad - house ricotta, popcorn ice cream, pickled melon, savory tart $15.00
Unfortunately, the clam chowder ordered by Chim Chim did not live up to the description. At all!
bluezoo's New England Style Clam Chowder - light and brothy with salt cured bacon, house-made oyster crackers $11.00
The chowder was extremely thick and tasted "off". We called over the waiter and a manager who looked at the soup and agreed that it was not what it was supposed to look like. They took away the bowl and in a few minutes brought out another. However, the chowder was still not what was expected, so it was again sent away and the item was taken off of our check.
Entrees:
Chim Chim went with one of the appetizer selections for her meal:
Low Country Jumbo Shrimp - white cheddar grits, okra, smoked bacon butter $16.00
I had the Simply Fish
- Daily selection of finest fresh fish selected from coastal waters around the world, simply grilled on our teppanyaki grill, served with choice of sauce: warm crabmeat, dijon mustard, chives sauce; sauce of the day. $35.00
The waiter described 3 local fish and I chose the corvina, which was described as resembling a white sea bass. I believe the sauce I chose was the sauce of the day which was artichoke based.
Rafiki selected the Dirty South Swordfish - barbecue rubbed, house smoked tasso risotto, rock shrimp, littleneck clams $36.00
(Rafiki- did you get the swordfish, or a different fish in this preparation?)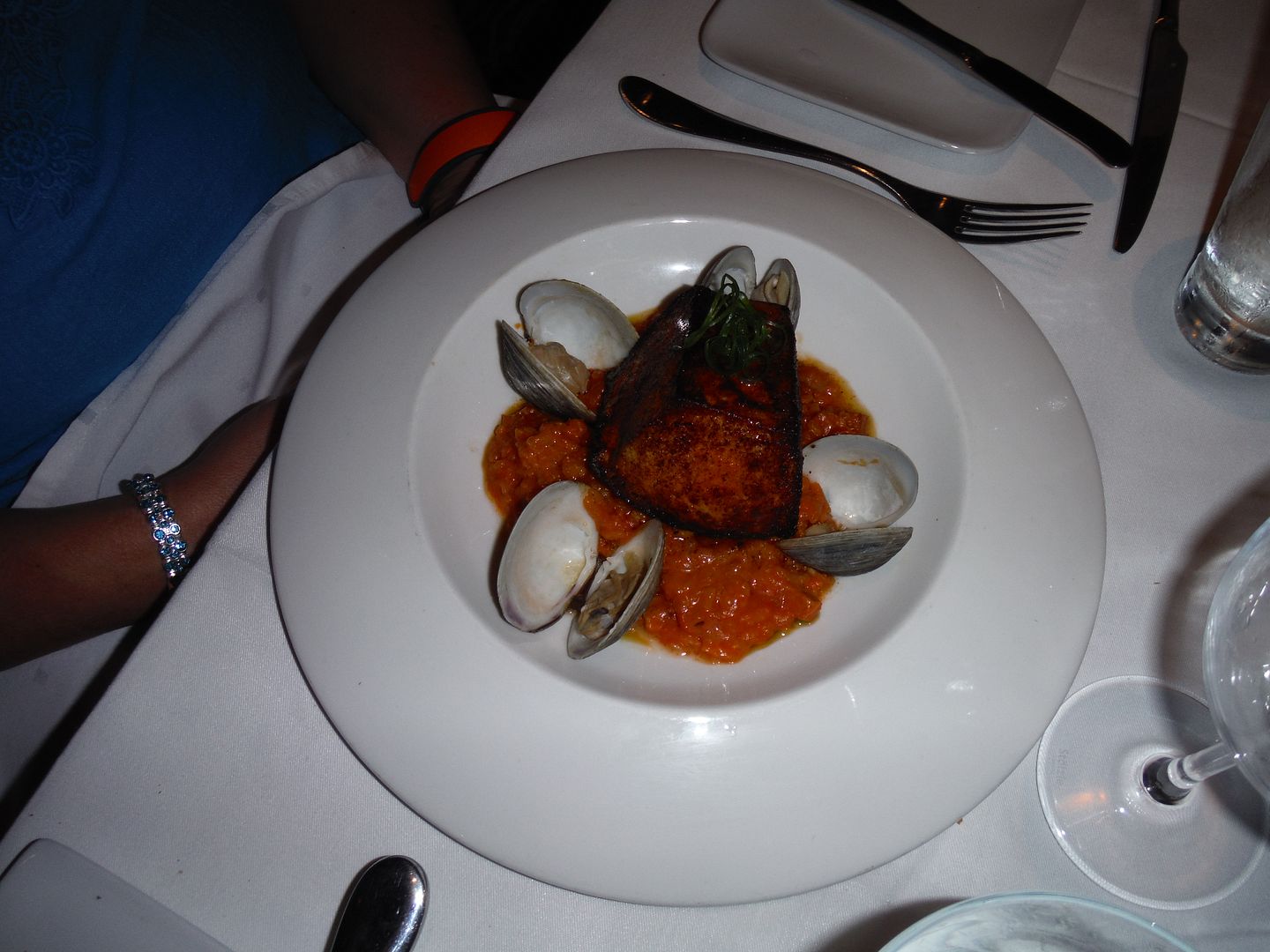 Bubbles ordered This Evening's Dancing Fish
- zucchini gratin, shaved asparagus, sauce Romensco, seared meyer lemon $39.00
Normally this fish is served whole at the table and will be deboned upon request. Bubbles preferred to have the fish removed from the bone prior to its arrival at the table: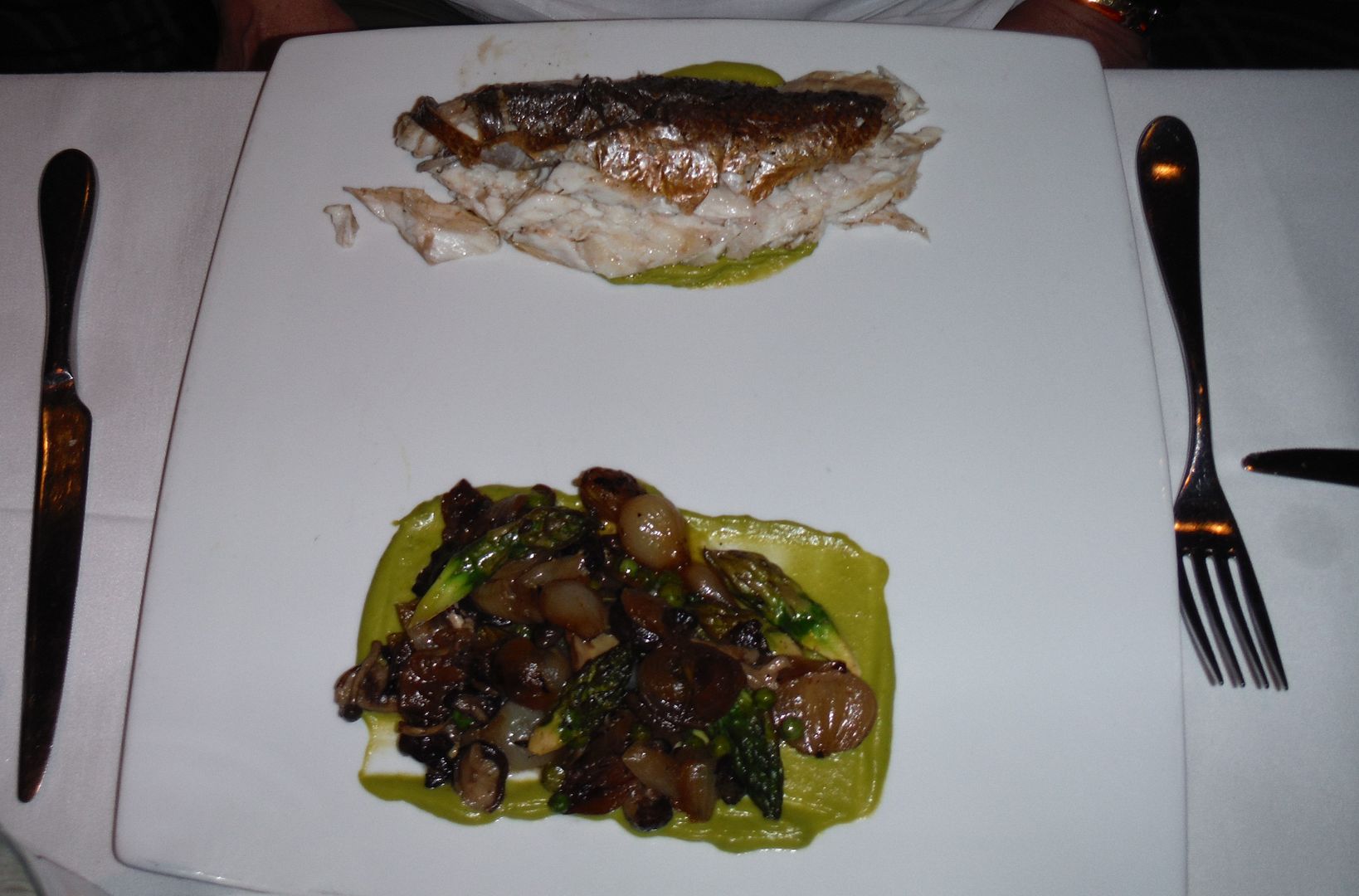 Our entrées were all spectacular!
Although we were all pretty full we decided to splurge on the Truffles - signature truffles seasonally inspired $12.00
They were all different flavors. The ones I remember are coconut, coffee, passion fruit, lime, pistachio? What else monkeys? I believe that was candied popcorn in the shot glass in the middle of the plate.
Chim Chim cut each truffle into two pieces so we were able to try a variety.
When our check arrived, the truffles did not appear on the bill. We called over the waiter and he informed us that Nannette's daughter had also covered our dessert.
Our final bill, including the Tables in Wonderland discount and the added 18% gratuity, was $176.48.
Here are a couple of pictures of 4 very full and satisfied monkeys.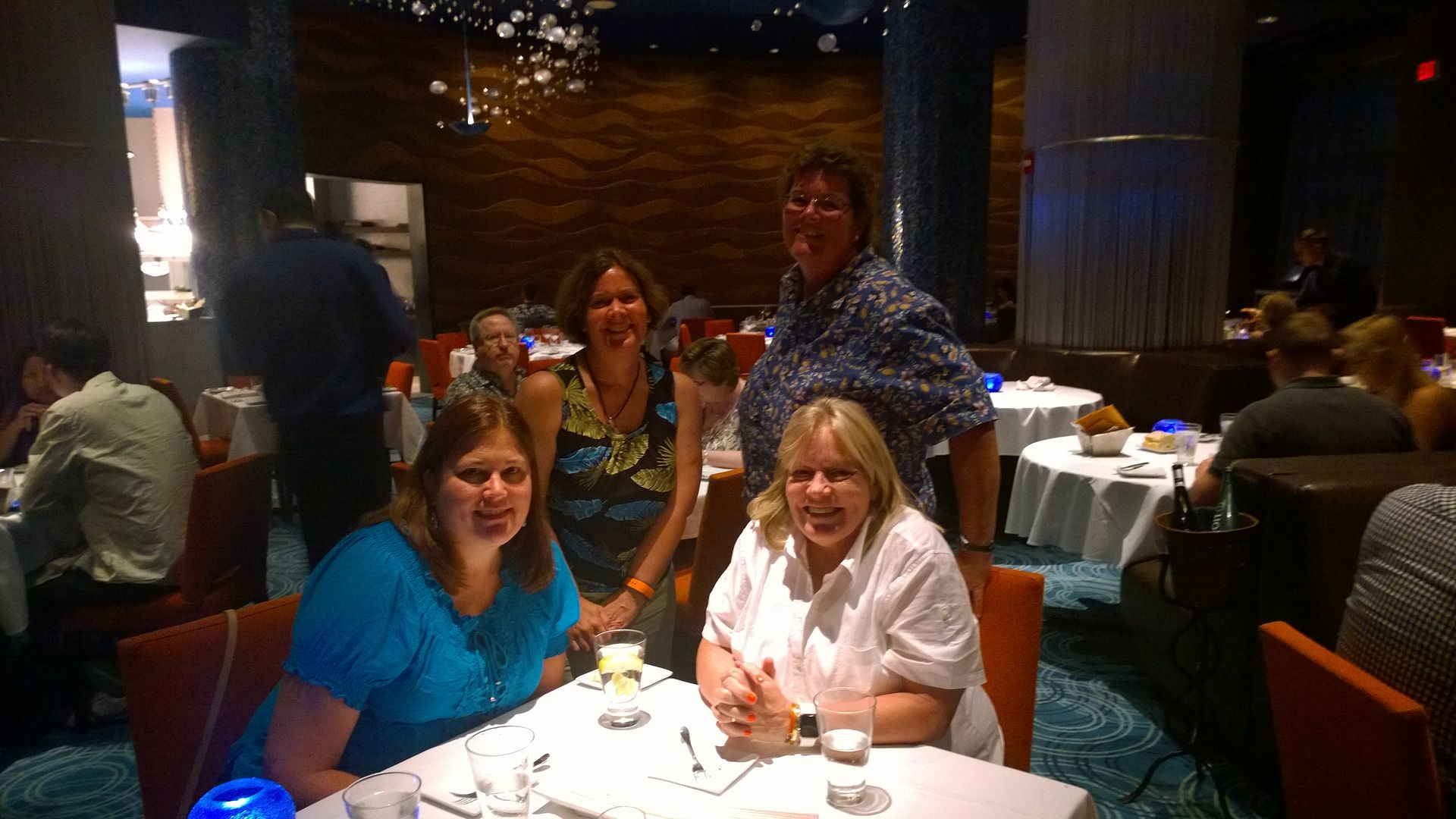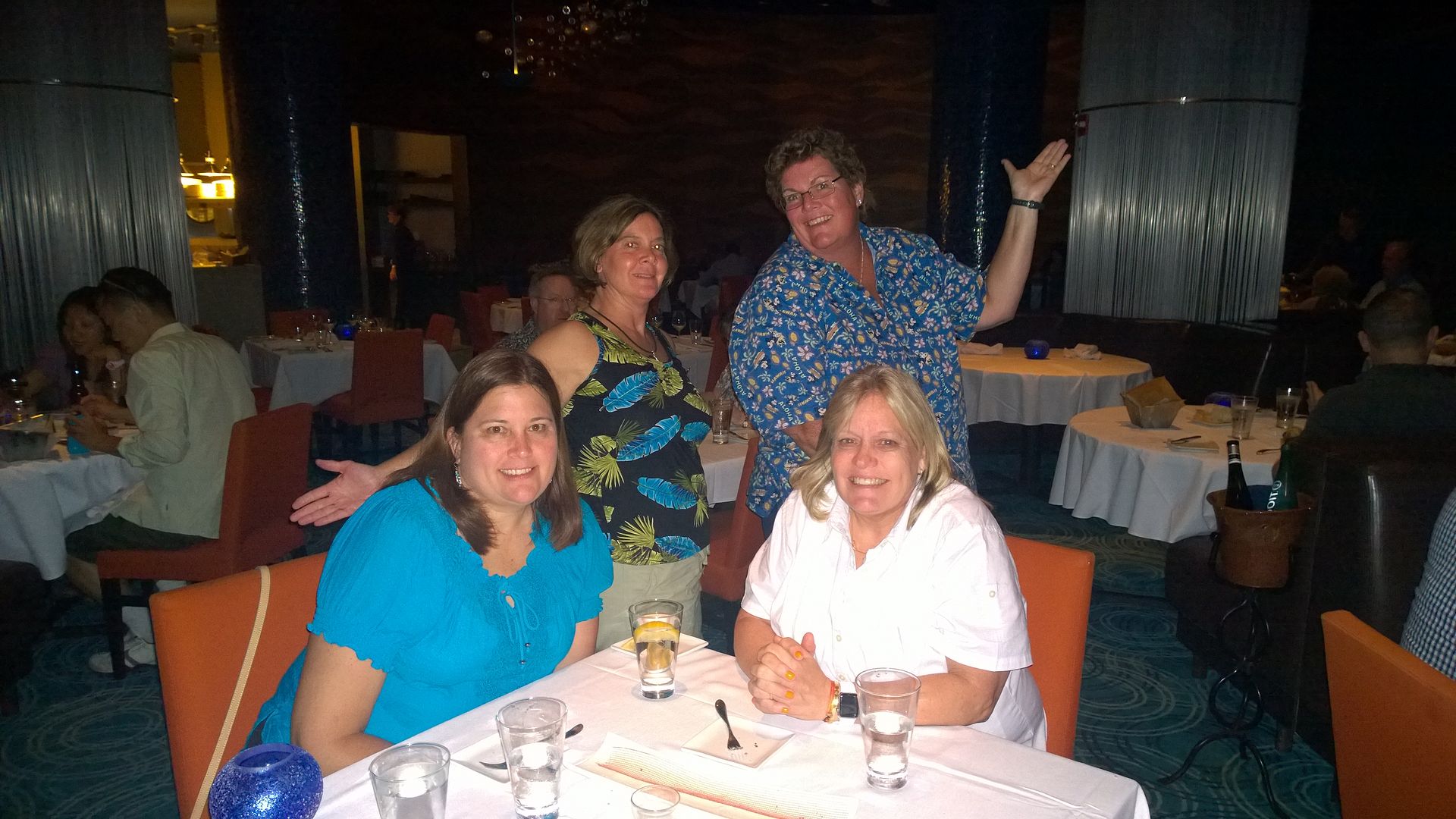 Our plans for the evening were to watch (and photograph) the Frozen Fireworks from the Beach Club beach.
Unfortunately, when we were finishing our dinner, the skies opened, thunder boomed and lightning flashed. We were disappointed that our original plans would not work out, but we "Let it Go!"
No worries. The monkeys would find some other after dinner mischief over at the Yacht Club.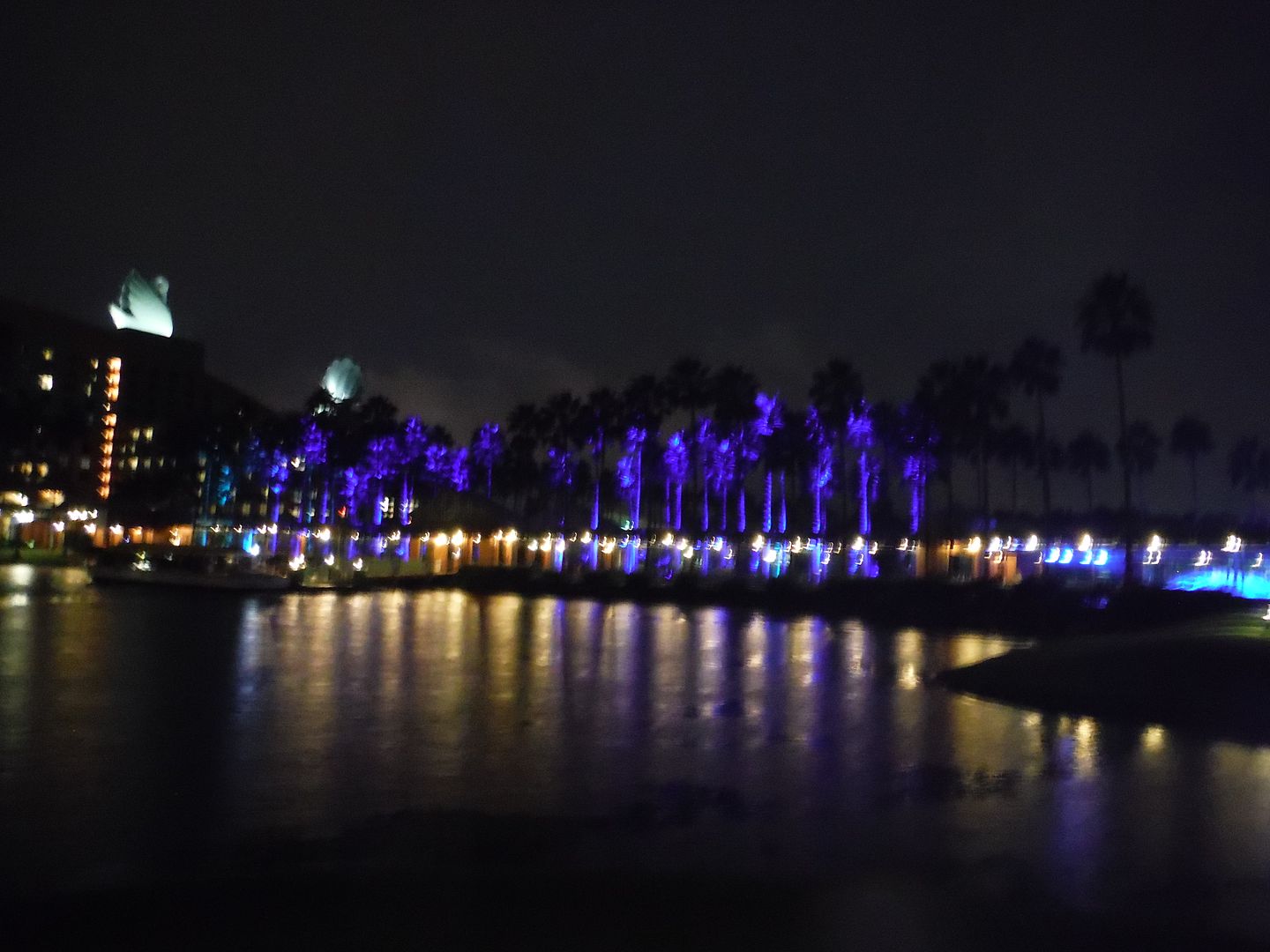 Next Up: Floor Model
Last edited: