Continuing Day 5...
So, when last we left our intrepid travelers
we were cruising the Kenai Fjords, heading towards the Aialik Glacier. The sun was shining, but man, it turned cold! All that ice, both in & out of the water, really affects the air temperature! Brrrrr...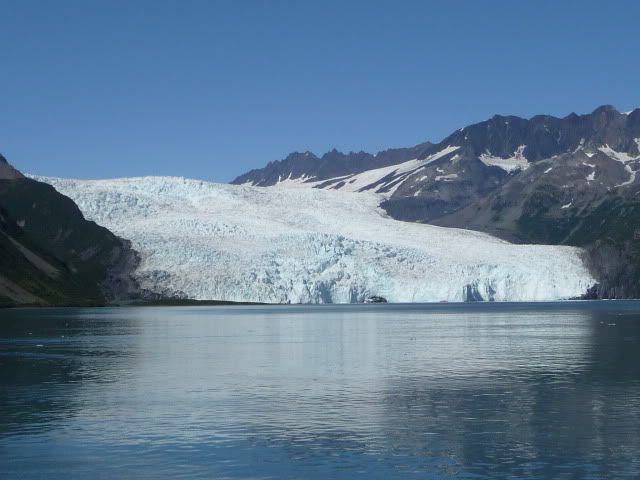 A lot of calving was going on! It was pretty cool. And since we were on a small boat, we got pretty (relatively) close!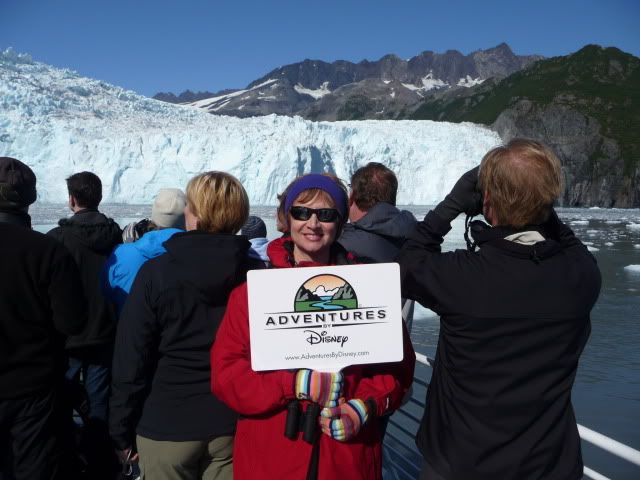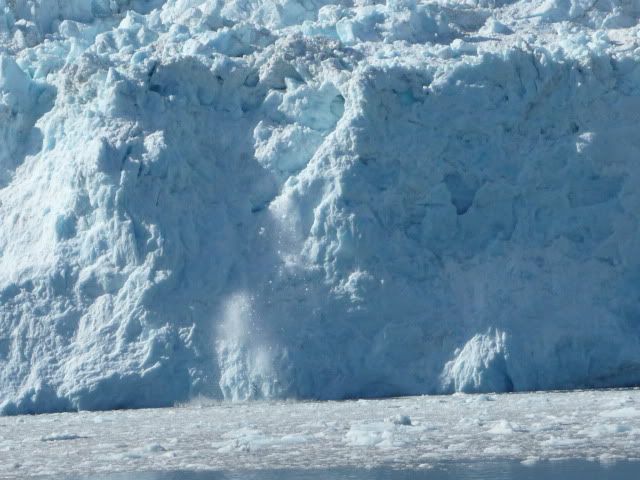 Click! It's a video. Opens in a new window...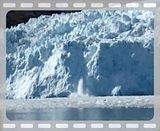 Yay for calving glaciers!
After we sat & admired the glacier for a while, we continued on our cruise, hunting out more wildlife, this time of the winged type.
We sailed by a couple of communities of puffins. Adorable birds, sort of like the offspring of a toucan and a penguin.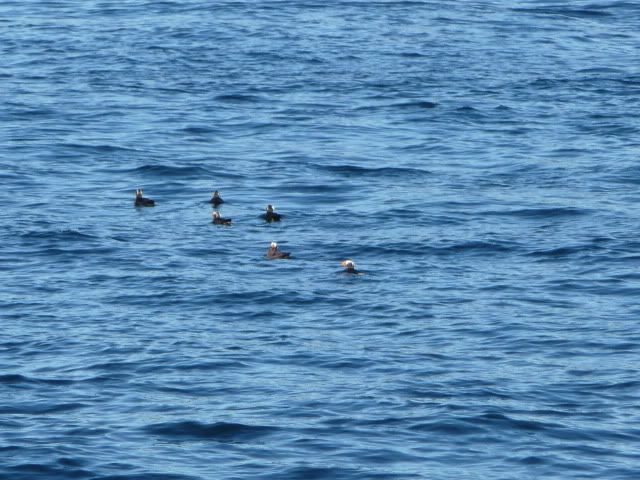 They were just sort of hanging out on these sheer cliff faces.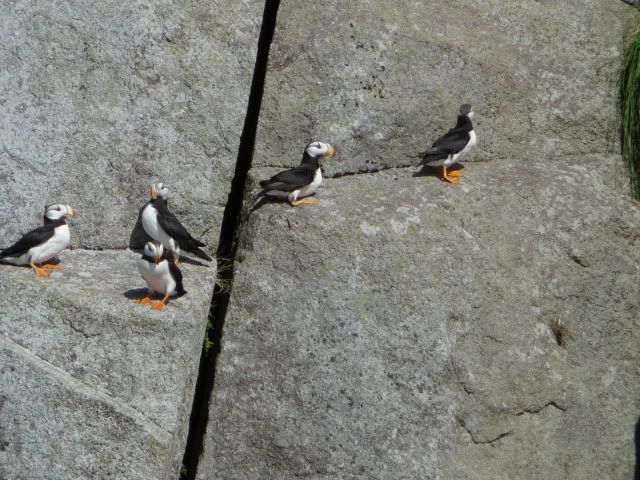 And these were a type of gull. I forget the specific type.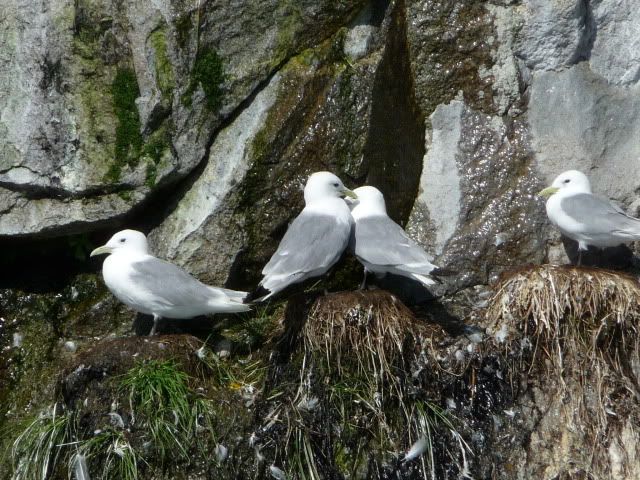 And if you look *really* close, right in the middle... yep! A bald eagle!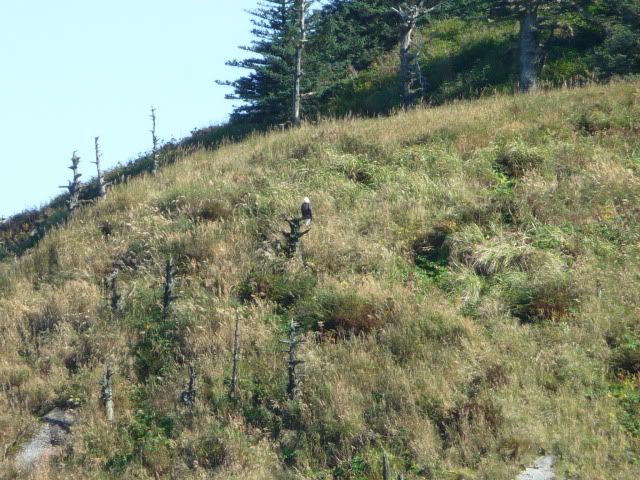 Wait a minute... what's that?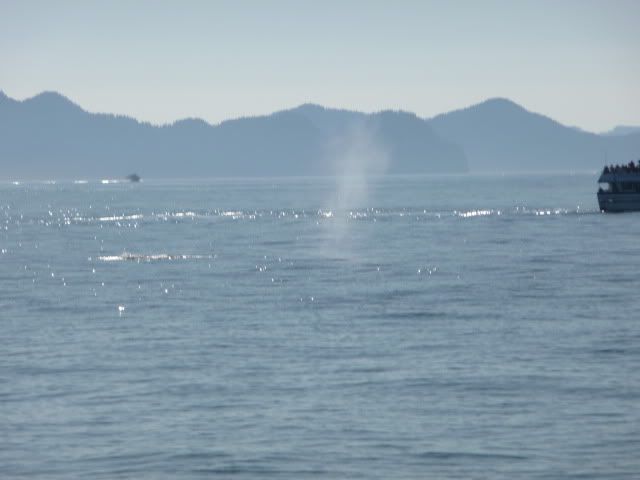 Could it be?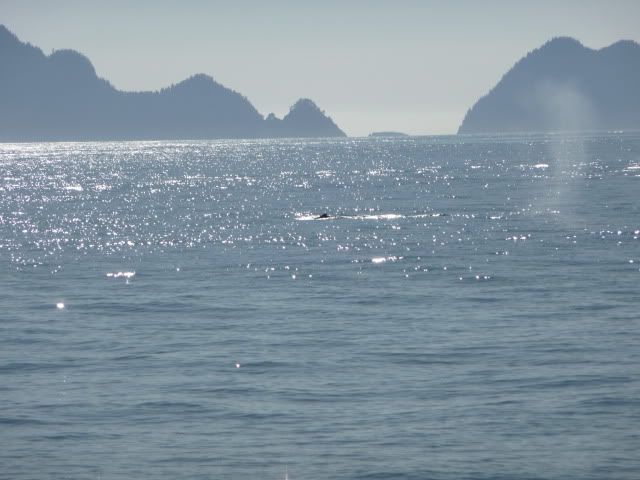 Looks like it *might* be...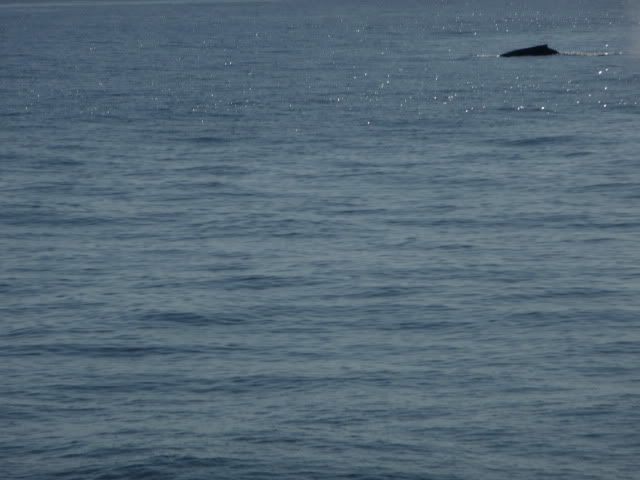 YES!!!! It's a WHALE!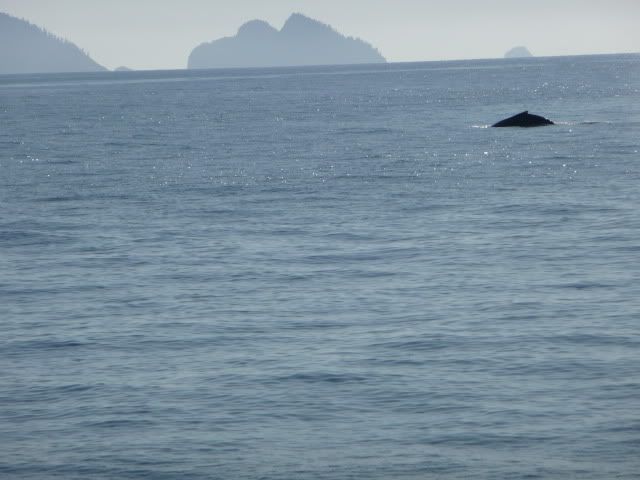 That's as close as he got, but it's a recognizable picture! It's a whale! We also saw him (too far away & fast to capture on film) do a full breach, breast gleaming in the sun, and then wave his tail. I've been on a few whale watches over the years, in different places, and have never yet seen a whale. Last trip to Alaska, all I got was a teensy, weensy pic of a whale's water spout. But no whale.
But this time? A whale! I'm pretty chuffed! And here it is, blown up a bit: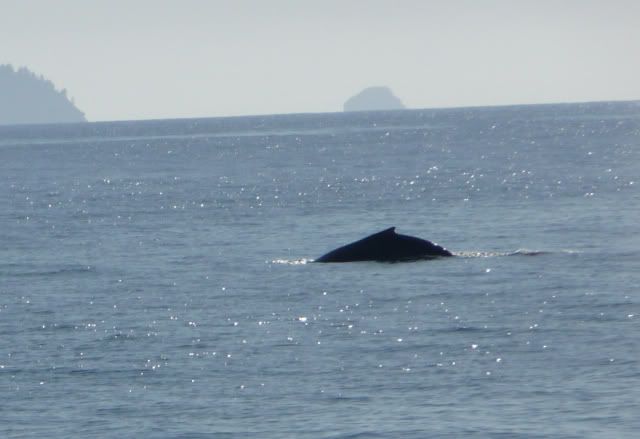 OK, can we say "another highlight of this trip"? Pretty much the only thing missing was seeing the Northern Lights, and there was only a very small chance of seeing that. (Guess I'll just have to go back again some time!)
Both I & Sherry were the only ones that caught the whale on film. (I'm not sure there's a digital equivalent for that term). We were mightily happy with ourselves, and everyone was very thrilled to have seen a whale!
That was pretty much the end of the cruise (but oh! what an end!) We cruised back to the marina, and, after checking out the gift shop or the fish dock, we headed back to the motorcoach, and then went on to the Alaska SeaLife Center in Seward; a mix of an aquarium and a science museum, where we were to have a pizza party for dinner, see some sealife, and do some Arts & Crafts.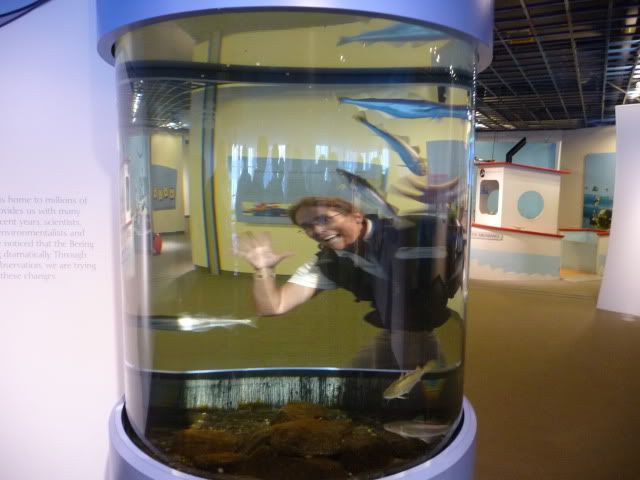 It is mostly a kid's type of place, but we were all in a good mood, and had a lot of fun anyways!
We saw tons o' puffins in a nice aviary, along with their caretaker.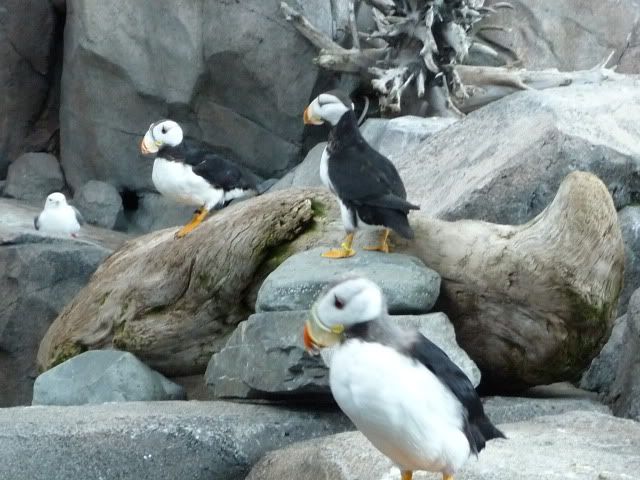 And I just LOVE, LOVE, LOVE this guy's expression! This is the life, eh??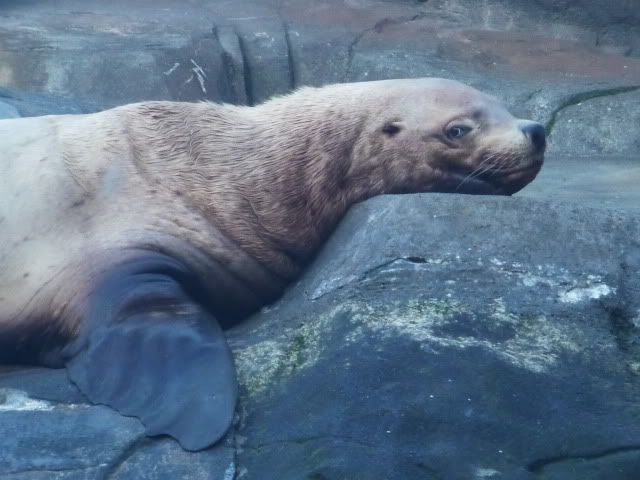 These are ANIMALS! Imagine that!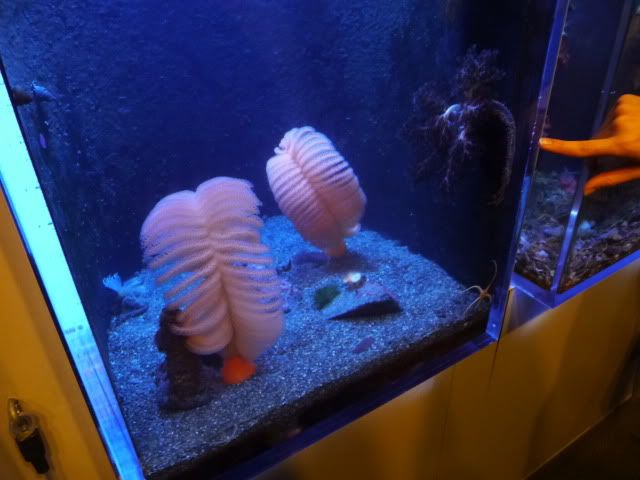 We made little clay puffins, ate pizza, and spent some time wandering the center.
and then headed back up the peninsula to the Alyeska, happy and content.
Day 6 - Wild for Wildlife!
The next morning, we headed back down the peninsula to the Alaska Wildlife Conservation Center. They treat and rehabilitate wildlife from around Alaska. They are also working to re-populate some animals, such as the musk ox, which are dwindling in numbers.
It's certainly better than a zoo, but not quite the same as seeing the animals in the wild. But you were able to see them much closer than you could in the wild, since they were penned. (And most of the penned areas were so huge, they had to draw the animals to where we were by feeding them).
This guy was *so* posing for us...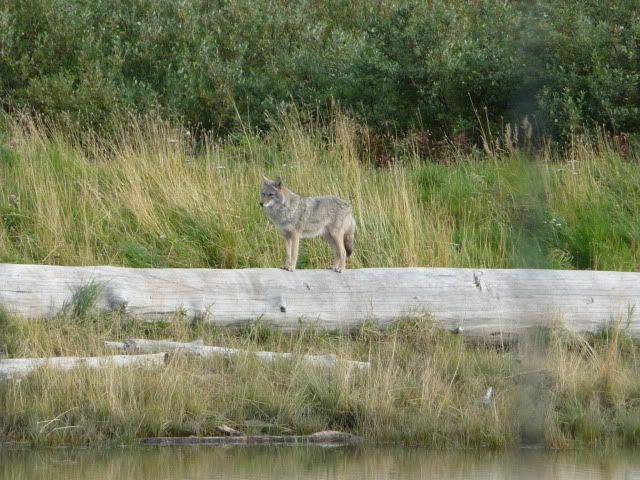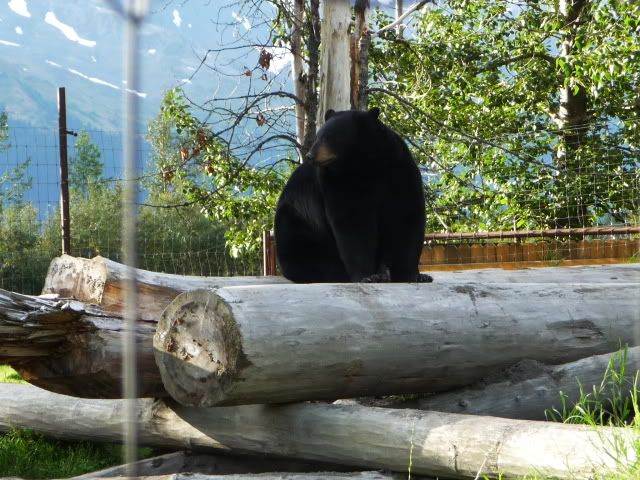 Wild Guides...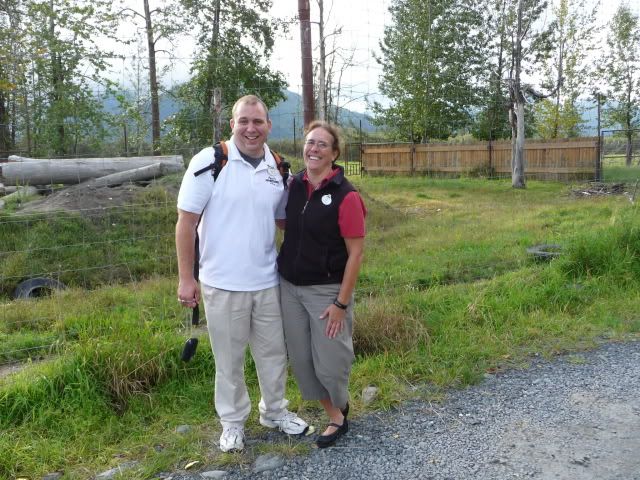 A Musk Ox (I bought a *stuffed* musk ox! How frequently do you get a chance to buy a stuffed musk ox?)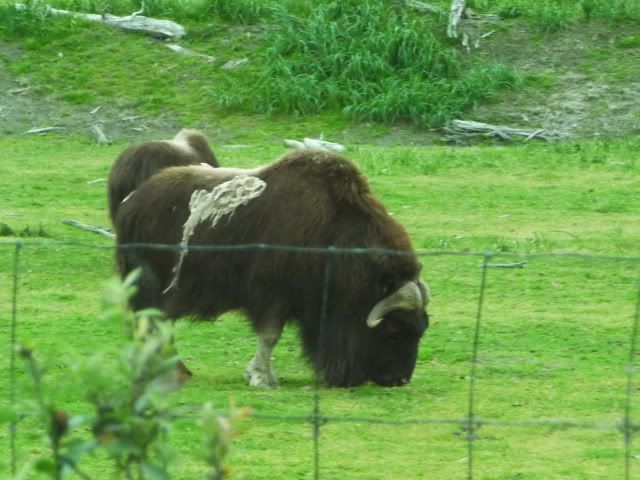 This guy was BIG!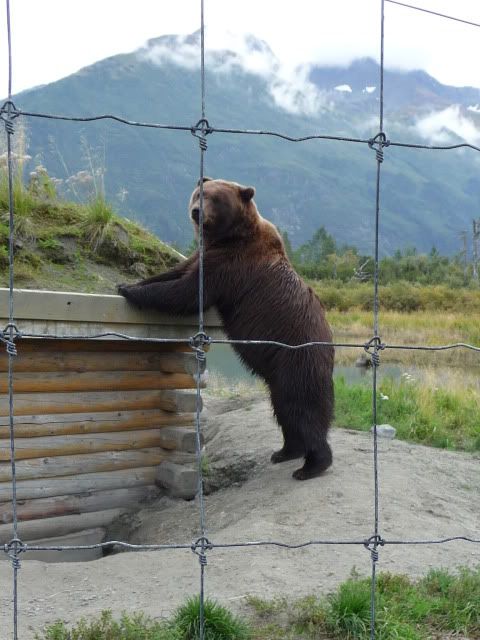 We did some shopping at the gift shop (all funds go to helping the animals!) and I got a nice fleece vest and the above mentioned stuffed musk ox.
We then headed back to the Alyeska for a nice lunch outside on the patio of the Hotel. The itinerary called it a Salmon Bake Lunch. There was definitely salmon served, but a traditional Salmon Bake it was not. (Honestly, it was too fancy to call it a Salmon Bake. But the food *was* very good!)
Continued in
Part 6: Continuation of Day 6.