DIS Veteran
DIS Lifetime Sponsor
I intended this to be a reply to someone else's post but then I thought it might be helpful to others, so I am posting this as a new thread
I cruised about a year ago on the 7-day Magic Cruise with a 10 month-old, here's a few tips that I learned..
1. Book your 10 hours at Flounders online. On the first day, there is no babysitting available but it's a good time to go to Flounders with your baby and check things out and let them get acquainted with the room. If you need more hours, wait till the second day to ask for them, since they need to give everyone the opportunity to book their 10 hours. You may be put on a wait list and they will call you to let you know if they have room. If they don't have a certain day open, keep trying as they get cancellations and a slot may open up.
UPDATED: As of August 2009, you can now pre-book 18 hours of Flounders time AND they now offer babysitting on the first night until 11pm!!
Here's some pics of Flounders:
Even more pics of Flounders from October 2009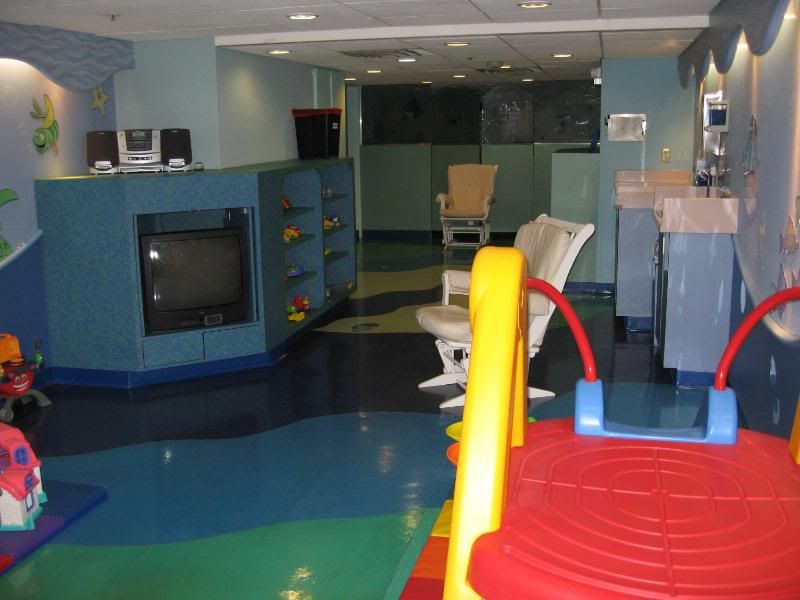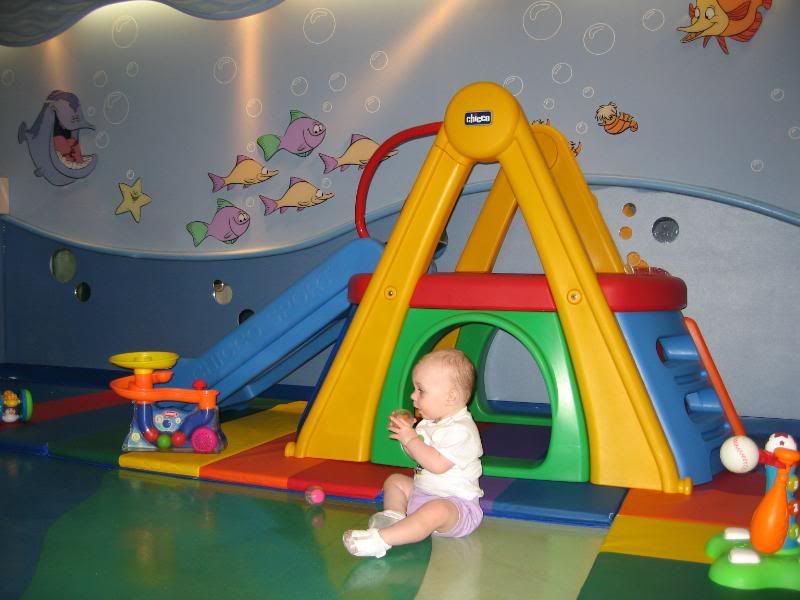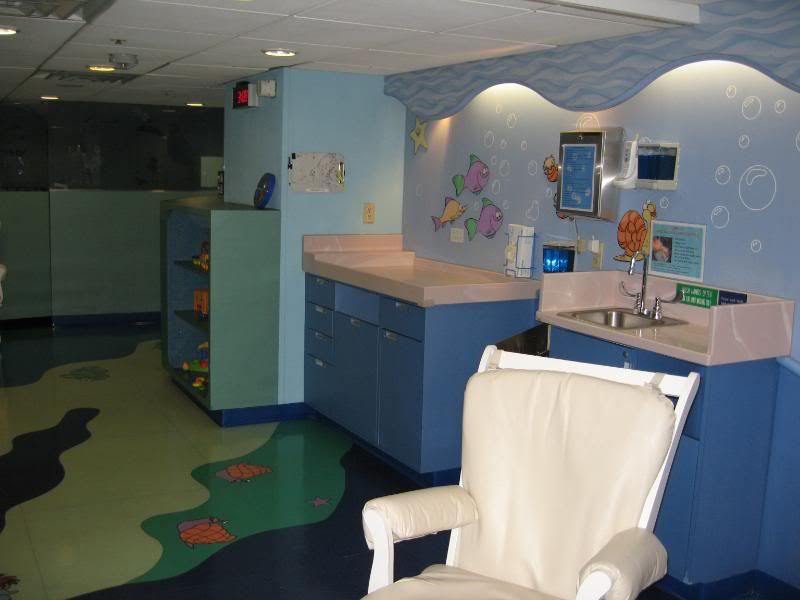 2. You can ask your stateroom host for a diaper genie and they will empty it 2-3 times for you everyday.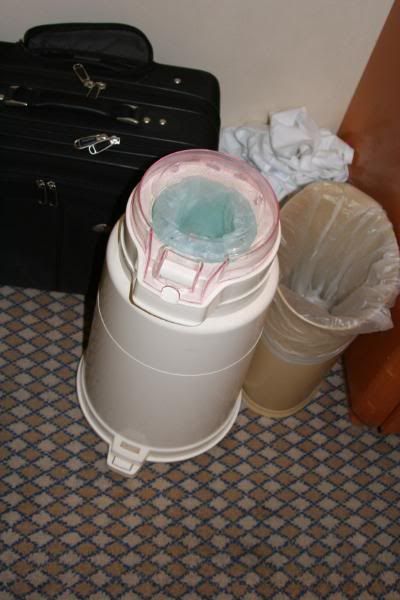 3. DCL provides a pack 'n play for you but the sheets are not the nicest. We brought a flannel one from home and that worked out great. The pack 'n play fits nicely in a Cat 7 and above and can be pushed to the side when not in use. Your stateroom host can also put it away for you everyday but we used it for naps and was more convenient just to leave it open all the time. Just remember to move it away from the desk area before your child goes to sleep as the drawers and curtains are in easy reach for them.
PNP in a Cat 6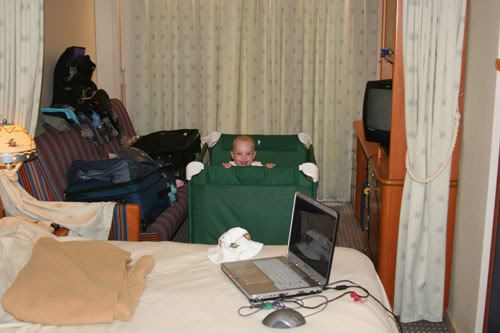 4. If you need to bring a full size stroller, be prepared to run into a few obstacles (hopefully not passengers lol ). Our Graco barely fit in the stateroom door but it folded up nicely to store in the closet. It fit in both types of elevators mid and fore/aft but it was tight to maneouvre around if anyone else was in the elevator with us. Also be prepared that people waiting for an elevator with you will most likely run into that elevator before you even have the chance to get in and this often prohibits you from using that elevator now, especially if there already are people in it, so you will have to wait for the next one and maybe even the one after that.
Also, the doors on deck 9 near the 24 hour drink station and entrance to the Buffet, while having a button to open them, are notoriously difficult to get through with a stroller. They often open only half-way or less and make it difficult to go through.
So, if you are bringing a full-sized stroller, make sure you also bring LOTS of patience
Full size Graco through the stateroom door
Stored in the closet
Aft elevators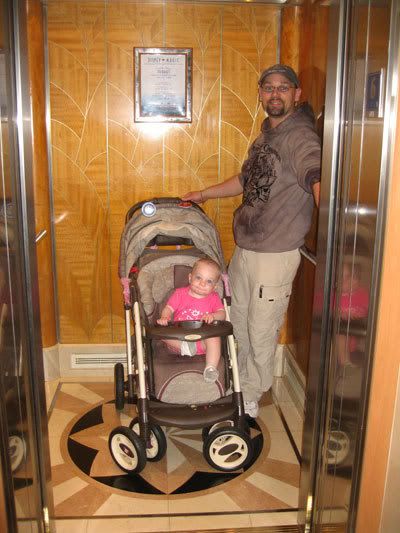 Mid-ship elevators
5. A verandah is a great place to hang out with your baby. My daughter LOVED crawling back and forth from the verandah to the room! She also loved looking out at the ocean.
6. Although the room seems safe, this is not always the case. I let my daughter crawl in and out of the bathtub bathroom and she ended up cutting her cheek on something under the sink. I was so upset with myself and mad at myself for not checking it out more thoroughly.
Moments before she cut her cheek
Her poor cheek (giving me that look "You're not doing your job mommy!"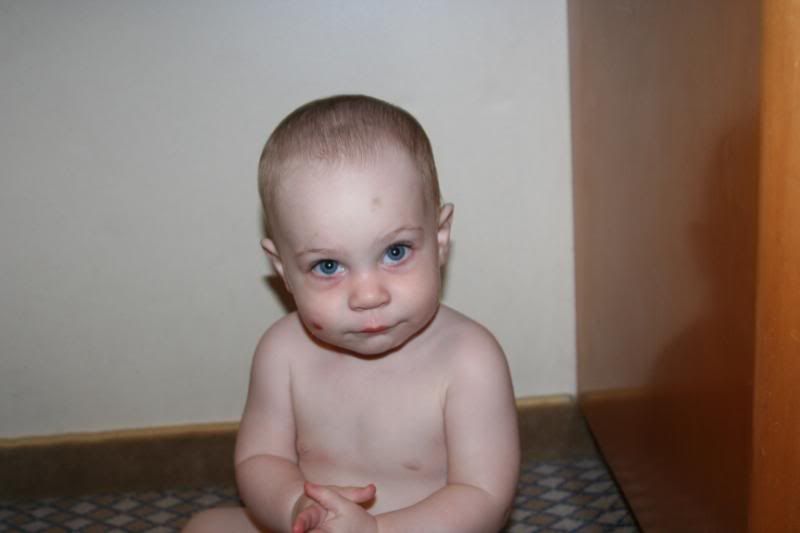 She also had a hard time with walking in the stateroom because she was just starting to walk. We ended up putting pillows EVERYWHERE so that when she went boom (and she did that a lot with those waves!) her fall was cushioned
7. The high chairs on the ship are the wooden ones. She had never been in those kind before. She was fine but had I known, I would have brought a little pillow or something to tuck in behind her as I felt like she was going to fall out a few times.
8. Whole milk (vitamin D as it is called in Florida) is available at the buffet and at the 24 hour drink machine near the Mickey Pool. We had such a tough time getting our servers to get her the whole milk at dinner time so we ended up dropping by the drink station before dinner to fill up her sippy cup every night.
9. The Oceaneers Club is a great place to take your baby! You have to be with them at all times but it was great having a place to take them to run around or just explore. My girl loved being here! A great place for the little babies that is out of the way and safe is the little clubhouse room with the computers and costumes. It has a door on it so they stay in the one area and there are books to read along with toys to play with.

Please see update below regarding playtime in the clubs!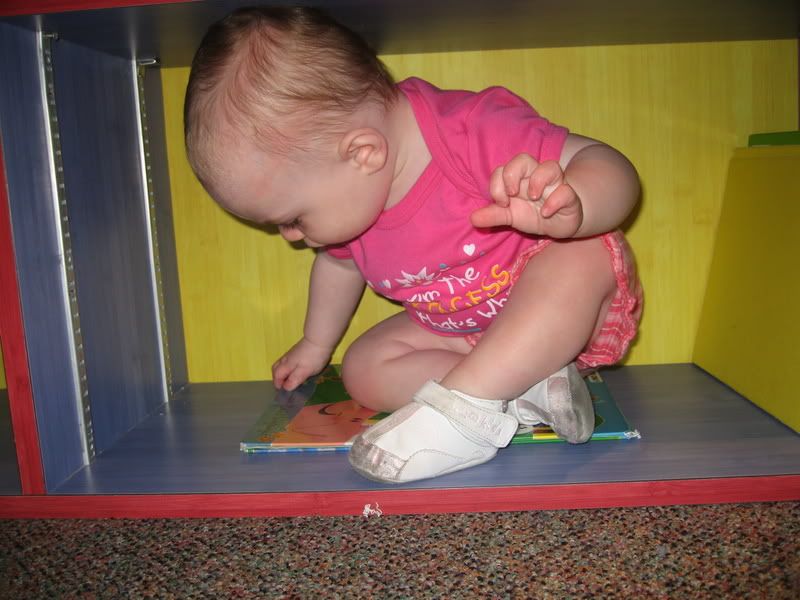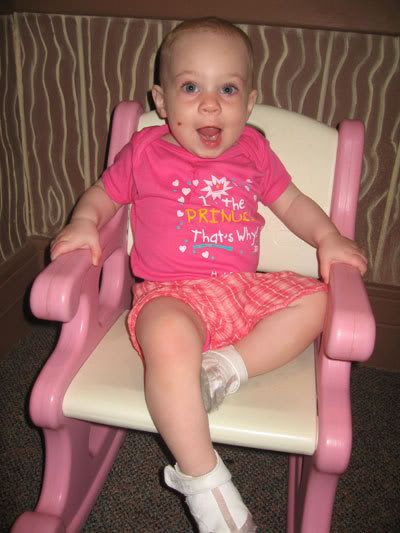 10. DCL is great because they have bathtubs in every room! Even though my daughter was barely walking (she began walking ON the cruise!) she had no problems in the bath tub, in fact the first time she took more than 6-7 steps was IN the bathtub on the cruise!) We didn't find it to be slippery at all.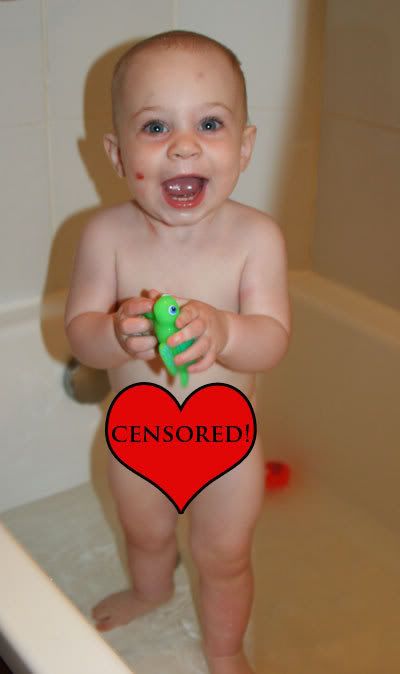 Well, there you have it. Hopefully this helps some of you who will be cruising with a baby.
-------------------------------------------------------------------------------------
Update for taking your baby to the kids clubs:
You used to be able to just walk into the clubs with your baby at any time and have some play time with them. This no longer applies! Disney now has OPEN HOUSE times scheduled where you can take your baby/child into the clubs. These are the ONLY times you are allowed into the clubs! During these Open Houses, ALL children need to be supervised by a parent! There is no secure programming during these times. Check your daily Navigator's for these Open House times.
__________________________________________________________________________
If you want to check out my three videos I made from this trip...
the last one is the cruise portion of the trip and the first 2 are the WDW portion of the trip
http://www.cassworld.ca/videos/wdw07-1.wmv
http://www.cassworld.ca/videos/wdw07-2.wmv
http://www.cassworld.ca/videos/wdw07-3.wmv
--------------------------------------------------
My videos from our October 2009 Trip
The last one, Part 4 (about 6 mins in) has the cruise portion of our trip in it.
http://cassworld.ca/videos/wdw-2009-1.wmv
http://cassworld.ca/videos/wdw-2009-2.wmv
http://cassworld.ca/videos/wdw-2009-3.wmv
http://cassworld.ca/videos/wdw-2009-4.wmv
----------------------------------------------
I recently cruised on the Dream and took photos of the Nursery...
Disney Dream It's A Small World Nursery Pics
----------------------------------------------
Pics of the Splash Area on the Disney Magic
Little clips of my 2 year old enjoying the Splash Area on the Magic
Photos of Nemo's Reef on Disney Dream
You will have to scroll down a bit in this post!
-------------------------------------------
Babies Travel Lite Program available on DCL
.