Focus on Tomorrowland
After experiencing Tron for the first time, I decided that I must do it again! So I headed down to get a FP. At SDL, FPs are distributed at centralised kiosks in each land. In Tomorrowland, FPs are distributed for both Tron and Buzz. I thought the FP kiosk looked kind of like a mini Tron dome, and there was a great view of the ride just after the launch to entertain me while I was standing in line.
I only had to line up for a few minutes. There were heaps of FP machines within the kiosk (I think 14 from memory), and the line split into 2 at the end. At the head of each line there was a CM directing people to FP machines as they became available. There were another couple of CMs flitting between machines helping people. It was pretty much the same as legacy FP at the US parks, but you scan the QR code on your ticket instead of inserting it in the machine, and then you just have to make sure you choose the right ride. You can view the screen in Chinese or English, and it will spit out a FP in the language that you used (I found this out when I forgot to choose English once and got a FP that was all in Chinese – luckily I was still able to pick out the times on it lol!). I didn't mind the concept of having the centralised kiosk, but I felt like it didn't work that well when there was one really popular ride and one not so popular one. The popular ones got long lines forming right at opening (eg Soaring), and if you wanted a FP for the other ride, you still had to wait in the incredibly long line. It wasn't an issue in Tomorrowland, but was a problem in Fantasyland and Adventure Isle.
The FP I received had a return time around 2-3pm, so I planned the rest of my day around that. I decided to ride Buzz next, as it only had a 5 minute wait, then check out Gardens of Imagination in a bit more detail and hit the shops. After that I envisioned it being time to head back to Tron to use my FP, then make the trek back to the hotel to see if my room was ready yet. Yep, things were going that smoothly that I was quite happy to schedule in an afternoon break!
Buzz turned out to be an absolutely walk on, and continued to have a relatively short wait (I saw it get up to 30 minutes) throughout my visit. It's definitely one of the higher capacity, quick loading rides in the park, and didn't seem to be amazingly popular. Being a walk on, I didn't get to spend much time in the queue, but I did miss the etch-a-sketch instruction screen from the US parks. This queue seemed quite plain in comparison.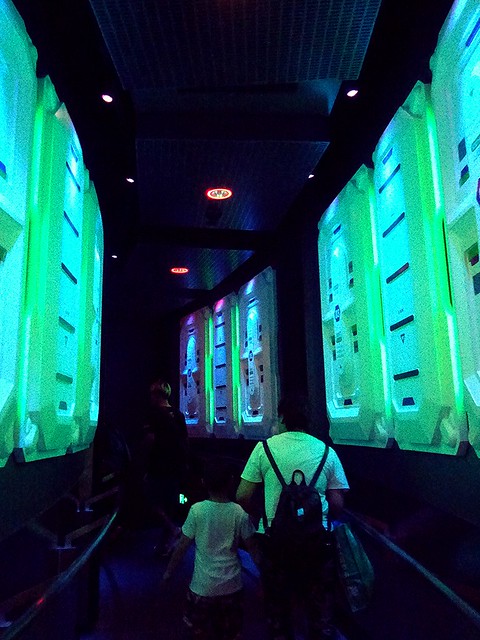 As it was so quiet at that stage, I was given a whole car to myself, so I had no one to compete with! Nonetheless, I gave it my best shot. I found this version of the ride much easier to score well on than others. The laser pointers were different colours, so you could easily pick out which one was yours, and most of the targets were pretty easy. I'm not sure if there were higher scores for some of the targets, because they didn't seem to be different shapes or anything like they are in the US. I still aimed for the more difficult ones though, and was pleased when I hit most of them. I actually got my highest score ever (by quite a long way), and ended up in the second highest category on my first go. While it was kind of fun to get such a high score, I did feel like it was a little bit too easy.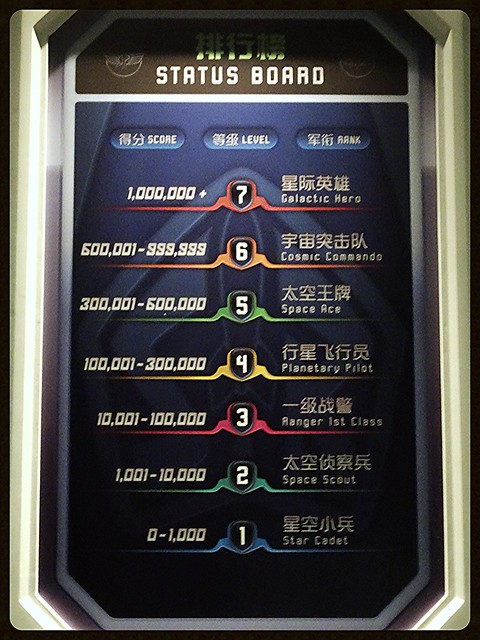 I didn't find this version of the ride as cheerful as the others. It was far less colourful, a bit dingy, and kind of felt almost industrial. While I wasn't particularly trying to follow the story, I found that it was less obvious than the other versions (where I don't particularly try to follow it either, but get the gist of it nonetheless). The ride stopped momentarily towards the end, and I took the opportunity to grab a quick photo instead of going for a higher score! The official announcement was in both Chinese and English, although I found that generally CM instructions were only given in Chinese.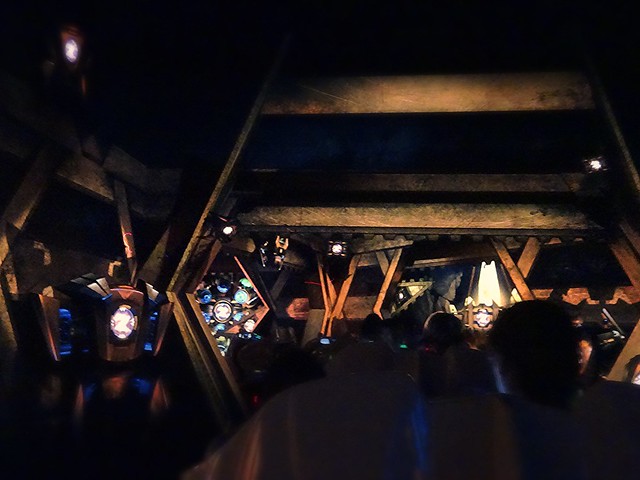 On this occasion, we quickly got going again and finished off the ride.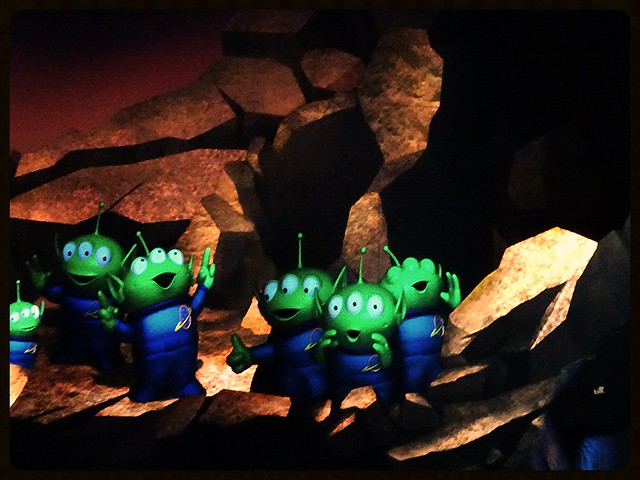 Overall, while I enjoyed the ride (and the novelty of getting such a huge score!), personally I prefer the colour and brightness of the other versions and didn't feel an overwhelming urge to do this one again.
I was in less of a rush when I left, as the crowds didn't seem to be building that much, so I had a bit of a look around Tomorrowland on my way out. There was a Baymax show happening at the stage. I briefly paused to see what it was all about, but didn't bother to stop and watch for long. It seemed to be Hiro and Baymax doing aerobics or something. The crowd was joining in, doing all the movements – I was pleased to see how much they were interacting and seemed to be enjoying it.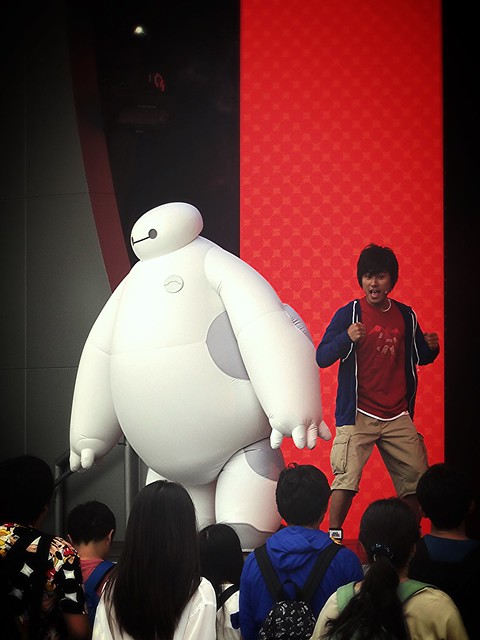 I had a bit more of a look at the fountains on the way through, and figured out how all the paths joined together. There was still a queue at the Tomorrowland sign, so I gave that a miss again, but had a bit more of a look at the extensive garden.
I never really bothered to get a good look at the jetpacks. It was kind of tucked over in the corner of Tomorrowland, a bit out of the way. Neither did I bother to try and find the Star Wars or Marvel attractions. I was much more interested in exploring the Gardens of Imagination.
Last edited: