Greetings. We have returned from our QFTW and I have uploaded 800+ pics from my camera....no don't click away - I won't be posting them ALL
I did promise a trip report so here we go!
****SPOILER ALERT****
If you are an adventurer who wants to be surprised by what occurs on this adventure this is NOT the trip report for you!
****END OF ALERT****
Our adventurers: DH, me, DS1, DS2 who are both 18 1/2. This was their high school graduation trip. You can guess DH and my ages (but don't tell me in case I look much older than I am!)
Our Disney/travel background: DVC members, many trips to WDW (we are still in the teens for trips there but we are trying to do better!), one trip to DL, 4 Disney cruises (4-day, 10-day, 2-7 day cruises). Been to Europe twice on our own as DH's family is from southern Germany. My only experience with an 'organized' tour was with DS1 and his HS orchestra on a 9-day delightful tour of England in 2006.
Why did we decide to try ABD? We had done all the DCL itineraries that were offered this summer. There is so much of the United States we haven't seen and Wyoming appealed to all of us. A DCL cruise for our family was about the same as the ABD trip. I am always the trip planner in our family. My guys are GREAT about my arrangements but I was looking forward to NOT being responsible for the entire trip. (You other planners know what I mean
)
Our arrangements: Two rooms for the ABD adventure. One extra pre-day at the Wort hotel in Jackson Hole. For $350+ per night we were fine staying in one room that night!
Saturday August 1 - Day Zero
Woke up at 0400 Michigan time (0200 Wyoming time) Off to Detroit Metro to catch our puddle jumper to Chicago. NO direct flights to Jackson Hole. What seemed like HOURS later we arrive to the most beautiful view from the tiny airport. Join me for a walk from the runway to the terminal.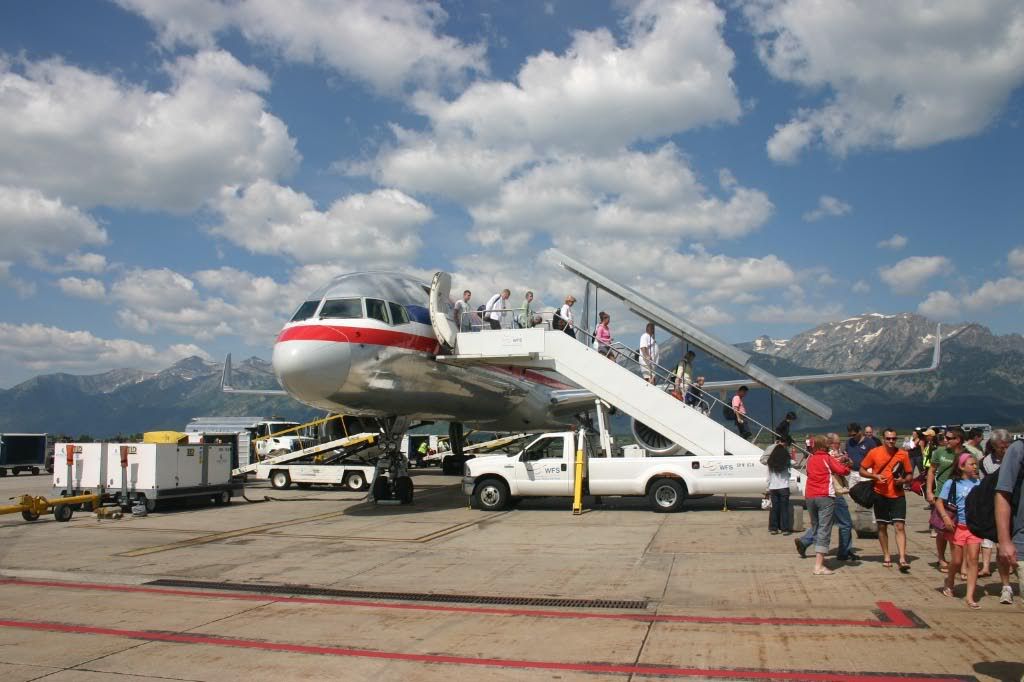 DS2, Hubby, DS1 They are handsome but look at the view!
Don't see this at every airport! An elk-antler arch to enter the terminal building: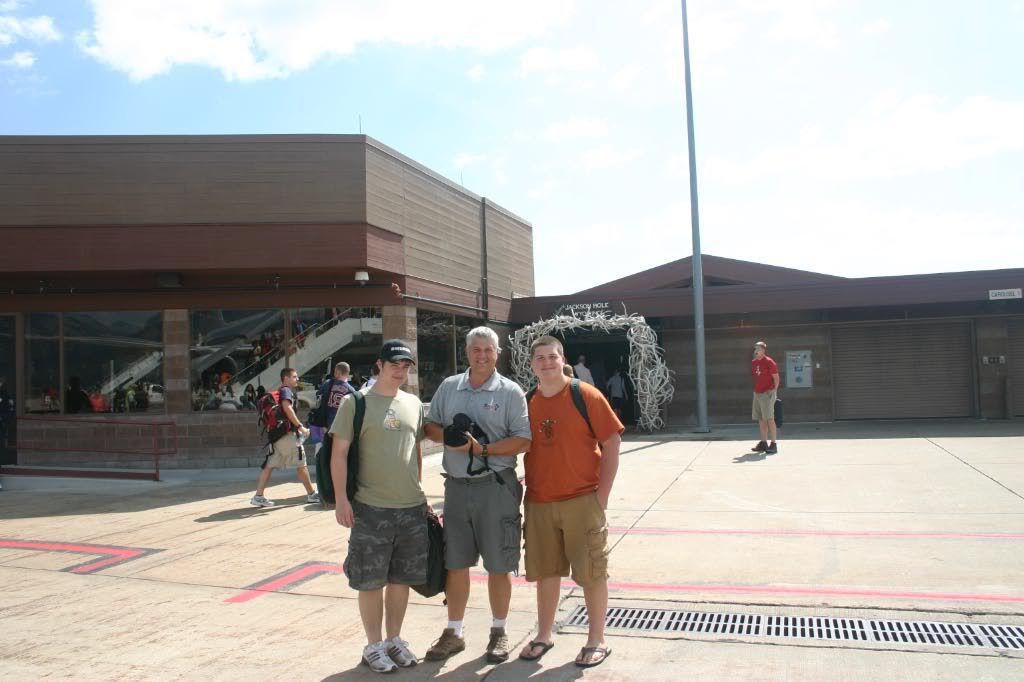 No problem finding the luggage carousel - there is ONE. Nicely appointed - don't forget to look up!
We snagged our lugged and quickly moved outside to grab a cab into town. They have set rates which is nice. About $54 to get our family into town plus tip.
Next up:
The Wort, Bubba's, and our nap in the lobby. Hope you enjoy following along. I'll add another installment tomorrow. My pillow calls.