Friday 10 July - Hogwarts Here We Come! part 3
The Hogwarts Express was calling so we made our way out of Diagon Alley, back through the red brick wall and past the Knight Bus to go into Kings Cross station.
Going through the station is just like going through a London station, we felt quite at home! Where you'd normally put your train ticket through the ticket machine to get into the station, there a Kings Cross ticket collector ready to scan your park-to-park passes, as the Hogwarts Express takes you between Universal Studios and Universal's Islands of Adventure (where Hogsmeade is).
Once we'd had our passes scanned, we walked right through the queue and up to the platform! We all agreed the early start that comes as part of staying at a Universal hotel is brilliant – no queues anywhere at all so far! We waited at the platform and saw the steam train puffing in to the platform. From this direction it comes in backwards.
So, there must be couple of thousand people in Universal on any given day, I'm guessing, so what are the chances of this…C saw a classmate from school getting off the train!! – we hadn't known they were coming to Universal at all…But we were in our line, behind barriers with people behind us, ready to have the barriers open to board the train, so we couldn't get out of line to go and say hello, and they'd rushed off without hearing us calling them! Just goes to show… it's a small world (after all!) ha ha!
It was our turn to take a ride on the Hogwarts Express. We boarded and sat in our carriage with another family of four. The carriage is just like British trains from the 50s/60s, but I'm sure British Rail still used them right up to the 90s. The seats are a blue and green check design which is so familiar to me from my childhood: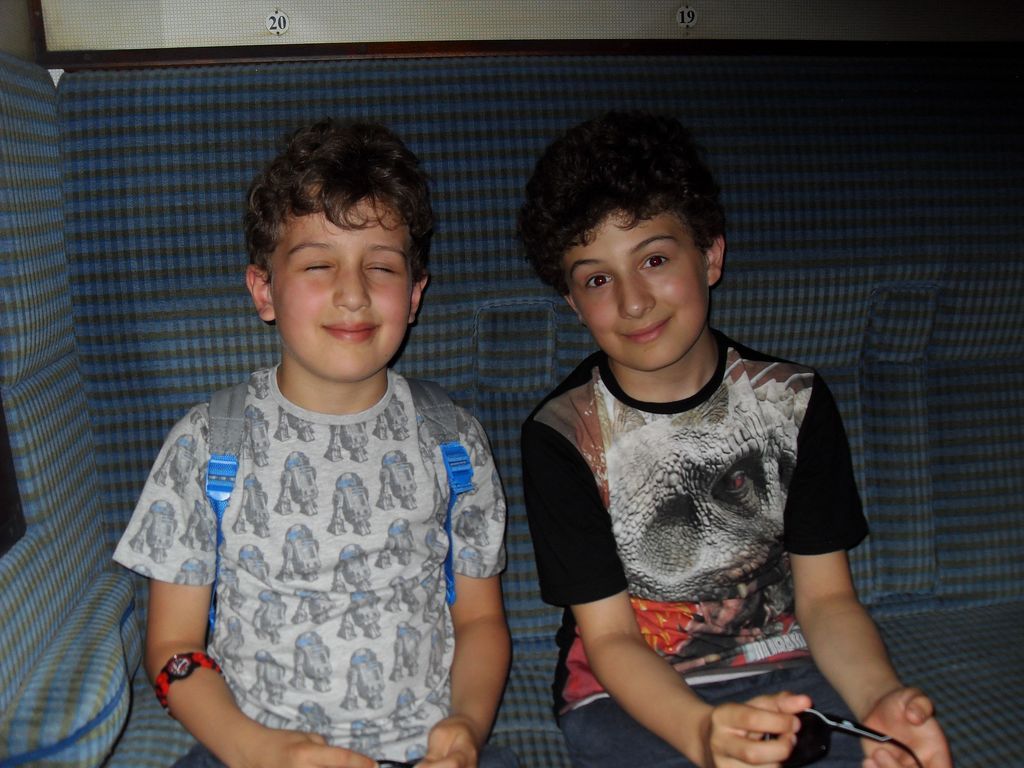 So once again we felt very at home, and pulling out from Kings Cross station was just like it is in real life!
But then things got magical – I don't want to give any spoilers as it is a real treat to have the train ride not knowing what to expect. But I will say make sure you look both ways, both at the 'views' through the windows and the silhouettes on the blinds on the compartment doors which lead to the corridor. And on this journey (Kings Cross to Hogsmeade) you might want to take some chocolate with you!
(wink!).
We had arrived at Hogsmeade, time to get off and go to school!
We made our way up Hogsmeade Main Street, it was quite busy and crowded here… It's clear Universal learned a lot about designing an area for big crowds between building Hosgmeade and Diagon Alley, it never seemed extremely busy in Diagon Alley and it always did at Hogsmeade.
We stopped to get some drinks and decided to try the frozen Butterbeer– mmmm, delicious! My new favourite thing, much nicer than the regular version!
We went into the Hogshead pub to get the drinks, there was no queue there at all, compared to the large one just outside at the Butterbeer stall. That was a good tip that I had found on the DISboards! Whilst having our drinks we watched the Toad Chorus show which was really cute:
After stashing our bags in the lockers (even worse than the locker room at Gringotts!!
), we went into Hogwarts to ride the Forbidden Journey.
To get through the queue took around 10 minutes, although we were moving all the time, it was quite slow through the Herbology greenhouses and we stood to the side to watch Harry and Ron and Hermione doing spells and to listen to the portraits of the four founders of Hogwarts arguing! That room was great and Rowena Raveclaw was Scottish! That was cool!
The ride was fantastic although quite jerky – our Ride Photo was a complete fail! :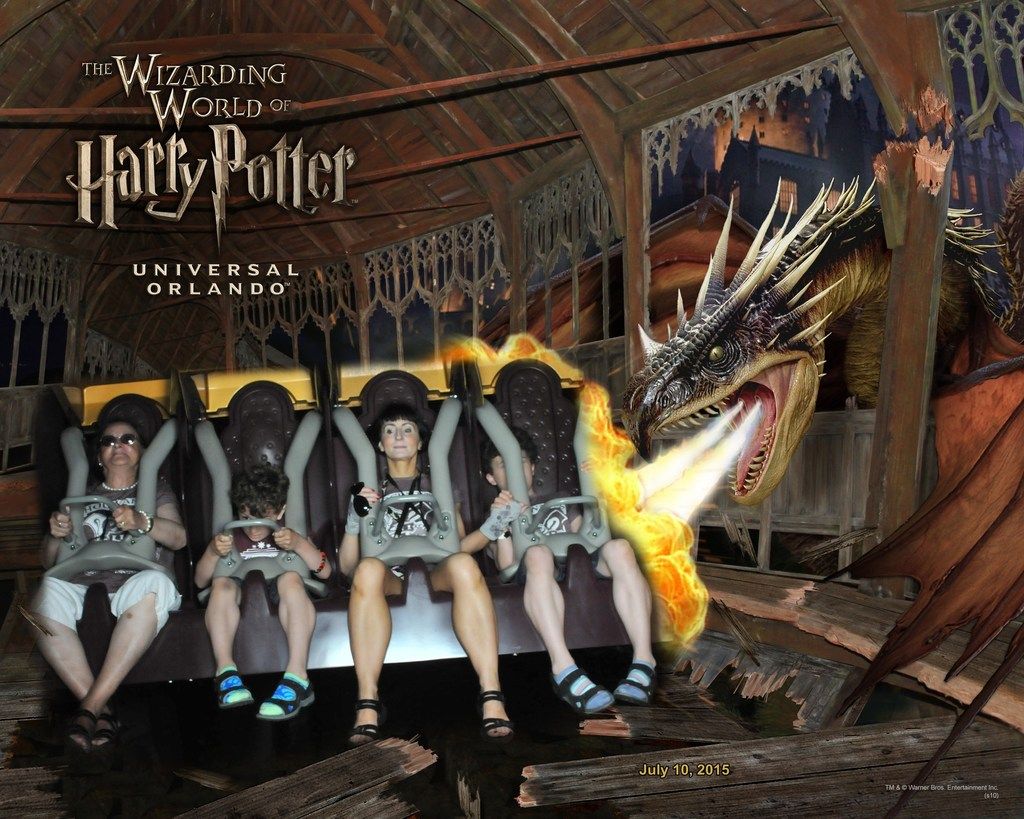 That is my two sons, riding along with me and Granny honest!
After our Forbidden Journey, we wrestled with the thumb print detectors
to free our bags from the lockers and then Granny sat in the shade while C, J and I rode Flight of the Hippogriff.
This was our first experience of using our Front of the Line express passes, which come as part of the hotel booking. We felt a mixture of smugness
and guilt
as we swanned past the substantial queue in our express pass lane and boarded straight away. Granny wasn't even quite ready with the camera to take a photo of us on the ride…you can just about make us out here: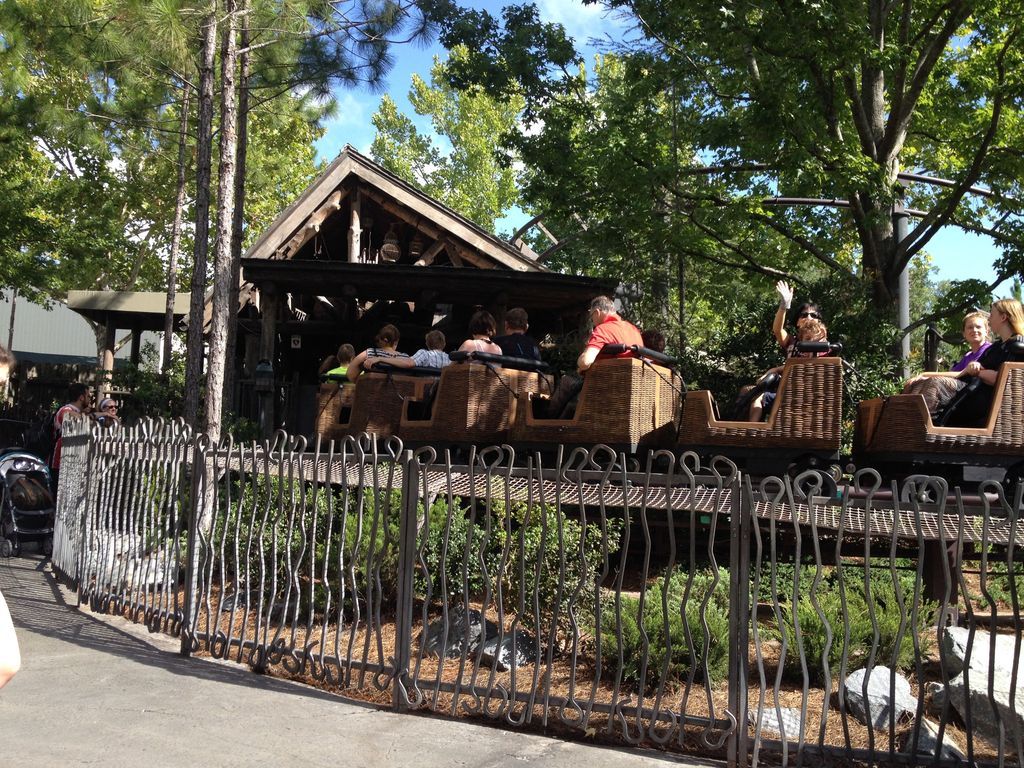 It's a quick ride, but good, and none of us were brave enough to the big rollercoaster, The Dragon Challenge,
so we decided it was time to leave Hogsmeade, after a quick visit to the bathroom where poor Moaning Myrtle was grousing away…and cross the bridge to go back in time and visit some sauropods, raptors and flying reptiles...
Up next: Back to the Jurassic Era
Last edited: