T

hursday 16 July – Time for Tea!
We had our breakfast at the Sassagoula food court and then caught the bus to Magic Kingdom. It was this morning that the heavens opened, just between us getting off the bus and going through the turnstiles, and when I opened up the backpacks to get out our waterproof ponchos, I realised I hadn't packed C and J's ponchos (doh)!
We were right by the waterfront, with nowhere to take shelter and the rain was bouncing off the pavements, it was like standing in a powerful shower, so there was nothing for it but to be a bit inventive, so we shared a huge adult orange poncho each, one adult one child in each, with the kids having an arm hole to see through!
We were killing ourselves laughing as the two, two-headed, one-armed, four-legged orange monsters tried to synchronise movements to make their way up to the park!
We managed it, and, pretty dry, we shuffled in to the bridge and the shop underneath the Main Street train station to buy two kids' size ponchos!
It was here that the kids noticed the portal/magic mirror thing for the Sorcerers game so we went to the fire station to get inaugurated into the game and get some cards, which we'd play later. But first, we had to go driving, as we had fastpasses for the Tomorrowland Speedway.
It was still pouring, so we decided to take a ride on the PeopleMover and see if the rain would let up… The PeopleMover is great, the kids loved that they went through Space Mountain!
And the plan worked, and as we exited the PeopleMover the rain had stopped, which meant we could remove our plastic packaging and we'd have a much nicer drive around the Speedway track which is not undercover. C drove his own car as did granny and J drove me, but I had to do the accelerator pedal. The boy racers just loved this, being able to drive at 8 and 10 years old!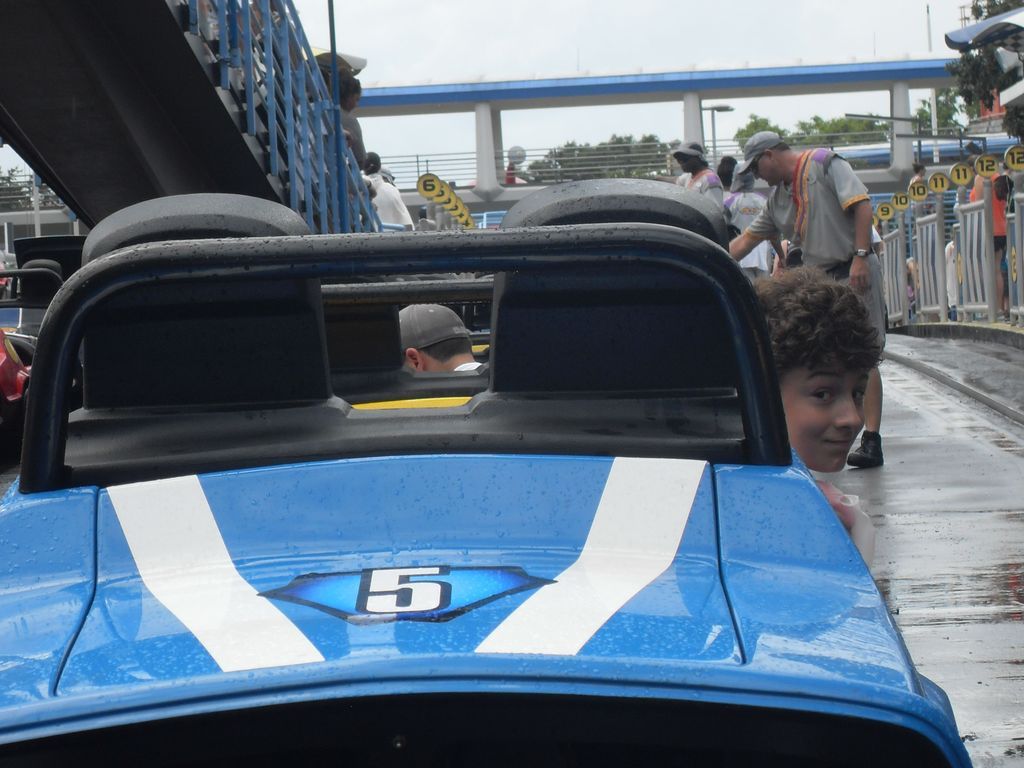 A little exposition is necessary here…I'd booked for C and J to have tea with the Mad Hatter at the Grand Floridian later today. They were going to go in fancy dress, as they had Halloween costumes from last year when C was the Cheshire Cat and J was the White Rabbit.
Now, only kids are allowed at the unbirthday tea, but granny and I had got into the 'Wonderland' spirit with an appointment to have a posh Grand Floridian tea and had put on our 'sort of' Queen of Hearts clothes, stripes and hearts and, of course, gold crowns! #ridiculous!
So, coming out of Tomorrowland and discovering a Wonderland mural with
an angry Queen of Hearts picture
was just too tempting an opportunity to pass up.
Cue – silly poses!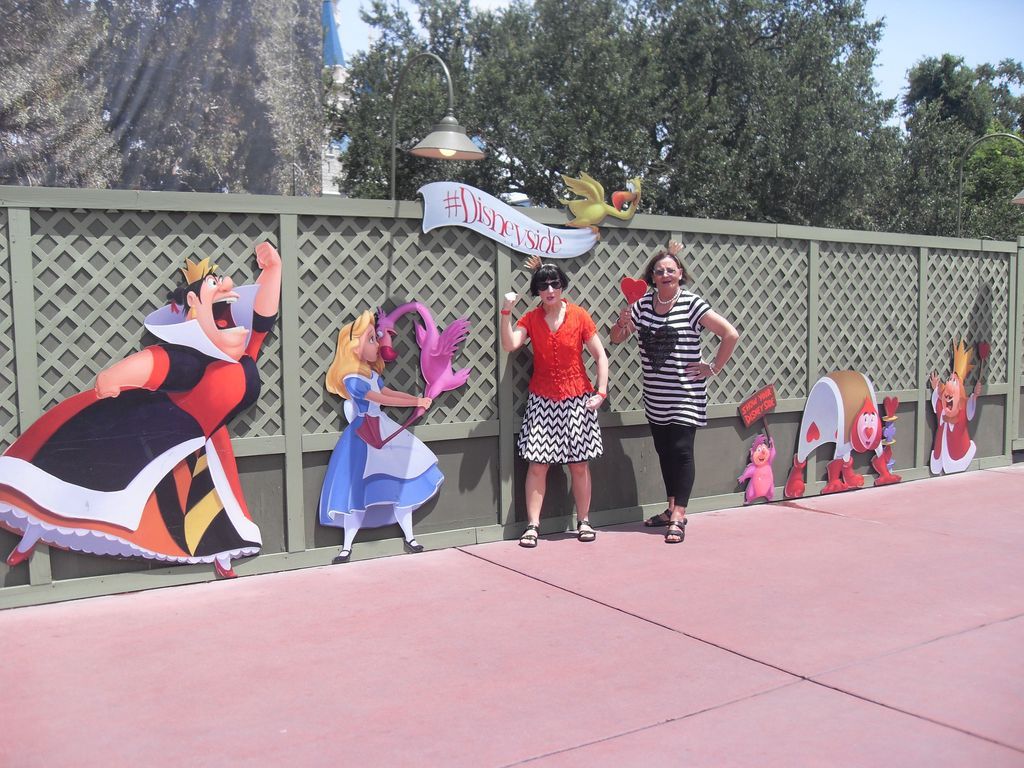 And then what else could we do but have a spin in the tea cups: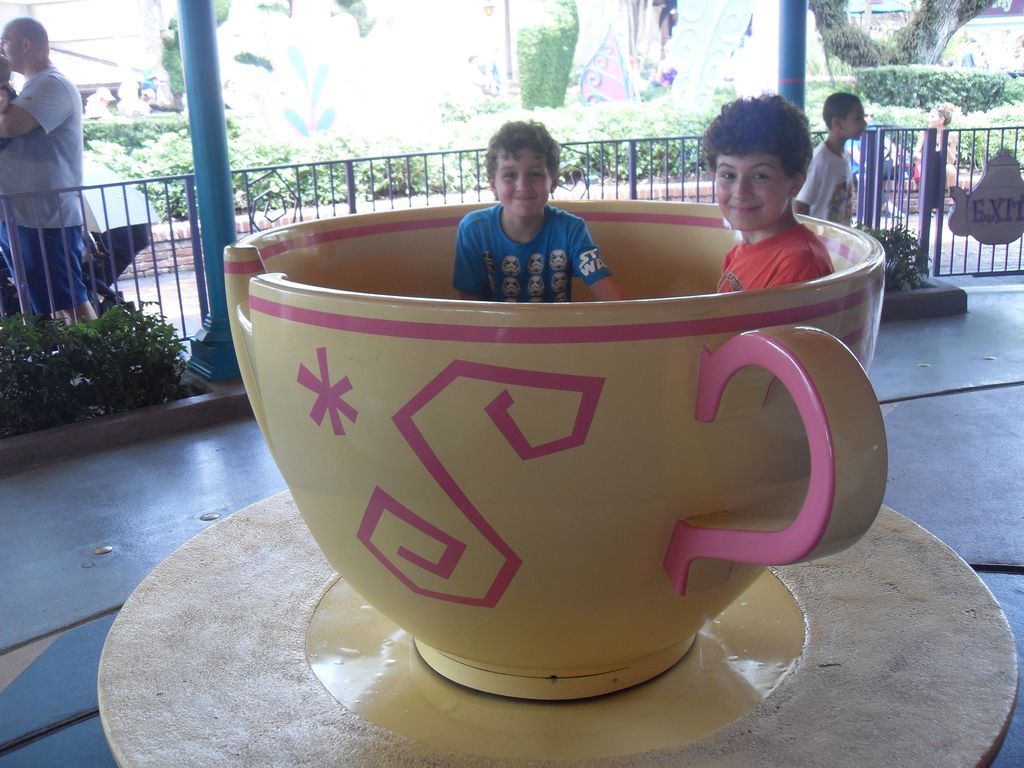 And then get our little Wonderland creatures their own character cakes from the Cheshire Cat Café. The White Rabbit cake cup for J and the Cheshire Cat cake cup for C:
The cake cups were alternate layers of cake and frosting, yummy but really, really rich and sweet – we shared two between the four of us, and still weren't quite able to finish them!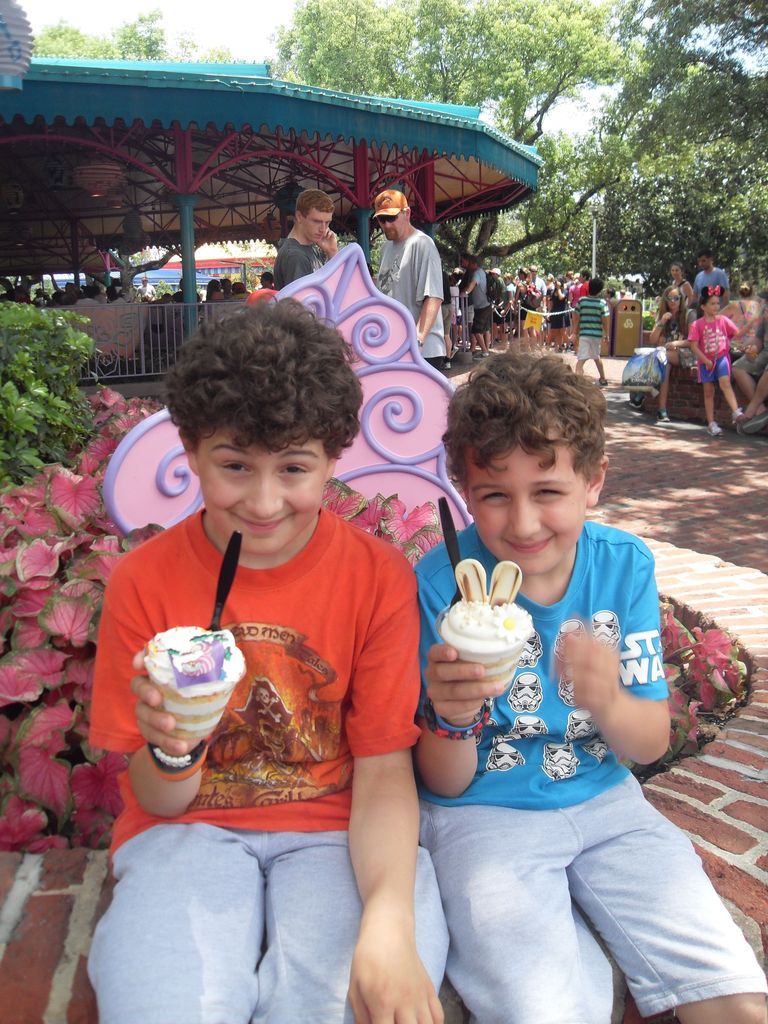 Then it was time to take Monorail to Grand Floridian, and C and J got changed into their costumes in the GF loos.
We dropped the cat and the rabbit off for their tea, and had to sign really crazily over the top waiver form to be able to leave our kids in Disney's care... (Danger Danger! Icing cup cakes!).
The boys had a great time, they said Mr Hatter and Alice were very silly and good fun. They got to ice cupcakes (and then eat them) have 'tea' (apple juice), make photo frames, and play croquet: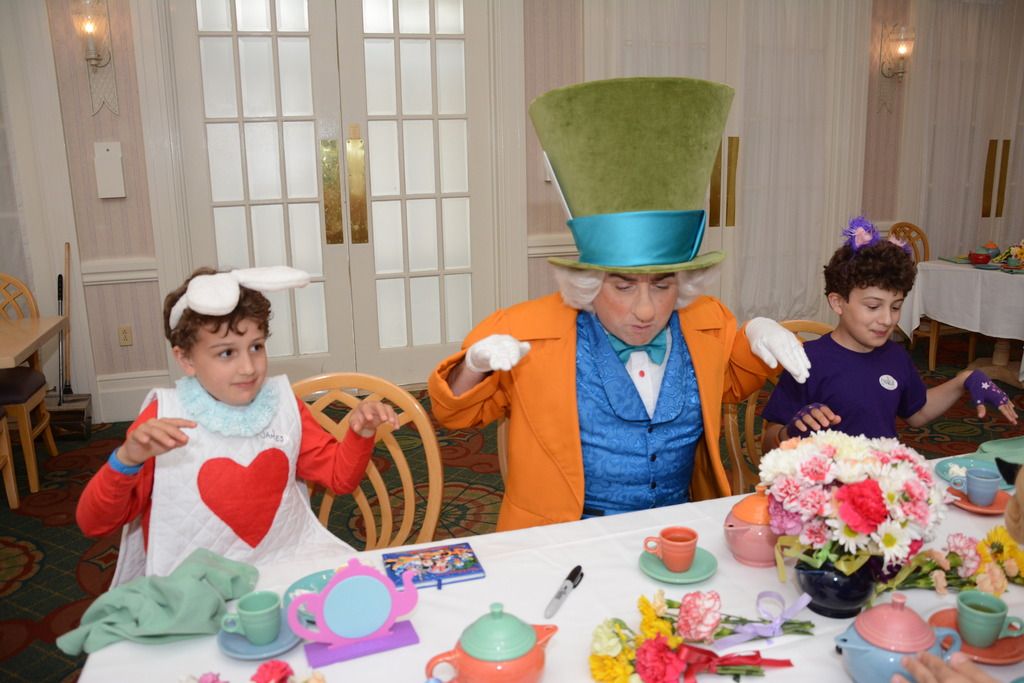 Meanwhile, Granny and I enjoyed our Champagne afternoon tea in the Garden View room.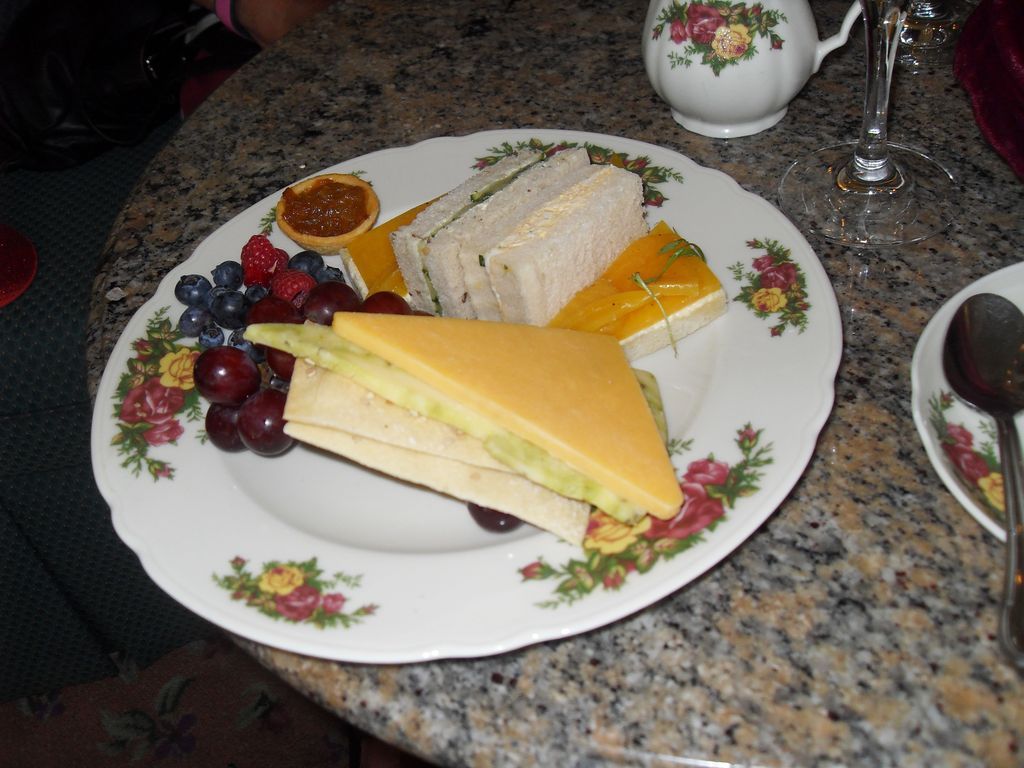 Hooray! Jam Tarts! The Knave didn't steal them all! :
Don't we look regal and posh…not for long …
...
Now, the fabulous Billy Connelly once said:
"Never trust a man who, left alone with a tea cosy does not try it on"
In that spirit, I think both Granny and I can be trusted (
) :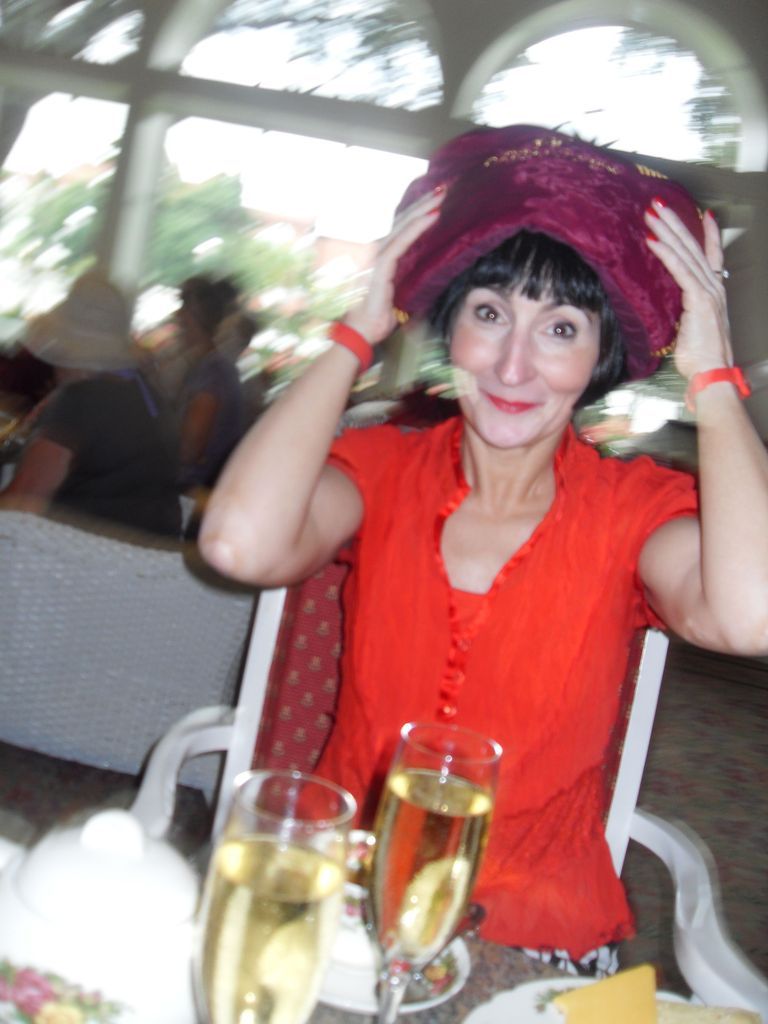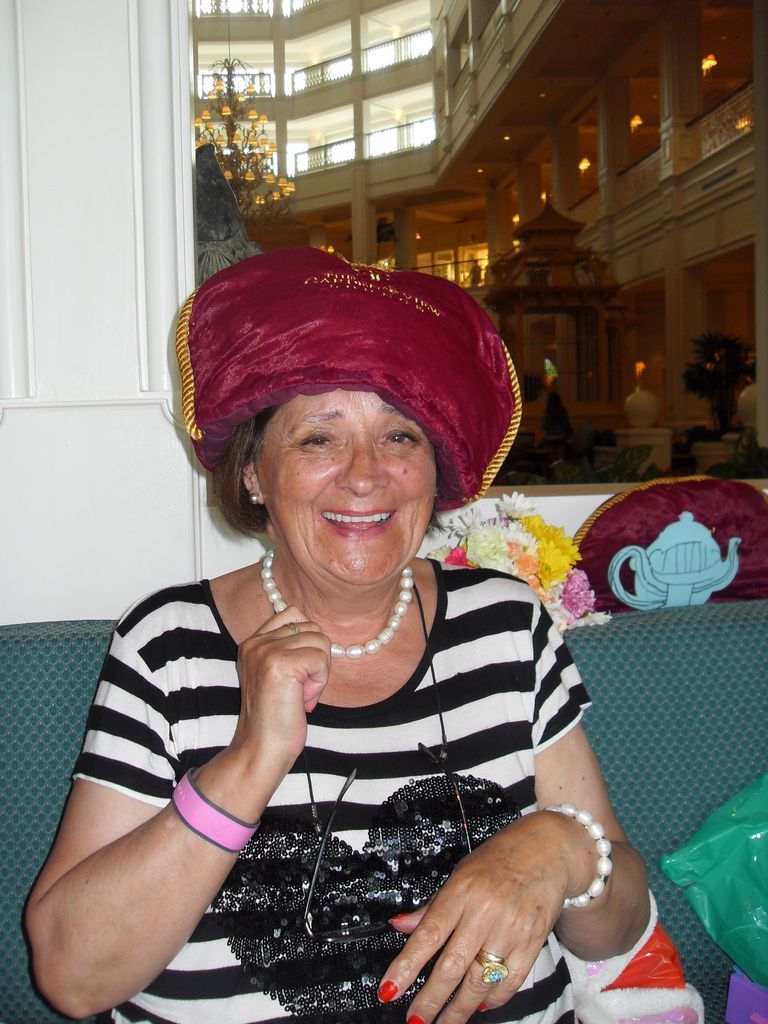 Next Up: Nobody's Perfect!
Last edited: