I support Seaworld & Tillikum.
I did this thread to help others who haven't yet had or are curious about the DWS experience. Please check here to see if we answered your question, If it's not, Add the question here so we can help you as quickly as possible:
1-
Has anyone done this? Is it worth it? I read that it is a bit of a "behind the scenes" look. Does this mean that I may see nothing going on or is there a "show"?
A- Ive done this (Along with other members here)and it is WELL WORTH the experience, you even get a picture of your group/family-*the food is great -its a whole bunch of fun and you get a intimate view of the whale(s) their so close you can look em in the eye- as the trainers bring them right up to you.
~~~~~~~~~~~~~~~~~~~~~~~~~~~~~~~~~~~~~~~~~~~~
2-
Could I please also ask if the group photo includes the killer whale or if it is just the people in your group? Also, how long would you say that the entire lunch/presenation lasts?
Thanks,
A-The photo is of your group/Family, but Location change- sometimes its by the
underwater area by the whales
or
by the slideout area
or some other place. Last year I had a picture taken right by the slideout. The entire thing lasts about an hour or so.. sometimes longer, but it goes by so fast cause there's so much going on, they sit you down and you eat while the believe show is going on and then they do the presentation with the whale(s)
~~~~~~~~~~~~~~~~~~~~~~~~~~~~~~~~~~~~~~~~~~~~
3-
We have reservations for Dine with Shamu for 5:30pm - Would you also see the earlier show to see it from the audience view? Or do you see enough from the Dining experience?
Thanks!
A- As viewed in the video above, they have a big screen for you to watch the Believe show while you dine, you have a view of the entire pool so you dont miss anything.
~~~~~~~~~~~~~~~~~~~~~~~~~~~~~~~~~~~~~~~
4-
When I made our reservations for this for December, the lady told me that there was no reserved seating....it was just first come, first serve. Is this correct? I thought that I had read on here that you should book early to get good seats??
A- From what I know, You get better seating if you book in advance. It is First Book First serve. Book a month or two in advance: you get front poolside seats, book a week and you may get the middle seats or the side seats. But either way you still get an upclose view of the whales. The give you a number and a matire D' escorts you to the table number (i recently had 18 which is upfront poolside)
Example: Poolside-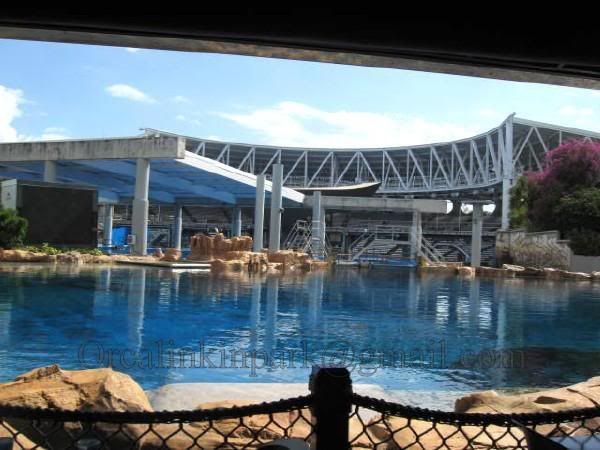 In the middle:
By the Slideout: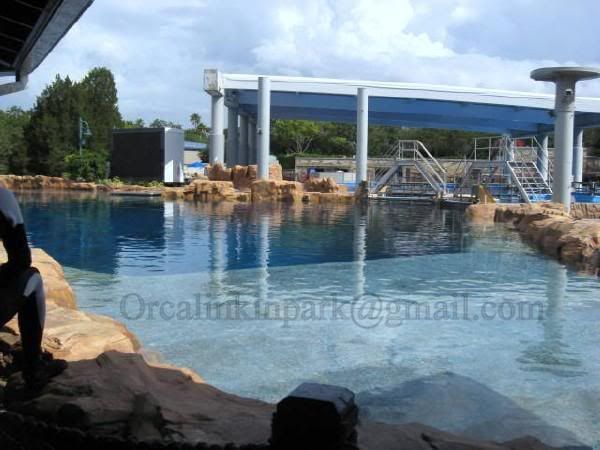 ~~~~~~~~~~~~~~~~~~~~~~~~~~~~~~~~~~~~~~~~``
5-
Is there a difference in menu or price between lunch and dinner seatings?
Any Dine With Shamu Program is the same price for Lunch or dinner is basically the same price (in orlando is $42 for adults and $22 for children) However for events like "New Years Eve" Dine with Shamu, or any special holiday dinner it can price up to $99.
~~~~~~~~~~~~~~~~~~~~~~~~~~~~~~~~~~~~~~~~~~~~~~~~~~~~~~~~~~~~~~~~
6-
What does the Dine with Shamu Menu include?
A- It is a Self Serve Buffet, but the waiter comes around to give you drinks- Fresh Garden Salad & Dressings , Caesar Salad , Potato Salad , Pasta Primavera , Rice Pilaf , Garlic Mashed Potatoes & Gravy, Fresh Garden Vegetable Medley , Beef Stew , Seafood Creole , Chicken Dijon , Sliced Turkey Freshly Baked Rolls & Butter , Pasta Shrimp Alfredo , Plain Noodles , Meatball Pasta Marinara , Macaroni & Cheese , Kernel Corn , All- Beef Hot Dogs , Oven Roasted Chicken, Fresh Fruit and Vegetables with Dip, Brownies Shamu Cookies, Assorted Pastries, Assorted Cakes (they had red Velvet cake, chocolate cakes, Black and white M&M's .. (and a Make your own SUNDAE bar)
~~~~~~~~~~~~~~~~~~~~~~~~~~~~~~~~~~~~~~~~~~~~~~~~~~~~~~~~~~~~~~~~~
Just a tip- get there at least 20 minutes early at the Dine With Shamu check in- next to the Underwater Viewing Area.
Hopefully we answered your questions, if not please feel free to post it here so we can help you out. Dont forget to view the video so you can get a POV of what the DWS consists of.