We met the group in front of Twist this morning & headed out to the Disney Soda Shop for a special breakfast. They are not usually opened for breakfast, so this was a treat for us.
Here is our menu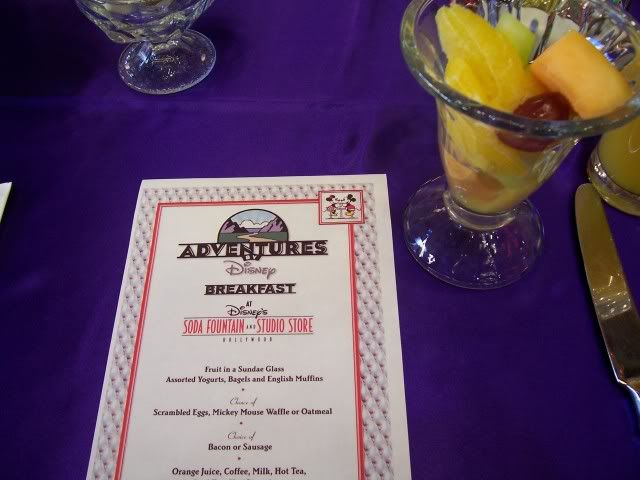 Eric had a Mickey waffle & I had scrambled eggs & bacon. His was cuter so you get to see it.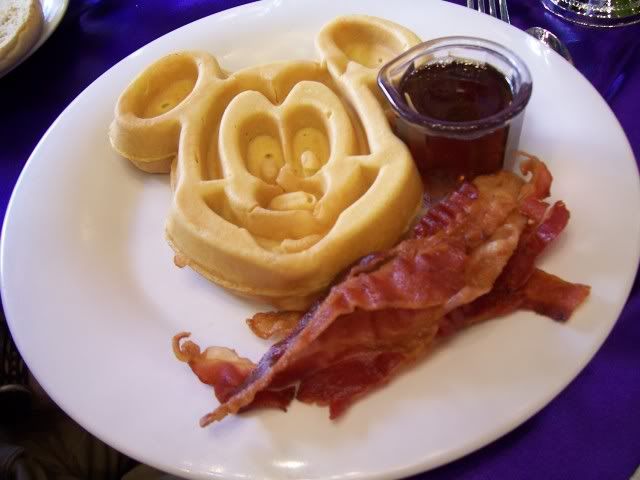 The ceiling in the Soda shop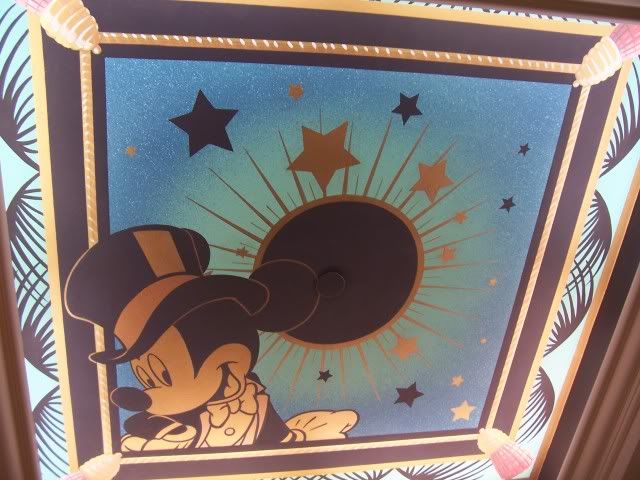 We had time to browse the store after breakfast. It was like a small Disney store-I looked at some pins but didn't buy anything, although later wished I had bought the CD of Disney music played on the Mighty Wurlitzer organ.
Then, it was time for our tour of the El Capitan theatre.
We had a tour guide named Mike whose love of the theatre was evident in the way he talked about it. We started out in the lobby & he talked about the history of the theatre & how at one point it closed & was boarded up. Disney bought the theatre & restored it to the way it is today & now they show movies complete with the organ playing, a stage show, a curtain show & then the movie being played. What a great way to see a movie!!!!!!!!
We went into the theatre & here are some detail shots. T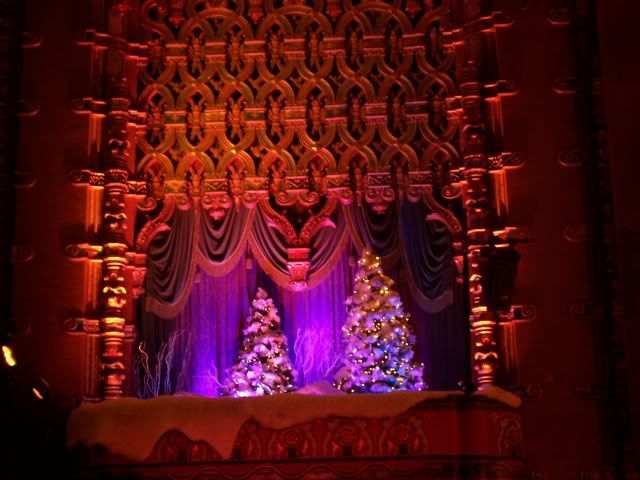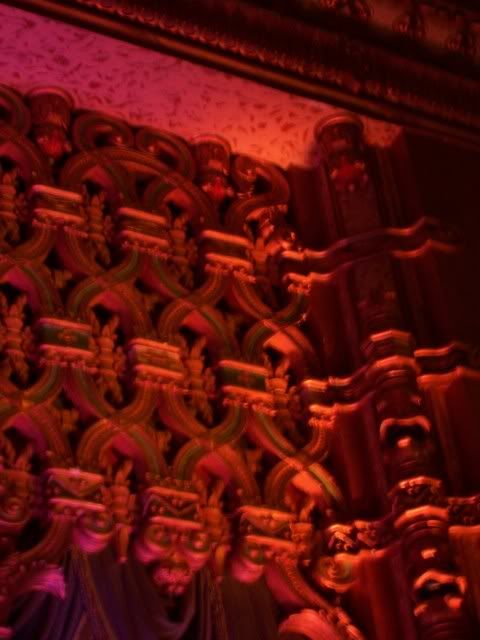 The organist was playing Disney music as we came into the theatre.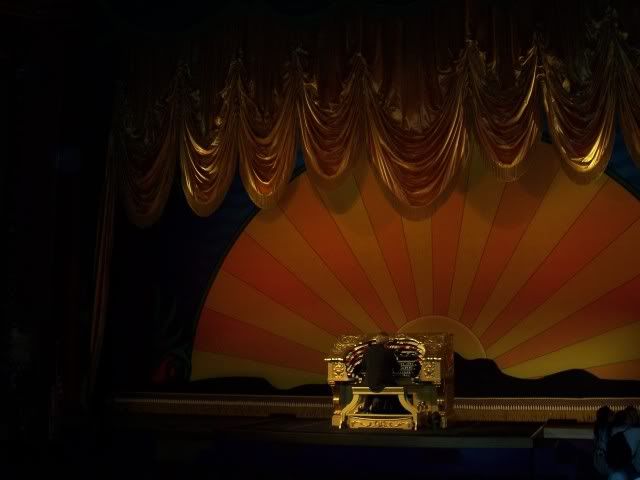 He talked to us about the Mighty Wurlitzer of which there are not many left.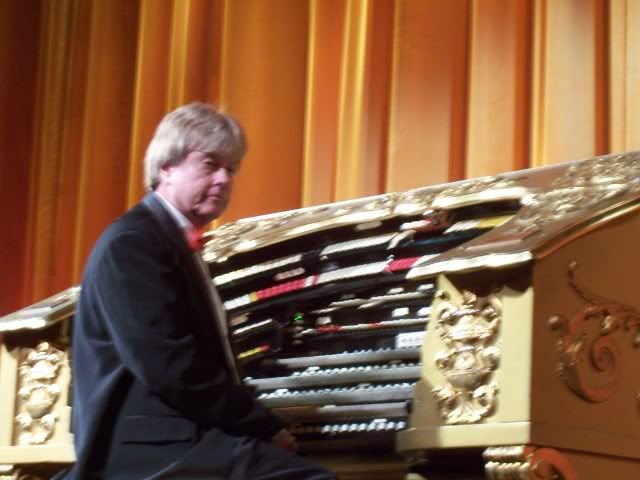 It is an amazing instrument & has all the various instruments up in the rafters & when he presses the buttons those instruments are actually played-as in a drum stick strikes the drum, etc. Amazing. There is one organ pipe that he demonstrated for us that is able to shake the whole theatre. Really fascinating.
Here's a little video of him talking about the organ.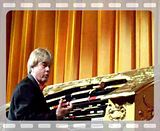 He played a few name that Disney tune songs & 2 people in the group won that CD I wish I had bought.
After that we were treated to the curtain show.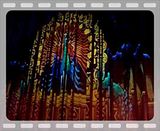 We were also able to go up on stage & see some of the riggings that work all the various curtains.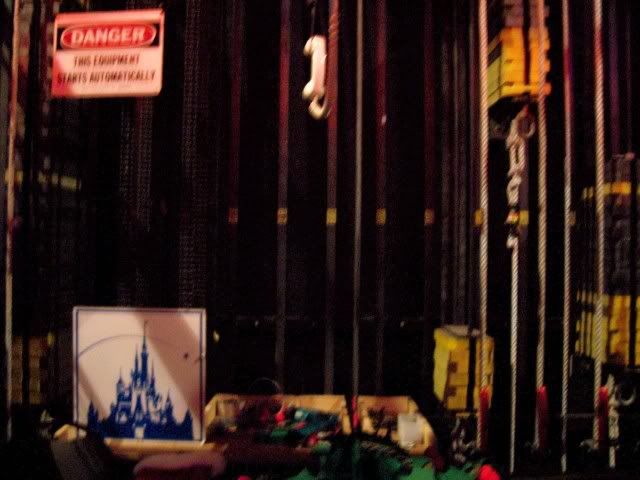 Eric on stage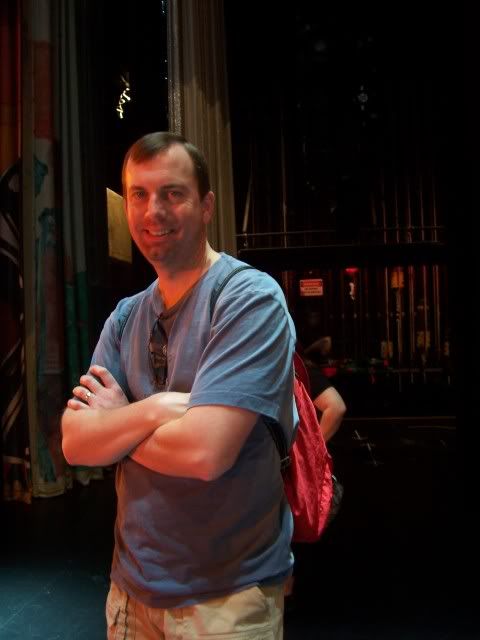 And my foot on a peformer's mark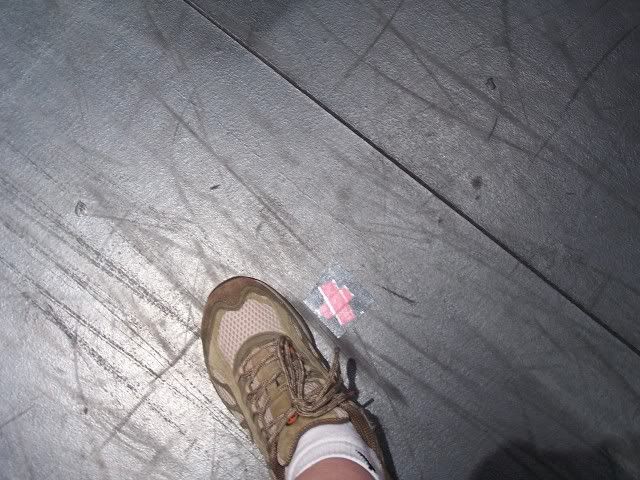 As we were leaving that part of the theatre, the singers came out to do a sound check for the holiday show they are performing.
We next went upstairs to the Hall of Fame & talked abit about the restoration project with Ed who had been instrumental in getting the project going. I am so glad that they did this & did not let this beautiful theatre just sit there & rot away-that would have been a real shame.
They had some great photos & memorabilia up there.
The 40th anniversary of Mary Poppins.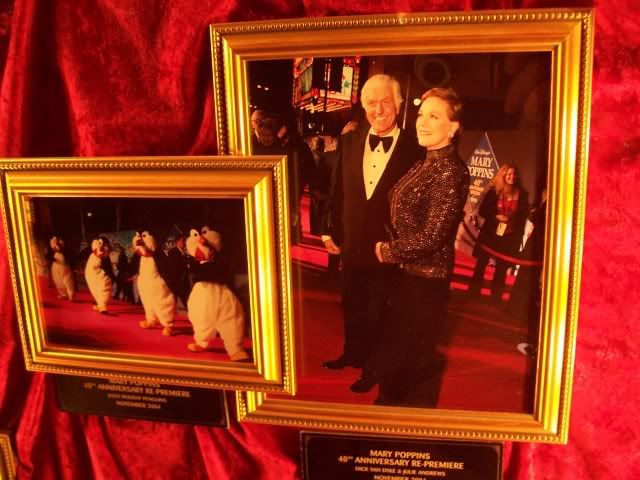 Monster Inc.
A shot of the theatre from the balcony.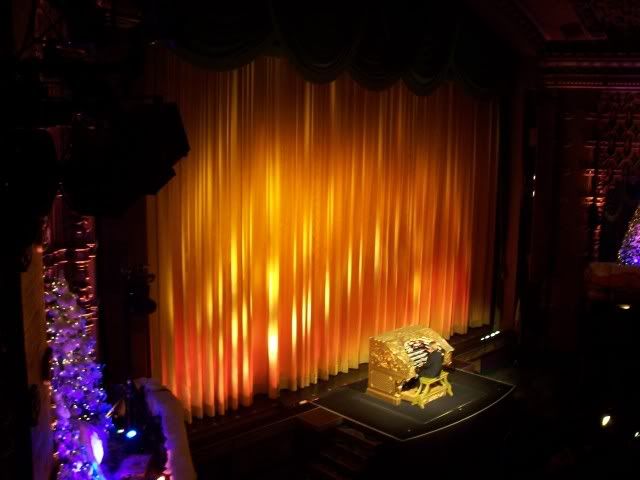 After this we were taken downstairs to the lounge area & then got a group photo taken on the stairs. I really enjoyed our time at the El Capitan & wish we had been able to go back to see a movie there, but we just ran out of steam/time. A lot of our group did go see Bolt & saw the holiday stage show.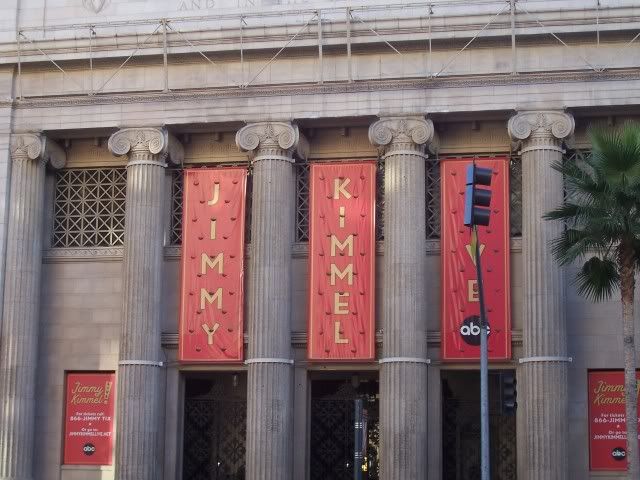 Then, we went right next door for our tour of the Jimmy Kimmel live shows set. We were not allowed to take any photos in there because it is a working studio. It is in an old Masonic temple that has been bought by Disney/ABC. Before it was Jimmy Kimmel live, they used to use it to set up events that went along with the movie they were showing next door-like a Toy Story set up with Woody's line dancing lessons in the front room. Here we met Uncle Frank who is the security guard on the show & who is really Jimmy's uncle & our tour guide on of the associate producers on the show. We saw the control room & I could not believe how small it was. They all sit together in there looking at lots of screens. The funniest thing was the huge bottle of Tums in the middle of the room. We also went into the sound/tape room which was even smaller & had a lot of complicated equipment in it including a sound board that had so many different buttons & knobs on it, I would have been really scared to touch it lest I ruin everything. We also went to the editing area & saw some people working on editing tapes to run on the show.
We then went upstairs to the make up room, which was once again really small-do you see a theme-with one chair. They had lots of stuff in there like fake eyelashes, wigs & various forms of facial hair. We could also poke our head in some of the guest dressing rooms. I was struck by the fact that some of them had showers in them. Up here was where the elevator was as well & this brought up some ghost stories-a woman has been seen along with a guy in a zoot suit many, many times. Pretty spooky. We went down to the green room which had a very hip/loungey type feel too it. They have video games, a pin ball machine & a pool table to keep the guest entertained, along with a bar of course. They said lots of people that aren't even on the show just like to come hang out in the green room & Uncle Frank was proud to tell us that their green room was the most popular one in town. Then they took us in the studio & Uncle Frank talked abit about Jimmy & how down to earth he is. He has several family members working for him. Uncle Frank said it was his "fault" Jimmy was in show business. He & his family moved to Vegas after he left the police force. They took Jimmy's grandmother with them, so soon Jimmy's Mom decided to follow them to Vegas. While there Uncle Frank did security for Frank Sinatra & Jimmy caught the show business bug. He told us some funny stories about his time there-including one about when Snoop Dog was on the show & Jimmy told him Uncle Frank only made 6 arrests in his 20 years as a cop & then Snoop Dog coming over to hug him & tell him he was his kind of cop.
He was a real character. While we were in there, who should pop his head in & say "What the heck is going on in here?" but Jimmy Kimmel. He told us not to believe a word Uncle Frank said & waved to us all. Our guides said that had never happened so pretty darn cool.
We were able to have our picture made on the stage with Uncle Frank taken by our guides. This is a picture of our picture that they made into a photo postcard for us.
After that we went outside in the back of the studio to where they do the live music concert segments-they also have a small intimate lounge in the front for music acts as well. Out back, they have a bigger stage & lots of lights & speakers. They told us about how crazy it was when the Jonas Brothers performed out there & how the girls were trying to bribe people to let them in & then how later Walt Disney World called them to discuss how best to handle their security. It was cool to be back behind the studio & we could see the parking area & there was a school ball field right across from that side of the studio.
Next we were loaded onto our awaiting motor coach where Don our driver was waiting. Our guides had water/snacks if we wanted them for the bus ride.
Next up, we are headed to Jim Henson studios--finally the frog oh my!!!!