Beach Club and Yacht Club FAQ thread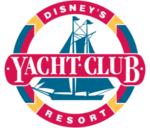 to the Yacht & Beach Club FAQ forum!

We hope you like it here! There are a lot of interesting questions and some great information shared by veterans and newcomers alike.

We are a very friendly, chatty bunch! You'll laugh!
You may cry.
You will definitely learn things about this wonderful resort.
But as you follow along, you will mostly wish you could be at the Yacht or Beach Club RIGHT NOW!!!

We realize it can be hard to find info within the body of this thread, but we try to keep the info on the first page updated. The FAQ post (post number 12 on this page) is an excellent place to start. Don't forget that the search tool can be your friend. But if you have a question, please don't be afraid to ask. We will move mountains to try and get the information you are seeking.



Please Read the FAQ Section, Post 12
Table of Contents for Front Page 1:

Post 1: Introduction to the Beach & Yacht Club - Just keep reading!
includes differences between the two resorts, maps, transportation options, links to closed threads and picture/video threads
Post 2:

Stormalong Bay Pool Complex


Post 3:

Flying Jib Slide/Guppy Bay kiddie pool and slide/Quiet Pools/Hot Tubs


Post 4:

Resort Activities


Post 5:

Gift Shops and Solarium


BC Marketplace, YC Fittings & Fairings, Solarium
Post 6:

Resort Ameneties


Arcade, Health Club and Spa, Beauty Salon, Marina, Laundry, Kids Programs
Post 7:

Dining at the Beach & Yacht Club


Post 8:

Beach Club Resort (Rooms)


Post 9:

Yacht Club Resort (Rooms)


Post 10:

Beach Club Villa Resort


Post 11:

Club Level Info


Post 12:

FAQ and Other Useful Info


Post 13:

Be Our Guest list


Post 14:

Noodle Family Historical Page


Post 15: Community Page
Post 16:

Lily's Pad
http://www.disboards.com/showpost.php?p=45720102&postcount=16
If you see any information that needs to updated or changed, please PM or email me!

Thanks!!!

Dee (Natebenma)
beachclubdee@yahoo.com
You can also PM me at BeachClubDee

Introduction to Disney's Beach Club and Yacht Club
A sandy white beach along Crescent Lake creates a feeling reminiscent of the lazy days of summer along the eastern seaboard. Relaxed yet luxurious, Disneys Beach Club Resort shares an array of amenities with its sister resort Disney's Yacht Club Resort just a few feet away a sandbottom pool, health club, full service marina and a beachfront promenade with direct access to Epcot as well as the unique shops and restaurants at Disneys BoardWalk entertainment district. Classic surroundings capture the essence of New England luxury at the upscale Yacht Club Resort. Its comfy chairs, hardwood floors and shafts of sunlight streaming into a welcoming lobby invite you to linger.
The Beach Club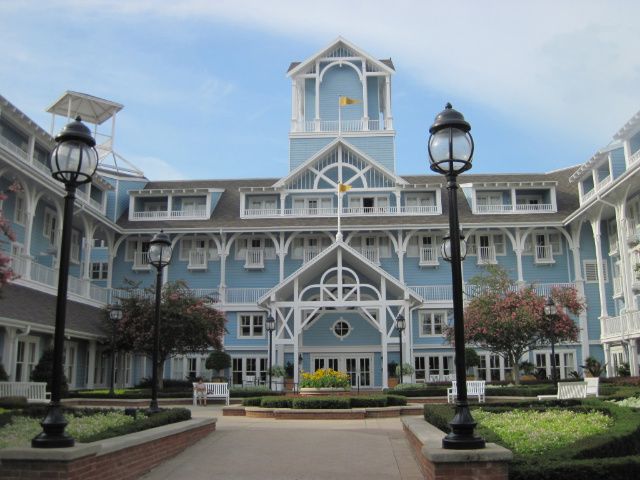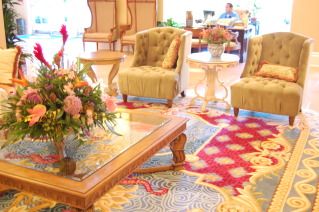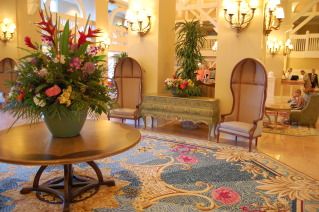 Thanks siouxi31 and MickeyT for the lobby photos!
The Yacht Club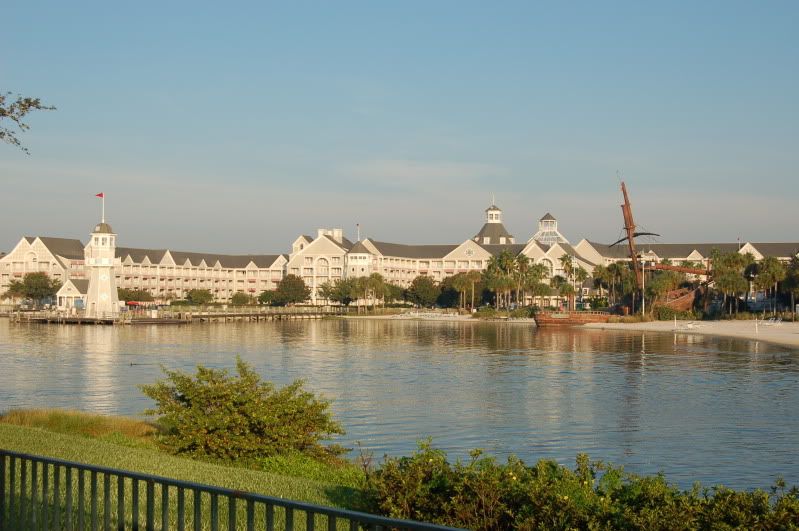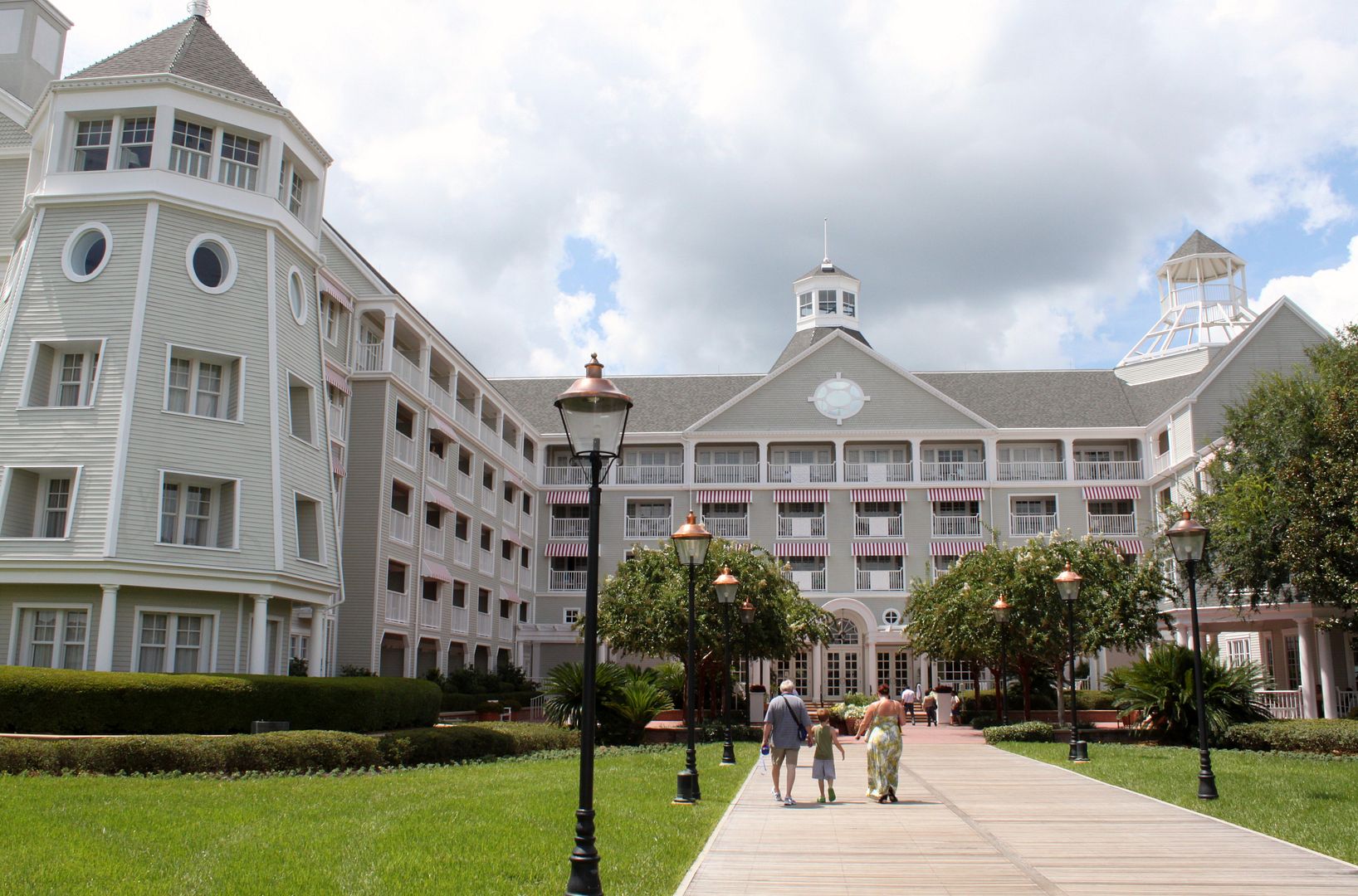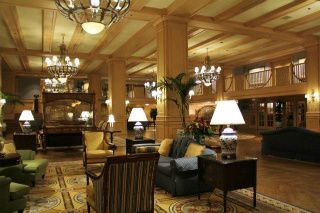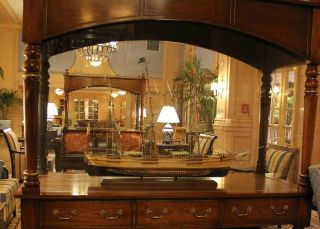 Thanks kldmom2000, heatherbelle and MickeyT for the Yacht Club photos!
The Beach Club and Yacht Club are similar resorts in terms of service and amenities, and have equal access to the shared pool complex, health club and video arcade. Both resorts have the same management team in place.

Some minor differences have been noted by guests:

Beach Club
Lighter, beachy decor in lobby and rooms
Lobby can be active and lively with families waiting for meals at Cape May
Closer to EPCOT and Marketplace Gift Shop
Approximately 50% of rooms in all room categories have full balconies. The remaining are standing balconies.

Yacht Club
Darker woods and nautical decor in lobby and rooms
Lobby is more serene
Convention attendees are more likely to be booked at YC
Closer to Hollywood Studios and Friendship Boats
Most rooms have a full balcony


Want more details about the differences between the two resorts? Check out this awesome blog post (November 2011) from The World of Deej:
The World of Deej: BC vs. YC
Resort Map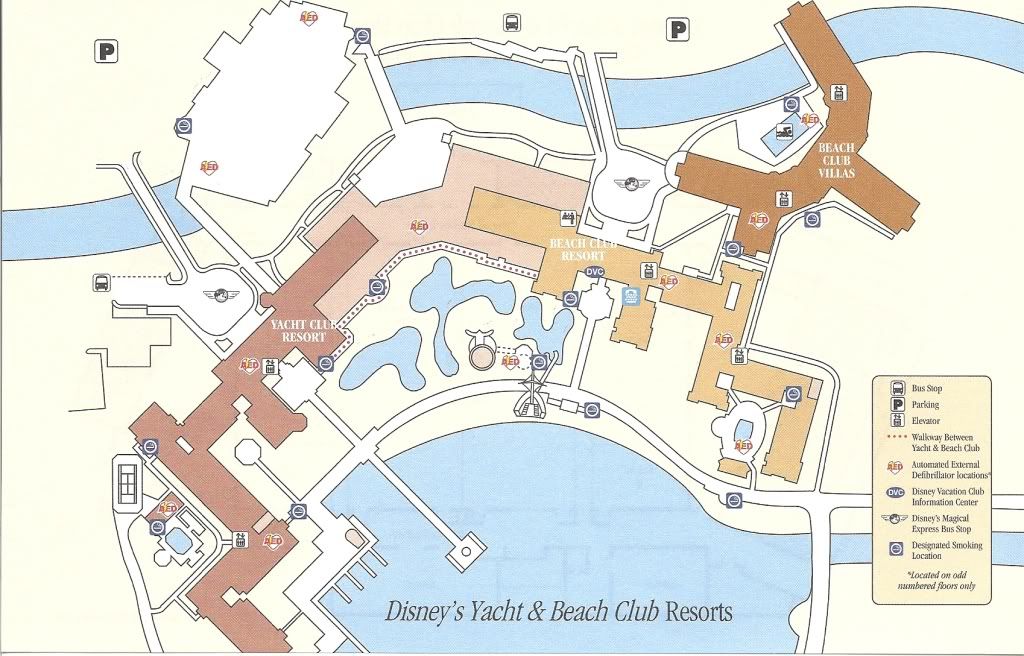 Transportation



Motorcoach transportation is available to Magic Kingdom, Animal Kingdom, Downtown Disney, Typhoon Lagoon and Blizzard Beach.

Water launch is available to Epcot and Disney's Hollywood Studios, Disney's Boardwalk,and the Swan and Dolphin Resorts.

Each boat makes the full circuit.
EPCOT Int Gateway -> Boardwalk Inn -> Yacht & Beach Club (shared dock) -> Swan & Dolphin (shared dock) -> Disney Hollywood Studios
Disney Hollywood Studios-> Swan & Dolphin -> Yacht & Beach Club -> Boardwalk Inn -> EPCOT International Gateway

The Yacht & Beach Club boat dock was closed for refurbishment in March 2011 but is now open again.


Walking is also an option to DHS and Epcot!

The walk to Epcot takes about 5-10 minutes depending on your pace.

The walk to DHS will take you a little longer but it is a beautiful walk! The distance from the Beach Club to Hollywood Studios is a little over a mile.

Here's a suggested shortcut if you get to the Boardwalk from the Beach Club side: when you are at the Boardwalk Inn, just before the Wyland Galleries store, is a little opening that leads out to their Luna Park pool area, which you can use as a short cut for getting to the Hollywood Studios walkway and there will be a sign saying which way to go. This way you don't need to walk past the whole Boardwalk area.

Alternatively, you can access the path by walking all the way to the end of the Yacht Club and crossing the bridge there.

Here's a map created by Robo that explains the walking paths from DHS to Epcot, and places in between, illustrated in colorful detail: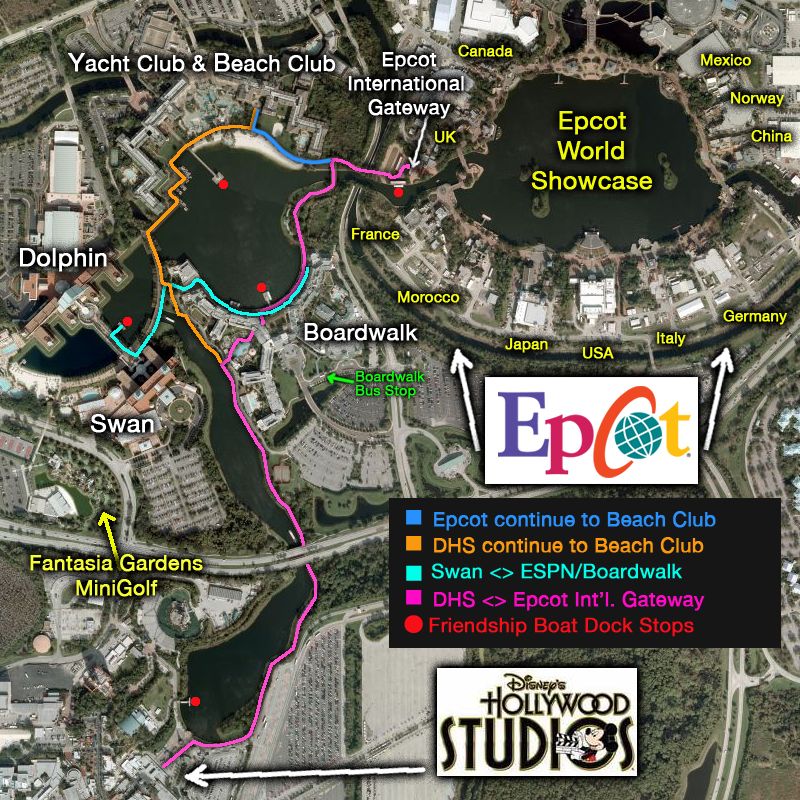 Thanks, Robo, for permitting me to post this extremely helpful picture!

Here is one more map, showing the EPCOT Resort area and walking/running distances around Crescent Lake:







Taxi Cabs are readily available to guests and can be hailed by one of the valet CMs outside of the Yacht or Beach Club lobby front entrances, however...



If you are traveling directly from the Y&BC to MK, the Disney bus will take you directly to the front entrance of the park, but if you drive, or take a taxi cab, you must park/get out at the TTC and either use the express monorail or ferry boat to get to the park



Here is one website link to help you determine the estimated cabfare from point to point during your trip: Taxi Fare Finder




As with any Disney resort, travel to and from DTD can be torturous. We have not found the buses TO DTD to be all that bad but we HATE the buses that return from DTD to BC. The trip takes forever since the buses often stop at a water park, or change drivers, or make dropoffs at all of the EPCOT resorts, or all of the above. And the DTD return buses are always crowded. Always.

To avoid frustration, my family usually takes a boat to one of the DTD resorts, then a bus to EPCOT, where we enjoy a few attractions before returning to our BC room. It really breaks up the travel. Note: Park Hoppers required. I describe this method in great detail at the end of the FAQ post.

Alternatively, a taxi back to the BC would probably be around $20 including tip, and worth every penny!

IMHO, taking a taxi TO Typhoon Lagoon is also a good call, since the buses make DTD stops before going to the waterpark.

For really cool arial views of the resort, check out this BING map application:

Arial Map of Beach Club Resort



Stormalong Bay Pool and Flying Jib Slide


Stormlong Bay is a beachside water park that offers up 3 acres of aquatic fun for the whole family. Catch currents in an expansive sand-bottomed pool or a lazy circular river, explore the "Shipwreck" and slide down one of the highest hotel waterslides at Walt Disney World Resort, or simply lie on the elevated tanning deck and soak up the sun's golden rays. With 750,000 gallons of water comprising an impressive complex of pools that range from swirling to placid every member of your family can find a place to make a splash at Stormalong Bay. Guppy Bay Kiddie pool lets even the youngest of guests in on the fun.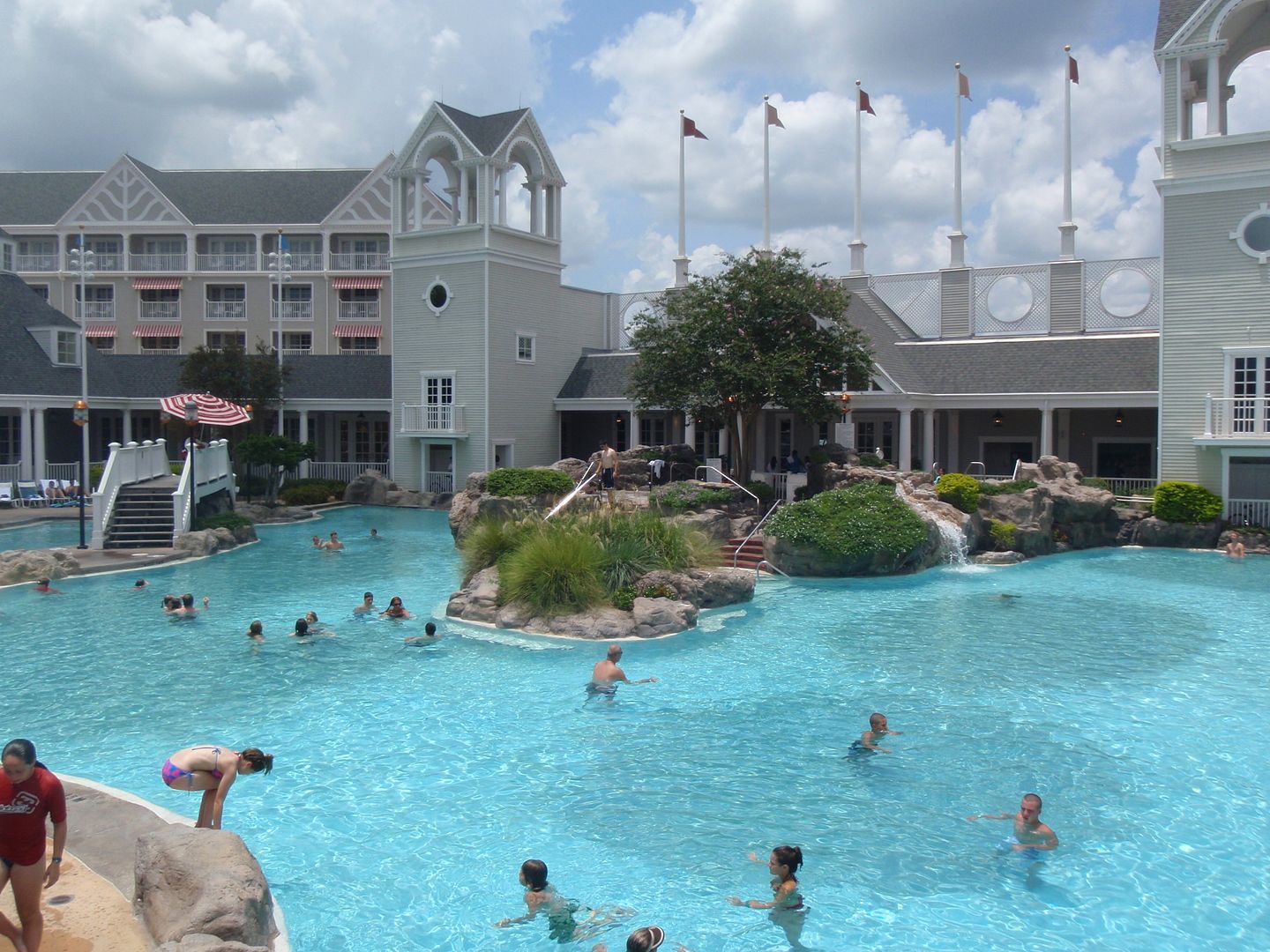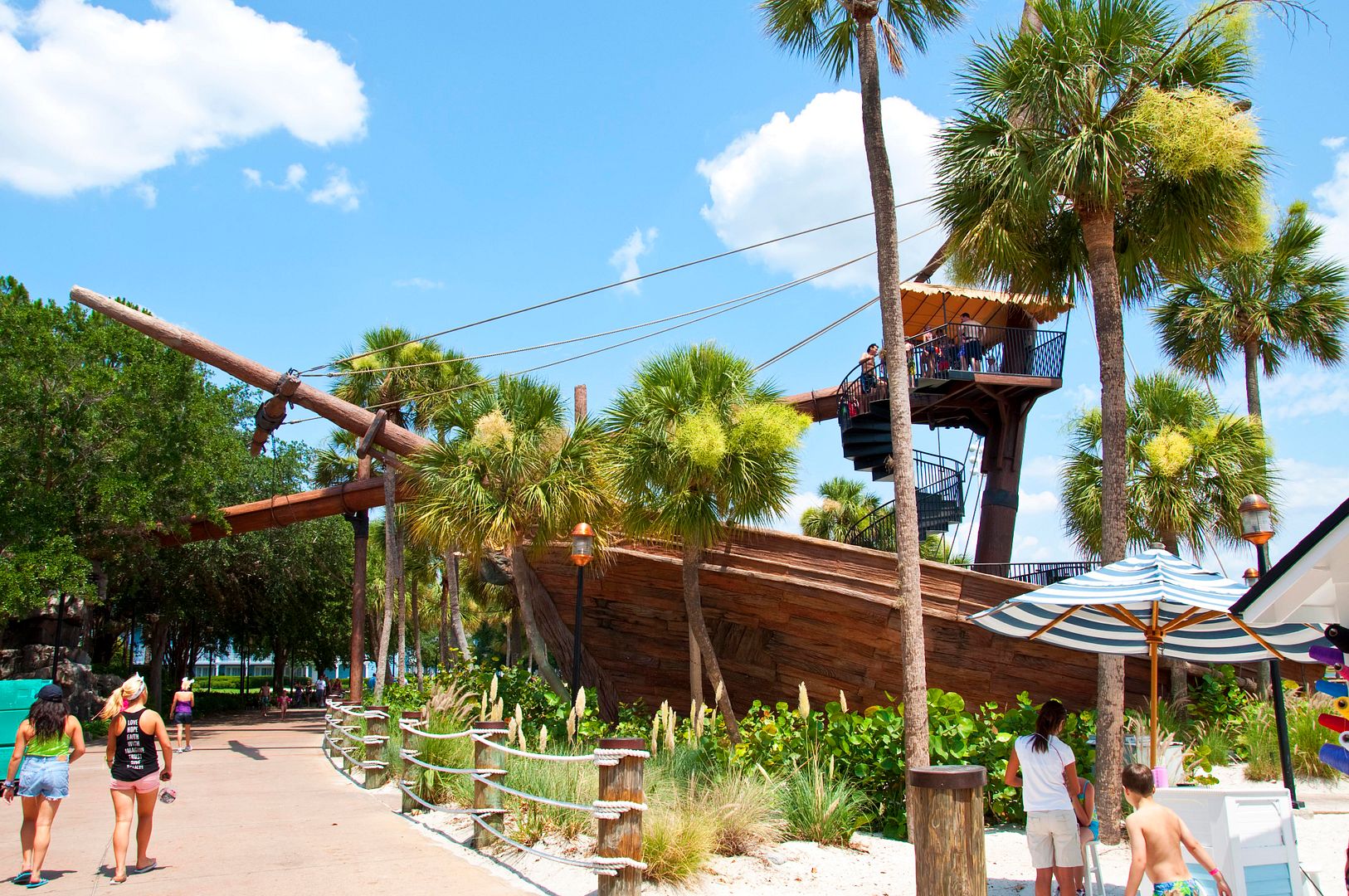 Thanks for the Jib Slide photo, Marlton Mom!




See more pictures and read more about this amazing pool complex in the next post!




Here's the links to the previous, "closed" threads
2012 Beach and Yacht Club FAQ, Part 2 (May, June, July 2012)
2012 Beach and Yacht Club FAQ, Part 1 (March, April, May 2012)
2011/2012 Beach and Yacht Club FAQ, Part IV (November 2011-March 2012)
2011 Beach and Yacht Club FAQ, Part III (August 2011-November 2011)
2011 Beach and Yacht Club FAQ, Part II (April 2011-July 2011)
2011 Beach and Yacht Club FAQ (February 2011 - April 2011)
2010 Yacht and Beach Club FAQ, Part II (August 2010 - March 2011)
2010 Beach and Yacht Club FAQ(June 2008- August 2010)
Need to feed your fix for pix?


Link to Yacht Club, Beach Club and Beach Club Villa Photos~ Post All Your Photos!!!


Check out this YouTube video with a mini-tour of parts of the resort. Room depicted is in the Beach Club resort Video Tour




THANK YOU to Joe Cool, a high school student who originally put together this FAQ thread and to Tete01830 for keeping it going.



.