When you wish upon a star!
Introduction:
Welcome everyone to my first real trip report!
This was my first 'real' holiday with my boyfriend (e.g. more than a long weekend), and his first ever trip! He has always known about my Disney obsession, although it has gotten worse in the last few years, and I finally wanted him to be able to experience my happy place. We have been together for 5 and a half years, so this holiday is long past due!
This is us: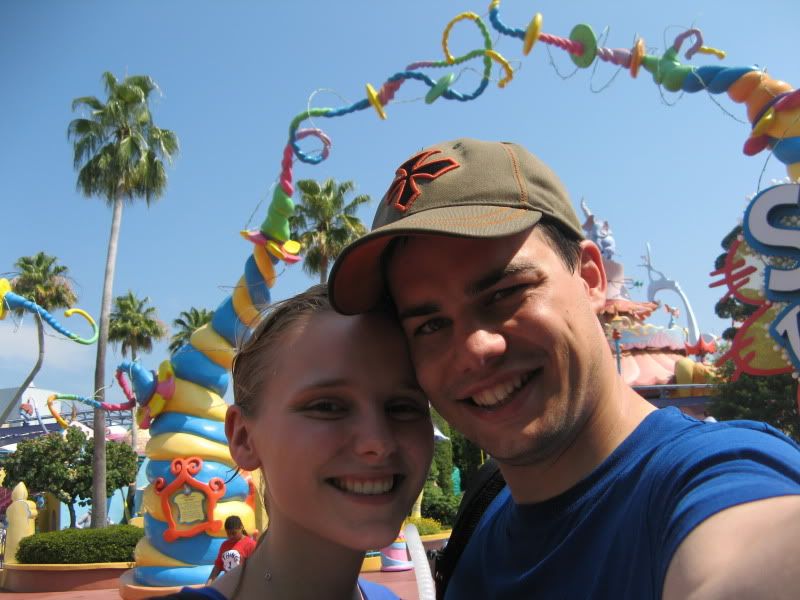 Apparently we look a lot younger than 21, blessing or curse?
We are staying at the Royal Pacific Resort at Universal Studios first for 4 nights, then moving to Pop Century for 7 nights, then Beach Club Villas for the last 3 nights. The nights at Beach Club Villas were a gift from my parents for my 21st Birthday, and for Christmas they gave us dining plan for our time there, so we were very excited!
Cast:
Me:
My name is Kate and I am 21 years old, just graduated from University with an undergraduate degree in History (I actually found out my degree results whilst at Disney, so you will have to wait 'till later to find that out!
) I have been a Disney obsessive from a very young age since we won our first trip when I was only 4 years old. This is now my 6th time to Disney, my last time being in September 2010 with my mother. (You can click
HERE
to read that trip report written by my mom Suzycute). I was most looking forward to showing Murray my happy place, and enjoying the rides and atmosphere.
DBF:
His name is Murray, also 21 and just graduated from University with a Masters in Mechanical Engineering. He also got his results whilst we were in Florida, and I was very proud of him! He has never been to Disney before, but went with me to Disneyland Paris in September 2008, and really enjoyed it. I kept trying to tell him how different they were, but he just couldn't believe the scale of difference until he saw it! He has high expectations, but was most looking forward to the food and spending some time together before he takes his new job up north.
The Itinerary:
Day 1: Finish packing, travel to the airport hotel, sleep!
Day 2: Fly to Orlando International, transportation to Universal Studios, check in at Royal Pacific
Day 3: Islands of Adventure/ Wizarding World of Harry Potter
Day 4: Universal Studios
Day 5: Sea World
Day 6: Last bits of Universal, transport to Disney's Pop Century including grocery trip, check in
Day 7: Epcot
Day 8: Hollywood Studios, Lunch at 50's Prime Time
Day 9: Magic Kingdom
Day 10: Florida Mall
Day 11: Animal Kingdom
Day 12: Hollywood Studios/ Epcot
Day 13: The DisUnplugged Meet, Check in at Beach Club Villas, Blizzard Beach, Start of Dining plan, Diner at Whispering Canyon Cafe
Day 14: Epcot, Lunch at Le Cellier
Day 15: Magic Kingdom, Breakfast at Cape May Cafe
Day 16: Last day, Epcot and Return home!
Sorry for that long introduction and onto Day 1!