I just got back from WDW yesterday and before i left i stopped at world of disney at DTD and found something AWESOME! Disney parks have collaborated with DOONEY & BOURKE!
The result is AWESOME!
i paid about $150 for this with my AAA discount (it was originally priced at $175) there are two other styles available a wristlette for $45 and a smaller style for $150
my mom bought it for me as a christmas gift so, alas .. i wont be able to carry it till then .. but here are some pics for you all!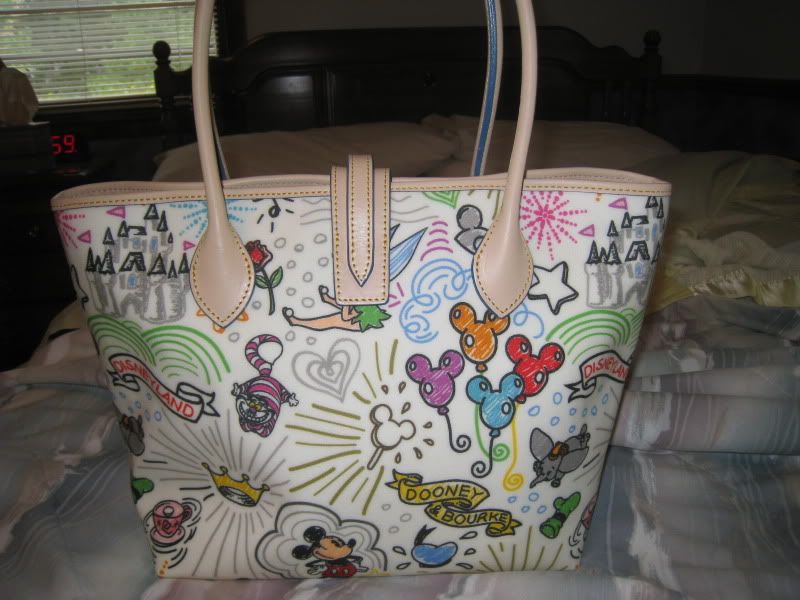 EDIT : here is a list of prices and locations for the handbags as we currently know them to be (as of 01-21-2010)
White Sketch (Version #1)
Wristlet $45
Tassel $150
Medium Tote $175
White Sketch (Version #2)
Wristlet $49
Tassel $150
Medium Tote $190
Large Tote $225
Black Wonder
Wristlet $49
Barrel $180
Tassel $210
Large Tote $220
NEW STYLES: (02/26/2010 DISNEY Dooney & Bourke Event at TREN-D at DTD)
Brown Wonder Mickey:
Champsac (hobo style) $220
Letter Carrier (cross body) $75
Checkbook wallet $175
Medium Wristlet $49
Canvas Blue Mickey and Pink Minnie purses
Domed Satchel $175
Pouchette $60
Locations
Uptown Jewelers @ MK
World of Disney @ DTD
TrenD @ DTD
Sunset Couture @ DHS
Summer Lace @ GF
Fittings & Fairings @ Yacht Club (
as of 01/24/2010
)