2nd October 2010
I sat up until after 1, unable to sleep. I finally collapsed into bed only to be woken at 3 am by DD asking if it was breakfast time! No matter what I tried to tell her, she was not going back to sleep so I eventually issued her with a colouring in book and some pens and told her to leave me to sleep for an hour. She woke me 45 minutes later to ask if it was "time yet". I gave up on the sleep attempt and went to run a hot bath. Between the two of us we managed to knock another hour and a half back getting ourselves ready. I was pretty tired and had been fighting a dreadful cold since Tuesday which didn't help matters, but who could get upset with a little girl who had just been told out of the blue she was going to Disney for 2 weeks?!
We went for breakfast and then Dad helped load the things into the car. Our flight was only due to depart at 2 pm but I wanted to be at the check in line very early as I know VA doesn't operate from Glasgow except on a handful of days each year so I was anticipating a fair amount of chaos. I was correct!
When we got the check in area just before 9 am there were already 5 or 6 families standing there. They opened the desks about half an hour later so we only waited about 5 minutes to go to our check in desk. By this time the place was packed with people wanting to check in. The staff were struggling with the system and kept stopping and hopping across to ask for or give assistance to one another. The lady who was helping us was having a terrible time of it. We were at the desk for nearly 30 minutes. Eventually one of the supervisors (I assumed) came over to help and it turned out that part of the problem was that my 8 year old DD had been selected for the random security check.
We were told not to mess around the terminal but to go straight through security and to be at our gate with plenty of time to spare.
I had booked the Sky Lounge as I didn't fancy sitting about the terminal. I was a bit disappointed with it though. For one that was supposedly recently revamped it looked a bit sad, although it was clean and tidy and well stocked in the canteen/kitchen area. They had an adequate selection of snacks and beverages there and I still feel it was worth the money as we didn't end up walking around the airport buying snacks and drinks for the next two hours, which tends to happen when trying to pass the time. I would book it again while DD is still classed as a child, but wouldn't It was also nice that it was almost empty so it was nice and quiet, although as we were leaving a whole lot of families arrived and the noise level picked up considerably.
DD took pictures
We made our way to our gate about 20 minutes earlier than required and within 5 minutes we heard our names being called. We proceeded to the gate where they took us aside for DD's security check. The staff were lovely about it and made it pleasant for her, pretending to play a tickling game.
They did seem a little taken aback that it was a child and double checked our passports to make sure it wasn't supposed to be me. Fortunately, since I have to book her as an adult, I have always prepared her for the possibility that either of us could be chosen as a very important person to help security check that they are doing a good job at keeping all the passengers safe and she took it all in her stride with no further comment about it.
They sent us to board immediately from there so it was a long wait for the plane to fill up. I never understand why people want to get to the gate early and get on the flight as soon as possible when you are going to be on there for the next 9 hours.
Anyway, that made me realise something else: I have been spoilt flying PE. Of course DD did her bit to embarrass me once the flight was packed with people by standing up and asking loudly why there were so many seats on this plane and howcome they are so small .... etc, etc.
Hot Lips waiting to whisk us away to our happy place
It was one of the longest flights ever.
I was very uncomfortable, the flight was full to capacity, neither of us slept at all and it didn't help matters that we were delayed and took off 40 minutes late, having boarded more than 40 minutes before our scheduled departure.
They did serve DD's gluten free meal this time, to my delight – which was short lived. She wanted to know where her dessert was and why she only had lettuce, cucumber, bland chicken and plain rice. My immediate response was that she must have the wrong meal so I checked the stickers on the side of the meal. Well guess what? It was gluten free, but they now do a combo of categories so it was GF, low fat, low sodium and something else. So my daughter was eating diet food.
I had brought snacks with however after last year's fiasco when they 'forgot' her meal on both flights. It never used to be like that though. Two years ago gluten free on VA was a full meal. The good news is (I don't think I have even mentioned this yet on here) just before we left DD got the All Clear, but Proceed with Caution: It appears she has outgrown her gluten intolerance although we have to be sensible in controlling the quantities for now.
It certainly is going to make life easier when it comes to travelling and going out to eat.
Well arrival at MCO was a breeze. We landed about 30 minutes late and it felt like ages before we got off the plane, although I am sure it wasn't that long. My mind was starting to fret about the queue at security since we were flying economy this time. We were right near the front however so it could have been worse and it turned out I worried for nothing. We walked through to customs and were directed straight to a customs officer who was so pleasant. I had a £25 VA voucher and had to use it so I bought chocolates to give away to Mousekeeping when on the flight and I did put it down as food so I was advised to go and declare it. Why in the world do you have to tick a box for food which also has insects falling under the same category? I mean seriously?!?!?
Anyway our bags sailed out in quick succession and within minutes we were on our way through the customs check which was quick and straightforward.
My next mission was to avoid using the second baggage drop at all costs in a desperate bid to shave the 30 minute wait for them to show up on the other side. I had packed with this in mind and we had one medium sized suitcase with all our things in plus a very large one which was pretty much empty, containing an empty, large wheeled hold-all. Success.
We sailed up the escalator, onto the monorail down to the ME check in desk and walked straight up. I had packed my documents back into my backpack so when the CM asked if I could get my reservation number I rattled it off to him and he roared with laughter. He was so funny. He said, "Ma'm, in all my years here I have never had anyone recite the number out of their head to me!" My response was simple: "ADR's" He nodded that he completely understood.
We walked out and our bus was waiting. There were two other couples and one little boy on there and we left immediately. Quick stop at OKW and SSR then on to POFQ.
I had meant to do OLCI for the resort and just never got around to it, but no need on this occasion. Again, walked right up to the desk with my documents and passport and we were checked in and on our way to our room within 5 minutes. We got building 5, second floor as requested, right near the pool and a couple of doors from the staircase. It was spitting distance from the boat dock too. Full marks for POFQ
We strolled along to the foodcourt to acquaint ourselves with our new surroundings and collect our refillable mugs. I needed my rootbeer!!! I then went to see where the nearest DSA was and found two, right outside the main building. While there I chatted to a lovely lady about WDW in general and she mentioned that she is a DISer – just out of the blue. My face lit up and I told her I am on the DIS too. Before I could ask her what her screen name is she asked me "Are you 2Tiggies?" I was stunned. Was I wearing a badge or something? Lol, she knew from the POFQ thread that I was arriving that day so she took a flying guess. For some reason that just made my day!
By now it was pushing 10 pm and DD still insisted she didn't want to eat. I wanted salad, but I knew they salad section closed at 10 pm so I was pushing her and we went in. Of course I was too late so she got her food and I used a snack credit for a side salad from the grab n go fridge. Not to worry, we were about to eat like never before for the next two weeks. By now I was really tired and still feeling a bit iffy from the cold I had so we went to check out the pool and then moved up to our room to unpack and settle in. I wanted the park bag packed for the next day so we didn't muck about in the morning. DD likes to take her time doing things. I like to have things ready, grab and go so organisation was going to be the key factor here.
To my utter disbelief, by midnight DD was still hopping about the room like the Duracell Bunny, but I know my child and was braced for the usual crash landing at any point. 12.15 am (she had now been up and awake for 26 hours) she asked for the 20th time if it was Epcot in the morning and as she said the words, she collapsed forward onto the bed and remained in that position until the next morning.
Evidence of a loooooong day!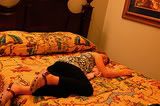 It was strange arriving in the evening. Can you believe that DD still wanted to go to DTD on our arrival night. She couldn't seem to understand why we were doing things differently this year.
Next up will be our first full day. I didn't really have any interesting pics from departure day and I know everyone is waiting for some. Don't worry, there are plenty.