Note from February 2019

WOC was down from April 2018-Feb 2019 after an accident happened which damaged the platform. It just started up again in the last few days. Read recent posts at the end of this thread for the latest updates.
Last updated December 2017
Note on how to use this thread - WOC changes from time to time and I do not always have time or enough information to make sure this info is 100% up-to-date and correct. First read this first post. DO NOT READ EVERY POST over the last almost 10 years. Much of that discussion is out-of-date now. Skip to posts at the end of this thread over the last few months and read those for any updates by other guests.
There is a lot of great information around on World of Color (WOC) and I decided to create a new thread to consolidate what is out there, provide links, and answer a few common questions.
World of Color is a spectacular show that represents a breakthough in new show technology. Don't miss it!
Starting in November 2013 DLR started offering
World of Color Winter Dreams
for the Holiday season, a show which is completely different than the normal WOC. The holiday version is now called
Season of Light
. I have an FAQ item on Season of Light at the end of this post that I will update.
The original World of Color show (I will call this World of Color Traditional version) ran for five years. In May 2015 DLR starting offering World of Color - Celebrate, a new version geared for the 60th anniversary of Disneyland. Celebrate ran until the 2016 Holiday season then (thankfully) went away.
In late 2016 the original WOC came back. All information below is relevant again.
What is World of Color?
From Disney's website
:
To create the approximately 19,000 square-foot projection screen, nearly 1,200 fountains shoot water 200 feet into the air. Watch the water dance and the perfectly timed pyrotechnics explode!

As the show's extraordinary elements are woven into a kaleidoscope of imagination, the spectacle sweeps and expands across Paradise Bay, while the astonishing soundtrack lifts your spirits, spanning decades of Disney movies―from the classics to the most recent releases.
Here is a link to an overhead view of WOC from the Disney blog
Read more about WOC in the
official DIS info here
.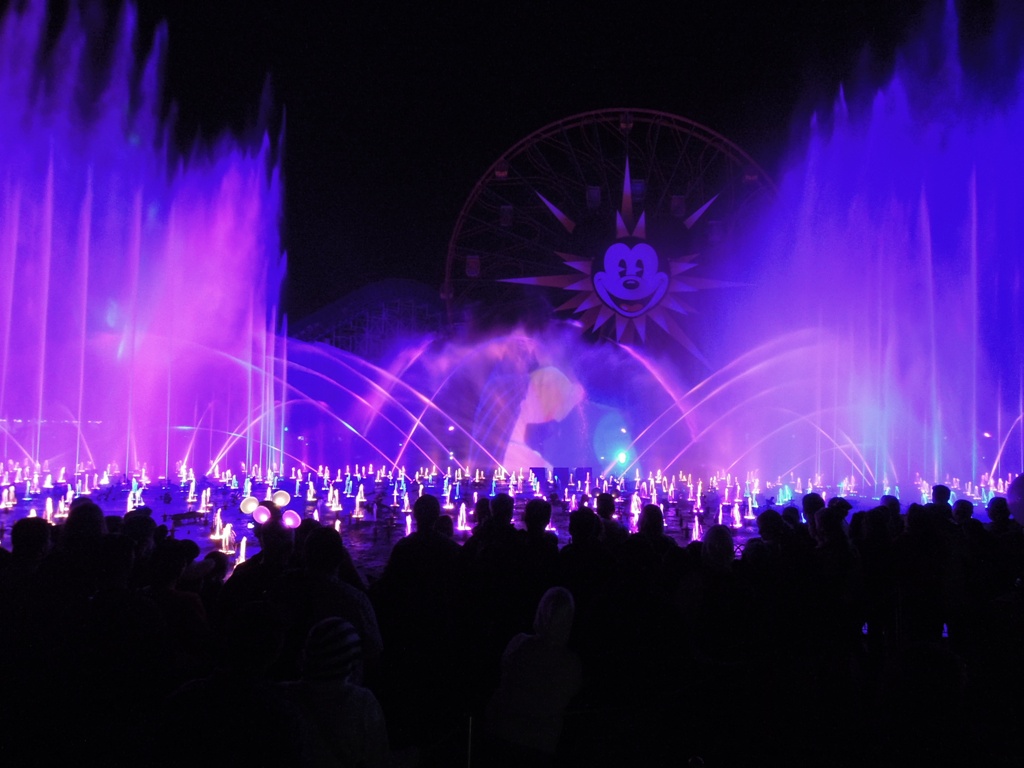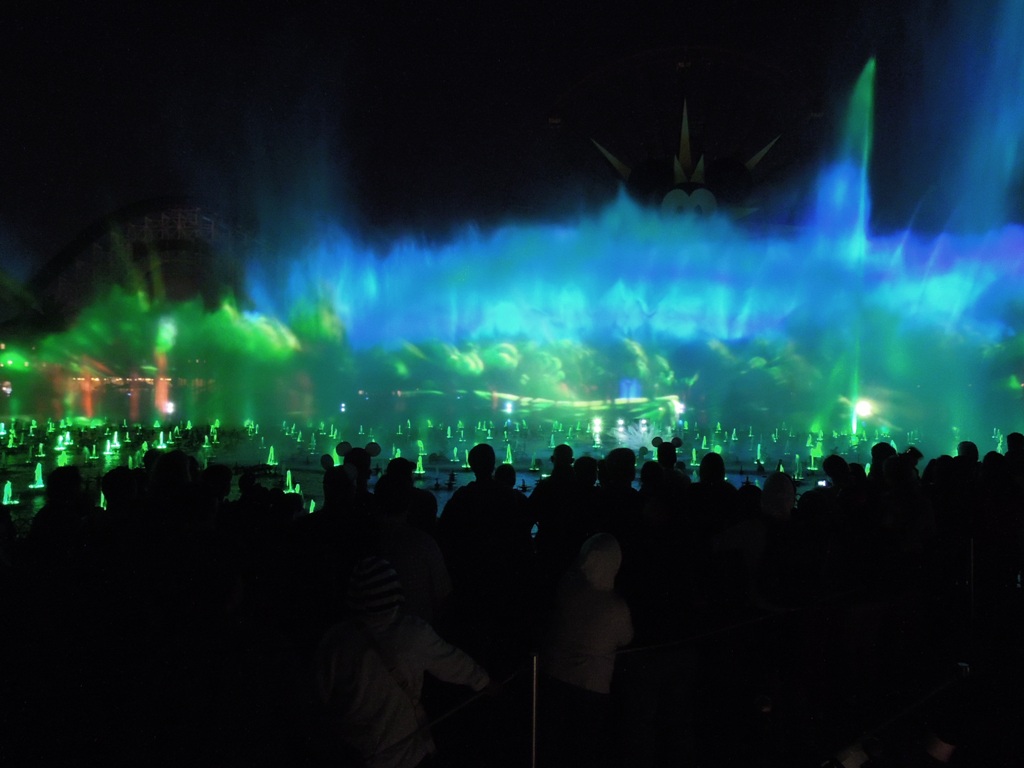 Where is World of Color?
World of Color shows at Disney's California Adventure (DCA) in the Paradise Pier lagoon also known as Paradise Bay. It is designed to be viewed from Paradise Park - a specially designed, terraced viewing area.
See this super high resolution photo.
Once open click the photo to zoom in.

When is World of Color?
Here is a link
to the DLR entertainment schedule. Opened in June 2010, the first summer WOC showed three times a night at 9:00, 10:15 and 11:15. DCA hours were extended to 11PM each night.
After WOC completed its first year we can look back and for the most part Disney is using the following basic schedule:
o High-Season and Weekends (Fri/Sat/Sun) Year Round - twice nightly at 9:00 and 10:15 (some winter nights it shows at 8:00 and 9:15) - DCA often closes at 10PM on these nights but the second show still runs
o Off-Season Weeknights (Mon-Thurs) - 8:15 - DCA often closes at 8PM on these nights but the show still runs
Again, use the above as a guide far in advance but check the DLR calendar for actual schedules as the dates gets closer.
Note that when DL and DCA "close" that does not mean everyone is forced to leave by that time. The parks actually stay open at least one hour extra for shopping (even when there are no shows like WOC). The rides keep running for everyone in line but the queues are closed. The restaurants which are still open keep serving but stop taking new customers. Guests are still in the parks for at least an hour.
How many versions of World of Color are there?
As of today there are three versions:
1. The Traditional version which ran for five years and stopped showing in May 2015 - and returned in late 2016.
2. The Season of Light (originally called Winter Dreams) version which shows during the holiday period from mid-November to early January
3. The Celebrate version for the DL 60th anniversary celebration (2015-2016) and now discontinued (thankfully IMO!)
Note that the Traditional version since it debuted in 2010 has not been exactly the same over the years but has had slight updates along the way. The show has remained 90-95% the same and the feeling of the show has not changed when these slight changes were introduced.
How long does World of Color last?
The Traditional version last for about 26 minutes. The Season of Light version lasts 23 minutes.
How do I see World of Color?
There are four viewing areas for WOC - Blue, Yellow, Reserved Dining/Viewing (given a green color in the viewing chart below and obtained by a lunch or dinner dining package) and the newer Reserved Dessert Party package (shown in purple).
I also added a Red color below which is not an official color section. In August 2015 this section was used for Reserved Viewing for the first show but was available to guests from any other section including Reserved for the second show. This may change night to night so check with CMs.
It is possible to see WOC without any reservation or FP. The viewing spot may not be that good but it is there. There is a section for walk-ups to watch WOC from the rear near the Little Mermaid ride (see standby chart below #6). And on nights with two shows often not all of the FPs are distributed. So walk-ups may be allowed into the regular viewing area for the second show.
If you want to see WOC I would highly recommend you use one of the reservation methods (Dining, Dessert or free FP) - especially if you want one of the better viewing areas. If it is not that important to you to see WOC or get a good viewing spot, then you may want to try one of the walk-up methods just discussed.
WOC Reserved Viewing (Dining Package) at Carthay Circle Restaurant, Ariel's Grotto and Wine Country Tratorria can be booked by phone two months in advance. These are for both lunch and dinner. Same with the Dessert Party package.
Below is a viewing chart map that reflects new color regions and first show queuing locations since July 2017. Note second show queues are set up by the Jumping Jellyfish area for Yellow and Reserved Viewing (see #2) and near the Cove Bar for Blue (see #16). "HC" are the handicapped viewing areas.
Also note that what constitutes "best" and "good" viewing areas is highly subjective. These are my opinion only. Other knowledgeable people may have different opinions. The areas I note below in the chart should allow guests of any height to have a reasonably good view of the show.
What are the main differences between World of Color Reserved Viewing (Dining Package), the Dessert Party package, and regular FASTPASSes?
All of the viewing areas are standing only except for the Dessert Party viewing area.
o The Reserved Viewing (Dining Package) costs $35-40 per person and gets you a quality meal and entrance to the central viewing area (as shown in the viewing chart above and close-up map later in this post). The viewing spots are central to the show but do not think that if you stand here you will have a guaranteed good view. The quality of your spot depends on how tall you are and where you stand. See advice also below on getting a good spot in the dining package viewing area.
o The Dessert Party package costs $79 per person and gets you a seat (YAY!!) at a table and a dessert box of sweets and cheeses. Also drinks are provided including two alcoholic drinks per person. See advice below based on our experience with the Dessert Party.
o Regular FPs are for blue or yellow sections. These are free. You cannot choose which color you get. If you go to the WOC FP machines they give out one color at a time. If you want a different color section you have to come back later when that color is given out. But there are no specific times when each color is given out so which color is available depends on how busy the day is at DCA and when you happen to arrive. The way to find out which color FP is being distributed is to ask the CMs or just walk up and look at what other FP gatherers are actually getting.
Why did Disney create World of Color?
DCA was built in 2001 amid a time of poor leadership at Disneyland. Some executives in control in the 1990's thought they could build a cheap theme park next to Disneyland and guests would come in droves. They were wrong. DCA attendance never came close to reaching projections. Night time crowds especially dropped as guests hopped to the Disneyland park's superior night time offerings.
Disney worked to improve DCA in it's first decade and then decided in 2008 to undergo a dramatic and unprecedented park-wide refurbishment. World of Color was one of the first steps in this process and has been a huge success. The park-wide refurbishment was completed in June 2012 with the completion of Cars Land and Buena Vista Street.
Why does Disney use FASTPASSes and dining packages (Reserved Viewing) as the primary way to see World of Color?
Much more so than WDW, DLR has a very strong Annual Pass program that draws heavily on the 20 million Southern California Residents. Add that to all of the many regular park guests and a new show with limited viewing area, and Disney was rightfully concerned about guests camping out in the World of Color viewing area all day long to hold a viewing spot and causing a traffic control nightmare.
To avoid this Disney originally decided in 2010 to only allow guests with FPs or dining packages to see the show. Now that interest has subsided it is possible to see WOC without reservations but in general the views are not very good.
Where do I get World of Color FASTPASSes?
As of April 2017 there are portable WOC FP machines in front of the Voyage of the Little Mermaid ride to the right as you face it. These are right across from the restrooms referenced as #15 in the viewing section map above.
World of Color FP Distribution Starting in April 2017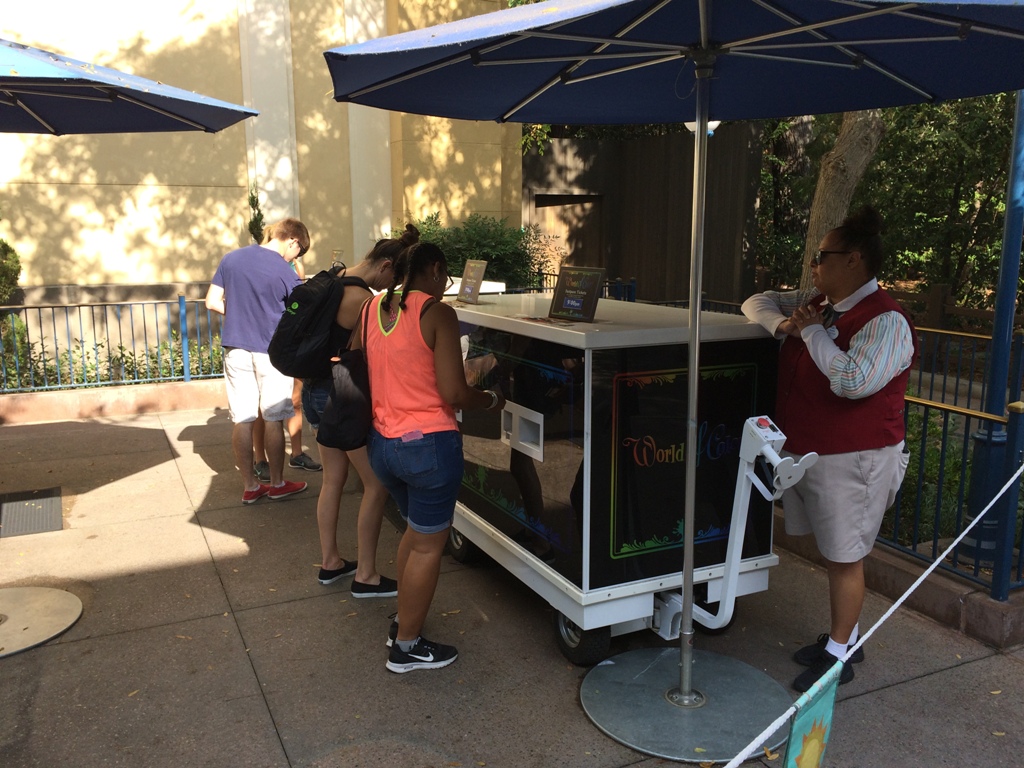 When should I get a World of Color FASTPASS, when should I line up for FPs, and where should I line up for FPs?
WOC FPs are now distributed near the Little Mermaid ride starting at park opening.
In October 2017 I got a regular FP on a night with one show. They changed how FPs are distributed and when I asked the CMs there it sounded like a permanent change. I do not know what they do on nights with two shows.
Here is the order FPs are distributed:
Blue section first show partial distribution (50% of FPs?)
Yellow section first show partial distribution (50% of FPs?)
Blue section first show final distribution
Yellow section first show final distribution
Second show (if one is scheduled) I assume follows the same pattern.
Blue section FPs for the first show last for several hours, but this can vary significantly day to day and with time of year. Yellow section FPs for the first show also last for several hours.
Note you cannot choose which color FP you get. You can only get the color being currently distributed. If you want a Blue FP then show up at park opening. If you want something else then plan your morning in DCA and stop back by the FP machines from time to time to check what color is being distributed.
Note that on days with two shows, some guests who wanted to see the second show have reported showing up while first show FPs were being distributed and requesting a second show pass. The CMs have been reported to give that out on request.
When do the World of Color FASTPASS machines open?
The WOC FP machines open when the park opens.
How will getting a World of Color FASTPASS affect my other FP collecting?
No effect. They are not linked. The WOC FP is a misnomer and Disney initially planned to call it a "Showpass". But they had logistical problems using that name and decided to just call it "FASTPASS". However it is not a FP at all but really just a reservation for a show. It does not get you into the show early or get you anything special other than admittance. And it has no effect at all on being able to get other FPs.
How can I be sure to get a good viewing spot for me and my younger children?
Guest feedback on WOC has been mostly positive with a bit of not-so-positive. In retrospect it appears Disney did not do a very good job of designing the
viewing area
. I am sure they tried hard, but some things are hard to know until you have finished.
The viewing area is all designed for standing with a few benches. It was originally designed to handle 9,000 people per show. Eventually they realized they could only fit in 4,000 per show.
The bottom line is that there are
some
great viewing spots and
many
average and poor viewing spots - which depend
a lot
on how tall you are and
how early you arrive
to wait in line for admission to the viewing area.
When we saw World of Color (Traditional version) for the first time from an excellent viewing spot, we were all blown away at how good it is (see
my review here
). In my opinion it is worth the effort to get a good viewing spot, especially if you have children. If you do not, you may be frustrated with the experience and you and your children's ability (or inability in many cases) to actually
see
the show.
Further, when there are multiple shows each night I think one's opinion on WOC depends a lot on how tired they are and whether they are seeing an early or later show (on nights when WOC shows multiple times). I posted my personal thoughts on this
here
. Use the viewing chart shown above to make sure you get a good spot and, if possible, see an earlier show - especially if you have younger children.
When should I arrive to the WOC queue?
Each WOC FP or dining reservation (Reserved Viewing) pass lists a suggested return time to the queue.
Ignore these times
. Follow the times below.
For the first show here is my advice for queue arrival time. See viewing chart map shown above for queue locations.
1. If you want a slam dunk/for sure access to the best viewing spots, show up 90 minutes before the scheduled show time. Note a queue may not yet be established. Check with a WOC Cast Member on where the queue will start. And stay in the area.
Note from July 2017
- on the one night I saw WOC in July 2017, I noticed that queues for WOC were building more slowly than I had observed in 2010-2015 for the Traditional show. I believe arriving 75 minutes may be sufficient now. But this can vary night to night and I am not comfortable generalizing from one single night's experience. I did not observe the queue closely that night and if it was me, I would still use the 90 minute early advice to be certain - because I know that works.
Note from October 2017
- on the one night (a Thursday) I saw WOC in October 2017, I noticed that queues for WOC were building about the same as I had observed in 2010-2015 for the Traditional show. I believe arriving 90 minutes early is still the best plan..
2. If you would like a good shot to a good viewing spot but are willing to risk getting a poor spot, show up 60 minutes before the scheduled show time. Note that during recent shows the Cast Members guided guests from the queue to the viewing area 60 minutes before the show starts.
3. If you do not care about a good viewing spot, show up 30 minutes before the scheduled show time.
Some people report arriving just 15 minutes before the show and getting a good spot to see WOC. Yes, and some people leave at 6PM in a big city and do not hit traffic. It happens. But it is not the rule. Below is a photo of the Blue section queue on a Saturday night in October
90 minutes before the show
.
Reserved Viewing (Dining Package) guests should use the above times as guidelines. It is not uncommon to be able to arrive 60 minutes before the show and still be able to get a good viewing spot.
Reserved Viewing dining guests who want to have a relaxing dinner before the show should
make the reservation at least 3 hours before show starts
. This will allow you 90 minutes to be seated, order and dine - and then have enough time to walk to the RV waiting area and be there about 75-90 minutes early.
Note some sections have decent viewing spots in the rear that can remain open for much longer than the front sections. One such spot is the so-called
fire hydrant spot
in the Blue section (#11 in the viewing chart).
Second show queues
are as noted in the previous map. Good viewing spots can be obtained if you arrive 45-60 minutes before the show starts.
Queue buildup for WOC Blue Section 90 minutes before a 9PM show on a Saturday night in October - the people in front are at the front of the queue and it snakes back from there (see Note above from July 2017 that the queue may be building more slowly now that in earlier years - on the night I was there the queue did not look like this 90 minutes before)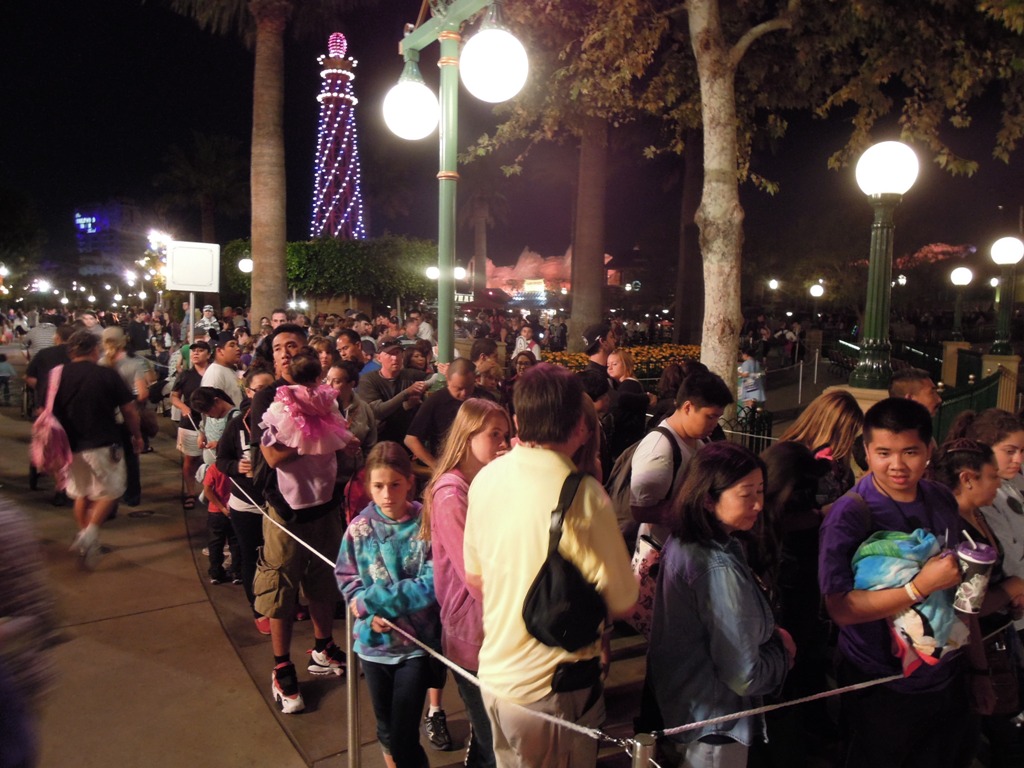 How suitable is World of Color for small children?
In my opinion World of Color is suitable for children of all ages. There are no particularly scary elements of the show. The biggest concern for small children is loud music during the show and large crowds of people.
WOC is based heavily on Disney animated movies and most of them have sad and/or slightly scary elements aimed at children. These do show up in WOC. An example in WOC is the death of Simba the Lion King's father in a stampede. The current version of WOC has some clips from the POTC 4 movie. Some children who are frightened of these aspects of Disney movies may also be frightened of these elements of WOC. They do not last long but they are there. Disney and WOC tastefully explores the full range of human emotions including love, joy, and friendship, as well as sadness and fear.
By the way the same thing is true of many Disney rides. WOC is no different.
Which World of Color viewing section is the best?
There are two color sections (blue and yellow) plus the preferred dining section (often given a green color on charts). People often ask which section is best.
It is critical to understand that every section has good viewing spots and every section has poor viewing spots. Hence a good viewing spot in any color section is better than a poor one in a different section. See the view chart map shown previously for location of good viewing spots. In general if you cannot get to any of the spots in the chart then try to get right on a rail which faces the show.
For more information on this see
The Best World of Color Viewing Spots
What is included in the World of Color "prix fixe" dinners?
Culinary Quest: Wine Country Trattoria with WoC package
by
oc Tony
Carthay Circle Restaurant now has prix fixe dining as well. Ariel's Grotto offerred them initially, then stopped, and now it does again.
Where exactly is the Reserved Viewing (Dining Package) area and where should I queue?
The viewing chart earlier in this post shows the Reserved Viewing section boundaries. Note these boundaries may change slightly from night to night based on how many WOC dining reservations were made that day. I was told by a WOC CM that the green section with the question mark is normally for Blue FPs but they expanded it for Reserved Viewing on the day I was there recently because of the large number of reservations that day.
The first show queues for Reserved Viewing (Dining Package) are in front of the Little Mermaid ride (#4 and #5 in the map shown earlier in this post). If you arrive 90 minutes before the show these queues may not yet be set up and you may be directed to wait near the #6 area of the previous map.
The second show queues are as shown in the map.
Why do I have to go to the back area of the Reserved Viewing (Dining Package) area if I bought an expensive meal at the Carthay Circle Restaurant that day? Shouldn't I get the front and not the back?
You don't have to go to the back. By default - and I have no idea why - the rear area of Reserved Viewing (Dining Package) is designated for CCR diners and the CMs will direct you there.
However
, if you tell them (and you should tell them) that you want to go down closer to the front they will tell you you can just go anywhere you want, no problem. So speak up!
How much room is there at the elevated front rail for Reserved Viewing (Dining Package) and where do I queue?
Unfortunately there is only room for 4-5 families at the elevated front rail of the Reserved Viewing area. See red line in picture below. This spot is my favorite of all spots to see WOC -
but you need to be at the front
. You are 30 feet (10 meters) from the water and elevated 3-4 feet (1 meter) above those below. You usually do not get very wet but you might get wet even here.
In my opinion the next best spot is the front wet zone rail (the green line in the picture below). You
will
get a little wet in the wet zone. You
may
get very wet. This section is a mixed section and open to Reserved Viewing guests as well as normal Yellow and Blue section guests. Don't go down there unless a front rail spot is open or you are well above 6 foot tall.
If you do not get either of the rail spots then you can go to the stairs at the rear of Reserved Viewing - the blue line in the picture below. There will be a rope at the top of the stairs to separate the blue section (in the large circle) from Preferred Dining.
Go up to the top step
. The stairs will give you some height advantage over others in Preferred Dining.
Finally, the Reserved Viewing areas that snake out go to the left are fine if you can be at a front rail.
WOC Reserved Viewing (Dining Package) viewing area. For the first show the viewing area is often extended down to the wet zone green line. CCR viewing is at the top left of this chart.
WOC Passes from Reserved Viewing (Dining Package) for CCR and WCT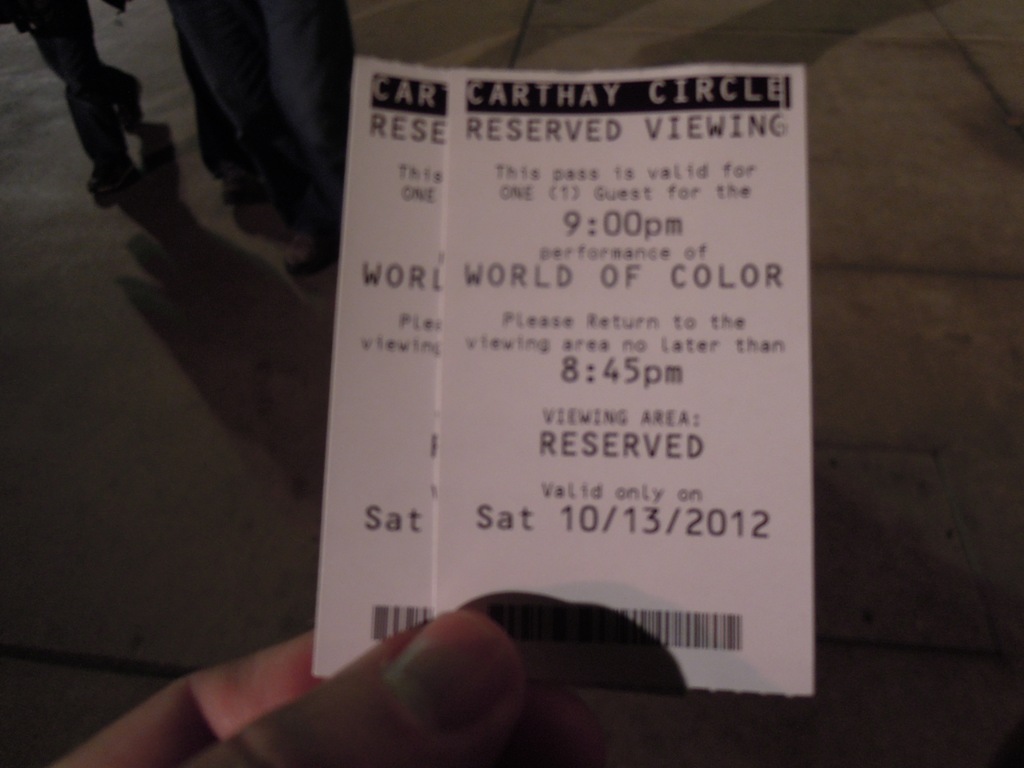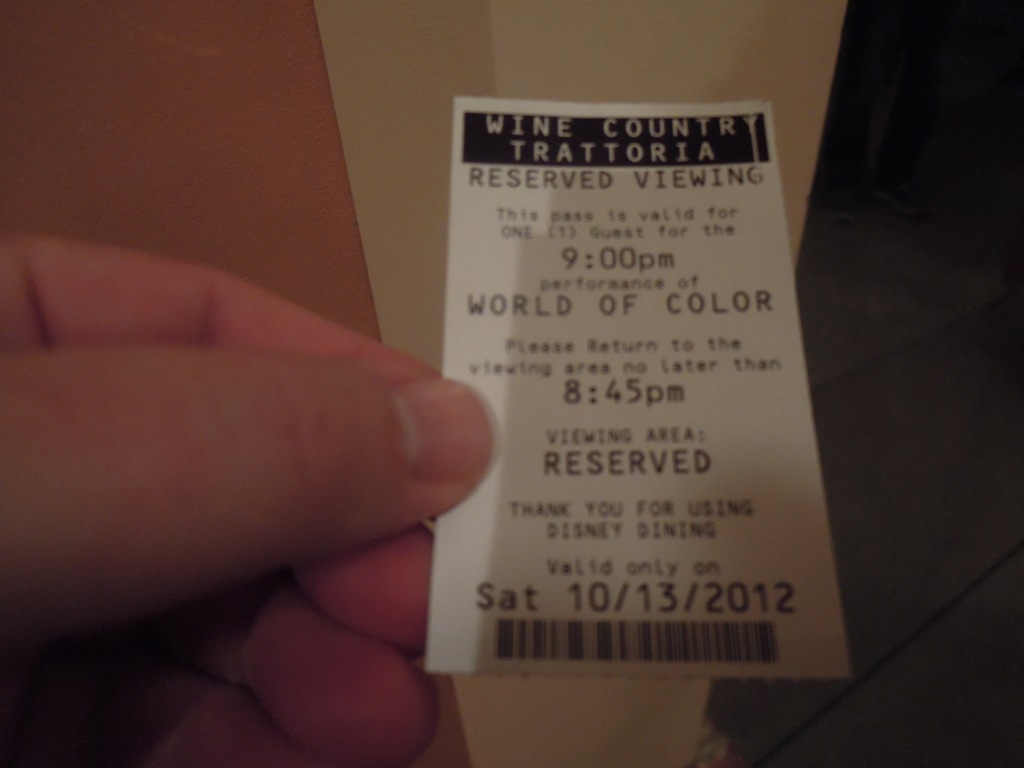 How does the Dessert Party seating package work?

I had a chance to enjoy the Dessert Party in July 2017. Reservations can be made online on the
DLR website here
two months in advance.
The chairs are "director chairs" and there are high and low tables. From my one experience I would recommend:
o Sit at one of the high tables
o Sit as far to the right (as you face WOC) as possible to get the best view
o Arrive close to 60 minutes before the show
We arrived about 35 minutes before the show as I had read that advice somewhere on DIS. We regretted showing up that late as we were one of the last to arrive - but as there were just two of us we got lucky and got a high table towards the right.
My DW definitely preferred the Dessert Party experience over both the free FP and Reserved Dining standing viewing locations. I still prefer the front of Reserved Dining as I explained above. I like to be closer to the show, but DW actually preferred being farther back with the seats being an added bonus and the drinks another bonus still!
Dessert Party Entry Sign

Dessert Party Tables and Chairs (posted by DISer @Nonsuch here)

What can you tell me about the holiday version of World of Color called Season of Light?
One of the benefits to an all automated show like WOC is the ability to change the programming of the lights and fountains and just run a different show each night when they want to. In November 2013 this happened for the first time in a major way with the introduction of Winter Dreams. The show revolved heavily around the Disney animated movie Frozen which was released in November 2013.
The holiday version is now called
Season of Light.
I saw Season of Light for the first time in December 2017 and thought it was very well done. It moved away from such heavy use of the characters from Frozen. IMO it is better than Winter Dreams. And nearly as good as the traditional WOC.
What should I do if World of Color gets canceled?
This happened on two nights in the first summer of 2010 and caused a great deal of guest relations problems for Disney as you might expect. Most likely if you have only a FASTPASS you are out of luck, much like any other Disney attraction. If you had a preferred viewing spot because of a dining reservation you should make your way quickly to guest relations (because the line will be very long) and ask for FASTPASSes for a future show. They may or may not give these out, but for some people in 2010 they did.
See
this thread
for DIS posts about the night all three shows got canceled.
Last edited: