In Search of the Tag Fairy
Day 14
We had a slow start this morning. We had not booked an excursion and had no particular plans. I had originally planned to do a dolphin swim in Tortola, but at some stage before the cruise I had decided against it. We had a relatively short day in Tortola and therefore trying to get to see the Bath on Virgin Gorda on our own seemed too risky and the Disney excursion had long since sold out.
So we had a leisurely breakfast at Parrot Cay and then headed out. We were half considering getting a taxi tour of the island. When we left the ship there were plenty of tour buses waiting to take people on Disney excursions, but to my surprise there were no taxis. Actually, calling them tour buses is not really an accurate description. They were more like flatbed trucks with benches and soft plastic covers.
Our first task was to find an ATM to get some Dollars. So we headed out of the port and walked towards Roadtown. We came across a restaurant or a bar called "Bat Cave". This gave us a good chuckle as we refer to our inside cabin as a "Bat Cave". I just had to take a photo of that sign.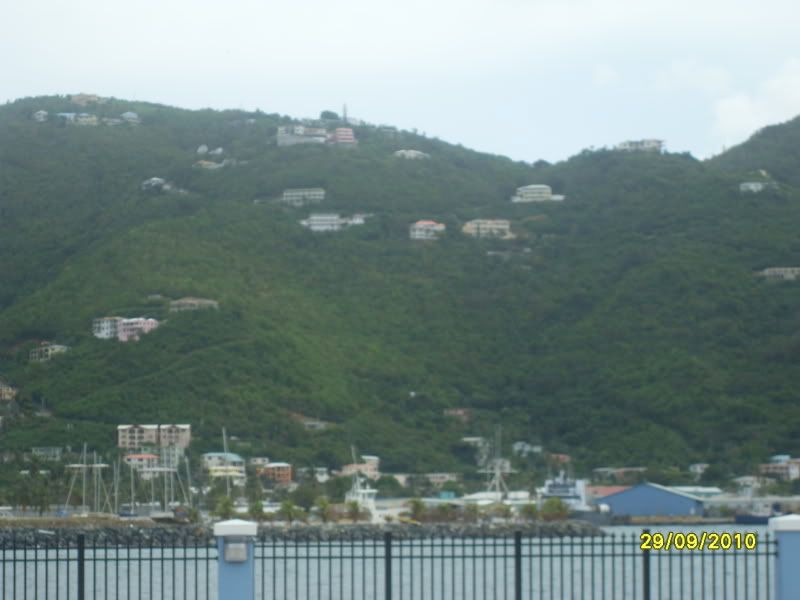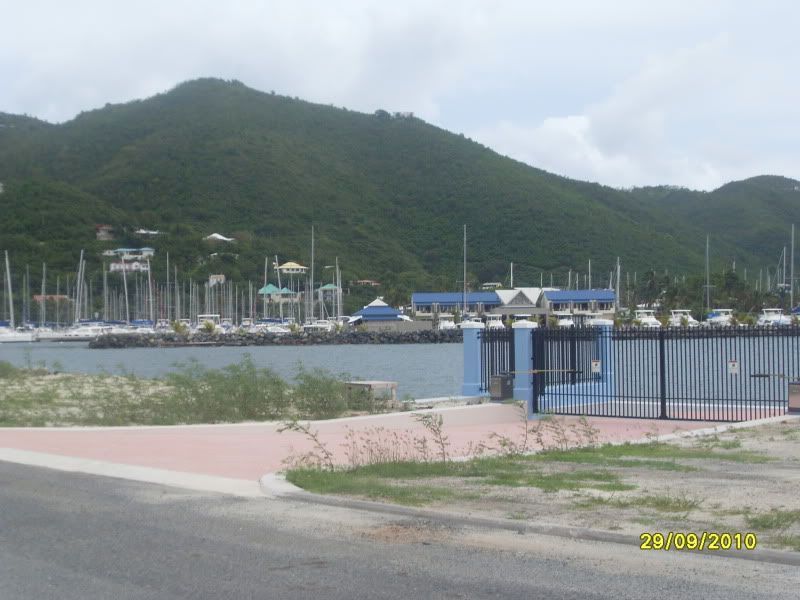 We had not got very far when somebody in an Avis uniform stopped us and offered us car hire. We asked how much it would be and if they would provide a map, which they did, and decided that this sounded like a great plan. We asked if there was a bank nearby. The Avis rep pointed across the road and I went to get some money while Graham sorted out the paperwork for the car.
The bank was an entirely new experience for me. It was actually a drive through bank. I got a few funny looks when I walked up to the ATM. Still, I got my money and headed back over to where Graham and the Avis rep were. They had nearly finished. We were advised that if we came back and she was not there to just leave the car roughly where we had picked it up and to leave the keys under the door mat.
We set off through Roadtown and towards the coast. I had read that Cane Garden Bay had a beautiful beach and this was easy to find on the map. So we headed in that general direction. We passed some stunning scenary on the way. When we got to Cane Garden Bay, the beach was virtually empty. The beach was very pretty and the sea calm. It was not as warm as the sea in St. Maarten the day before, but it was pleasant enough. We stayed in the water for about an hour. When we had enough, the tour buses started to show up and the beach started to get busy. We headed back to the car, which was parked a little way away. We had to wade through the sea to get there. When we got to the car, we stood in the shade of a tree and were hoping that the gentle breeze would try us off. I had gone swimming with my t shirt on as I did not want to burn more. I had brought a spare t shirt, but it took me a long time to dry off in the end I risked taking off the t shirt and rapped one of the towels we had brought loosely over my shoulders. I was soon dry enough to put the clean t shirt and my trousers over my swimsuit.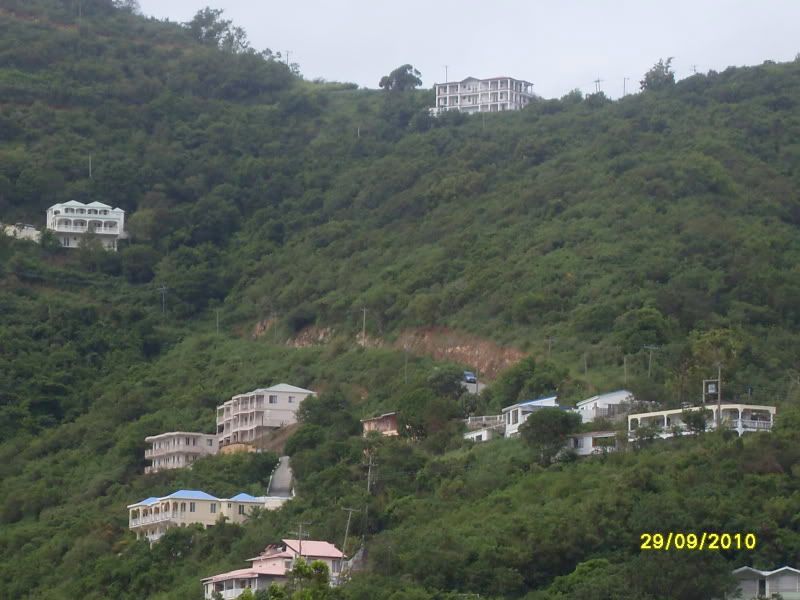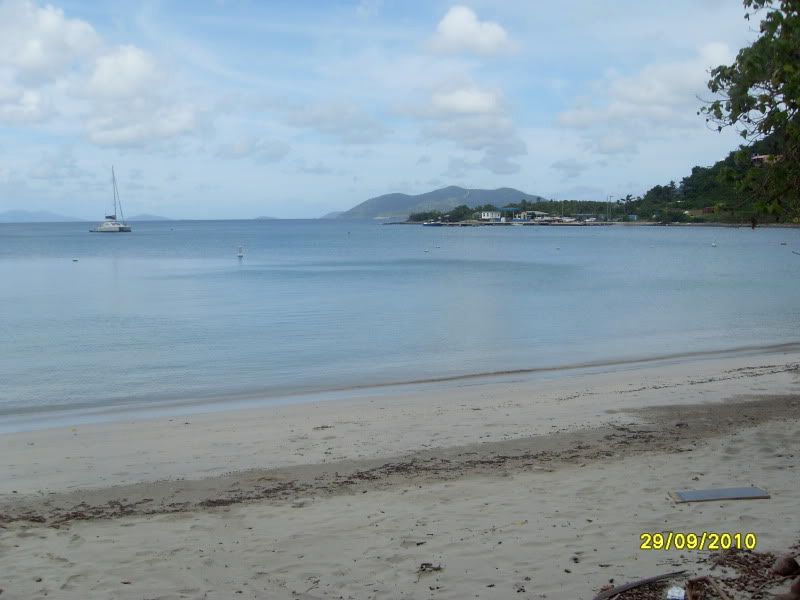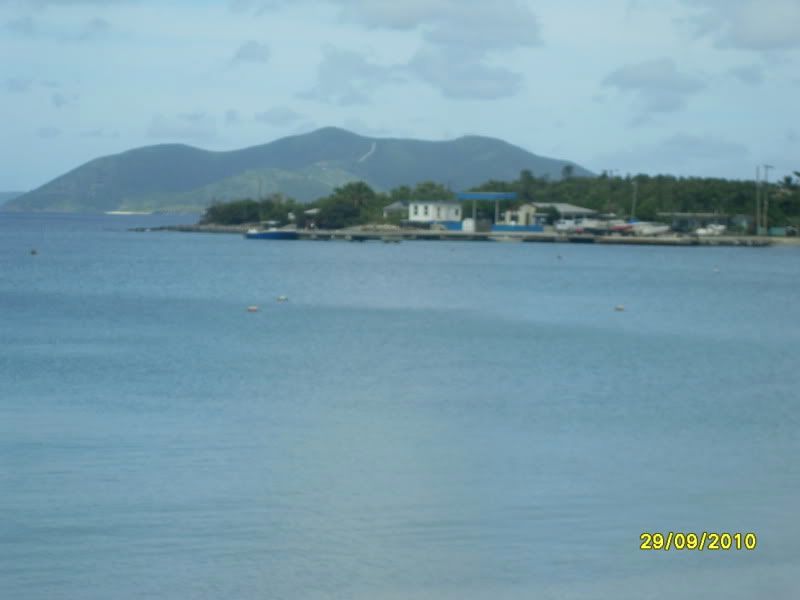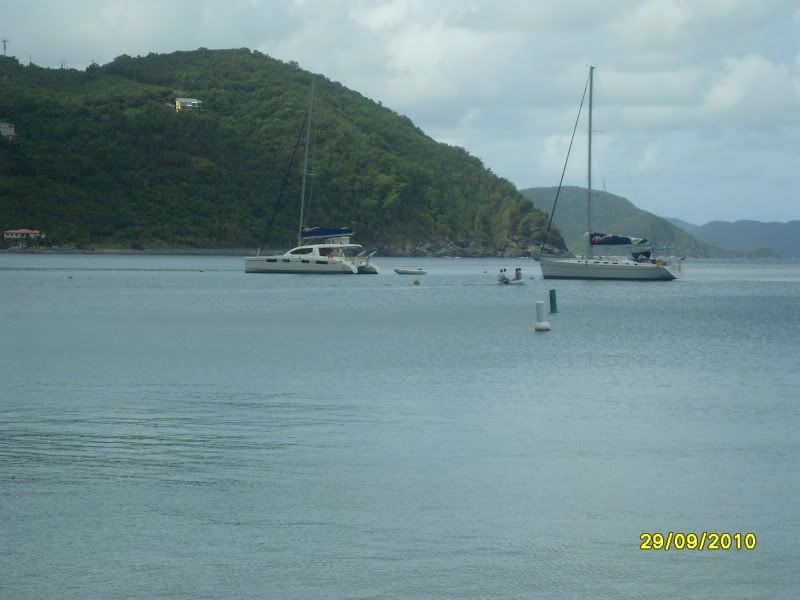 We had hoped that we could follow the coastal road all the way round and end up back at Roadtown. This did not work out and sooner or later we had to take to the inland roads. The roads in Tortola are very vertical and very twisty. There were a few points when I seriously doubted that our poor little automatic car would make it. We were rewarded with some absolutely stunning scenary. Unfortunately there was nowhere to stop and take photos.
Eventually we ended up back on the coastal road near Roadtown. We headed into Roadtown and on the way, we had a fabulous view of the Magic. Graham was able to pull over so that I could take a photo.
We filled the car up at a petrol station in the centre of Roadtown and then headed back to the area where we had picked up the car from. Getting there was easier said then done. While we had enjoyed ourselves at the beach and on our drive around the island, some protest had started. It just so happened that the local government buildings were very close to where we had to drop of the car and the protests concentrated on that area. They were diverting traffic, but after driving in a big loop around where we wanted to be, we were allowed to drop the car off. The Avis rep was not there so we just left the car as it had been agreed. With the car safely dropped off, we walked back to the port.
We got to the ship just in time for lunch. We dropped our stuff in our cabin and then headed up to Topsiders to get some lunch.
After lunch, we decided to make good use of the relatively empty ship and headed for the Rainforest Room. We spent a lot of time their just relaxing. To my surprise I could tolerate the warm Sauna despite my sunburn for short periods of time and the heated tile loungers did not affect my sunburn at all. I was so comfortable there that I fell asleep for a while.
Once I was awake again and had enough of the Rainforest Room, I headed back to our cabin . I still had another Fish Extender run to do and decided that there was no time like the present. I sorted all the gifts by deck and then did them a deck or two at the time.
Once I had given out all my Fish Extender gifts, I just chilled out in the cabin with my book. I must have fallen asleep again, because suddenly it was nearly dinner time and Graham was back. I had a quick shower and got changed and we headed for dinner.
Dinner that night was the Masterchef menu, which was one of my favourite menus on our Med cruise. It did not disappoint on this cruise either. I had a Warm Cheddar Cheese, Bacon and Onion Tartlet, Sukotash Soup and Steak with Lobster Medallion. Graham had to eat my Lobster. Graham passed on the starter, but had otherwise the same as me. Neither of us felt like dessert that night.
After dinner, we had our photo taken with the Beast. It was nice to have him out by himself.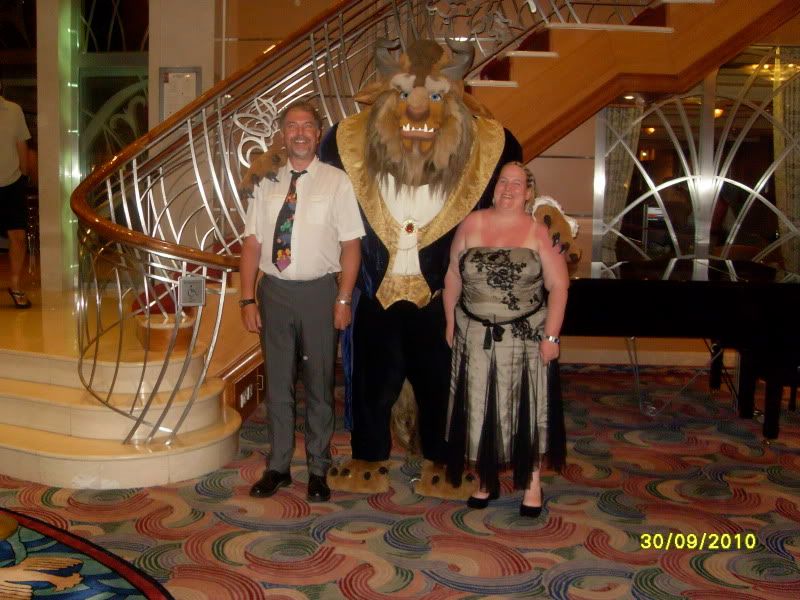 After the photo, we headed to our cabin. We found the towel dog that our stateroom host had left us and headed for bed.