Just a couple more days to go!
I thought I'd share a few details that aren't essential to the trip planning per se, but have added to the fun.
First up: the Every Disney Park bucket list. This is my current collection of Disney ticket stubs (I realize the Disney Cruise Line stub doesn't technically count towards Every Disney Park, but it helps beef up the current lineup):
I have probably spent an inordinate amount of time wondering whether I will be able to procure ticket stubs to Shanghai Disneyland and Hong Kong Disneyland that feature Mickey Mouse or that at least are the colour blue. Knowing that Toy Story Land just made its debut, and having seen some Toy Story-themed ticket photos online, I am kind of bummed to think that my carefully coordinated collection might suddenly take a lime green twist with an injection of Buzz Lightyear. Eventually I plan to frame or shadowbox all of my tickets. Think I'll be able to request a specific ticket stub at the park? It can't hurt to ask, right?
Second: my new favourite t shirt: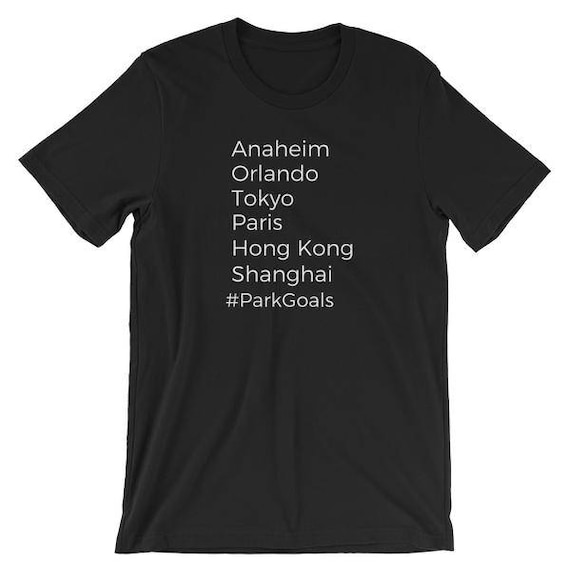 I did buy this shirt a couple of months ago from an Etsy seller named PolkaDotPixieShop. It's a great quality t that I highly recommend if you have the same park goals that I do. This shirt will definitely make the trip with me, and may even require hand washing in a hotel sink somewhere so that I can wear it to both the Shanghai and Hong Kong parks.
Finally, this pin, from another Etsy seller. I don't have this in my hands yet - I missed out on a pre-order and am hoping to pick one up once the shop is re-stocked. It feels a bit like cheating to do so before making the trek to Tokyo, but it's too cute to pass up. I do wish it said Anaheim instead of California, though.