We woke up very late today (well late for us) and began our drive towards Hollywood Studios. On the way I saw an aeroplane writing the words 'Love God' in the sky which I thought was pretty cool, I didn't manage to get that good of a picture, it's only half complete as just as he was finishing it was time to pay the carkpark and then follow the stewards to our spot.
We arrived in HS at 12:30 and began to walk around just soaking up the atmosphere. As we were walking towards to hat HSM2 was just coming into view, and indeed earshot (!), so we stayed and watched that for a while. It's only me that loves it in our family (my brother thinks he's too "manly" for it!!) so we didn't stay too long, I think it may have been partly because I was dancing along too!!
After that we came across TSM and grabbed a FP for that, the queue time was around 200minutes and the FP time was 9pm, but seeing as we were going to stay for Fantasmic again tonight it fitted in quite well!!
After some more wandering (starting to get the theme of our day yet?!) we found ourselves on Sunset Boulevard and standing next to the icecream shop, we of course had to get some. Unfortunately I didn't get to take pictures as we were all concentrating on the icecream not melting, it was so hot!! The icecream's were delicious though!
Beauty and the Beast was due to start so we followed the crowd up to the theatre and sat down, we managed to catch the last bit of the janitors doing their stuff, which was a little disappointing as I really loved them from what I can remember, even more disappointing now that they've been axed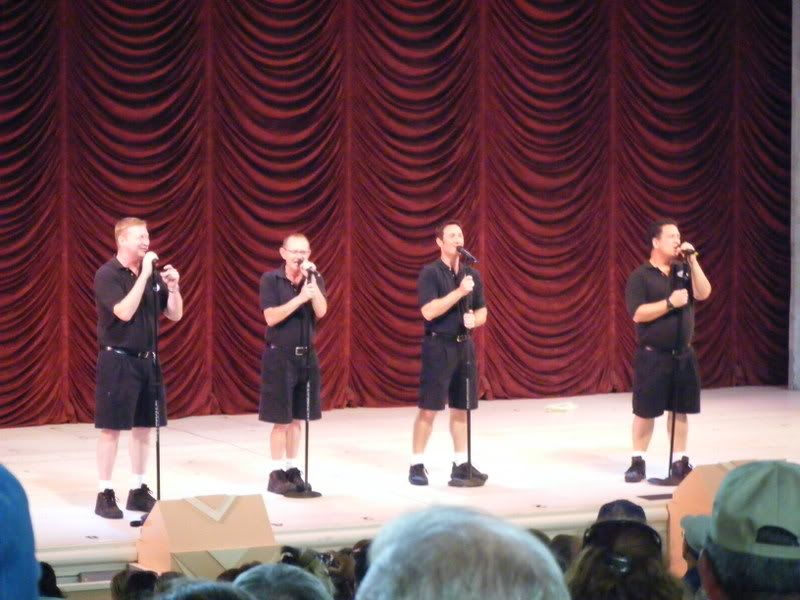 The show was really good, just as I remembered it, I loved it! Mum had to stop me from singing along!!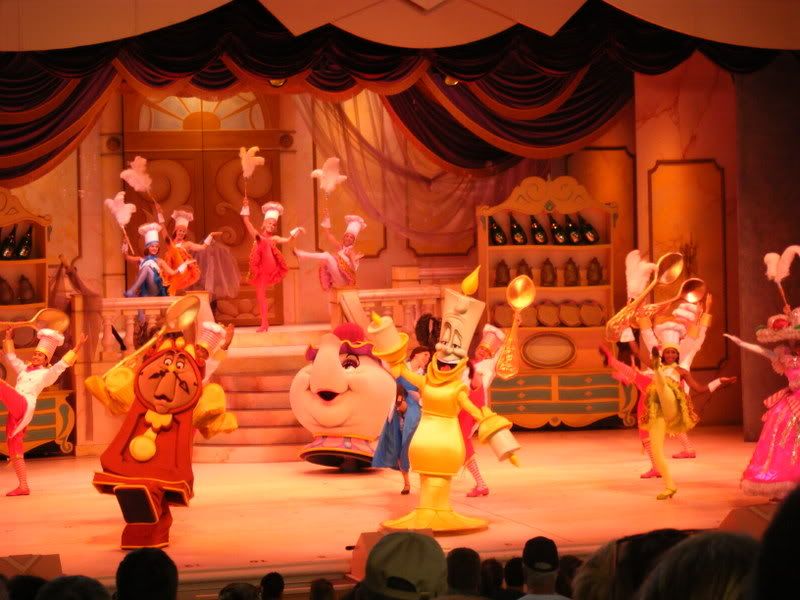 I love the bit when the beast turns back into the prince
When that was over we noticed that a LMA show was about to start, so we missioned it over to the otherside of the park to watch that. Although I've seen this show too many times to count in Paris it was so good to watch it the whole of the way through in English and not wait for the French translations. I knew what was going to happen but it still took my breath away when it did, cars were not made for jumping!!
They need to be grounded!!
I loved the fact that from the top of the stands you could see all the peaks in HS, it looked so pretty! I wish I could have done a panoramic but my camera doesn't have that option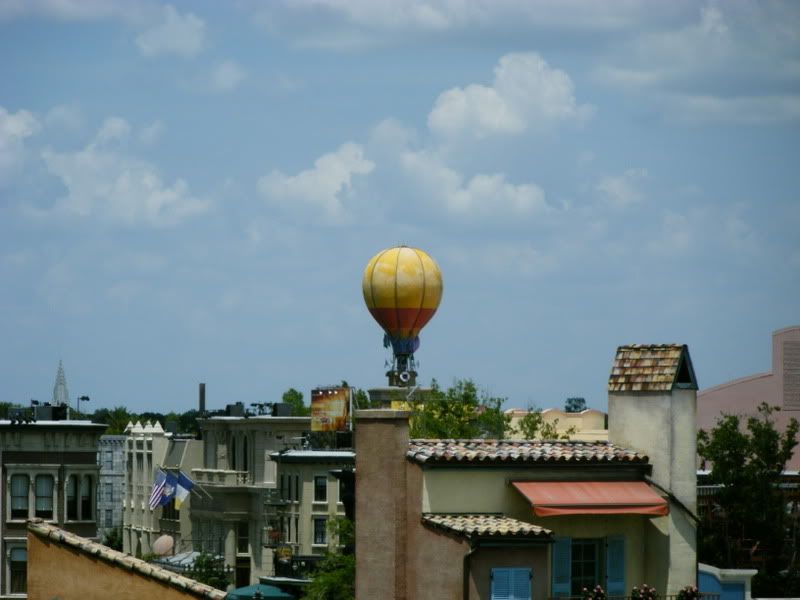 From there we went to the ABC cafe to pick up a drink but no food as our ressies were almost up for Sci Fi
It appears that I took a picture of my notebook, I'm not entirely sure why but here it is to show you what I was writing in!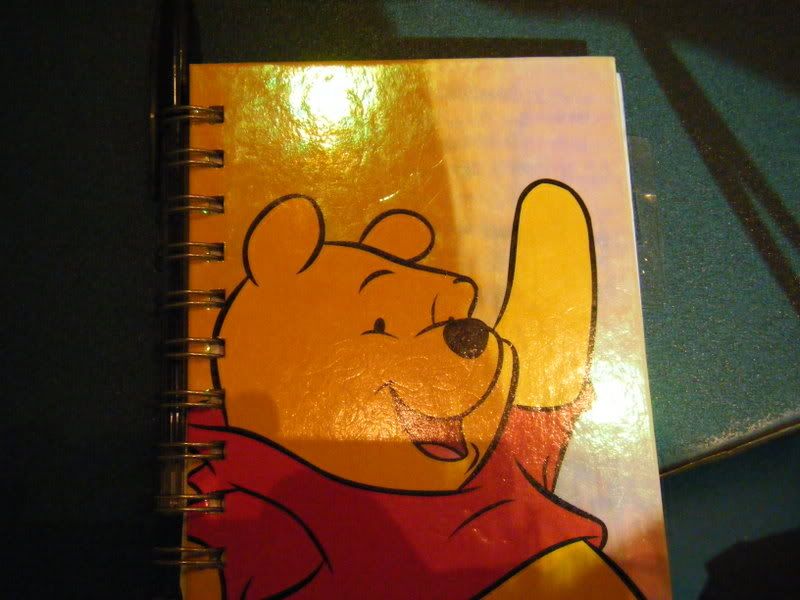 I snapped a photo of the hat somewhere along the line too!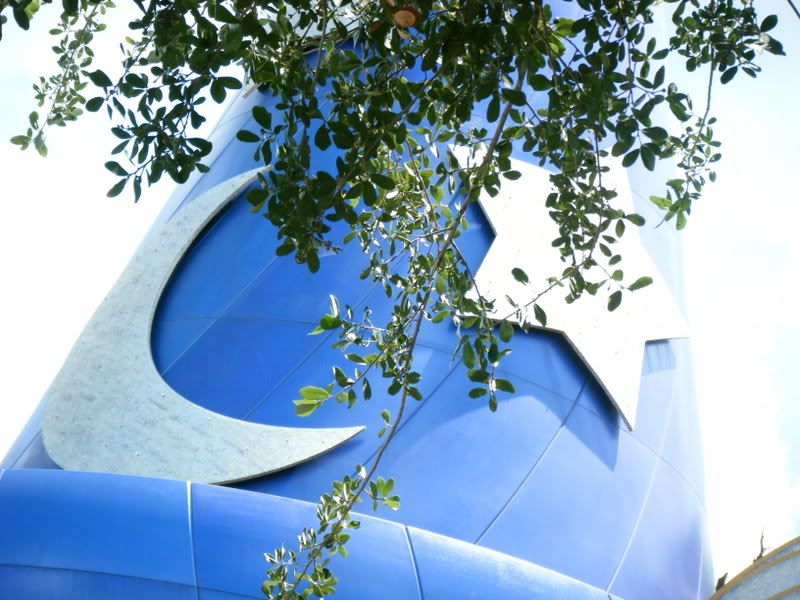 To kill a bit more time before checking in I went to watch Streetmosphere, I love them so much, they make me laugh everytime, today was no exception, they had me in hysterics... which FYI looks a little odd when you're sat on your own!!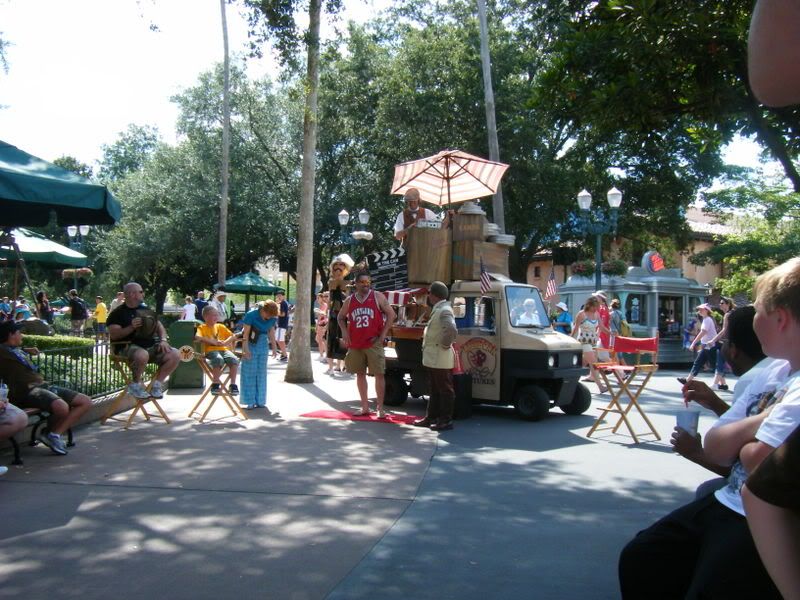 Finally it was time for us to check in for SciFi. I was super excited about this as I had read amazing reviews, it looked fab and it was the very first table-service restaraunt we had even eaten at at WDW (mum thought we were too young to have a rigid plan on our other trips)
From the minute we walked into it the theming was amazing, I loved the fact it looked like the backstage of a set
We checked in and sat down to wait....
About 10minutes later we were called through to our seats. We were sat at the very back right next to the kitchen on a table that was a 4 seater facing each other, if you get me, with another family of 4 sat infront of us, not one of the 'traditional' car seats we had asked for. We couldn't see the main screen for the other family, I had to lean out to take this shot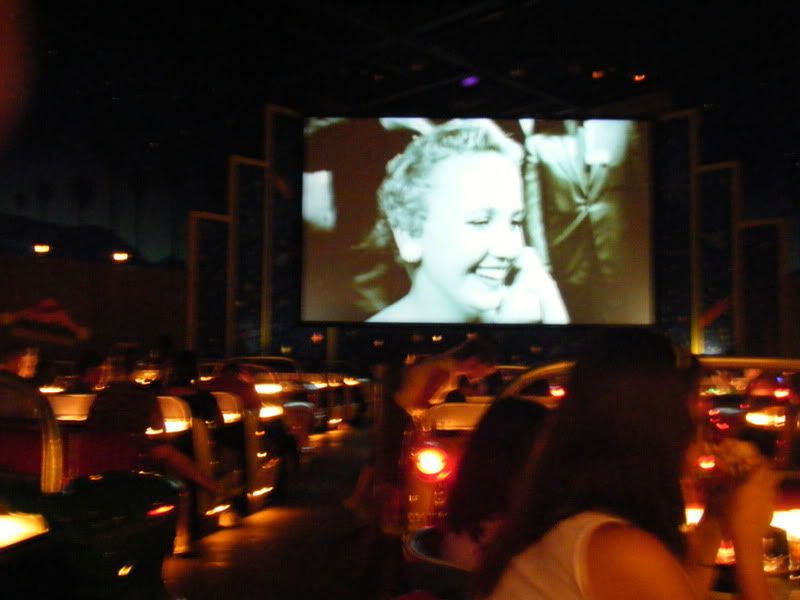 We decided to put up with it as we knew we couldn't really be moved but as we ordered our drinks the combination of the waitresses going in and out of the door to the kitchen, the noise from the kitchen, the chefs yelling to each other and the light blazing away we decided to ask to be moved, it was all totally ruining the atmosphere. The waitress was very helpful and immediately got her supervisor who explained to us that she would move us as soon as she could, we felt sort of guilty about it but seeing as we were paying for it we ought to have a meal we can enjoy.
We were soon moved into a traditional car seat away from the kitchen with a much better view... thanks Disney
Soon after our food arrived, my brother and I had ordered the same, The Smoked Baby Back Ribs :
and Mum and Dad had ordered the same, the Beef and Blue Salad: