And to keep this thing moving...
Part 9: Merry Enough For You?
(Back to the MK for MVMCP, where I try to figure out just a bit too late what's for dinner...)
When I last left off on my trip report, I had just taken the Friendship boat across the World Showcase Lagoon from Morocco back to the World Showcase entrance, and was headed back toward the gate to hop a monorail back to Magic Kingdom for the remainder of the afternoon and the evening's MVMCP. I wasn't exactly rushing to get there, and a I made a couple of stops: The first was at one of the two gift shops at the front of World Showcase, currently full of Christmas stuff.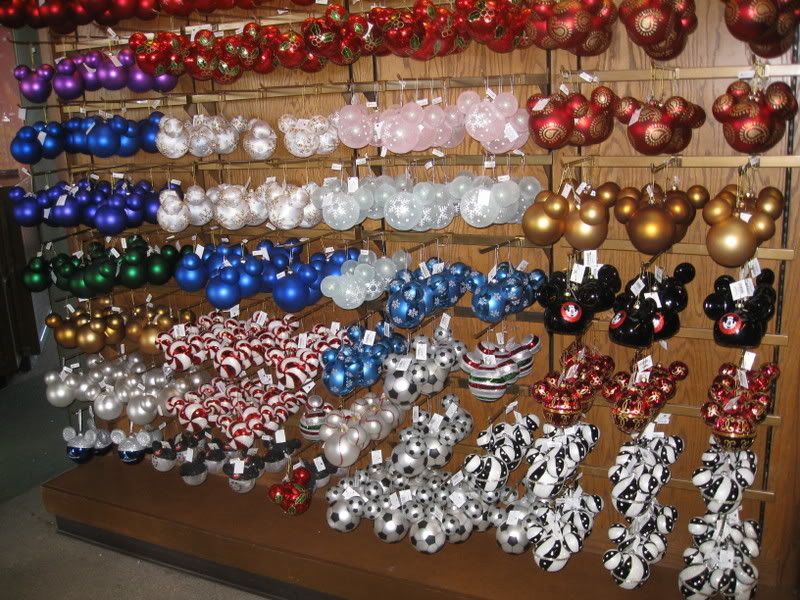 Apparently there was no shortage of Mickey-themed ornaments all at 40% off. I thought about picking up a couple, but decided that getting them home in one piece might prove tricky, and decided to pass.
If for some reason you needed Mickey-themed ornaments for other holidays, they've even got those.
I also made a pitstop at Club Cool on the way out, which I had apparently missed when I had passed by there the first time around. In reading trip reports beforehand, I had heard of Beverly by its reputation, but I had not seen the true extent of the horror that the stuff seems to inspire among some posters here, where it seems to be regarded mostly as a concoction drawn straight from the depths of the gall of bitterness to torment the living upon the face of the Earth. I tried it, and although the stuff is definitely a bit bitter for my liking (I'd describe it as being like a grapefruit soda that just keeps gettinr more bitter as you go) I didn't think it was quite as evil as some people seem to believe. Not that I ever intend to drink the stuff anytime soon, but if I needed to dupe - er, convince someone else to try it, I could probably handle another sip. As for the other flavors, I think I liked the Costa Rican Fanta the best. Oh yeah, and is it just me, or is the floor in this place always that sticky?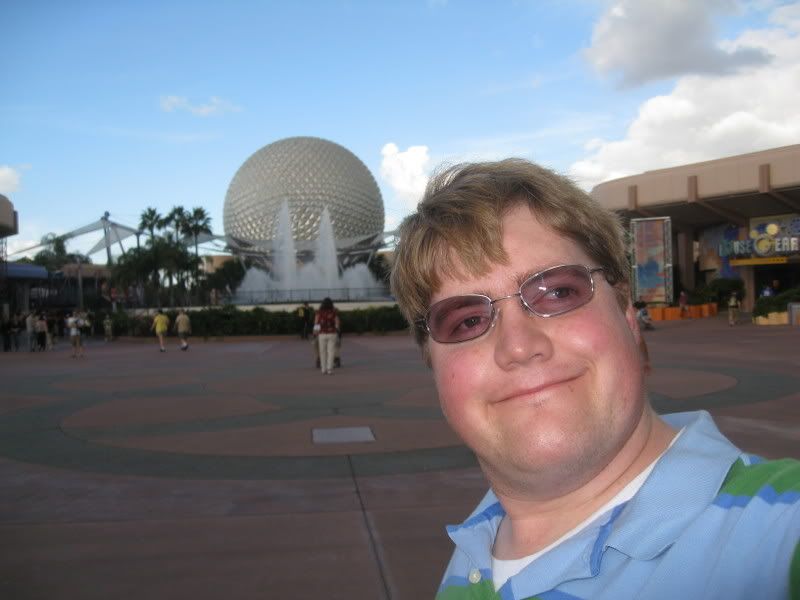 Anyway, after my attempts at refreshment by questionable means, I made my way out of Epcot, but not before pausing to take this photo with Spaceship Earth, which came after about three or four previous attempts that look even sillier than this one. And if anyone is wondering, yes I am wearing the same shirt as yesterday, as a result of the clean laundry shortage I had encountered the night before. Finally, I left Epcot for the day, and hopped the Monorail (is it just me, or do those ramps up to the platform seem a lot longer than they actually are?) and made my way to the Magic Kingdom. The first order of business was redeeming my MVMCP voucher.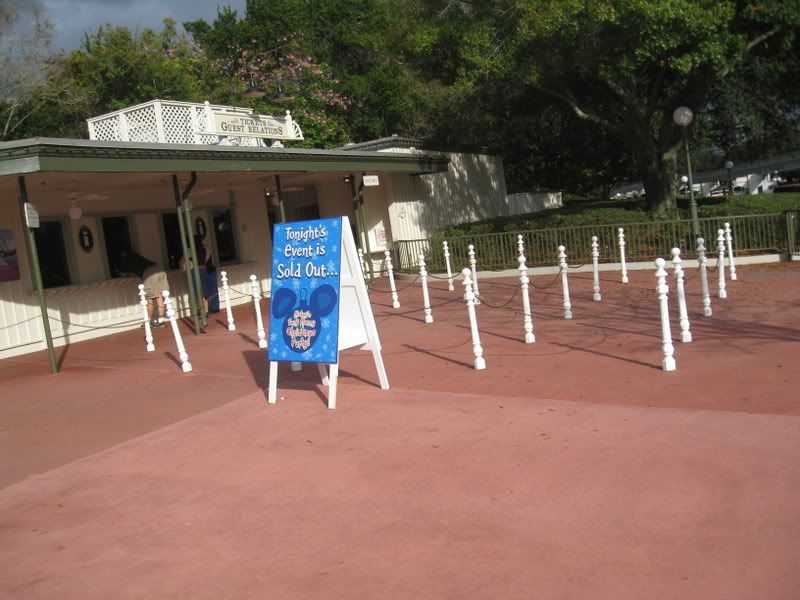 When I got there, the sold out sign was already out. This was around 3 or so in the afternoon, so I don't know if they still had tickets earlier or if they had sold out days in advance. Anyway, after getting my ticket (no line at Guest Services) I headed into the park. Of course, being 3pm, as soon as I walked through the tunnel, I ran right smack into...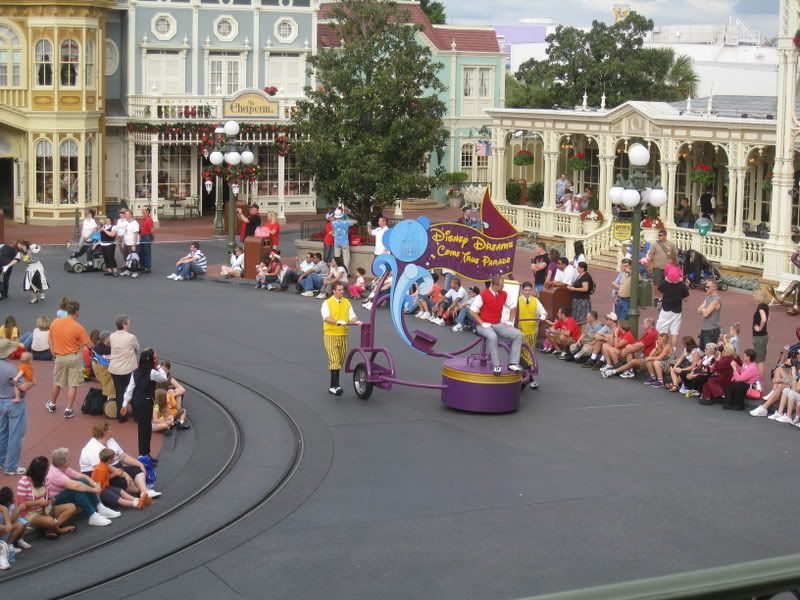 ...The afternoon parade. With a lot less crowds than I had to deal with at yesterday's parade, no less. If I had known this yesterday when I was standing behind fifty people at the hub for yesterday's parade I probably would have just skipped it yesterday and waited for today, but now that I not only found myself with much less crowds to deal with but also with a much better vantage point, the first thing that came to mind was to try to find some way to get around it. Ultimately, I got into the que for the train station, but as it would turn out, the next train didn't even arrive until the end of the parade. Although it's neat to watch the parade go by, I have to say if I ever hear that Disney Dreams Come True theme again I might just lose it. Besides, if you've already been to Disneyland, and you're at Disney World now, what other Disney dreams do you need to come true at the moment? Magic Fastpasses? A night in the castle? To be at Tokyo Disneyland instead? But I digress.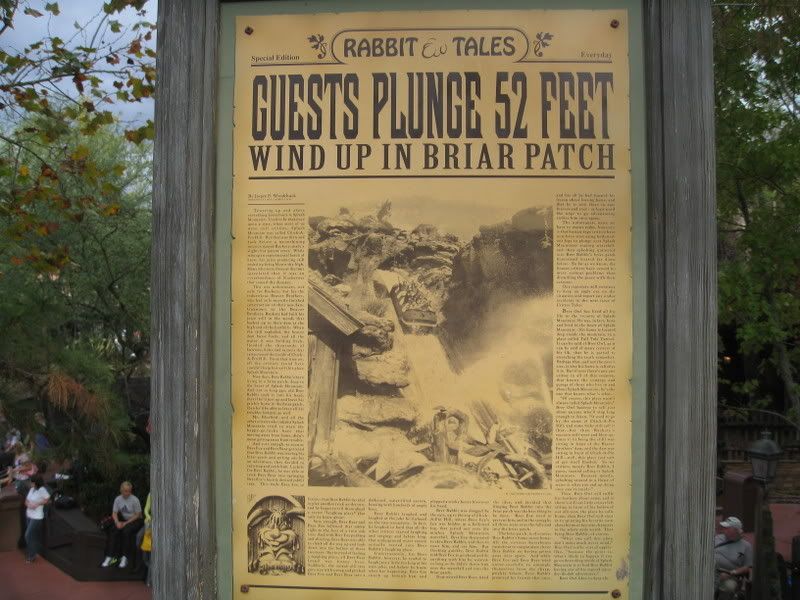 Anyway, once I finally got on the train (and saw parade floats waiting at the crossing as we passed by) I got off at the Frontierland stop, where I saw this poster on the way out of the station. You can't really see it at this resolution, but if you ever take the time to stop and read this (or do what I did and take a picture to read later) it's actually interesting to read. The whole story of how Splash Mountain came to be, Brer Rabbit, and even how the place came to be invaded by thrill-seeking humans, is found here.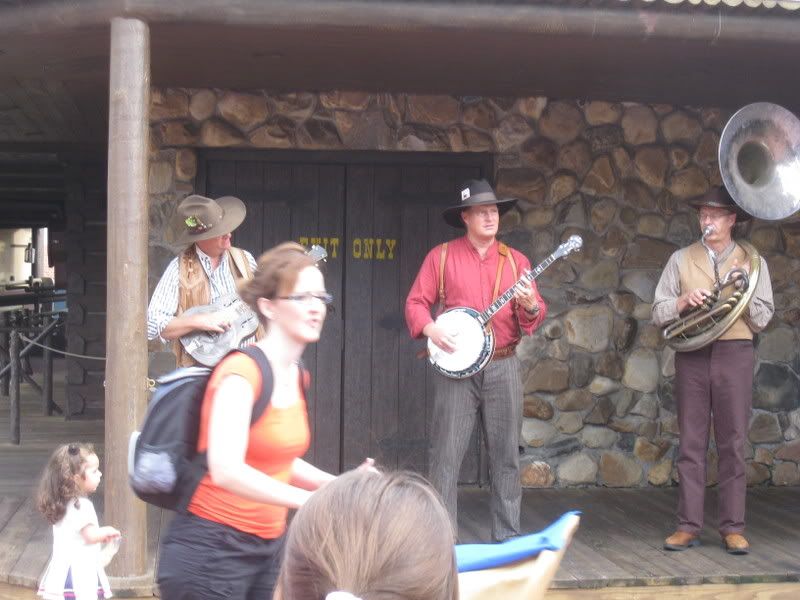 Along the way, these performers were playing Christmas carols, and were actually doing a pretty good job of it, if I recall.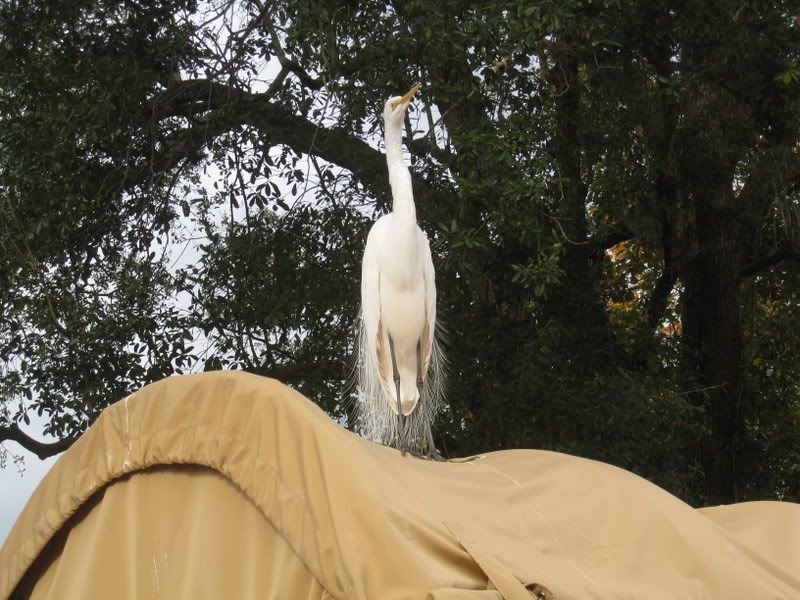 Egrets... I've had a few. But then again, too few to mention.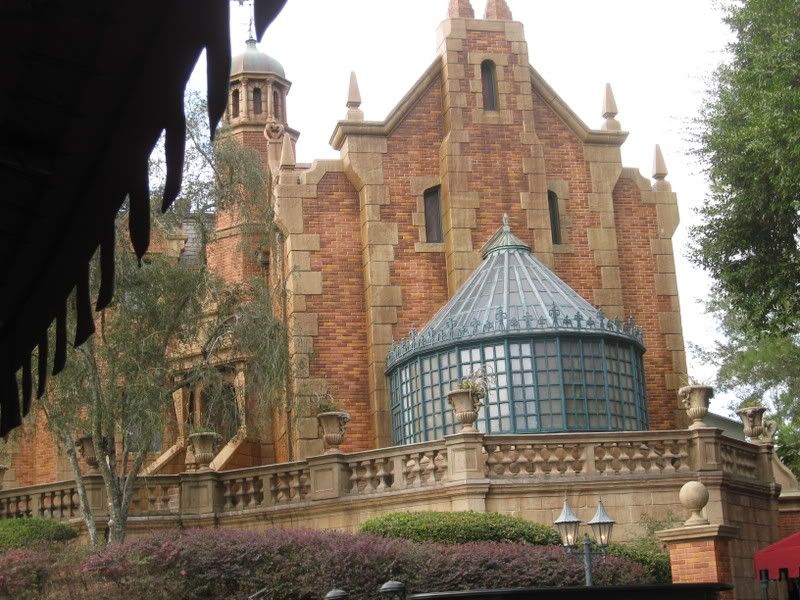 Anyway, my main goal for the afternoon was to ride Big Thunder Mountain, which I promptly grabbed a Fastpass for with a fairly short return time. I was then getting hungry, so I ended up grabbing some popcorn, then settled down to watch the boats come down Splash Mountain for a few. I then briefly thought about taking a ride on the Liberty Belle, but I got impatient while waiting for the boat to unload, so once I finished off the popcorn, I instead headed for another trip on the Haunted Mansion (which never had a long line on any of the times I rode it on this trip.)
This time around, the ride paused for a bit near the end, at the mirror room. I really wish this picture had come out. After getting off the Haunted Mansion the Fastpass return time for BTMRR had arrived, so I went to use that. I found the lift hills on this to be rather noisy as well.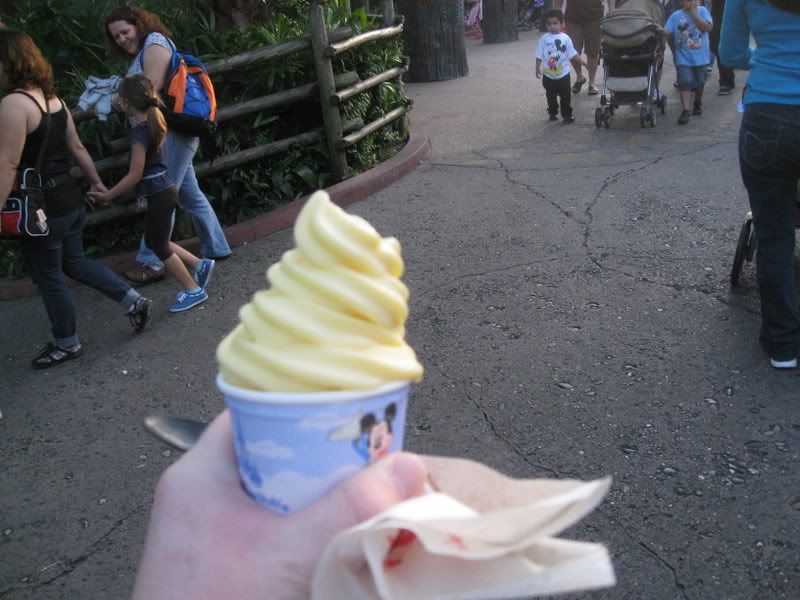 After BTMRR, I headed back toward Adventureland, and rode Pirates another time (seeing a pattern here?) I thought about going for another run on the Jungle Cruise at this point, but the line seemed rather long, and for some reason I didn't think to grab a Fastpass. Instead, I decided to grab a Dole Whip and hit the Tiki Room. I got stuck behind some people who took roughly forever and a day to decide what to get, and then had two people carrying a big load of stuff when everything was finally served up. My order was a little bit simpler. I have to say that I didn't care much for the New Management version of the Tiki Room, but at least DLR still has the original.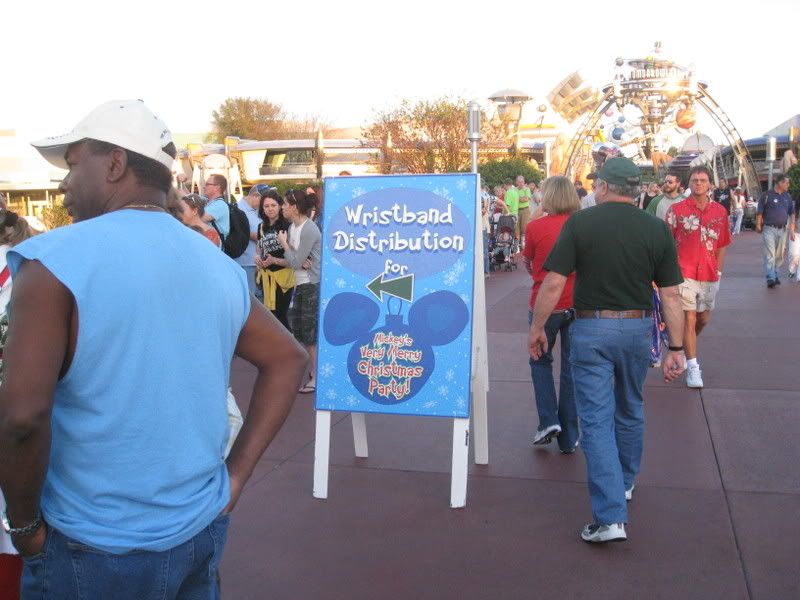 It was starting to get near dusk by this time, so I headed over to grab my MVMCP wristband next, then went back toward Fantasyland, looking for a place to sit down.
Say, this one looks like a nice quiet place for a little rest, maybe have a spot of tea or something.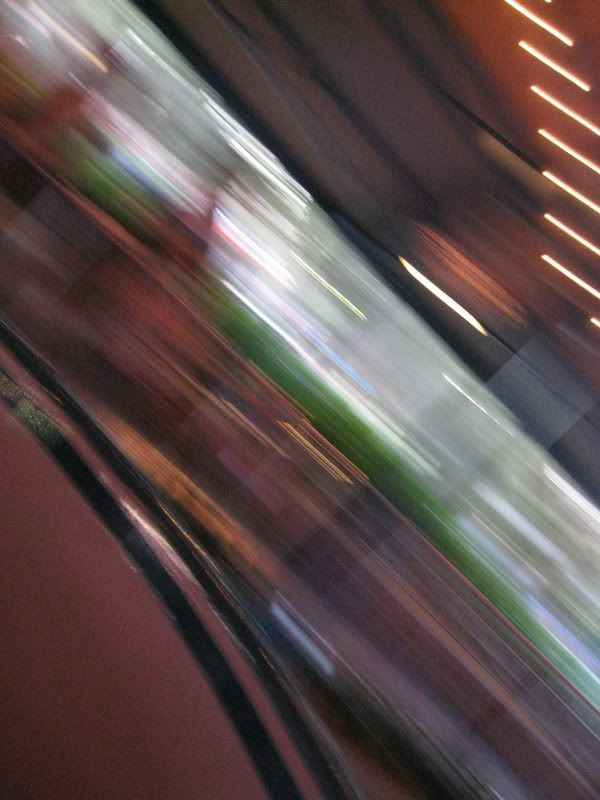 Wait a minute, what's with this? It's mad, MAD I tell you, mad!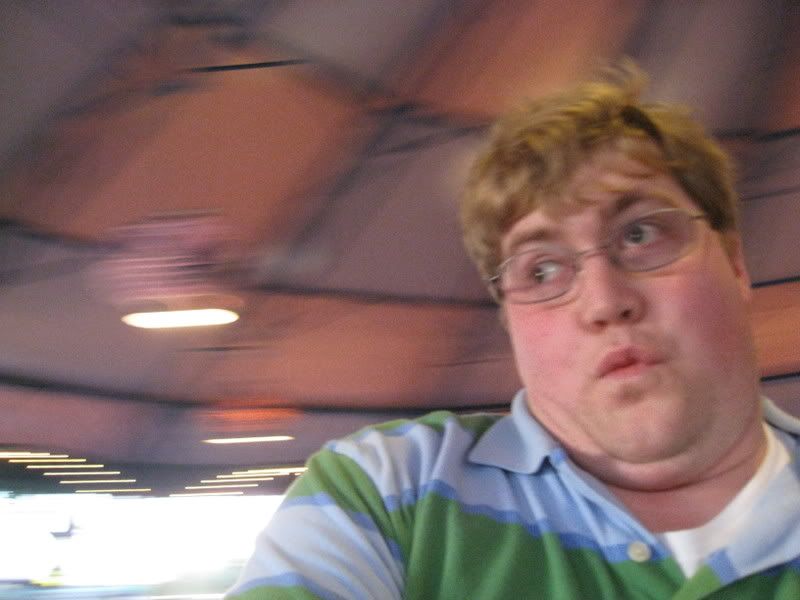 More goofing off with the camera. Believe me, you DON'T want to see the outtakes from this one.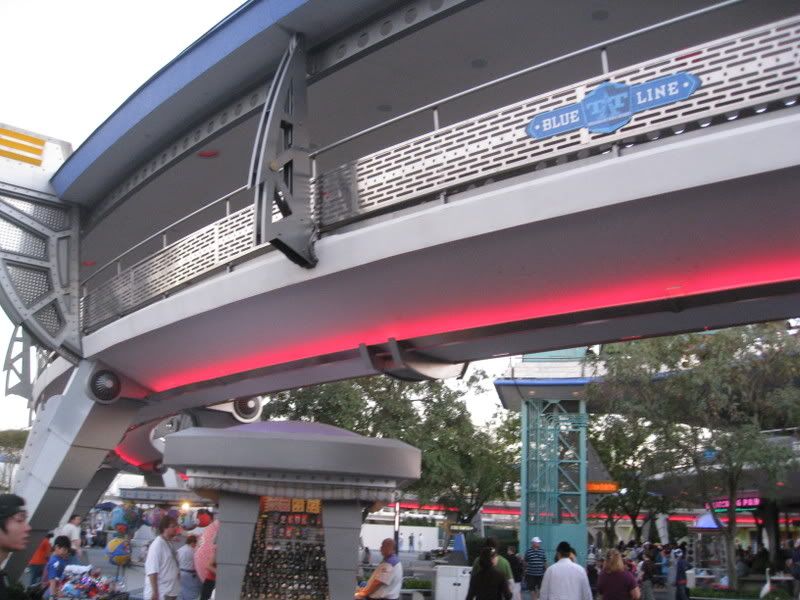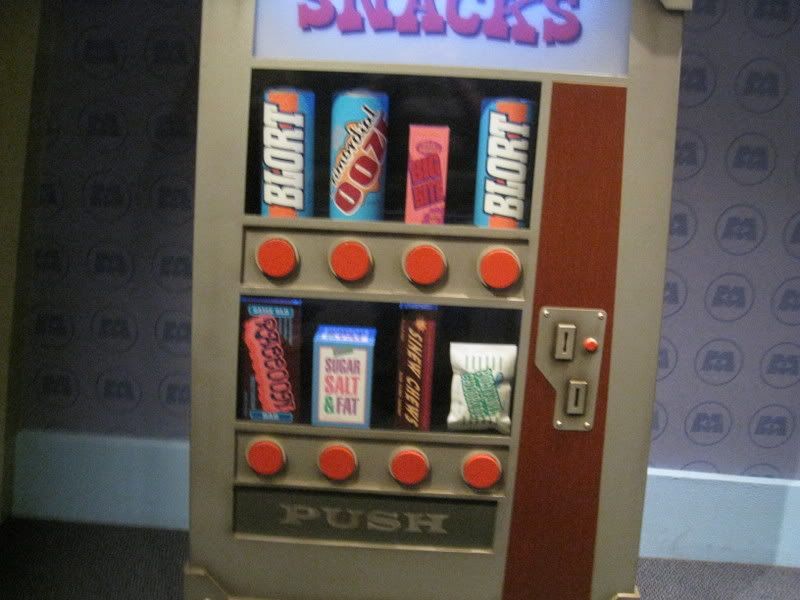 I next headed back toward Tomorrowland, where I planned to hit the Laugh Floor to find a place to sit down for a bit. The wait was short, but as worn out as I was getting at that point I wasn't exactly thrilled about having to spend ten minutes waiting in the pre-show area before getting in after you get through the queue. Even after sitting down for a bit at the show, I still wasn't all that enthusiastic about standing up at this point. I gave some brief thought to waiting in line for the "Twas the Night Before Christmas" show, but ultimately decided didn't feel like waiting (or more accurately, didn't feel like standing for that long.)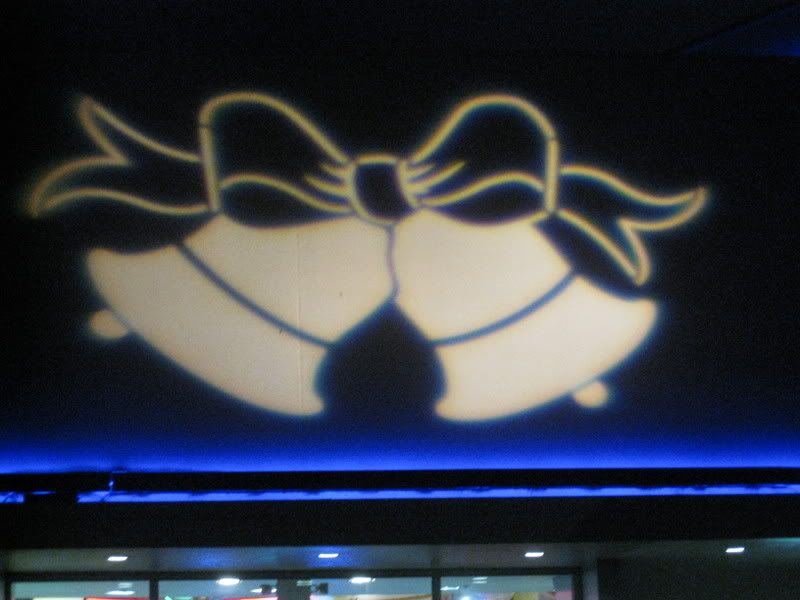 By the time I got off here the decorations were beginning to show up, and it was getting just about to the point where they were about to start clearing out the park for MVMCP. This was also just about the time when I realized I should probably give some thought to dinner, unless I wanted to be stuck with chicken nuggets for dinner. I eventually managed to follow the crowds all the way out the park gate before I realized that the monorail line was a mile long at this point, and there wasn't going to be much in the way of dining options that wouldn't involve wading through that crowd (I suppose I could have walked to the Contemporary and grabbed something from the CS place there, but I didn't feel like walking there at the moment. Ultimately, I quickly returned to the park (I needed to use my MVMCP ticket this time since my regular ticket wouldn't get me in anymore.) Finding food options to be scarce, I decided I was going to bite the bullet and just head back toward Cosmic Ray's again for the Chicken Nuggets I had tried to hard to avoid. No pictures here, because I don't think anyone would really care to see it anyway.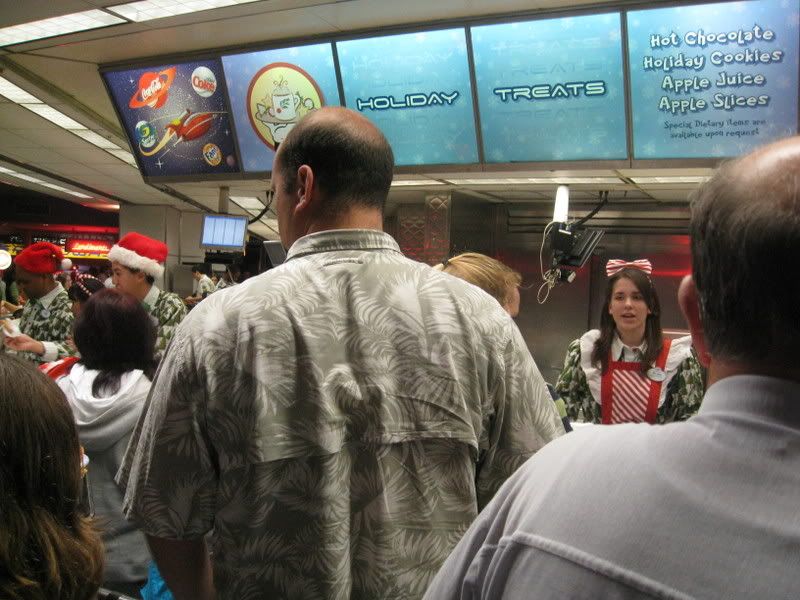 By the time I finished off dinner, they had begun serving the cookies and hot cocoa. There was basically no line at this point, so I grabbed some and headed over to check out the entertainment.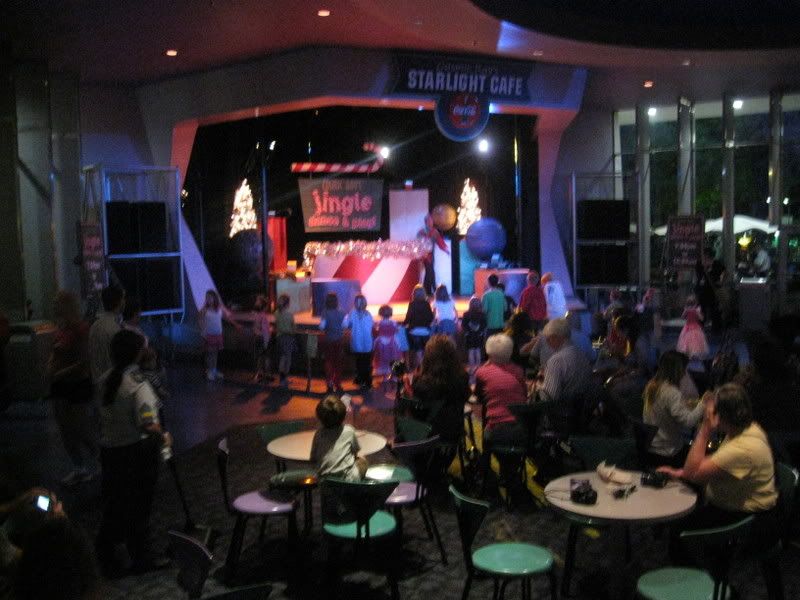 I think I ended up staying here for about twenty seconds total. I ended up fleeing the place just about the time I heard the words "High School Musical" from the direction of the stage.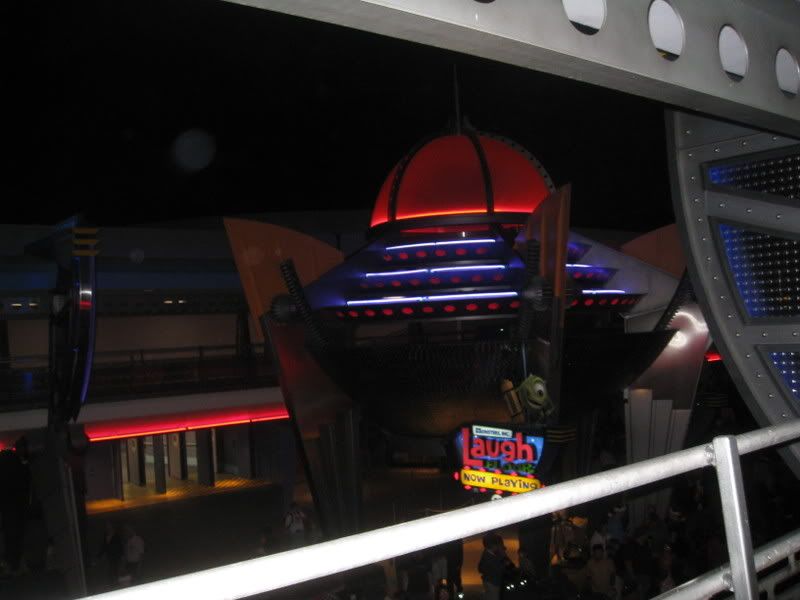 I ended up heading for the TTA next, since that seemed to be a good place to not stand for a few minutes. I attempted to take some photos, but only a couple came out anything but unrecognizably blurry.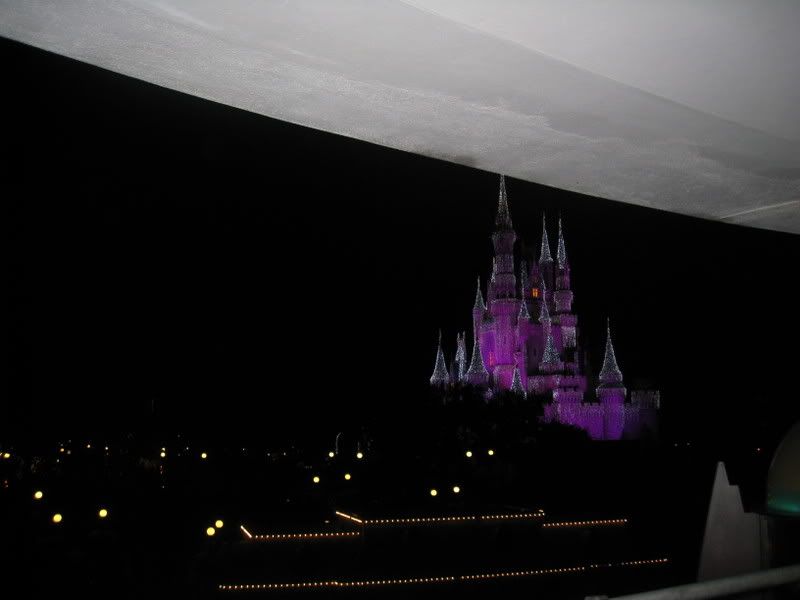 At least this was one of them.
I decided to head back toward Adventureland at this point, hoping to catch the pirate band that was on the schedule. Passing by Main Street, I saw that I was already about 45 minutes late to catch anything resembling a good spot on Main Street for the parade, but the parade was still a good hour away.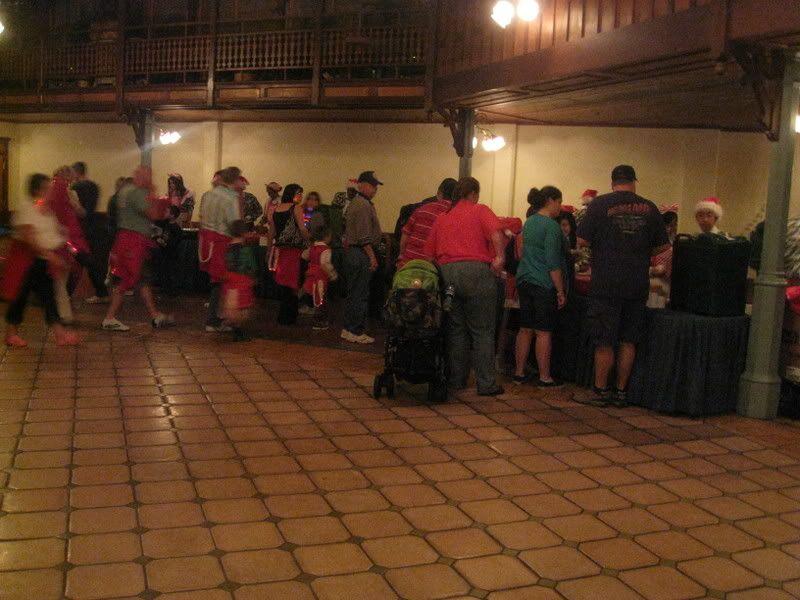 I saw that another of the cookies and cocoa stations was relatively empty at this point, so for some reason I grabbed more of it. It was about halfway through the second cup that I realized that no matter how merry the Christmas party might have been, hot chocolate and 75-degree weather just don't mix.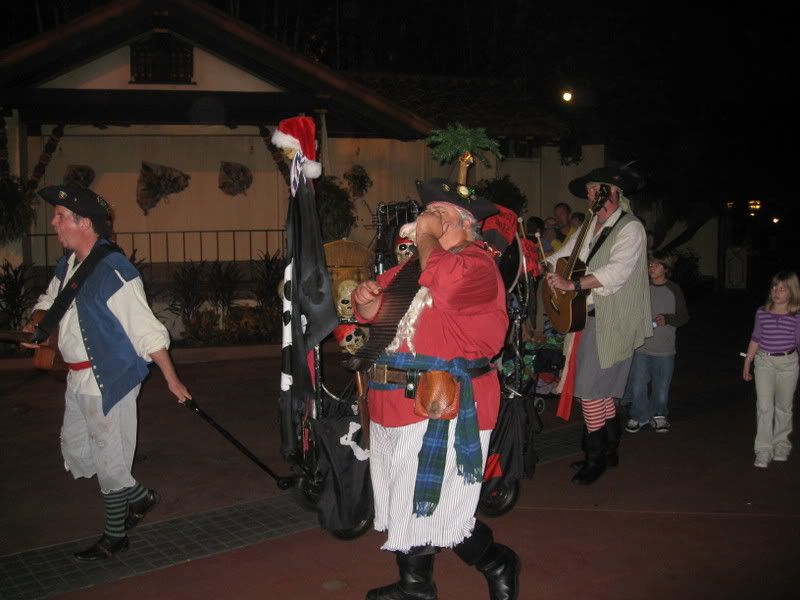 After a few minutes of waiting, the pirate band arrived, and performed several appropriately piratey Christmas selections. After listening for a bit, I then went for another ride on PotC to pass the time. It was here that the ride stopped running just after they finished loading us up on the boat. I was in the back row of the boat, and while we waited I struck up a conversation with a kid in the row in front. As I am inclined to do on occasion, I used the occasion to fill the kid's head with stores, explaining that all the treasure on the ride was real (after all, do you think that Jack Sparrow would waste his time pillaging and plundering all that loot if it only LOOKED like treasure?) Unfortunately, I have to admit that the kid probably knew more about the PotC movies than I did (I've seen about half of the first one, that's it.) Finally after about 10-15 minutes or so, the ride started moving, and I went through for my fourth ride of the trip.
It was after this that it was getting to just about be time for the parade. I've hit the image limit once again, so I will proceed from there in the next post. If you're lurking, feel free to reply, otherwise this trip report is going to end up with about 300 images per page, and it's going to start melting some people's Internet connections. That would be a bad thing now, wouldn't it?
Coming soon: Part 10. How to Get the Christmas Spirit Without the Need for Ghostly Visitors
(How NOT to find a proper spot for the parade, blurry Paparazzi photos of Cinderella, and even more fireworks.)