Hello DISers, Liners, Box People, and whoever else I can coerce into reading! Welcome to my second ever trip report. This report will actually be a little different in that it is a PREQUEL to the other report I currently have going. You can find that report here:

Duffy is Going to be ECSTATIC! a.k.a. Thank God She Was Jewish
That report looks back at our May 2012 trip to Walt Disney World that we won from WDW Radio and their partners at MouseFan Travel. We stayed at a Port Orleans Riverside Royal Room, were Grand Marshals of a parade, had all kinds of magical experiences, and ate lots of great food.

I'm currently writing about our third to last day of that trip and realized that I'm really enjoying sharing all of the memories. I don't want the fun to be almost over, and I figured out a way that it doesn't have to be. You see, September 17-22, 2011, we took a trip to Disneyland—both of our first trips to that park in over fifteen years. Since I have an impeccable Disney memory (despite usually having no idea what I had for lunch today), and since I have well over a thousand pictures from that trip, I thought now would be the perfect time to start a new report. For now, I'll be calling it:



Can We Move Here and Be Pancho's Handlers? A Throwback Trip Report



Now, before I get too ahead of myself, perhaps some introductions are in order. If you really want a full length intro, I'd suggest reading the opening post of the aforementioned other trip report. Go ahead, I'll wait…

Welcome back. Okay, just in case you didn't catch all of that, didn't want to click the link, or just have a bad short term memory, here's an abridged version.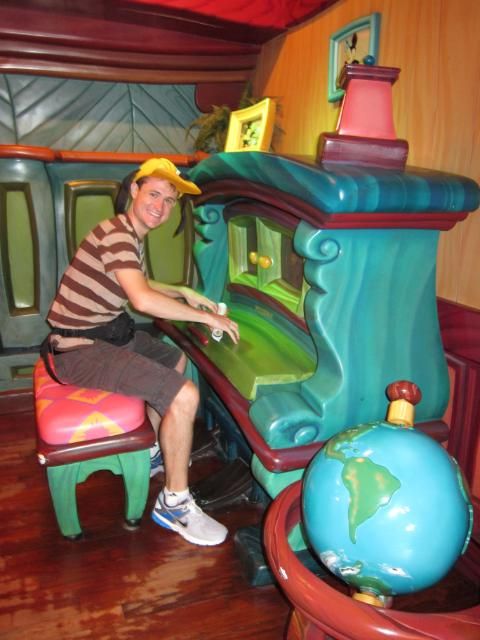 I'm Taylor. I'll be your host as we explore the park that Walt built and everything else in the Disneyland Resort. My Disney history begins at Walt Disney World. I've been on seven trips there over the years and have always considered it to be my favorite place on earth. My Disneyland history before this trip was relatively brief. When I was five, my family had done a typical "southern California vacation" that included visits to the beach, Knotts Berry Farm and, of course, Disneyland. Since it was the early nineties, there was only one park at Disneyland at the time. It was really the first Disney parks experience I can remember because my first trip to WDW had been when I was three and I truly can't remember any of that. Certain moments stick out in my mind more clearly. For example, the Disney movie being heavily promoted at the time was Aladdin so there was an entire parade devoted to the film. I also remember that being the only trip when I was big on getting character autographs, and that was made easier by the fact that it was a time in Disney history when characters roamed more freely and spontaneously. I must have loved our day at Disneyland, because I was so sad to leave that Mickey called our hotel that evening and invited us to come back again the next day. At least, that's what my family told me had happened! Our two days in Disneyland almost twenty years ago certainly aren't among my most vivid Disney memories, but they helped lay the foundation for my love of the parks. Here are some of my Disney stats:

Favorite Disney Movies: The Lion King, Beauty and the Beast, The Hunchback of Notre Dame, 101 Dalmatians, Dumbo
Favorite Pixar Movies: Toy Story 3, Up, Finding Nemo
Favorite Disney Songs: "Beauty and the Beast," "Feed the Birds," "Out There"
Favorite Disney Characters: Pluto, Winnie-the-Pooh, Dumbo, Nana
Favorite Disney Princess: Belle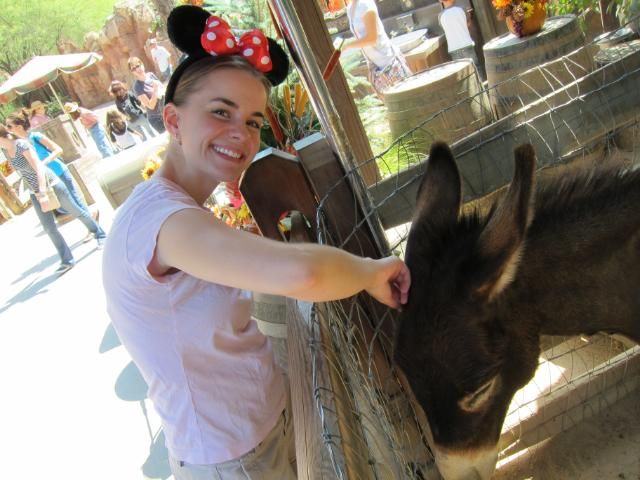 This is my wife, Tracy. Her Disney-going history actually starts at Disneyland. She had been once before this trip, when she was in third grade. That family vacation was really the source of some of her first concrete Disney memories. Since then, she has gone to WDW twice before our lives intertwined and we've gone together three times (though as of this Disneyland trip, we had only been to WDW together twice. Confused yet?)

Favorite Disney Movies: Beauty and the Beast, Dumbo, The Little Mermaid, Hercules
Favorite Pixar Movies: Toy Story 1-3, Up
Favorite Disney Songs: "Beauty and the Beast," "Go the Distance," "I See the Light"
Favorite Disney Characters: Pluto, Eeyore, Dumbo, Meeko
Favorite Disney Princess: Belle

Here's some more of our history as a couple, since I didn't include too much at the beginning of the last trip report. We started dating in March, 2005. We were high school sweethearts. Here's a photo from our senior prom.




After graduating high school, Tracy went to college in Colorado while I went to school in New York, so we dated long distance for three and a half years. We clocked literally thousands of hours on Skype and between the two of us flew on 63 flights visiting each other. It was hard, but we made it through. And we still found the time to have lots of good times together despite living separated.

We took a road trip to Seattle.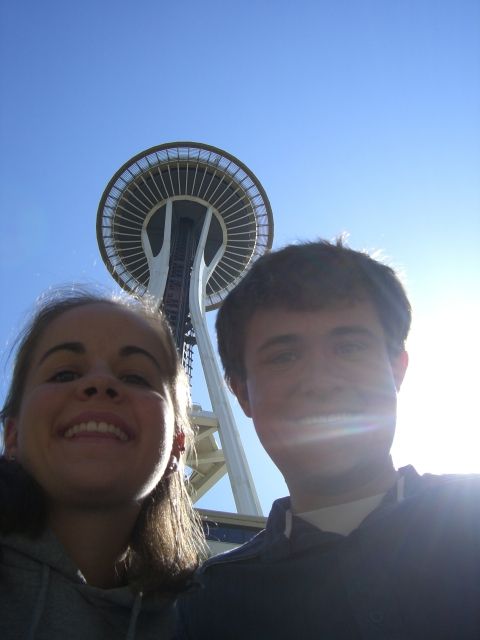 We explored the sights of New York together.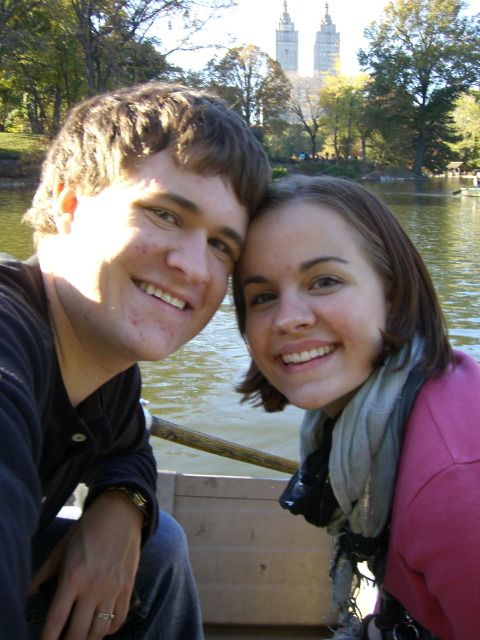 In August of 2009, we got engaged at the same place where we had our first kiss over four years earlier.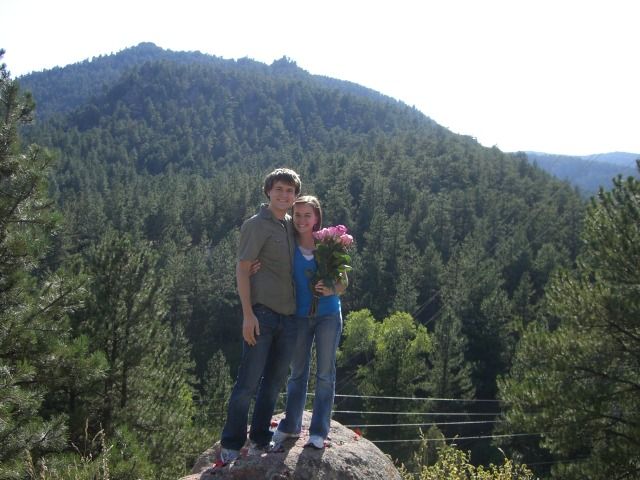 We got married in 2010. I know I've already shared that fact, but I just like any excuse to include another wedding picture…




And now between this and my last report, you know us pretty well. How this Disneyland trip came about was a little unexpected, so we'll start with a pre-trip report. Then once we get to California, we'll relive some great times at Disneyland. We got several extra touches of Disney magic that I'm excited to share, and, of course there will be a slew of food pictures. What we didn't realize going in is just how hard we would fall in love with Disneyland. I don't think it's exaggerating to say that this trip literally changed the course of our lives. How's that for foreshadowing?

Now I invite you to join me on a trip back in time. We go now to a time when Disney's California Adventure was still a huge construction site with Cars Land and Buena Vista Street taking shape behind walls; a time when Disney was still hoping to bounce back from disappointing reviews of Cars 2 with the release of John Carter; a time when Regis was still sitting next to Kelly every morning; a time when people could only dream of how successful Facebook would be once it started trading publicly; a time when practically no one had ever heard of Tim Tebow, Gabby Douglas, or Missy Franklin; a time when the idea of Snooki being pregnant was about as realistic as—you get the picture. We're now entering 2011…


​