Day 7 Continued...
Suddenly, we found ourselves getting ready for our Farewell Dinner! It was hard to believe it had been an entire week already! The time had really flown, and yet, the days were very full, and we'd done tons of things. I loved the pace of this trip. It didn't feel frantic; our days weren't rushed, but they contained a wealth of activities. It seemed to have just the right combination of activity and time on your own. I was happy that there had been so little overlap with my previous Alaskan cruisetour. Totally different experiences! I was also happy that there hadn't been a lot of early mornings, and nothing had felt like "If it's Tuesday, it must be Seward".
We met in one of the conference rooms in the Hotel Alyeska. It wasn't the fanciest space, but the view out the large picture windows was beautiful. The grounds behind the Alyeska are wonderful, including the tram up to the top of the mountain. (There's a restaurant up there, and Annie & Sherry went up there one evening for dessert. They had Baked Alaska, and Annie was really eager to try it! She approved.)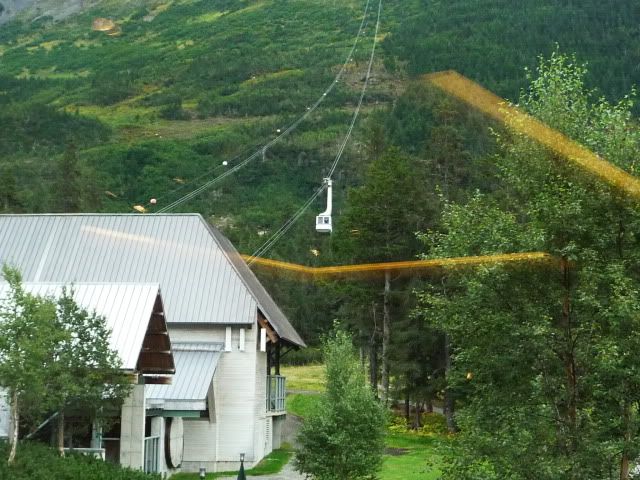 Dinner was a nice buffet, including a hand-carved prime rib. There was also an abundant selection of desserts (including a sugar-free option!)
We all got ABD "Cooldanas" at dinner; Matt, of course, found a new use for his:
The Pelican: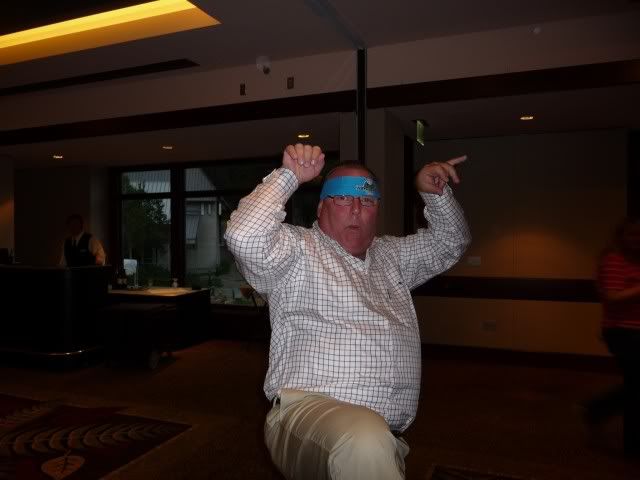 Our entertainment after dinner was provided by several performers from the Alaskan Native Heritage Center in Anchorage. They performed several native dances, accompanied by singing and drums. It was very reminiscent of Polynesian dancing, with very precise hand movements that tell a story.
Click the picture below for a short video of the dancing!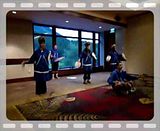 We then watched the slideshow of our trip, and things began to wind down. Everyone was hesitant to leave, because we knew this was the end of our trip together.
Here's a picture of the pins ABD gave us each day during the trip. I'd been inspired (I think it was by Patty) to buy additional pins at each of our stops to add to the lanyard, in between the Disney pins. So you're seeing far more than the ABD pins here. They make wonderful souvenirs!!!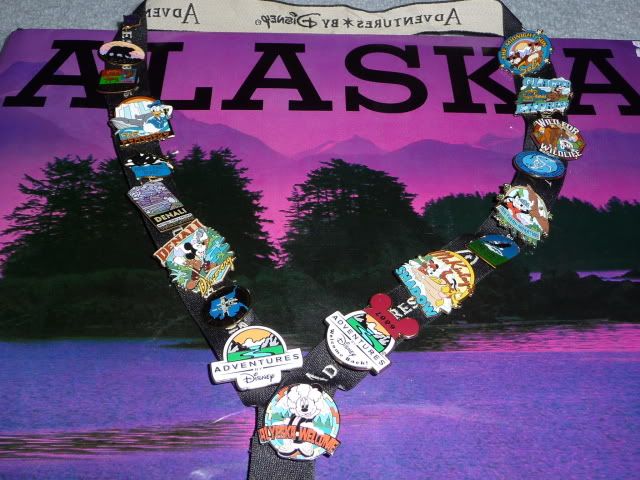 The next morning, there were 3 shuttle runs into Anchorage scheduled for the motorcoach. One left REALLY EARLY in the wee hours of the morning for the really early flights (a lot of them left around 8 am in the morning, and it was a good hour to the airport in Anchorage.) Another left early morning, and then the 3rd left around noon. Guess which one I chose! :-D Yep! Noon. I had arranged 2 days on my own in Anchorage following the tour, and the motorcoach was going to drop me off at the airport to pick up a rental car. Krista, Karen, Paul & Betzy were also taking the noon shuttle, as they were leaving their luggage at the Marriott for the day. They were flying out at like 1am the next morning, so they wanted to be able to spend the day doing stuff (like shopping!) in Anchorage. Rae accompanied us on that run.
After conversation and then hugs, I was finally dropped off, along with all my luggage, at the airport, as near to the rental counters as they could get me. I was starting to miss that ABD magic already, as I lugged all my luggage inside to the rental car desk. I picked up my car, and a map and directions, and headed out to my home for the next 2 days: The Mangy Moose B&B.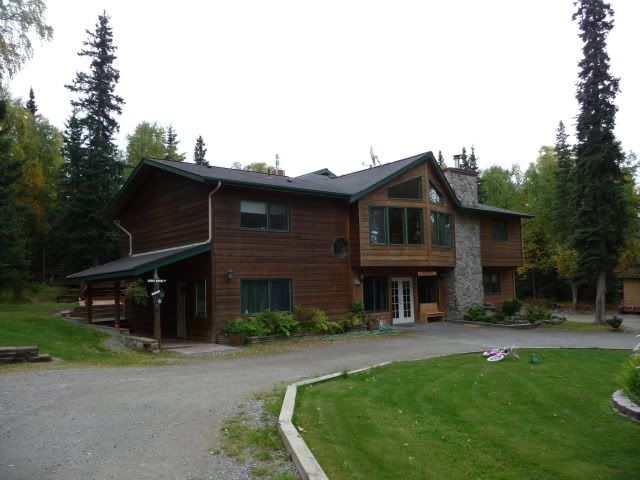 The Mangy Moose was an attractive place, on the outskirts of town, that had gotten rave reviews on the travel sites I'd checked. I got a really good deal on the room ("owner's choice", which basically meant I got a really nice room chosen from whichever rooms hadn't been booked for those days. A win/win situation.)
The decor was nice, although the rooms were a bit more dark in decor that they had appeared in pictures I saw, and there was no closet space. But it was very comfortable, in a nice location, with a lovely common area, and the breakfast was very yummy!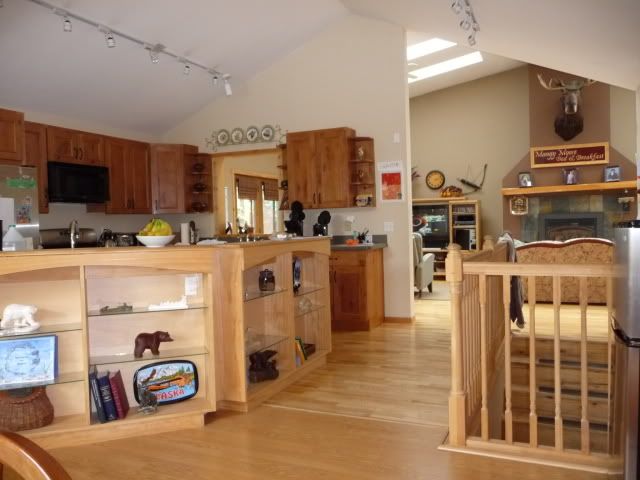 My room at the Mangy Moose: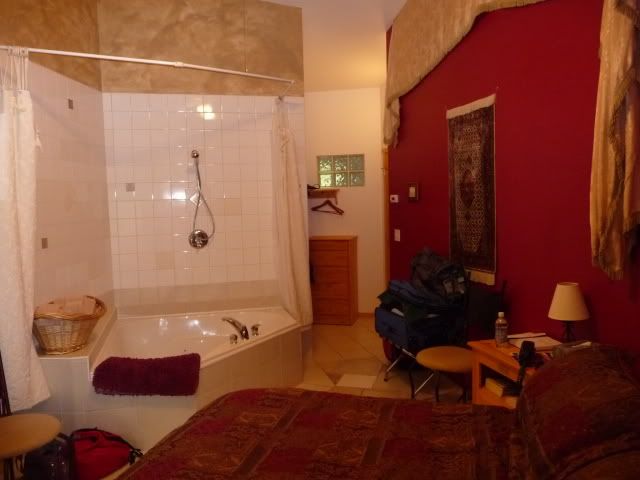 The folks I'd made the reservation with had suggested I get a rental car, and they were very right! The setting was nice, but being "outside" the main Anchorage area, I really would not have wanted to count on the spotty public transportation. And with a car, there was really no place in Anchorage that was "far away". Coming back from downtown, I missed the entrance for the highway, and ended up taking surface streets back to the B&B. It took me all of 1/2 an hour to go the "long way"!
Once I'd settled in at the B&B, I headed to the Fred Meyers where I'd arranged to get my prescription refilled. I also picked up a pair of Alaska slipper socks. As a matter of fact, I'm wearing them right now!
I then headed to "downtown" Anchorage, to do some souvenir shopping, and check out some of the historic buildings downtown. Downtown Anchorage can be kind of confusing, as it's all one-way streets. I found a public parking spot, paid for a few hours, and headed out on foot. I bought a silver whale's tail necklace, a dyed rabbit fur scarf on sale and a nice teal-and-brown striped shirt with a bear embroidered on it, and the word "Alaska". I didn't buy any T-shirts, but I really needed *something* to wear that said "Alaska"!
I came across Paul as I was shopping. He was looking for a small carved wooden bear. I helped him find one! Krista was in another shop with Karen and Betzy, buying a gorgeous sculpture of a moose. I sure hope it made it home with her OK!
I ended up having dinner at the Glacier Brewhouse. VERY popular, even on a weeknight. And VERY good food. I had a wonderful chowder, a salad with halibut added to it (yumm!) and wonderful bread. I also had a lovely conversation with the couple sitting next to me at the bar (they were waiting for a table). They were just starting out on a cruise that went from Alaska to Hawaii to the South Pacific and then to Japan! What a trip! Then they had arranged a short land tour of Japan. My dream retirement, to travel like that!
That night, I had rather a fierce sinus headache. I took some sinus medication, which helped, but I didn't get a whole lot of sleep.
The next morning, I hit Target for some Exedrin (wonderful Exedrin!) and, after a lunch at Subway, I headed over to the Alaska Native Heritage Center.
I'd heard it was really great, and definitely worth seeing. They were correct! It had wonderful exhibits, and performers and lecturers who would answer questions for the crowd.
This pair of teenagers were discussing and demonstrating some native sports that they participated in. The young man below was demonstrating a form of competitive *jumping*! He actually jumped and kicked that little ball above his head. And he didn't run and jump; he basically jumped from a standstill below the ball. Amazing!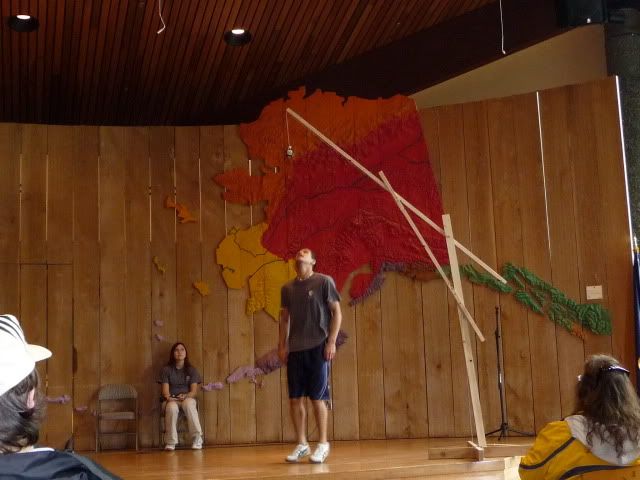 Another woman discussed the different tribes and where they lived in Alaska (using the map on the wall behind her to illustrate).
And then the dancers performed. Some of them were the same dancers we'd seen the night before.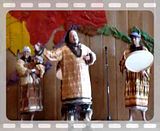 The woman to the left above, and the man in the middle brought their young daughter with them. They feel the children will learn from watching and experiencing. She was *adorable* and definitely seemed to enjoy herself.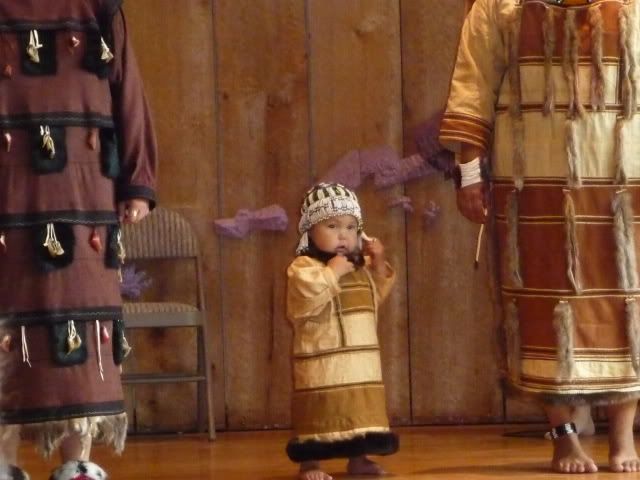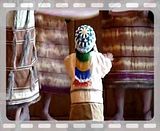 There was also an area around a small "lake" outside where they had re-creations of the typical Native Alaskan homes from the various areas around Alaska. There were interpreters out there, telling you about the homes, doing some weaving & basket-making, and stringing bead jewelry. I really enjoyed wandering around this area.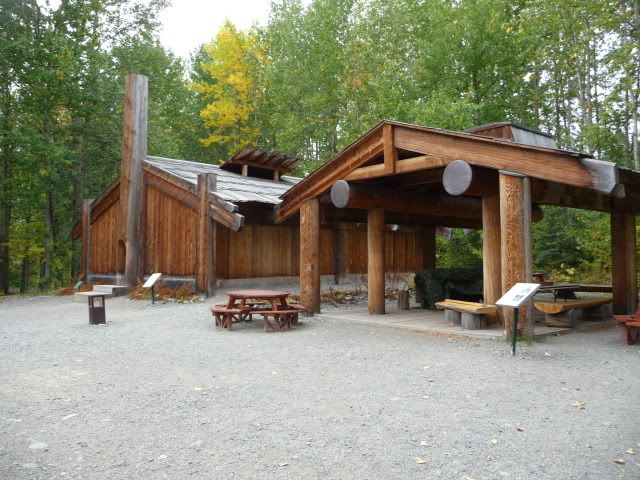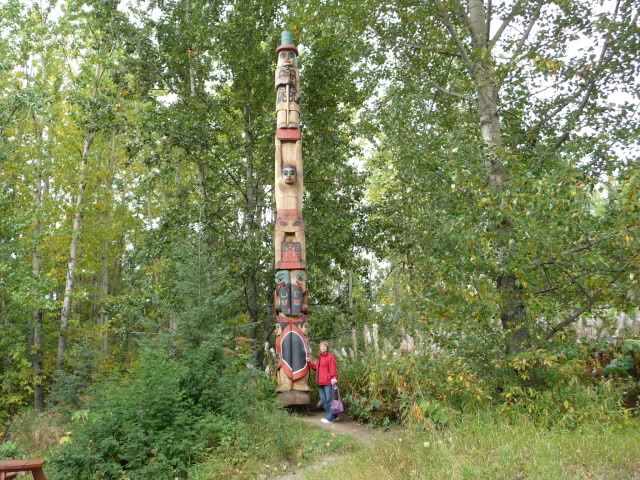 I bought this lovely bead necklace at the gift shop (hand made by the Native Alaskans at the Center)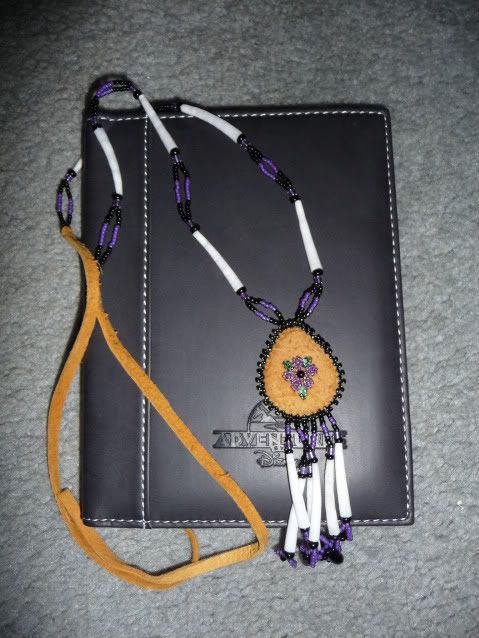 I was still feeling a little off & drained from the sinus headache and the restless sleep the night before, so I called it quits early, and decided to head back to the B&B. I stopped on my way back to check out the Sourdough Mining Company/Alaska Wildberry Products Co, which we had skipped for lunch on the tour (to go to the brewery instead).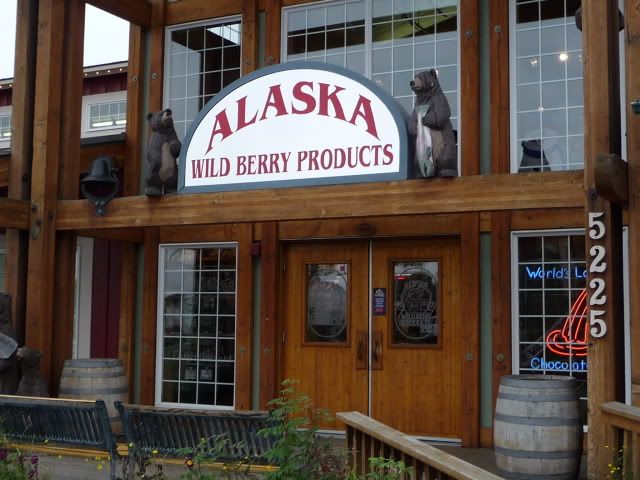 Wildberry Products sells some really great candies (plus they have the world's largest chocolate fountain). I had a few samples, then headed over to the Sourdough Mining Co. Rae had said they had fabulous corn fritters, and I really wanted to give them a try. A nice salad and a side of corn fritters sounded just right for dinner, so I thought I'd pick some up to go. It was kind of a hokey, touristy place, probably great for families with kids. And the corn fritters were FABULOUS!!! OMG, I could have eaten a ton of them!
I got back to the B&B, and, while I packed up, watched a DVD the B&B owner had lent me about the 1964 Anchorage earthquake. The devastation that earthquake caused was just amazing. I went to bed relatively early, as I had to be up at 5am the next morning. I *had* to leave by 6am to get to the airport, return the rental car, and check in in time for my 8am flight. Not a time I'd've picked, but it was either that or 1am. Oh, well...
So I actually got up at 5am, got all my stuff together, and headed out in the dark to pack up the rental car. (Anybody who knows me knows what an amazing feat that was!!!!) The staircase inside the B&B (I was upstairs) was really narrow & steep, so I had, with the owner's help, brought my suitcases to my room up the outside deck, which was much more gradual. So I went down the deck to shlep the suitcase back to the car. And then it happened.
Yep, as some of you know, on my way back up to the room, up the outdoor deck stairs, I slipped (morning dew!) on the steps, and managed to whack my head on the wooden steps. (You can sort of see the deck steps on the left in the picture of the Mangy Moose posted earlier.) Much swearing ensued. I picked myself up, and went back into the room. I'm naturally paranoid as it is, plus I was on blood thinners due to a blood clot I'd had in January. And after all the stories about Natasha Richardson's head injury, I was NOT happy with myself for having hit my head. Then, oh joy, I noticed the blood dripping onto the floor. I looked in the mirror, and yep, I was bleeding from a gash on my head. I pressed a towel to my head, yelled for the B&B owner, and was quickly transported by her to the ER.
So this would be where I spent what was supposed to be my last morning in Anchorage: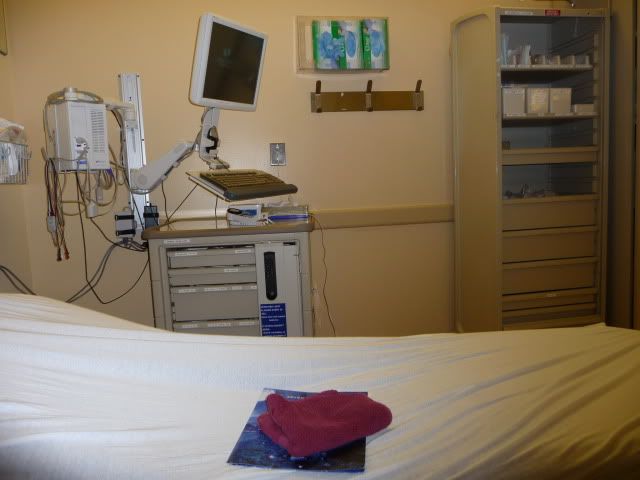 They were very nice at the ER, and assured me they saw this sort of thing all the time. To be on the safe side, they did a CAT scan of my head. Everything looked fine. So, 3 staples in my scalp later, I called the folks from my travel insurance to see what my options were, since my flight had left while I was in the ER. They worked with me to re-book my flight (which of course, Alaska Airlines charged a fortune for!) The next flight with availability was the same flight the next morning. And, apparently, I was lucky to get that, because the flight had been sold out the day before. And they did manage to get me a bulkhead seat, which, even though it was a middle seat, was OK, due to the extra legroom. The insurance folks also helped me book a room near the airport for the extra night (even though the owner offered, I did not want to deal with the rental car and driving back from the B&B at 6am again. Just seemed like tempting fate.)
So I gathered up the remainder of my stuff at the B&B, drove to the airport to return the rental car, then took the shuttle to the Courtyard by Marriott just outside the airport. After settling in to my room, I now had the remainder of the day to kill. I decided to get some lunch, and then catch a bus (the hotel was right on the bus line) and head back into downtown Anchorage to check out some of the stuff I'd not managed to see the day before due to feeling off.
I did some walking around downtown, and came across Anchorage's Wyland Whaling Wall: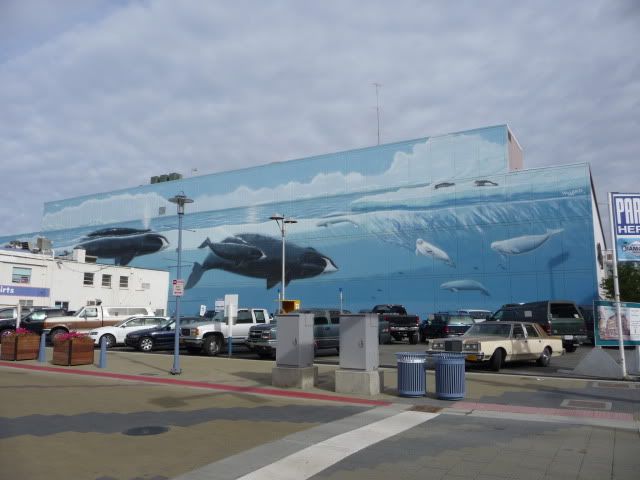 I found the Visitor's Center, and a trolley tour was just leaving. It was a little pricey ($20, cash only) but it was supposed to be really fun, and show you a lot of Anchorage. (It was, and it did!)
The trolley driver gave a running commentary during the tour. He was very knowledgeable, very entertaining, and FUNNY!
The Alaskan Statehood Monument: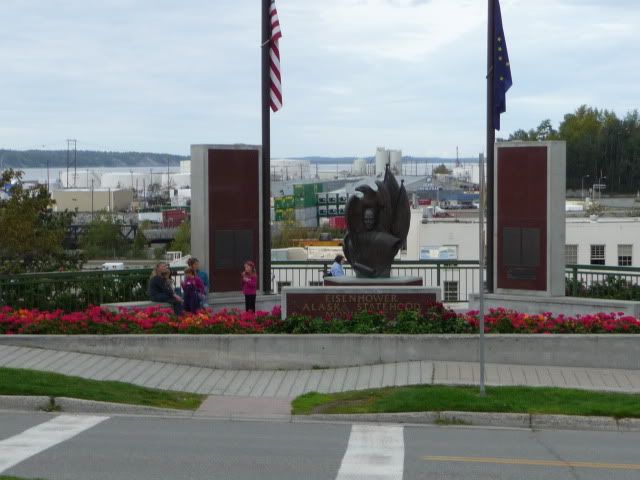 An area that was basically a float plane marina: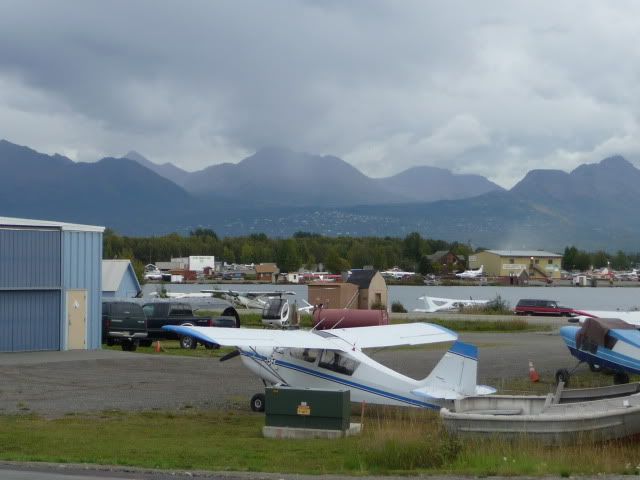 The trolley driver pointed out a very expensive underground home (there were windows facing out towards the river) to us. And explained how his wife said "No way!" to moving into it...
We also drove past the 1964 "Earthquake Park". The whole area had been an up-and-coming suburban neighborhood that had sunk when the ground liquified during the earthquake, and was now mostly covered with petrified trees (remember, sea water flooded the area). Very sobering.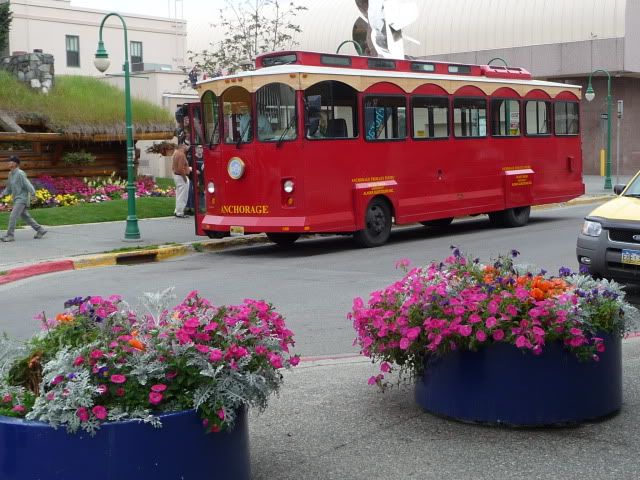 There were potted flowers *all over* downtown Anchorage. It was really very nice! Anchorage is a pretty place!
After the trolley tour, I did some more walking. We had driven quickly past a place on the waterfront where there was a statue of Captain Cook looking out over the Cook Inlet. I realized it was in walking distance of where I was, and, despite the light sprinkling of rain (which was gone 15 minutes later) I decided to walk out there to see it. Great choice, and I sat there for a while, to watch the sun lowering & take pictures.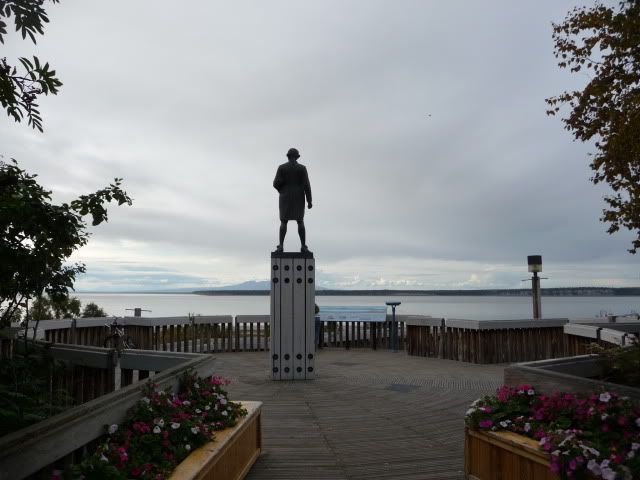 While out walking, I called my friend to tell her not to bother to go to the airport to pick me up. Gave her all the details, and made arrangements to get picked up the next day. All-in-all, smacking your head on the stairs is not something I would recommend you do, but it could have been SO much worse than it was. I was a little achy and bruised, but my head actually hurt less than it had with the sinus headache! And I had gotten a chance to see more of Anchorage than I had the day before, since I'd felt kind of lousy & cut things short. I actually really enjoyed myself during that extra day.
Also, while I was wandering, I managed to find, and put in context, the park by the waterfront where I'd eaten lunch my last time in Anchorage, 3 years before. That time I'd just wandered towards the water, found the park, then wandered back to the motorcoach. It was nice to figure out where I'd been, and put it in context of the town.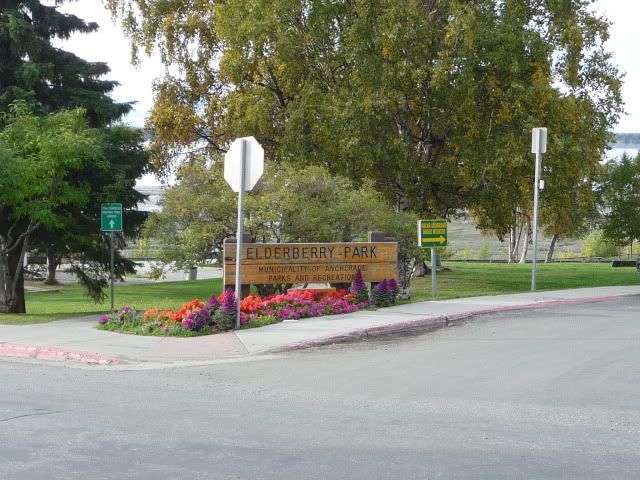 I ended up checking out some displays at the main post office, and then slowly wormed my way back to the bus pickup spot. I spent the rest of the evening at the hotel; I watched some specials about 9/11 (yes, my original flight home WAS on 9/11!) and had some reindeer sausage for dinner at the hotel restaurant.
Woke up EARLY the next morning, headed to the airport, spent FOREVER checking in, and finally boarded my plane for home. Got the third degree from the poor flight attendant (Yes, the ER doctor cleared me to fly. No, I hadn't had any blood clot symptoms since January, etc, etc) Finally made it HOME and collapsed.
I want to add here how absolutely, totally glad I was that I had trip insurance! I've done it each time I've had a major trip, and this is the 3rd time I've had to use it. Let me tell you, it was totally worth EVERY PENNY I paid for it! Not only was it great financially (the ER is billing directly to the insurance, and the insurance company are reimbursing me for the cost of changing my flight, the extra hotel night, and my meals for the extra day.) It made the whole incident SO MUCH LESS STRESSFUL than it could have been, knowing that I had someone to help me make arrangements, and that all my costs would be covered. All I had to worry about was getting patched up and getting to the airport for my new flight. I can't stress enough what a good investment the trip insurance was. BUY IT!!!!!
But you know, even with the mishap at the end, this was a FABULOUS trip! The injury in no way diminished my enjoyment of the trip (boy, am I glad it happened at the END of the trip, though!). It was
that
fabulous, that I took the gash & the staples as an "oh, well", rather than a "my trip is ruined!"
I'm so glad I went, so glad I did the trip with ABD. It was a different trip than my Southwest Splendors trip, a different dynamic, but I still felt it was equally of a great experience, and totally worth the money I spent. I wasn't quite as gobsmacked as I was with Southwest Splendors, but I had no idea what to expect when I went on SWS, so my expectations were wildly exceeded. For Alaska, I pretty much knew what to expect, so those expectations were totally met. That's not the fault of the tour or the guides, and attests totally to *my* state of mind. But I LOVED this trip! Loved, loved, LOVED it! Would I do it again? Absolutely! Will I travel with ABD again? I already am! (Cities of Knights & Lights in June!)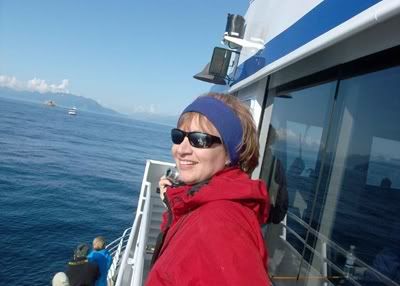 Thanks for coming along on this Trip Report with me, and feel free to ask any & all questions you'd like. As always, it's been a pleasure sharing with you!
Sayhello