<img src=http://www.wdwinfo.com/dis-sponsor/images
DIS Lifetime Sponsor
Cast.
Me:
Karen (a.k.a Kaz) 40-something. Loves all things Disney, a Kir Royale in Mizner's Lounge and spending slightly less DH's $$$ these days...
Him:
Matthew (a.k.a Matty) 20-something. Loves most things Disney, a Daily Mail in any country and Downtown Disney's Virgin Megastore...
Him:
Samuel (a.k.a Sam) 15-something. Loves all things Disney, hotdogs and hoarding his own $$$...
Monday October 20th 2008:
I'd checked in online on Sunday, but like to get to the airport at a reasonable time so was up and about at 7am. However I received a call from VA at around 8am to inform us that our 12.45pm flight would be delayed until 4pm! Ouch! The nice lady on the phone duly rearranged our pick-up and postponed my pedicure so no problem there. I let the boys have a lie-in and went back to bed to read for a while... The car arrived on time and we were whisked to Gatwick arriving at around 1pm. The VA area was deserted but we checked in without hassle and were soon kicking back in the almost empty Clubhouse where I enjoyed a couple of Virgin Redheads - OK it's an old photo but worthy of inclusion...
...and a creamy bowl of mushroom soup as the kitchen had stopped serving lunch. Eventually our flight was called and we strolled to the gate. I noticed that the plane was not as full as those I've taken in the last couple of years - there were quite a few vacant seats in PE and UC... We soon settled down for the flight - I had a Bellini to sip and a book to finish plus the boys were keen to check out the movies on offer. And so the time passed. I ate, drank, read and slept my way across the Atlantic before we finally started our descent into Orlando. Immigration and baggage claim were extremely swift and before long we were seated on a Magical Express bus ready to be transported to BoardWalk Villas! The driver, it seemed, had other ideas and we three sat alone on the bus for over twenty minutes before he decided to take us to our resort... Upon arrival we were checked in swiftly and directed to our room - 2102. This was a dedicated 1 bedroom villa with a view over the quiet pool and a short walk from the lobby so great for our needs. We quickly sorted who would sleep where - the boys opted to share the enormous super-king bed in the bedroom which left me on the sofa-bed in the living room. I had my doubts about this as I have back problems but figured it had to be worth a try. Suddenly there was a knock at the door and my big purple Owners Locker arrived to join the party! I set about unpacking this and our cases whilst the boys examined the room service menu - unfortunately we were too late for burgers so they each ordered a pizza! And what pizzas they turned out to be! Huge square boxes were delivered that only just about fitted into the fridge but the contents were tasty... We watched a little TV before crashing at about 11.30pm...
Tuesday October 21st 2008:
I awoke at around 8am and decided coffee was in order. I set the machine to work and was able to enjoy my caffeine fix on the delightful balcony that had been invisible in the darkness of the previous evening. Looking thro' the trees to the right...
It looked like it was going to be a gorgeous day as I surveyed the deep blue sky and enjoyed the tranquility of the morning. Here's the view over the quiet pool...
To my delight, the top of the Hollywood Tower Hotel aka Tower of Terror was visible from my vantage point and I decided that was where we should head today! One of the things I love about DVC accommodation is the substantial free-standing shower and I spent a good ten minutes in there before waking the boys and getting the day started properly... We duly caught a Friendship to Hollywood Studios where I redeemed my Annual Pass and bought the useful Tables in Wonderland card. We strolled around the park enjoying the Prince Caspian attraction, Star Tours, Rock n Rollercoaster and Tower of Terror before sampling burgers at the ABC Commissary... We spent another couple of hours in the park before walking back to the Boardwalk... After relaxing in our room, we caught a bus to Downtown Disney. My boys love the Virgin Megastore - I'm pretty sure they visited 3 times during the trip! Soon it was time to eat and we chose to try Wolfgang Pucks - no tables were immediately available but seats were up for grabs at the counter that faced the kitchen so we stepped up! The menu was the same as the regular restaurant and we chose accordingly. Food was OK but I was disappointed that they no longer accept the DDE/TIW card AND they ran out of Rosa Regale after 1 glass!!! What's that about???????? Anyway, after about an hour we left and strolled to the bus stop ready to get back to the BWV and bed...
Wednesday October 22nd 2008:
More coffee for me before showering and hurrying around to the Dolphin to collect my hire car at 10am. I always do this as I would hate to drive after the long transatlantic flight. There was a bit of a queue this morning as there was a hug conference ongoing at the resort. I waited my turn and it quickly transpired the small SUV I'd ordered was not available. So I got upgraded to a 7 seater Dodge Grand Caravan!
This is probably my fave car that I've driven in the US to date - comfortable with great visibility and less of that rear end boatiness (is that a word?!) I associate with American cars... Anyway, I picked up the vehicle and headed back round to park at BWV before collecting the boys from our room. Today we were off to the Animal Kingdom as Matty was keen to try out Expedition Everest - seems he couldn't recall the ride from his last trip... Which is exactly what we did! Oh and we rode Dinosaur too! For some reason Samuel and I know the script for this ride word for word which heightens the experience so we had a lotta fun tormenting Matty with our dialogue... Sammy took this spooky Dino-bones pic...
We lunched at Restaurantosaurus - usual fare of burgers (no bun for me) and fixings - TBH for mass catering it was very tasty! The weather was beeootiful so we decided to get back to the resort and enjoy some time by the pool in the afternoon before the boys got ready to go to the Halloween Horror Night at Universal Studios and I headed off to meet fellow-DISer Monica at 6pm. The boys took a cab to the event and I strolled (I did a lot of strolling this holiday) around the Boardwalk to Beaches & Cream where Monica was waiting! We had a great time chatting away like we'd known each other for ages!
I ordered an OTT sundae...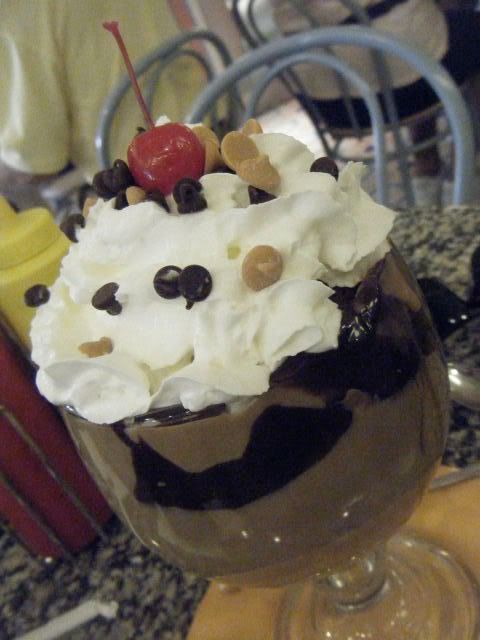 ...whilst Monica tackled the more demure chocolate cake!
After a around two and a half hours, we had to make a move and I walked Monica to her car before saying goodbye! It was a lovely mini-meet and I can't wait to catch up with my new friend asap... So I returned to the room but the absence of boys forced me back out and I decided to explore more of the resort. Eventually I found myself in the comfy bar area located in the Boardwalk Inn so I ordered myself a glass of something red and sparkling called Magicale - it didn't disappoint! It's very similar to the delectable Rosa Regale - in fact it's from the same region of Italy! I was very pleased with my choice and headed out on to the raised verandah area to enjoy my tipple in the warmth of the evening... I soon got chatting to a gregarious couple from West Bromwich and their friends - tho' they pointblank refused to believe my own West Midlands credentials! Even when I obligingly brought my Brummie accent to the fore! Ah well, you can't please all the people...
Anyway, Allen the efficient bar tender quietly slipped another Magicale my way and I sipped the fizz until I realised well over an hour had passed! Time to return to the room to check whether the boys were back. I said my goodbyes, settled the bill and made the five minute walk through to the Villas. No boys tho' so I turned on the TV and settled down to watch CSI: Miami... My sons returned within the hour and their tales made me v-e-r-y glad I had not joined them at HHN! We watched a little more TV before turning in for the night...
Thursday October 23rd 2008:
I let the boys have a short lie-in this morning as yesterday I'd booked a character breakfast for 10.40 at Cape May Cafe! I hadn't made a single ADR before this vacation which I knew would be something of a gamble due to the UK half-term AND busy IF&WF but it really wasn't a problem at all! I asked at the concierge desk about availability at a number of eateries including Le Cellier and the Yachtsman and we could have been accommodated in all of them - some with a choice of time! Interesting stuff, methinks... Anyway, we had a great time at the brekkie and here are the photos to prove it...
Feeling more than a little stuffed, we decided on our return walk to BWV to get in the Grand Caravan and go shopping!!! Which is exactly what we did. First stop, Mall at Millenia! I hadn't been here before and loved the experience. This trip was all about getting my wonderful DH a belated anniversary gift AND something special for his upcoming birthday - I'm happy to say, I succeeded on both counts! I knew I wanted to get him a new bag for work as his anniversary gift and he'd requested something more along the lines of a messenger bag so I had that firmly in mind. I saw some pretty pedestrian stuff and then when I ventured into the wonderful Tommy Bahama store. In their 30% off sale section, I found a gorgeous heavy-grained black leather messenger bag complete with tropical silk palm tree lining! Perfect - not the usual designer fare and How could the lining fail to cheer you up on a rainy day in canary Wharf!?! Anyway, here's a pic...
And the interior...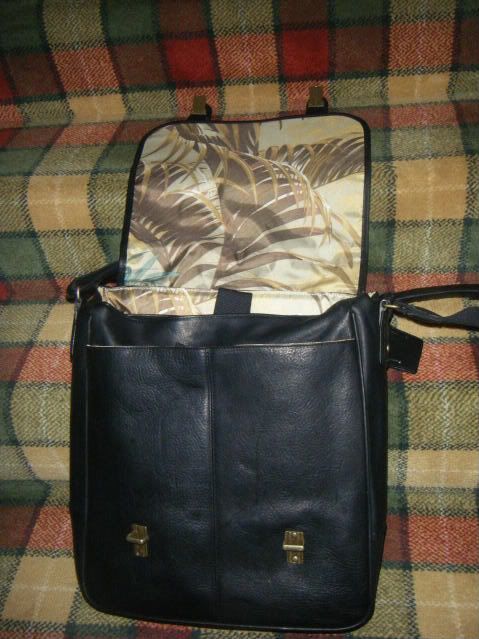 I also picked up a fab TB world time wall clock for his office - this shows the time in various exotic locations around the world so Richard can imagine where he'd rather be when he's locked in the Citi tower...
Armed with two great gifts already, it was time to get serious! I headed upstairs to the collection of designer shops! I'd had the desire to buy my husband a decent watch for a while but nothing had grabbed my attention - I hoped today would be different. And it was! I checked out Cartier and a store specialising in Rolex but nothing wowed me. So I headed into Tiffany's where a lovely white metal watch with a black leather strap really caught my eye! Perfect! So without further ado, I brandished my credit card and walked back into the Mall with one of those delightful light turquoise bags... Just in time to meet up with Matty and Samuel who'd been shopping in other parts of the mall. We found each other and headed back to the car intending to drive to Florida Mall for a little more retail therapy. A couple of hours later, we were shopped out and decided to return to BWV. Upon arrival, we found the car park was full so we let valet parking sort us out - which was handy with all the shopping bags we had to carry! We just had time for Matt to catch up with the Villa score back home before freshening up and heading out the door for dinner at ESPN. This time we chose to sit in the bar area so were served pretty quickly whilst watching the World Series build-up on the many TVs... After our meal, which was delicious (I heartily recommend the Full Court "Pressed" Cuban Burger BTW!!!) we wandered around the Boardwalk watching the many 'acts' performing there. Amazingly it was now around 11pm so we made our way back to 2102 and sleep...