Welcome everyone to my newest TR. This will be a TR of the 14 night East Bound Panama Canal Cruise on the Disney Wonder, dates August 26-September 9, 2016 The players are my mom, Jeanette, and myself, Pam.
I haven't done a TR in over a year, lots of changes in my life, but the most significant was the loss of my 14 ½ year old Siberian Husky, Conner. I have no human children, but he was my boy. I have since adopted two American Bulldogs, a father and son duo that were abandoned together and I had to keep them together, it just felt terribly wrong not to. Their names are Gucci and Rambo and are the most loving and calm dogs I have ever met.
Gucci is 8
And Rambo is 3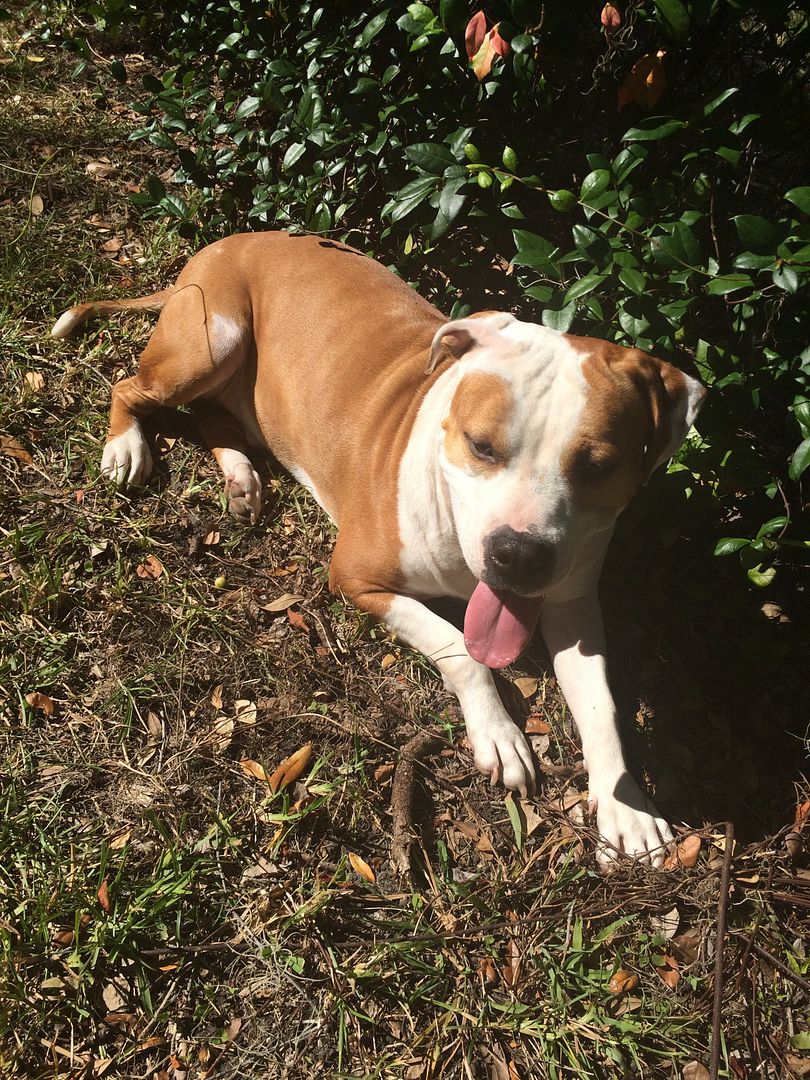 Other life changes include getting a new job and moving to Florida in May of this year. I had this vacation booked since the day the itineraries were released last year and we were both looking forward to it very much. It was even more special because I was able to spend some much needed quality time with mom.
The cruise was leaving out of San Diego but the flights there were outrageous, in my opinion at least. So I booked us to fly into Orange County, John Wayne Airport. Renting a car and driving down saved us several hundred dollars versus flying into San Diego. I am a DVC member and had put a waitlist in for the Grand Californian Villas at 5 months when I booked the flights. It wasn't looking good the closer it got to the trip, but I held out. I figured there were tons of hotels in the area and I could just book something last minute. Well, 9 days before the trip my waitlist came through! I couldn't believe it, and was super pleased I'd be able to show mom the resort. I had stayed there twice previously and knew she'd fall in love with it.
Once I knew we would be staying in the area I quickly asked Alison if she and Fran could have lunch or dinner the one day we'd be there, and thankfully they were able to. I'd hate to be in the area and miss seeing friends.
We didn't plan on going into the parks, because our flight had us getting in at 11:30am, then get the car, then drive to the resort, check in, get settled, ect. I figured we could just enjoy the resort and DTD.
For the cruise portion, it would be the longest cruise we'd done so far, and we'd be staying in an inside stateroom. We had stayed in an inside before, but on a 4 night cruise. We're outside the room more than in, and have found that on cruises when we've had balconies we wanted to stay in the room and enjoy the balcony rather than be out and enjoy the ship. Don't get me wrong, we've enjoyed each and every single room we've had, but the cost of the inside stateroom swayed my decision considerably. Also, we were able to try a sideways stateroom for the first time, and we were both excited about that.
The itinerary was as follows:
Day 1: Fly to California, stay at VGC
Day 2: Drive to San Diego, start the cruise!
Day 3: At Sea
Day 4: Cabo San Lucas, stay on the ship
Day 5: Puerto Vallerta, stay on the ship
Day 6: At Sea
Day 7: At Sea
Day 8: At Sea, Character Breakfast
Day 9: At Sea, Palo Brunch
Day 10: Panama Canal
Day 11: Cartagena, do a private tour with friends
Day 12: At Sea
Day 13: At Sea
Day 14: Cozumel, we would decide what to do on the ship
Day 15: At Sea
Day 16: Cruise ends, fly home
We had no firm plans to get off the 14 night cruise except for Cartagena day, and maybe get off on Cozumel day. We love our sea days people, and had 8 of them this cruise, as well as going through the Panama Canal. That day was full so didn't quite count as a sea day even though we weren't stopping anywhere. We had not pre-booked a Palo dinner because I wanted to skip one of the regular rotational menus and we would check on the first day to see when we could do that.
We also had some stowaways that loved having their pictures taken.
Stay tuned, I will start the main portion shortly.
Last edited: