Our Magical Westbound Transatlantic Voyage Day One: Barcelona !!
Before I start on my trip report for real, I feel obligated to justify why my poor old pre-trip report died a death and disappeared into the doom and gloom of everyday stress and strife. There now follows a sad and sorry tale of desperation and woe, so if you want to bypass this and jump ahead to the actual trip details then feel free ….
For probably the first time in my life, I was probably adequately prepared for this trip about a week before we left, with only a few little tasks to complete ahead of departure day. But before I had chance to realise this and for once allow myself to relax and actually enjoy the pre-holiday week, an unwelcome health issue reared its ugly head. This was partly of my own doing, as in a last ditch attempt to shift a few pounds, I had being doing the "Slim Fast" diet for about a week. I was thrilled to find out I had lost 4 lbs in a week, but began to feel the nagging doubt that all was not well in the bladder dept, and when I investigated the side effects of Slim Fast on the internet it appeared that I should have seriously increased my fluid intake to counter the potential problem it could create in the waterworks dept. ( without going into too much detail I have a bladder condition which flares up form time to time, is incredibly painful and I really have to drink loads to stop it from dehydrating, which triggers the pain. ) .
So off to the GP I went, and picked up a script for some antibiotics, and began consuming my weight in water to try and offset the problem. However the antibiotics were ineffective, and the pain began to worsen, so the night before we were due to fly to Barcelona I basically was ready to cancel the trip which I had looked forward to and anticipated for almost 2 years. To say I was devastated was the understatement of the century, and even though Tony was putting a brave face on things I could tell he was equally gutted. I managed to pack our bags just in case I felt up to it, and went back to the GP for a course of different antibiotics. Another very painful and sleepless night followed, and I was still convinced I wouldn't be able to travel … we were due to catch our train at 09:30 am the following day, and basically my mood was that low I couldn't have cared either way at that point.
I woke early on the Thursday morning, departure day, and decided to go back to the GP once more to see if I could get some stronger pain killers, which might make the difference. I managed to get an appointment at 09:15am and she gave me 2 weeks supply of diclofenac, and then I made my decision. We would go to Barcelona, we had 2 days before the cruise and we had 5 days before Gibraltar. If the antibiotics worked I would know by then, if they didn't and things became worse I figured I could fly home from Gibraltar.
I returned home and by now we had missed the train that would get us to the airport on time, so the only option was to drive and leave the car at Liverpool airport, which meant that when we arrived home to Manchester airport, we would have to get a train across to Liverpool to pick up the car. I quickly booked airport parking on-line, and started throwing the rest of the stuff into the bags. We needed to check in at 11:30 am and it was now about 10 am, so we threw the bags into the car, said a tearful goodbye to Taryn and Danny, and off we went to the airport.
We made it to the airport in about an hour, found the long stay car park and experienced number plate recognition for the first time when the barrier opened for us as we approached. We ended up parking as far out from the terminal building as was possible for on-site parking, and then had a long walk back, but once we got there check in was painless and both our checked bags came in at 18.5 kg, a whole1.5 kg under our allowance, which basically translates as how much we can shop for which by my standards translates as NOT VERY MUCH! Once rid of our bags we picked up our pre-ordered euros at Travelex and went through security and went in search of a sandwich for lunch, and a few gallons of bottled water for me. We bought a fairly acceptable sandwich in Boots and I tried to use WiFi on my Ipod touch, and I think by the time I connected it was time to go to the gate, so that wasn't much use.
We boarded the aircraft which I think was an Airbus 319. We had an initial delay because they had more people on the plane than on the boarding list so they counted everyone about 10 times, we had to show our boarding passes about 10 times, and then our passports. This delayed us by about an hour but they must have sorted it out, or thrown the person off, because eventually we were allowed to take off. The flight was uneventful, Tony had a coffee and I stuck to the water, and we landed at Barcelona none the worse for wear.
I was relieved to see our bags made it too, and once we picked them up we headed to find the aerobus ( thanks to Laura for posting photos of the bus directions a few days before, as we found it easily ). The aerobus was straightforward and we arrived at Placa Catalunya in about 30 minutes. Once off the bus we knew to look for the Banco Espana building, and to take the road to the left of it. and we spotted this easily and headed off to find the hotel. However we were a bit confused as the road to the left of it had a different name to the one we wanted. After walking a few blocks down this road we realised we must be wrong and we returned to Placa Catalunya feeling rather confused, only to realise there was a second Banco Espana building on the square. This time the correct road was alongside it and we headed a couple of blocks along until we found the Hotel Praktik Rambla.
We had booked this hotel after reading the reviews on Trip Advisor and it had attracted us mainly because it sounded quite unique and quirky and also centrally located to the places we wanted to visit and it was a good price at 90 euros per night. The following is taken from the Praktik Rambla website, and it was this description of the architecture which also attracted me to the hotel:
Architecture & History

Praktik is located in Barcelona's nerve center, on 27 Rambla Catalunya. It occupies one of the most emblematic buildings in the Eixample: the Climent Arola house. The property, which is listed today, was designed at the beginning of the 19th century by the Catalonian architect Francesc de P. Villar i Carmona, author of such emblematic works as the monasteries at Montserrat and Sant Cugat, constructed at the end of the 17th and at the beginning of the 19th centuries.

This historic palace is on the Catalonian Modernist route, and has been exquisitely restored. Its exterior mixes original classic elements, such as the Ionic columns that support the gallery and the balconies on the first floor, along with other columns that are more Baroque in style. The interior, on the other hand, contains all the comfort, design and technology of the 21st century.
We would not be the only ones booking this hotel, it ended up with about 80% of the occupants being DISers cruising on the Disney Magic and I was really excited about bumping into friends from our cruise meet thread!
We checked in and were given a room on the 4th floor. We squeezed ourselves and our baggage into the tiny elevator and up to our beautiful room. We had a room facing the Rambla Catalunya with a small balcony, and I stood out on the balcony for a while just wanting to absorb the atmosphere below us.
Views from the balcony: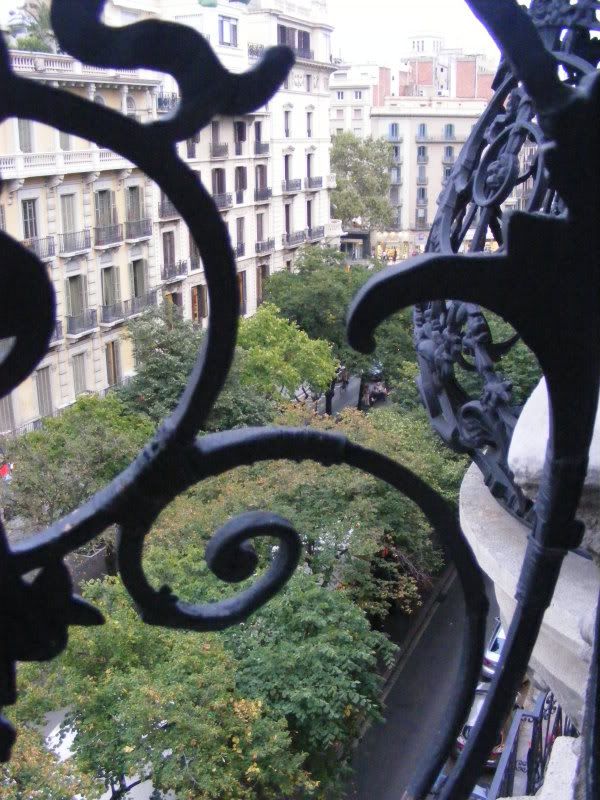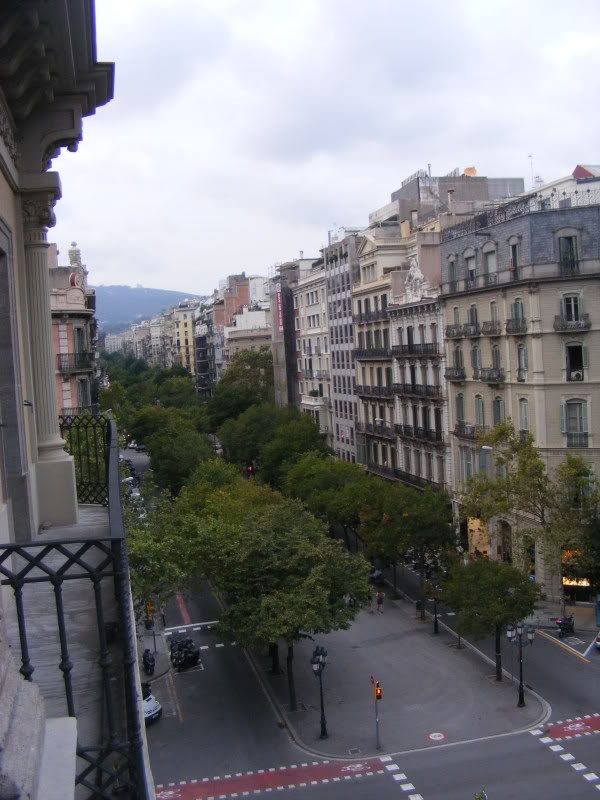 The bed:
The bathroom: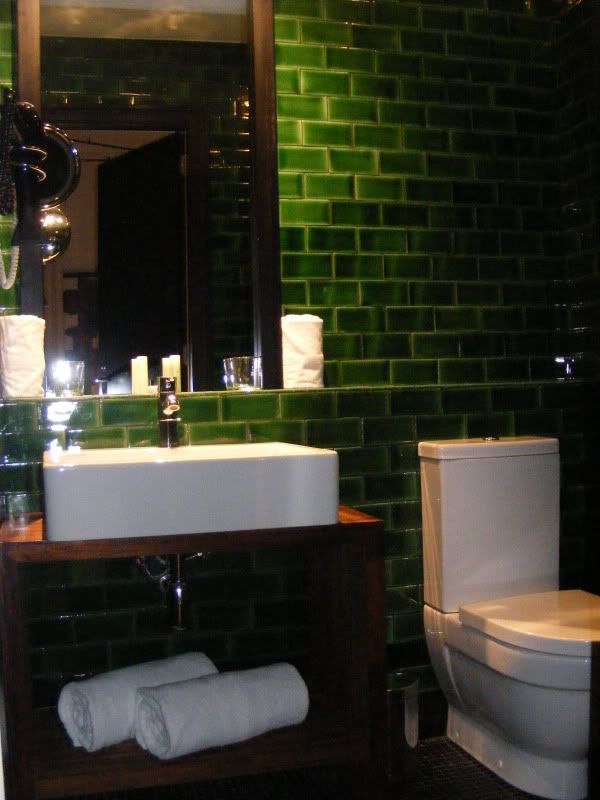 We didn't have time to linger for long as we had planned to meet up with our cruise buddies Lynne, Len, Morag and Angus at their apartment down by the harbour, so armed with a trusty street map and a mobile phone we headed off down Las Ramblas in search of the sea.
It was a long walk down Las Ramblas, especially when some idiot ( ie. me ) decides to wear new sandals, and before we even reached the harbour I had blisters forming, so I had to dig around in my bag for some plasters. We reached the harbour and headed in the direction of Lynne's apartment, but when we found the right street there were lots of buildings with balconies so we sent a text. We were in the correct place, as Lynne and Len appeared from one of the buildings and we went up to their apartment in an even smaller elevator .. you really had to be close friends if you got into that elevator! If not you certainly were when you got out !!
We spent a lovely couple of hours on the balcony chatting, enjoying a few local beers and some cheese, watching the boats coming and going in the harbour. It really was an ideal spot! I was relieved that the pain killers I was taking were taking care of my bladder discomfort, and I was really pleased I had decided to go ahead with the trip. I was finally starting to enjoy myself!
We decided to head back to the hotel at about midnight, so after arming my feet with new plasters, we walked back up the Ramblas. This place seemed a bit seedy after dark, with lots of dodgy looking men and teenagers lurking and offering you cans of beer when you walked by. We also came across some people offering something a bit stronger, so we just hurried along and made no eye contact. I was relieved to get back to the hotel. At the hotel all was quiet and I couldn't see any DISers about, so we decided to go to bed as we had a busy day planned the next day.