Hey guys I'm back from a great WDW dining trip! My goal was to not eat at any place I've eaten at in the past 15 years and whenever possible I'd eat at places I've never eaten at before. I almost made it but I flubbed at the very last thing I ate at WDW…but onto the reviews.
Day 1
My first meal was lunch at the Yorkshire County Fish Shop where…surprise!!! I had the Fish and Chips…of course they only serve Fish and Chips here.
Anyway they were darn good. Not quite as good as the ones at Raglan Road but the fish was nice and flaky, the chips were darn good fries and the price was pretty good. I'd be happy to go back in the future and I'm glad I finally got around to eating here.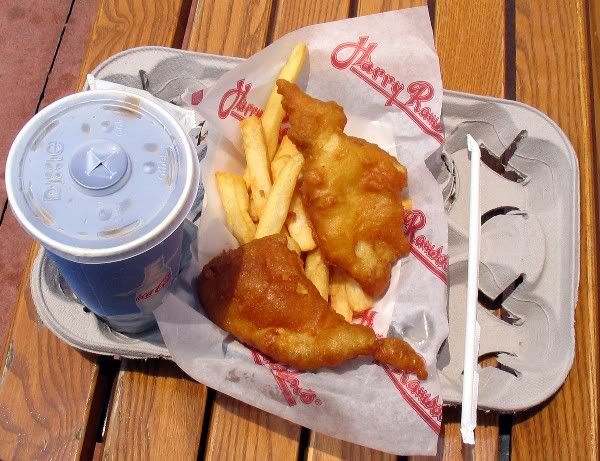 Dinner that night was at Bistro de Paris. I've passed by the entrance to this restaurant many times and I might have glanced at the menu and ran away once I looked at the prices. Let me tell you it's worth every penny! I spent $70.00 on the chefs tasting menu, added another $35.00 for the wine pairings and added the $5.00 cheese course but I do have the DDE (Disney Dining Experience) card so I got to take 20% off from that. This meal was easily the best meal I've ever had at WDW. I can't wait to come back.
My reservation was for 5:30 and I showed up at about 5:15 to make sure I was on time. But the restaurant didn't open until 5:30 and I took a walk around France for a bit. At 5:30 they let me ride upstairs on the tallest old style left I've ever been on. Take a look at the view…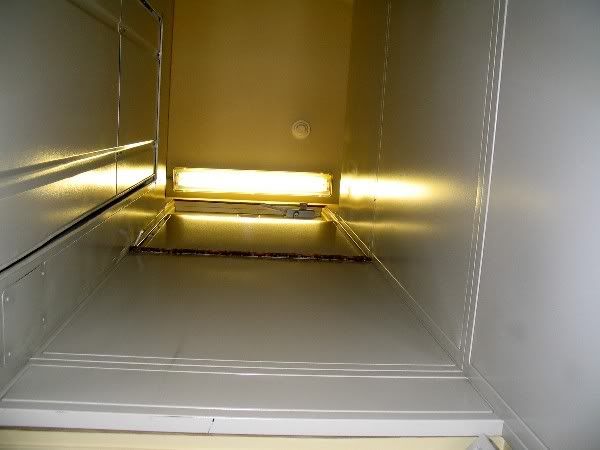 Now normally I'd expect at least a real elevator from Disney. But I guess this is better then nothing and at least it worked.
I was the first person to be seated. I was introduced to Nicolas, my waiter. It was his first night at Bistro de Paris and I was his first guest. Considering how well he took care of me I wonder what an experienced server would have been like?!?! Nicolas was spot on with everything and I really couldn't have asked for better service. I know it's probably normal for this level of restaurant but he brought out new silverware for every course and even just bringing a spoon to the table involved him placing it on a plate with a napkin on it.
I already knew I wanted to do the tasting menu but I found out I'd still have to make some choices.
I made my choices and sat back to wait for my first course. I was seated at the window and I had a great view to people watch and look at EPCOT while waiting. While waiting for me first course I was brought this…
OK what the heck is that little pitcher? I ask the server (not Nicolas) if that's for dipping or drinking? She was nice and let me know it was tomato soup and it was to be drunk. The soup was pretty good, nothing special to write home about but a nice little treat. The bread was great especially with the butter.
My first course was the smoked salmon roll with the buckwheat crepes. Nicolas said the egg/chive/sour cream stuff was for the crepe. Great I can handle that. The salmon was amazing, really fantastic. The crepe was OK.
Next up was the Artic Char "Meuniere". Now this was the one spot where Nicolas let me down although it might have been a language barrier. Nicolas said it was some sort of white fish but I think it was actually a type of salmon. (looking up Arctic Char on the internet says it's related to salmon but it is a type of fish) I have to admit it was like salmon but the best tasting salmon I've ever had. The sauce really added to the flavor and the slightly crusted outside was perfect. It came with fava beans and I can now say…I don't like fava beans.
I was given a little chocolate flavored ice with a chocolate flavored side liquor. Very nice! I assume it was a palate cleanser before the main course.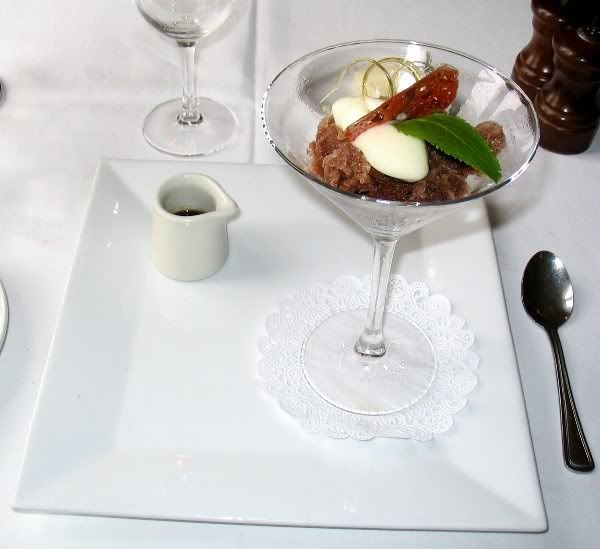 For my main course I chose the beef tenderloin. This was amazing! It tasted different then any other beef I've had, sort of a concentrated beefiness that was just perfect. The potatoes were darn good. The asparagus was, well it was a spear of asparagus, nothing special.
The cheese course was a nice touch. The Brie was great. The goat cheese was pretty good for goat cheese. The third cheese was kind of weird, it had a crunchy burnt crust but it was ok. Looking at the cheese plate though made me feel like I was in a Penn and Teller ******** episode. I was wondering how much I like the food because the food was great or did I like it because I paid so much for it. I mean I just paid 5 bucks for 3 pieces of cheese and that was the cheapest item on the menu.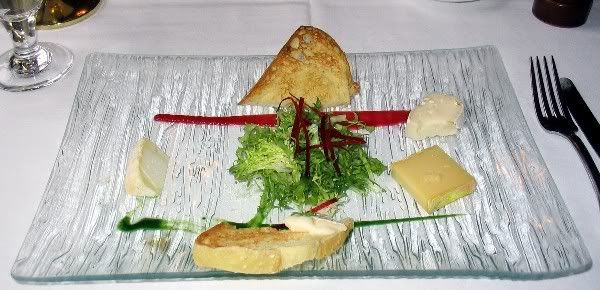 It's time for dessert! The crème brulee was the best of the desserts followed by the hazelnut ice cream. The rest was pretty good but paled compared to the above.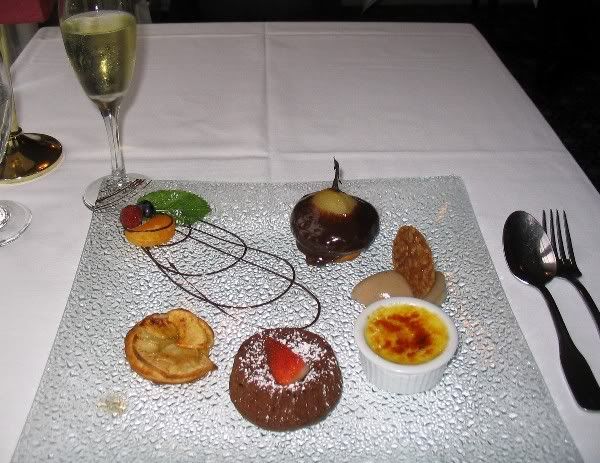 I'm not really a wine person so I didn't comment on the wine pairings. But to this uneducated palate the wine really did compliment the meals. I was very happy that I added it.
Overall the meal took about 2 hours. I'm very pleased with the whole event and I can't wait to come back in the future.
After walking around the World Showcase and getting ready to watch Illuminations I decided I wanted a little something to warm me up. I stopped off in Italy for an Espresso. I know I've had espresso sometime in the past but I think I've only had it once and it was a long time ago. I tasted the espresso and my first thought was "DARN this is hot and strong.", immediately followed by "DARN that's GOOD!" It really was a great drink. I'll have to get it more often.