First trip report from a first-time DCL cruiser!
We took a few cruises (Princess and Royal Caribbean) in the past, but this is our first Disney cruise. We surely had a wonderful time, and this trip proved that how a different itinerary can change the whole experience!
There are 4 of us, both my wife and I are in our 40s, we DD is 7, and our DS is 2. This is DD's second cruise, and DS' very first one.
We live in LA, so cruising to Mexico for us is like going to our backyard. We also have another backyard, which is called Las Vegas. My wife and I first cruised in 2008, and our first cruise was also Mexico Riviera. While we enjoyed the cruise, we got scared.
You see, with a 3-night cruise leaving on Friday afternoon, and returning on Monday morning 7am, you really can use this as a weekend getaway, and that's what we did back then. Unfortunately, it was also many other people think as well, and their definition of "getaway" is just very different from ours.
Long story short, it was a complete madness with full of drunk young people (barely legal to drink). We stayed in an inside cabin, and we had to squeeze through tons of people yelling at us (though very "friendly") "Hey, let's parrrrty, bro!"
My wife has disapproved many repeated requests to go on another Mexico cruise.
[Planning]
I started planning for this trip in March 2018, so right around a year ago. DD just started first grade, and all of a sudden planning spring break activities becomes very important. Either we send her to a camp, or something else - that's when Disney Cruise came to our mind. When I browsed the DCL website, I noticed this cruise is sailing out of San Diego, and I was like "Score!"
First, it completely overlap with DD's spring break so she doesn't need to be absent from school. Second, it's leaving from San Diego so we don't have to fly to somewhere. We can save at least a thousand dollars compare to fly to Florida for Caribbean cruise.
The only problem is, it's a Mexico cruise! With Disney cruise, this is an easily solvable problem. For me, Disney cruise itself is the destination, not the port of calls. As soon as I sold this idea to my wife, we are set!
[Preparation]
Throughout the year, I started to read a lot of information regarding Disney cruise. That's just who I am - always overly excited about traveling. Wow! So many things unique to Disney cruise!
Pin Trading: What a great idea! I know my daughter will love to trade pins with crew members and it's a nice way to make friends too. I started to browse ShopDisney website and pay attention on any pins that are on sale. I don't anticipate to become a hardcore collector, so at the end I bought two packs of pins, total 8 for her to play around.
Costumes: Many people on this forum say to bring as many costumes onboard as you can. So we also start to pay attention to costume sales. At the end DD got the Uma pirate costume from the "Descendants", and another Aurora princess costume. The rest of us only got the pirate costume.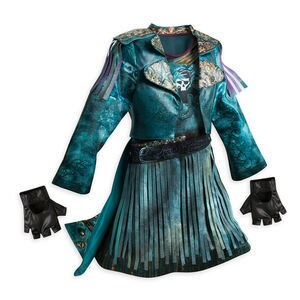 Next, our first day of the trip!