"Life is just a Fantasy!"
We've all been there before ... we LOVE a specific cast member ... would like to be able to request them on an upcoming DCL cruise ... but not sure if they are still with DCL, or whether they moved to a different DCL ship. What do you do? Although you can "request" a specific cast member (through your reservation via your Travel Agent, or DCL), that does not mean your cast member will be on the same ship ... nor does it mean they will not be on THEIR vacation while you are on YOUR vacation.
Here's the plan ... if you had an extremely positive experience with a DCL cast member ... please post their
first AND last name
, their
department
, ship name, and cruise date (estimate is okay, if you do not remember) ... here's an example:
Maiden Fantasy, March 31 - April 7, 2012
Ivan Frick - Palo Server
Daniel Javor - Main Dining Room Server
(departed DCL - 2012)
Radoslav "Rado" Hristev - Assistant Server
Faisel Faisel - Head Server
Tri Martudiyanto - Stateroom Host
By posting similar content for a RECENT DCL cruise, I am hoping other guests will be able to use this thread to locate their favorite cast members! *** PLEASE *** DO NOT post any personal information
as this thread is merely designed to let other guests know which ship your favorite cast member IS / WAS located ... so they may request them on an upcoming DCL cruise.
This DOES NOT guarantee your cast member will be on a specific cruise or ship, nor does it guarantee they will not be in between contracts, on vacation, or have transferred to another department or DCL ship in the interim.
#######
YOU CAN USE THIS THREAD IN THREE WAYS ...
updated 3/22/14
1) Read the last 5-10 pages of posts. You will have the most up to date information about cast members. as posted by guests. Some of this information may include a cast member's location / department (Palo vs. Main Dining Room), and current status with DCL (perhaps they moved to a different department or ship). In addition, some guests will post when a cast member has left for, or returned from vacation.
2) If you are familiar with how to search a DISboards thread, and if you know a cast member's name (or home country), search this thread using whatever information you have (Ivan Frick, Hungary ... Radoslav Hristev ... Daniel). Your search will come back with all matches, depending on the criteria you selected.
3) Read through ALL posts (it will take a while). This will help you get an idea of how many people like a particular cast member over a long period of time (remember, cast members may change ships, or eventually leave DCL)
#######
WOULD YOU LIKE TO COMMUNICATE WITH YOUR FAVORITE DCL CAST MEMBER?
updated 6/10/12
The following address is to be used for
letters and small packages sent by US Mail (only)
... for any / all Disney Cruise Line ships ... regardless of their home port ANYWHERE IN THE WORLD:
Disney Cruise Line / Guest Communications
attn: Disney
(SHIP NAME)
/ Crew Member Name & Department
PO Box 10238
Lake Buena Vista, FL 32830-0238
When received, DCL enters the packages and letters into inventory, then sorts by ship and cast member name. When a cast member receives multiple pieces of mail, DCL will bundle all of their mail together (much like military mail call). DCL transports cast member mail to various ship ports, including Port Canaveral, New York City, Miami, Galveston, Los Angeles, San Diego, Miami, Seattle, Vancouver.
*** Packages and letters being forwarded to ports outside of Florida WILL entail additional time in transit.
#######
REQUESTING A CAST MEMBER ON AN UPCOMING CRUISE?
updated 3/20/14
SERVERS: If you are requesting a specific cast member (Main Dining Room, Palo, or Remy) because of information you found on this thread
PLEASE LET YOUR CAST MEMBER KNOW you found them on DISboards!
You'd be surprised at how much it means for them to know how special they are to you (and those of us on DISboards)! The Head Servers always seem to be amazed at the extent to which guests pursue top notch servers, and are pleased to know there is a BLOG to recommend cast members!
STATEROOM HOST: It is nearly impossible to request a specific stateroom host, as they may not be working on the same areas as your assigned stateroom.
BAR TENDERS: Remember, bar tenders rotate among the various bars ont he ship(s) ... so ... if you saw your favorite bar tender at "x" bar 9 months ago ... they will likely be at a different bar when you return (assuming they are on the ship). All this means is that you may have to BAR HOP to find them ... though you might ask as Guest Services,or ask another bar tender!
#######
THOUGHTS ON GRATUITIES ...
updated 5/6/14
Gratuities vary from cruise line to cruise line ... not only does the dollar amount vary, but also, how they are distributed also varies. Some cruise lines (such as Royal Caribbean) take the gratuities paid on your stateroom account (folio), and divide them evenly among the staff for the entire dining room. This means, if your servers were phenomenal, but servers at other tables were horrendous ... all are sharing in the gratuities you paid. With the possible exception of bar tenders in certain situations, DCL does not share or divide gratuities. Every dollar you designate for your specific head server, server, assistant server and stateroom host goes directly to that cast member. In the rare instance an alternate cast member had to replace your scheduled cast member (temporary illness, etc), the gratuities are divided based upon the number of days of service by each cast member.
Have you ever NOT given a gratuity to a cast member on your stateroom account? Whether you gave them cash, or thought their service was abysmal, I personally believe someone at DCL monitors the gratuities (and/or lack thereof) as paid on your stateroom account. Accordingly, if a cast member may not be up to 100% on a particular day ... I do not hold that against them with respect to gratuities (many of us would be in trouble at work, if we were paid based upon our daily performance). On the other hand, if I truly appreciate the extraordinary service of a cast member, I typically provide them with the suggested gratuity (paid on my stateroom account), and offer additional cash on the night before debarkation. While it may not be the most personal method of showing appreciation, cash speaks volumes, and everyone can use cash.
In the event you are sailing on a cruise to a region which does not use U.S. currency, consider offering your cast members bonus (cash) gratuities in the local currency (Euros, etc). This is a good time to check your pockets to see if you have any foreign currency previously set aside to purchase trinkets or beverages while in a foreign port. Let's face it ... those 3 Euros will not do much for you in Orlando, but your cast member will be in a position to use those Euros while in port!
#######
CAST MEMBER BIRTHDAYS:
updated 12/3/13
We've ALL seen or heard of a guest celebrating a birthday while on DCL. Frequently, a server (MDR or Palo) is notified, and a birthday cake or dessert is presented to the guest, with other servers joining in with birthday wishes. Many guests enjoy the caring thoughts of appreciation and recognition ... BUT ... what about the cast members? THEY HAVE BIRTHDAYS, TOO! During a cruise in 2013, we learned our Main Dining Room server's birthday was upon us. We adored him so much ... we wanted to do something to recognize our server's birthday. Here's what we did ...
1) We summoned our Head Server ... indicated our server's birthday (Sammy) was upon us
2) We asked our Head Server if WE could present our server with a birthday cake / dessert ... and sing Happy Birthday to him
3) As you may know, cast members are NOT permitted to consume any food prepared for guests (it is grounds for immediate termination)
4) A Head Server is able to authorize a deviation, which would enable a cast member to have (eat) food which would normally be prepared for guests
5) In order for a cast member to be able to have this food ... a Head Server must authorize it in writing
6) In our circumstance, the Head Server informed our server that one of the guests at our table was celebrating a birthday
7) As is normally the case, the server brought out a birthday dessert, and was joined by several servers from surrounding tables (to sing Happy Birthday)
8) When the servers arrive at the table, the Head Server would normally announce a birthday for Guest "x." However, in this case, the Head Server indicated it was Server Sammy's birthday ... and lead everyone in a rousing rendition of Happy Birthday TO OUR SERVER ... Sammy.
9) Upon conclusion of the birthday wishes, we told Sammy the dessert was FOR HIM! Ordinarily, servers know they are not permitted to consume anything prepared for guests. However, the Head Server told the server the guests asked for the server to enjoy his birthday, and his birthday dessert.
The surprise and joy on the face of our server was unmistakable. Think about it ... these servers jump through HOOPS to take care of US. This was a small token of appreciation from guests to a server. Please consider random acts of kindness towards your cast members. If you know their birthday month ... ask your Head Server if you can sing Happy Birthday to your server (don't forget the cake / dessert)!
KNOWN SERVER BIRTHDAY MONTHS:
updated 9/3/14
MARCH: Susana Moreira (Portugal) - Palo Server / Magic
MAY: Ivan Frick (Hungary) - Palo Server / Fantasy
MAY: Laszlo Gion (Hungary) - Palo Server / Magic
(departed DCL - August 2012)
MAY: Sompong "Sammy" Poonchuroensuk (Thailand) - Main Dining Room Server / Magic
SEPTEMBER: Radoslav "Rado" Hristev (Bulgaria) - Main Dining Room / Fantasy
If you know the Birthday MONTH of a DCL Server or Assistant Server,
AND
,
if the cast member has authorized you to post their birthday month on this thread
(no date or year), please contact me via PM. I will obtain the information from you, and update this post (please do not post personal contact information in other threads or posts). Remember, I will need their first AND last name, as well as their home country, department and current ship.
#######
PHOTO'S OF A SELECT FEW SERVERS ...
Radoslav (Rado) Hristev, Bulgaria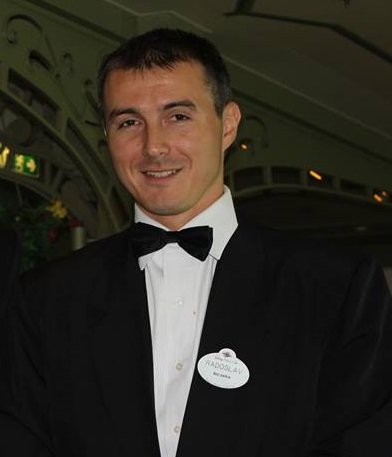 =======
Zsolt Szep, Hungary