First of all, I have a few comments for those of you who are interested in ABD and wondering if it is worth it. In my research, ABD was about 25% more than some of the other guided tours. However, knowing Disney and their attention to detail, I knew I would not be disappointed. I'm an accountant so I'm known for finding the best deal. Plus with all the little extras that aren't mentioned, it definitely equates to a better deal.
The trip was literally worry-free. The guides and ABD take care of everything for you. You only have to worry about what time you should set your alarm in the morning. You never have to handle your luggage once you take them off the carousel at your destination and meet your tour guide.
I have included pictures as well - thanks knewton64!
Day 1 – Cead Mile Failte
It was raining in Chicago when we left Tuesday evening. There was a line of planes waiting to take off. We left about an hour late, but arrived only 25 minutes late. We exited the plane to outside stairway in Dublin – and it was raining. We had a short walk to the airport through the light rain. We were told that we were given an Irish welcome.
We met our Adventure Guide, Andrew, and another couple who arrived just after us. We all 4 got in a car and were taken to the Westin. There was a lot of traffic and rain so it took awhile to get the hotel. We arrived about 10:45am and our room was not ready. The other Adventure Guide, Fransesc, was waiting for us at the hotel. He gave us a map of Dublin and gave us some pointers of where we could go for few hours. Although I had very little sleep on the plane and had been traveling for many hours, I wasn't exhausted yet. I had bought some No Jet Lag pills for us to take. I really think it helped tremendously.
It continued to rain the whole afternoon. We walked around in our rain jackets and prepared ourselves for cool raining weather of Ireland. Little did we know, but this was last we saw of the rain and had very few more cool days as well.
We were hungry but didn't want breakfast. Most restaurants didn't start serving lunch until noon. So, we shopped a little and walked around until Gallagher's was serving lunch. We both had their lunch specials of two courses for 10 euro. The first course was either a drink (soda, beer, or wine) or a starter. DH chose the Dublin coddle (potato and sausage stew) for his starter and the pork chop for his main dish. I had the potato leek soup and the sweet potato and mixed bean boxty. I'm not a vegetarian, but that was the only boxty on the lunch special and I wanted to try a boxty. DH like both of his dishes (so did I). The starters came with soda bread. It is a very thick piece of bread and we were told to put lots of butter on it. I wasn't too fond of the boxty. The sauce on it with the beans made it seem a little Mexican in flavor. I love Mexican food, but I was looking forward to a potato pancake. Also, the sweet potatoes were not sweet. They tasted like some other kind of vegetable.
Dublin coddle with soda bread:
Potato and leek soup: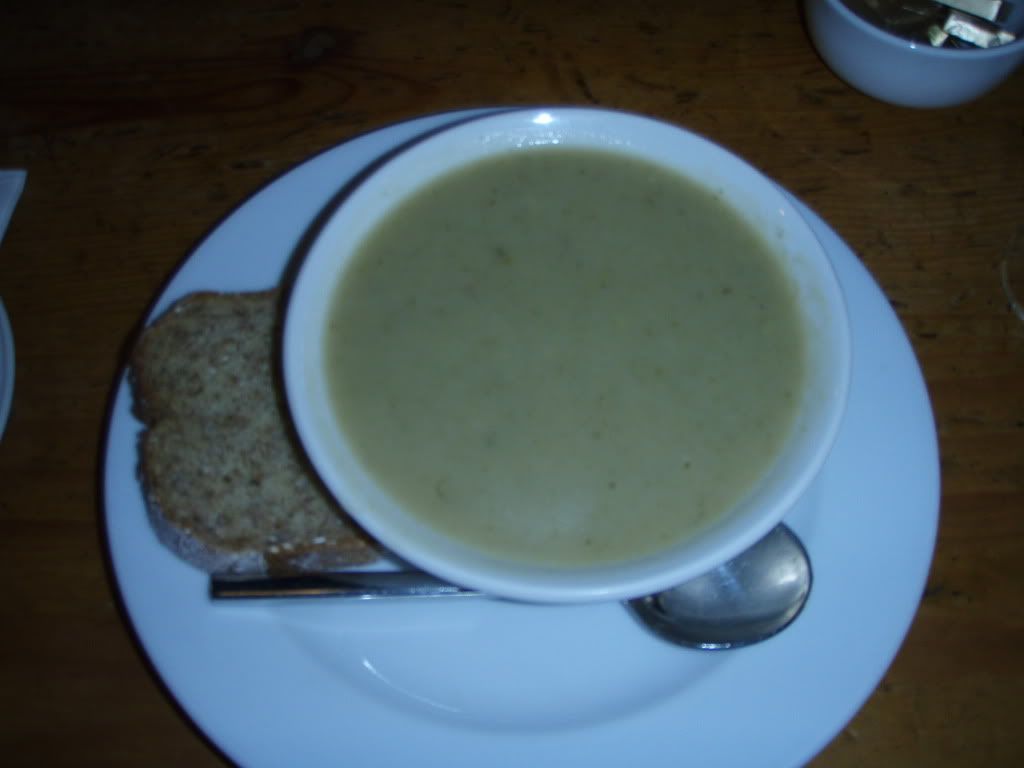 Pork Chop: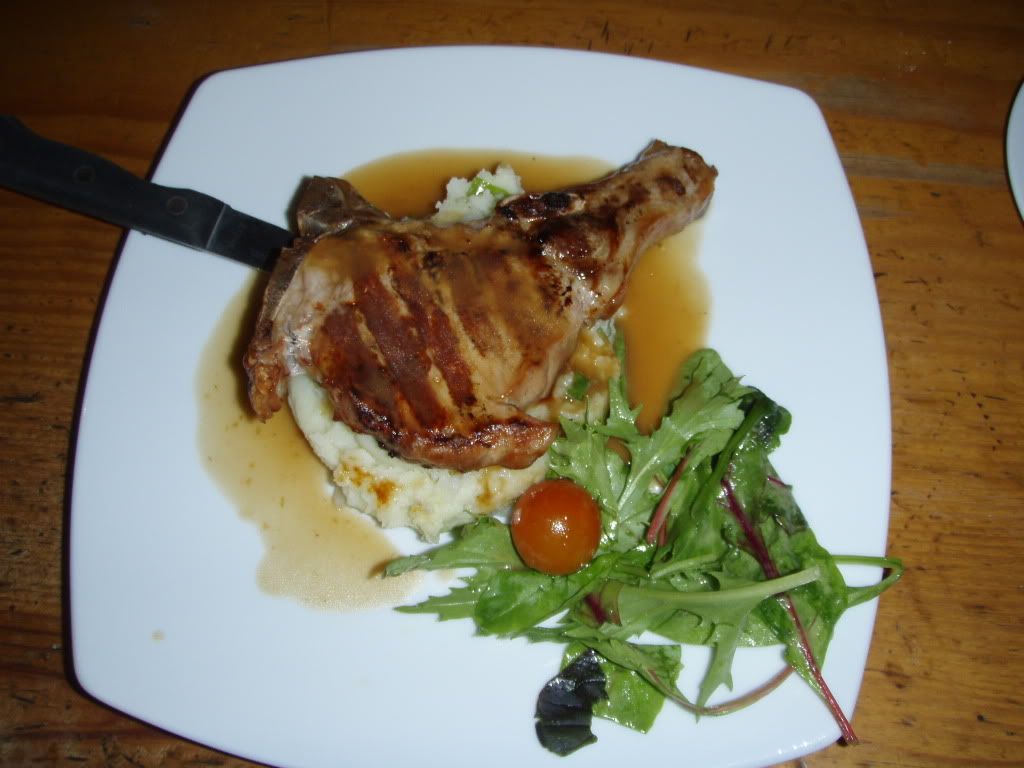 Sweet Potato and Mixed Bean Boxty: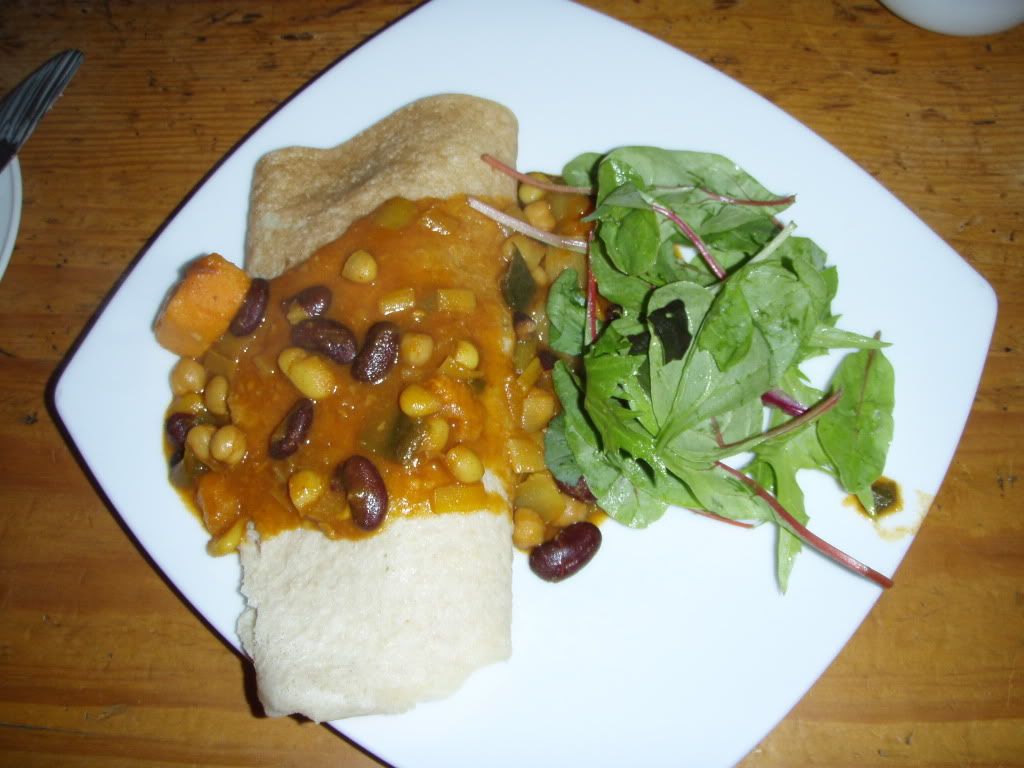 The restaurant: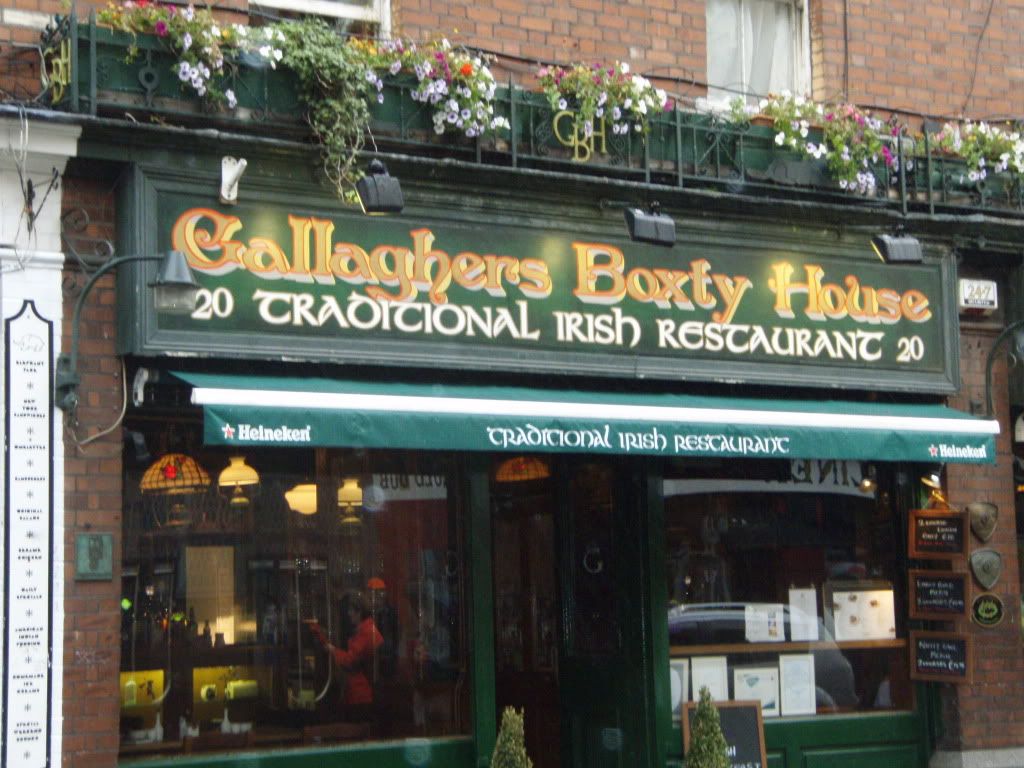 Our room was ready when we got back about 1:30pm. We did take a 2 hour nap so we would be refreshed for the Welcome Dinner at 5:30pm. It was a pretty good buffet dinner. We got a chance to meet everyone and then it ended fairly quickly. Most people had arrived that day as well and were tired. We felt great (thanks to the pills and nap) so we went walking and shopping. The weather was sunny and cool. We bought souvenirs at the recommended shop called Carroll's. It's on the corner just down the road from the hotel. We walked around the Liffey Bridge. It was wonderful. When we got back to the room, there were strawberries and truffles. Our original trip had been cancelled and we rescheduled to this one. The chocolates were a gift from ABD saying thanks for changing our schedule to join this trip. I thought that was very nice of them.
Welcome Dinner: (didn't many food pics)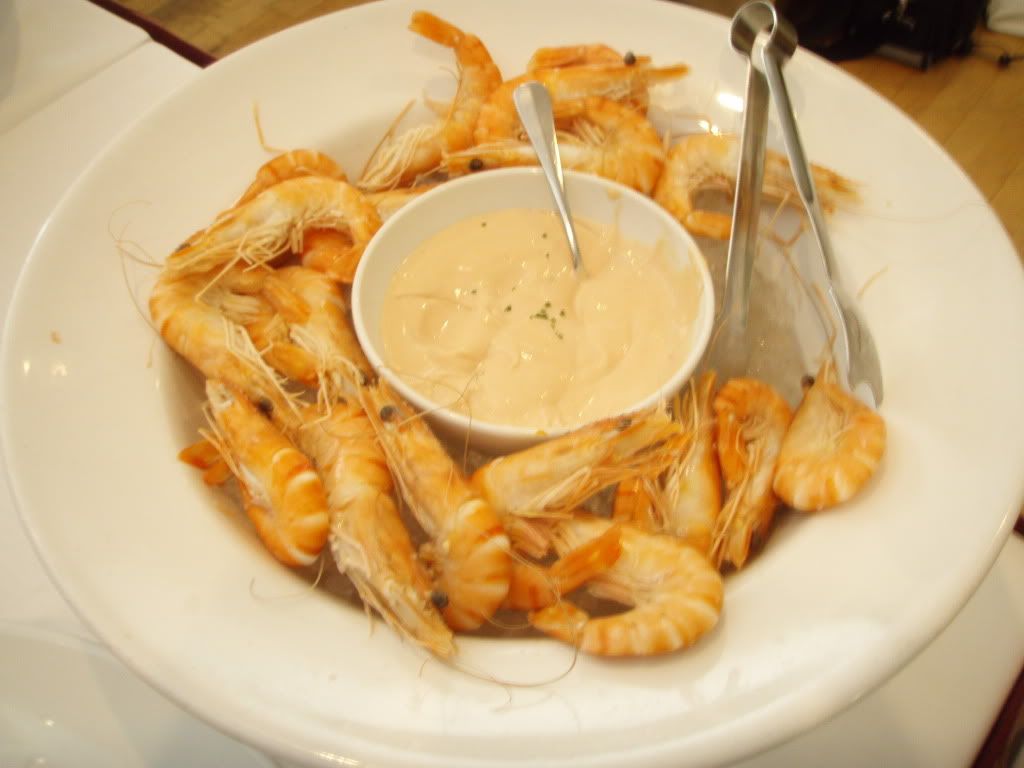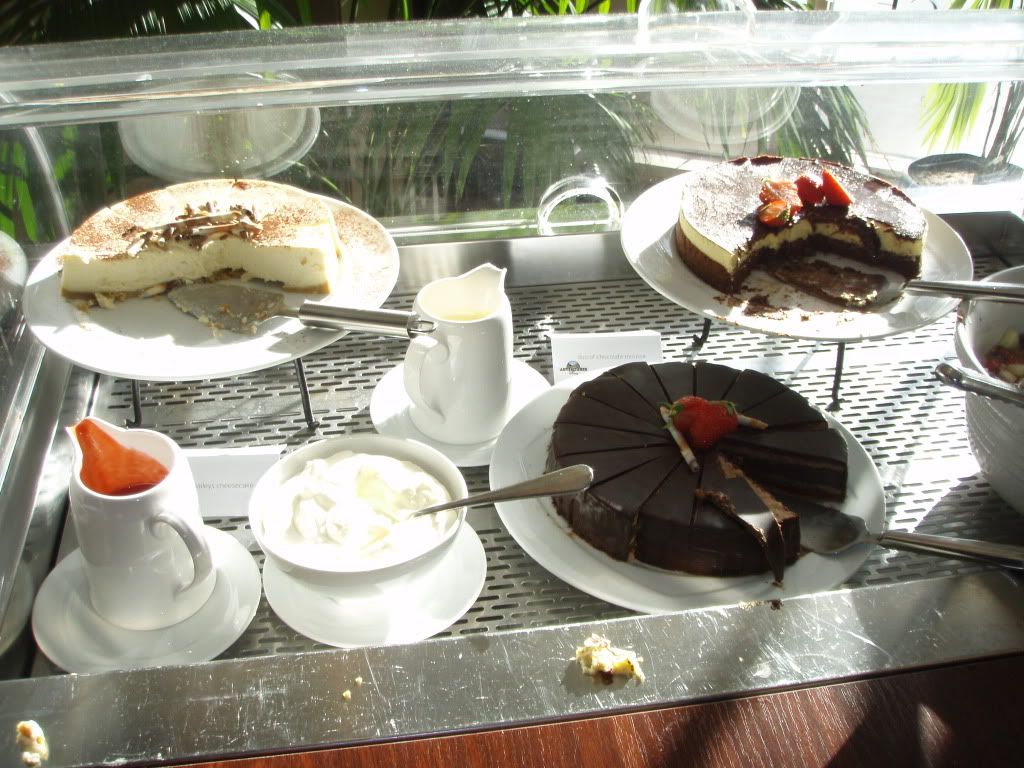 That's just Day One! More to come...