<font color=peach>Throwing some love to TCD<br><fo
It's been a while.
Since the TCD gang has visited the Fort, that is.
Normally, the TCD gang visits on MLK and Presidents' Day weekend, and Spring Break, too.
But not in 2010.
I believe the TCD gang enjoyed 8 stays at the Fort in 2009. But except for a couple of days carry over after New Years' Eve, the TCD gang has not stayed at the Fort in 2010. TCD has been boycotting the Fort to protest the constant price increases. Fat lot of good that has done.
We would have stayed away longer, too.
But, fate stepped in, and the stars aligned, and we were able to make a weekend visit from April 16 to 19, 2010.
You might not care about any of this. Maybe you are only here because you saw River Country in the title.
It seems like more than a few people share my interest in River Country.
And, not to worry, there will be some pretty good River Country photos coming right up.
But, this will be an orderly trip report. And, as the title says, there is more. Much more. In addition to the River Country photos, you won't want to miss:
TCD's search for the lost Wilderness Swamp Trail.

TCD's search for relics from the Fort Wilderness Railroad. I have photos of a genuine FWRR car. And, of track. Yes, I said track, not just ties.

An update on the missing River Country tank wagon, and the Lawnmower Tree.

TCD solves at least two mysteries.

A new construction project now underway at the horse barn.
And there is still more!
Remember, even the greatest journey starts with the first step, and so it shall be with this trip report.
Many months ago, the TCD twins asked if they could go to a concert on April 18th at the House of Blues. This was a stop on something called the AP Tour. I had never heard of any of the bands, but the girls had seen one of the bands, and one of their friends has a cousin who is the manager for one of the bands. I had taken the girls to a concert from this band (it's called Hey Monday in case, unlike TCD, you are hip and in the know about these things) and they got backstage passes, and had much fun. So, we bought tickets for this concert. One detail that was downplayed was that the concert was on a Sunday night. Which happens to be a school night. After some very good report cards and behavior, Mrs. TCD and I agreed that the girls could skip school on Monday, and that we would try to find a hotel room to spend the night of the concert in before returning home on Monday. One of the DD's suggested that we camp for the weekend. I thought about it for about 5 seconds, and had the site booked for three nights before anyone could object or make another suggestion.
So, we left home right after school on Friday, April 16th, and arrived at the Fort right at about 5 pm. I had booked a partial hook up site, and ended up being assigned to site 1504. We have camped on this site before. I love it. It is one of my favorite sites in the campground. It is the first outside site past the sidewalk to the comfort station. It has a ton of room on both sides. The only problem is that it does get swampy when it rains. But, it was nice and sunny and dry when we arrived.
I got things set up, and here is how we were looking in no time at all: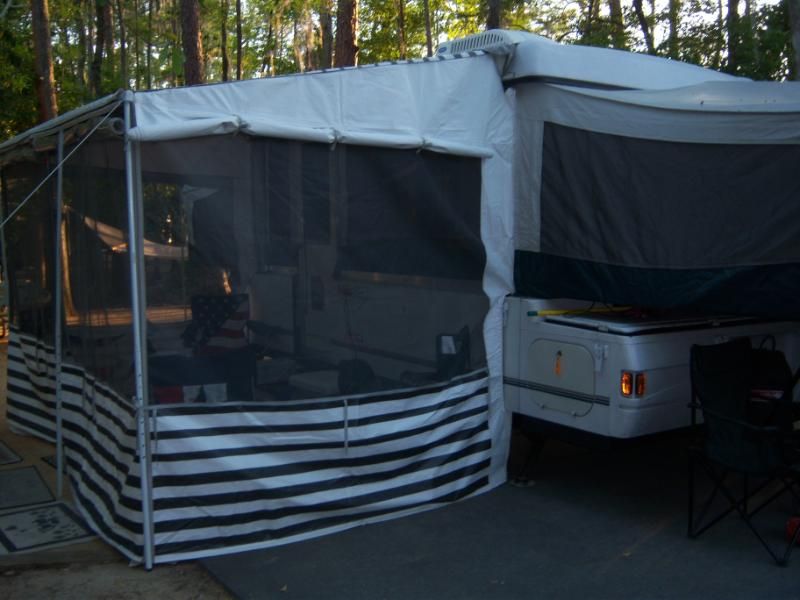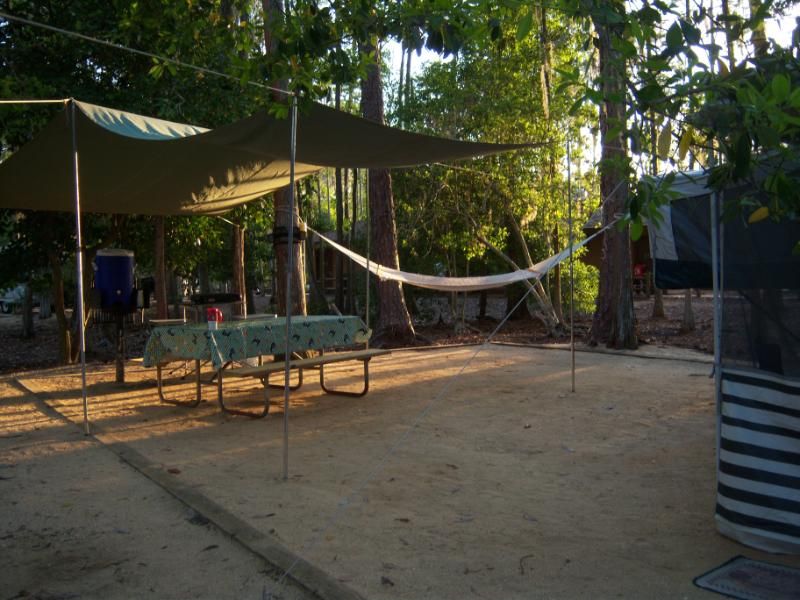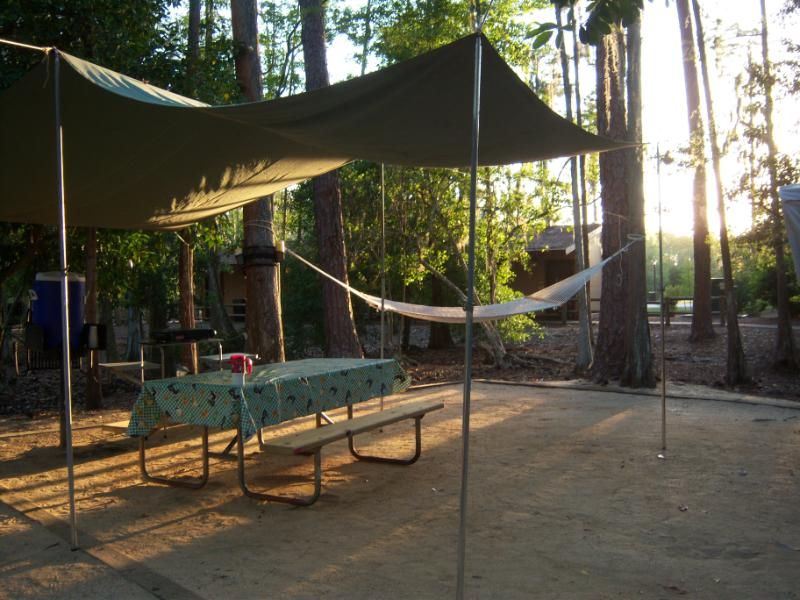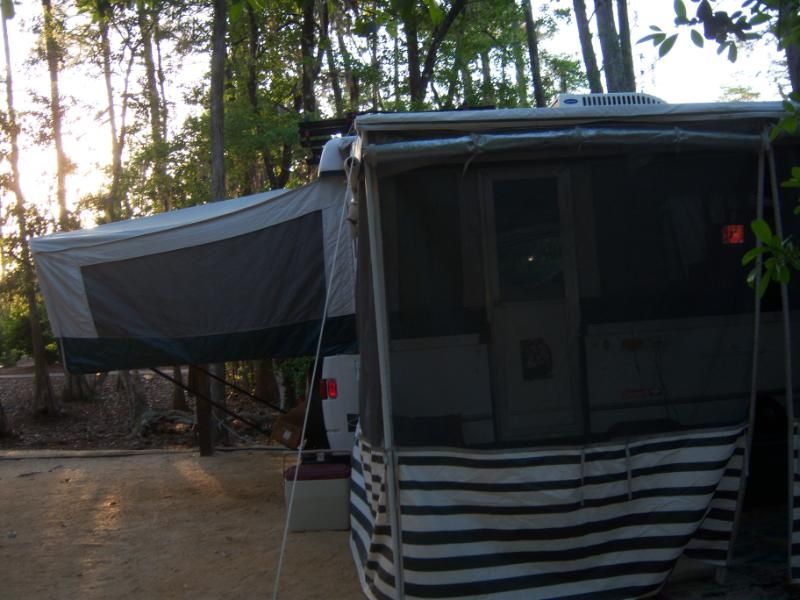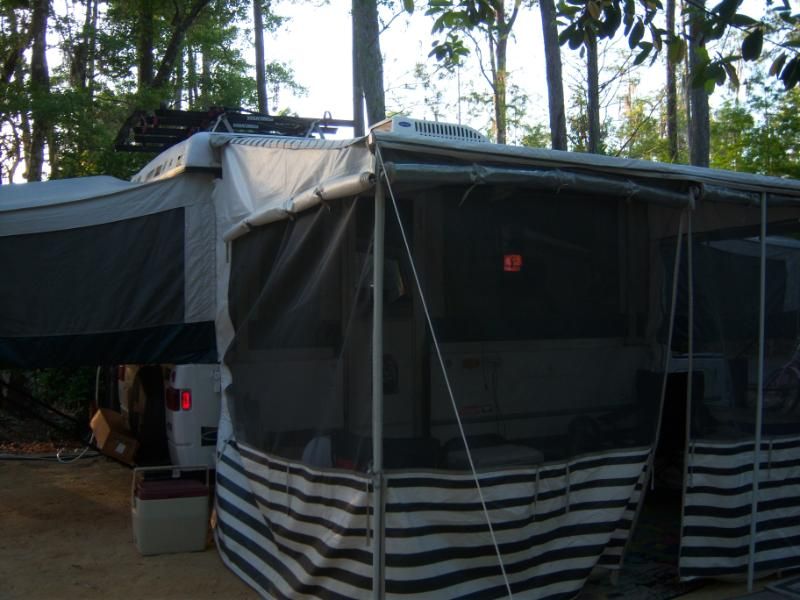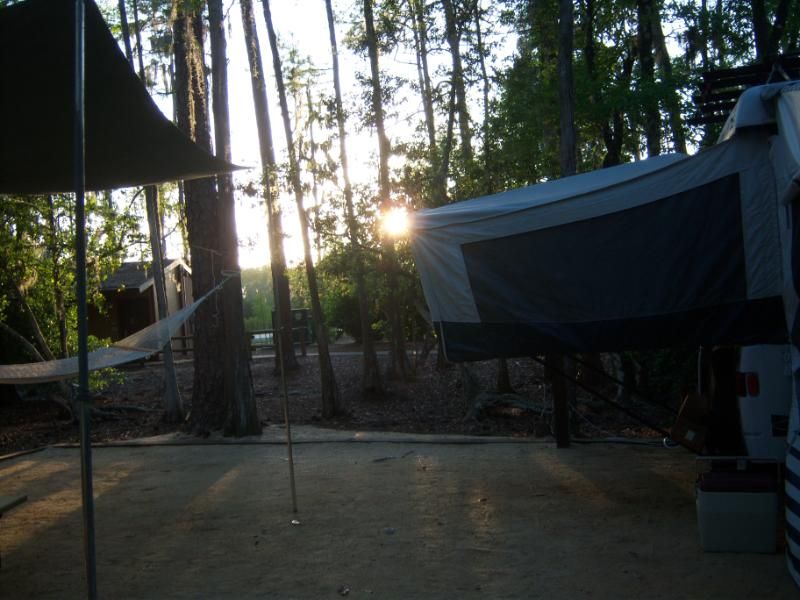 As soon as we were set up, it was time to hop on the bikes and go explore: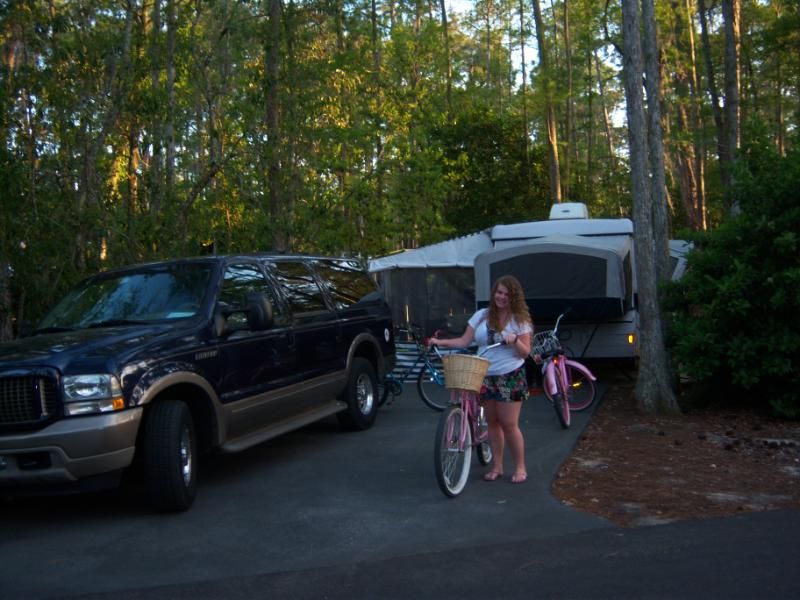 First stop was River Country!
As you may remember, there was a bit of a popular thread around here it the past few months relating to some photos taken by my cousin Yuri while he was visiting this country illegally, He left his camera with me by mistake, when he was deported, and I found the photos and posted them here on the Disboards. Boy, cousin Yuri would sure be surprised to see how popular his River Country photos were.
After the River Country thread was going, there were posts here on the Disboards telling us that there was a new construction fence up at River Country, and that work was being done on some of the old buildings there. But, as far as I know, we haven't heard or seen any details.
Until now.
Here are some shots from April 16.
First, as far as I can tell, nothing has changed in the decaying area: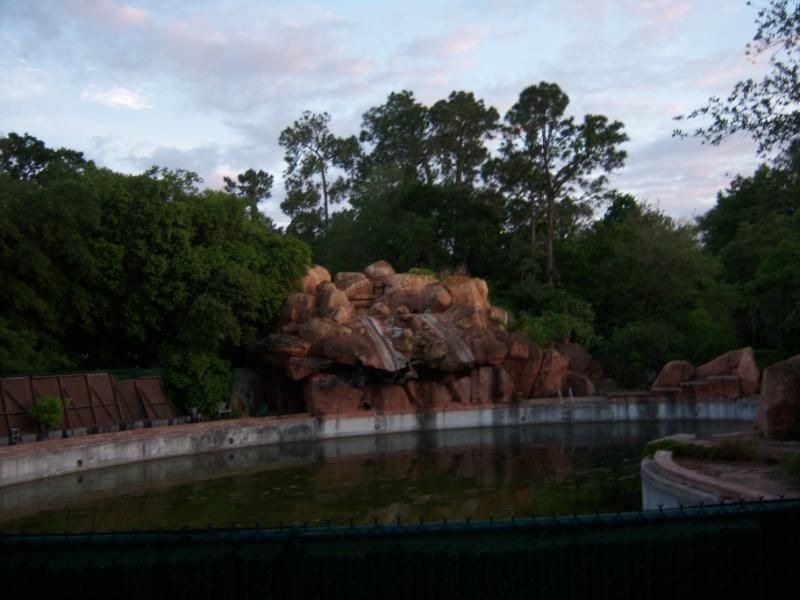 But, something has definitely changed in the area where Pop's Place used to be: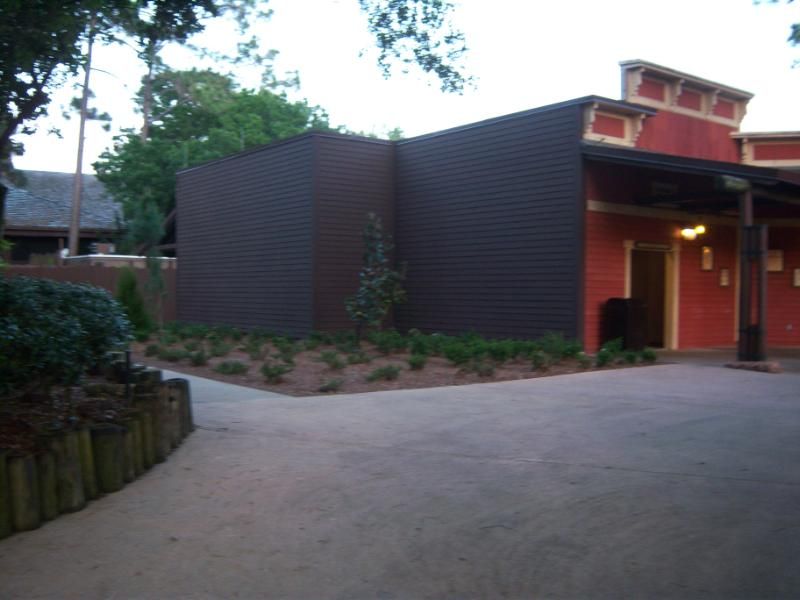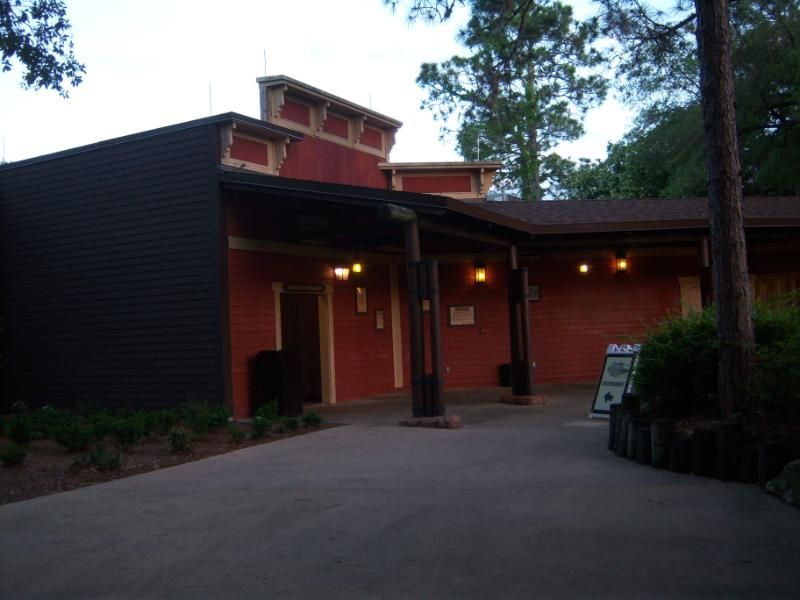 Now, unless you know what used to be here, this may not seem like much to you.
So, let's take a look at what used to be here:
From the time River Country closed in 2001, up until the Fall of 2008, all of River Country was off limits to Fort Wilderness guests. But, in the Fall of 2008, the barricades near the old entrance were removed, and guests could walk back into the area that used to serve as the entrance area of the park. To the left as you walked in, there was a cluster of buildings. This is where the a restaurant called Pop's Place used to operate. The building was still there. Also, there were old-fashioned looking buildings that were adjacent to the Pop's Place building. These buildings connect to the old Pop's Place restaurant counter service restaurant, which is just to the left in this photo: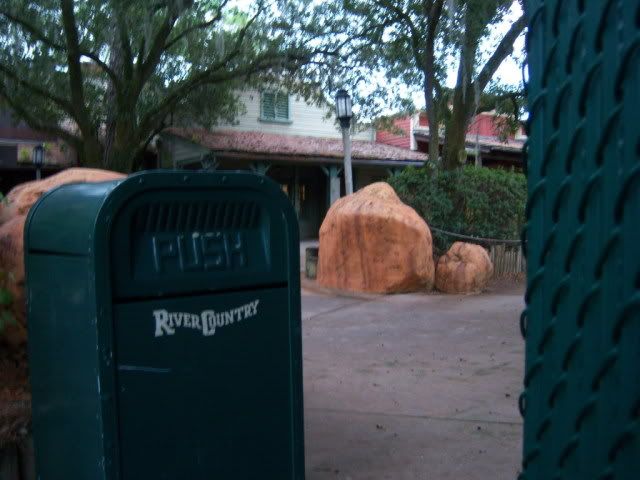 The doorway that you see in the red building leads to Men's and Women's restrooms. These obviously had been rehabbed, and were kind of industrial looking. I remember that the River Country restrooms used to be much bigger, and there were showers in there. There are no showers in these new restrooms:
Here is a closer shot of the restroom entrance. The sign must be an original from when River Country was open: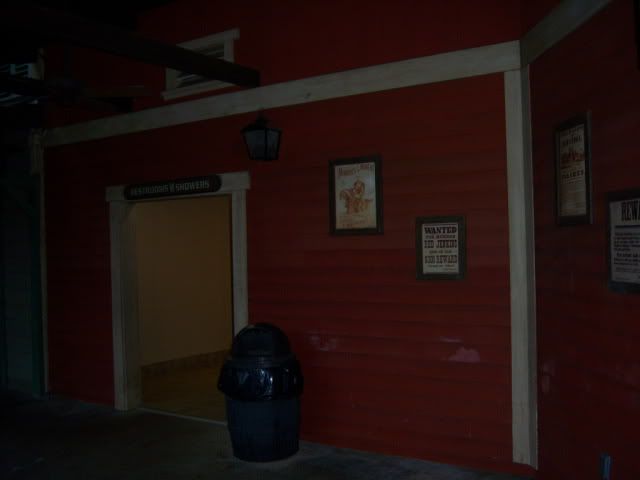 Here is a photo of the area taken from further back. You see the buildings that we have just been looking at on the right, and the Pop's Place restaurant building on the left: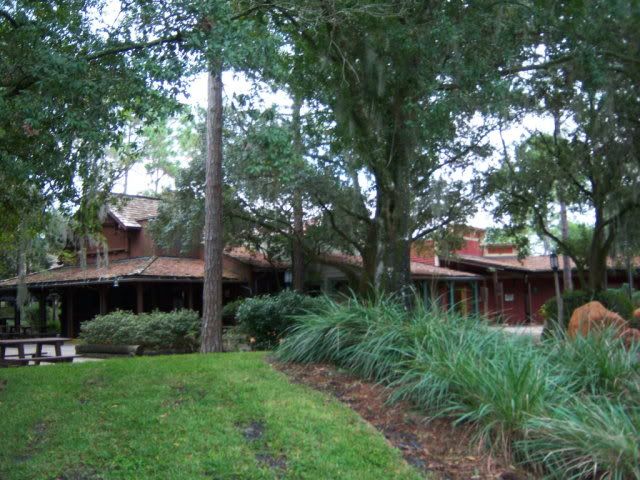 The sign had been painted over, but you could read that it used to say Pop's Place in larger lettering, and then below it says, Snacks & Refreshments As You Like 'em.
This is what it used to look like when entering this area and looking toward Pop's Place:
Now, as I said, the photos we were just looking at were taken in October, 2008.
I found some older photos on line. These appear to be from when River Country was in operation:
As you can see, this building has the date 1869 on it. If you look carefully at the 2008 photo of this building, above, you will see that the date was still on the building:
Here is a close up of the Pop's Place sign:
And a shot of Pop's place: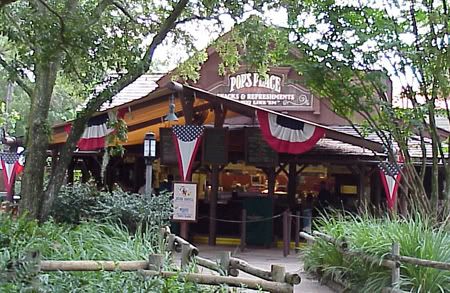 And, here are some shots of the area from someone who snuck in in 2005: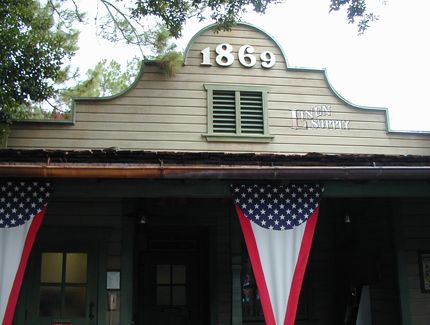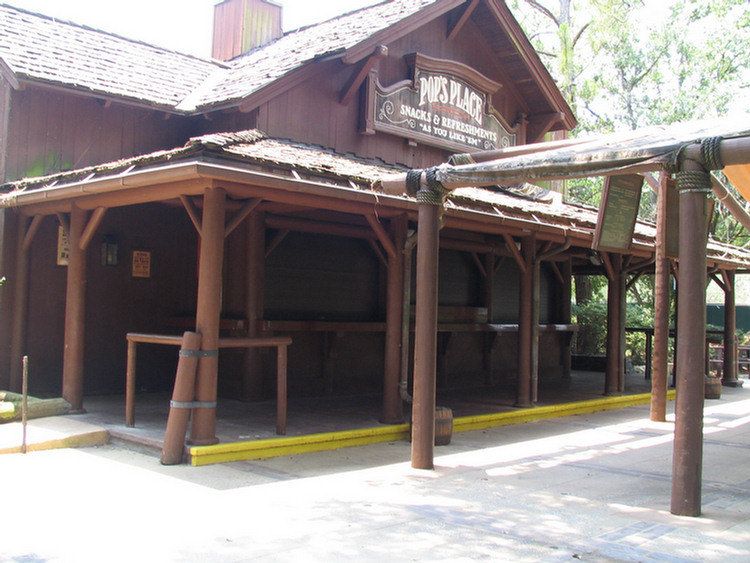 Now, sadly, the Pop's place building is gone!
And so is the building with the 1869.
All that remains is the part that housed the restrooms.
Coming up- more River Country before and after comparisons.
TCD