I'm so happy, I could BOUNCE!
Welcome to my Southwestern Roadtrip Trip Report!
Let me introduce the players. It will be me and my partner Fran traveling on this trip.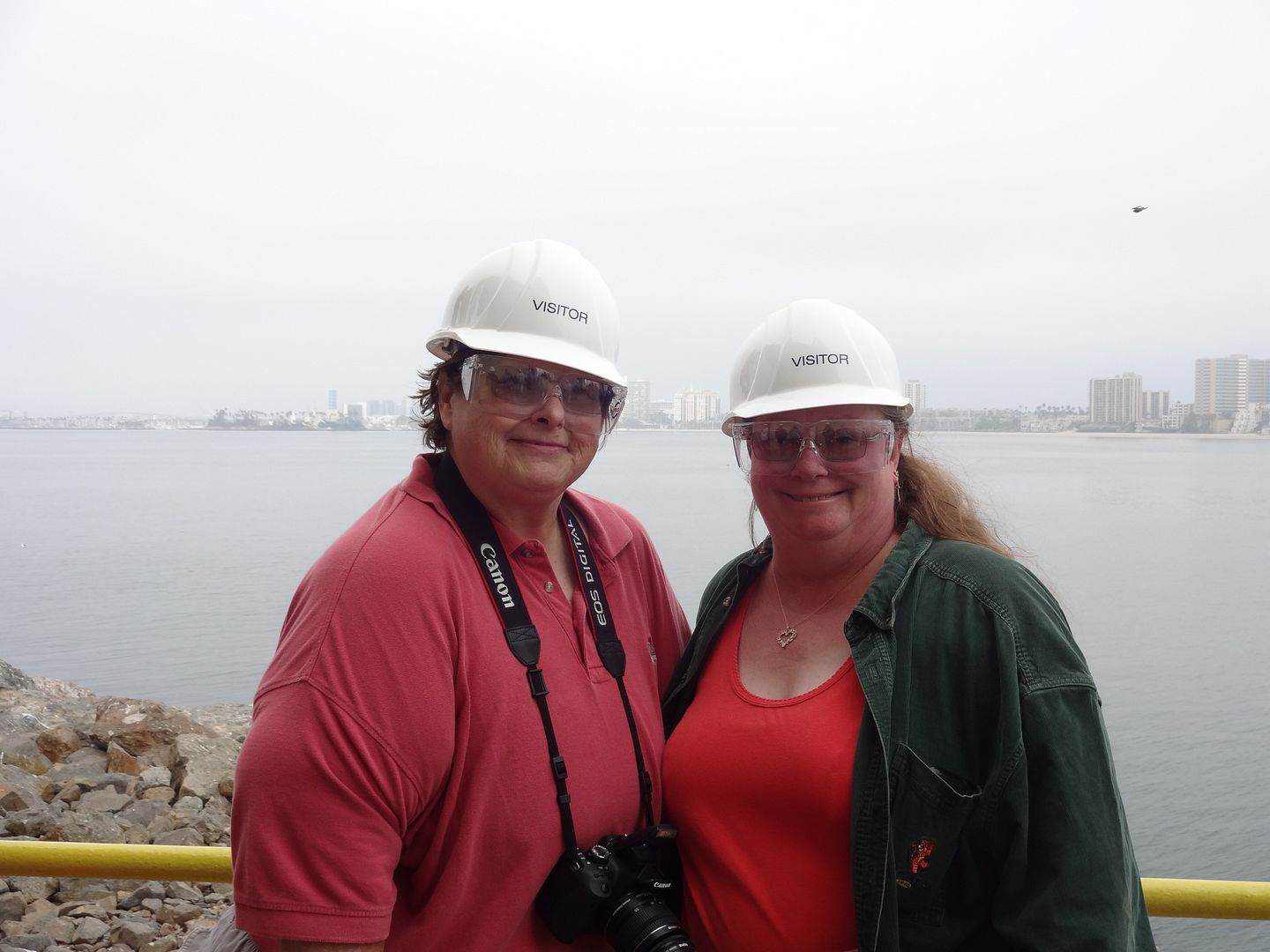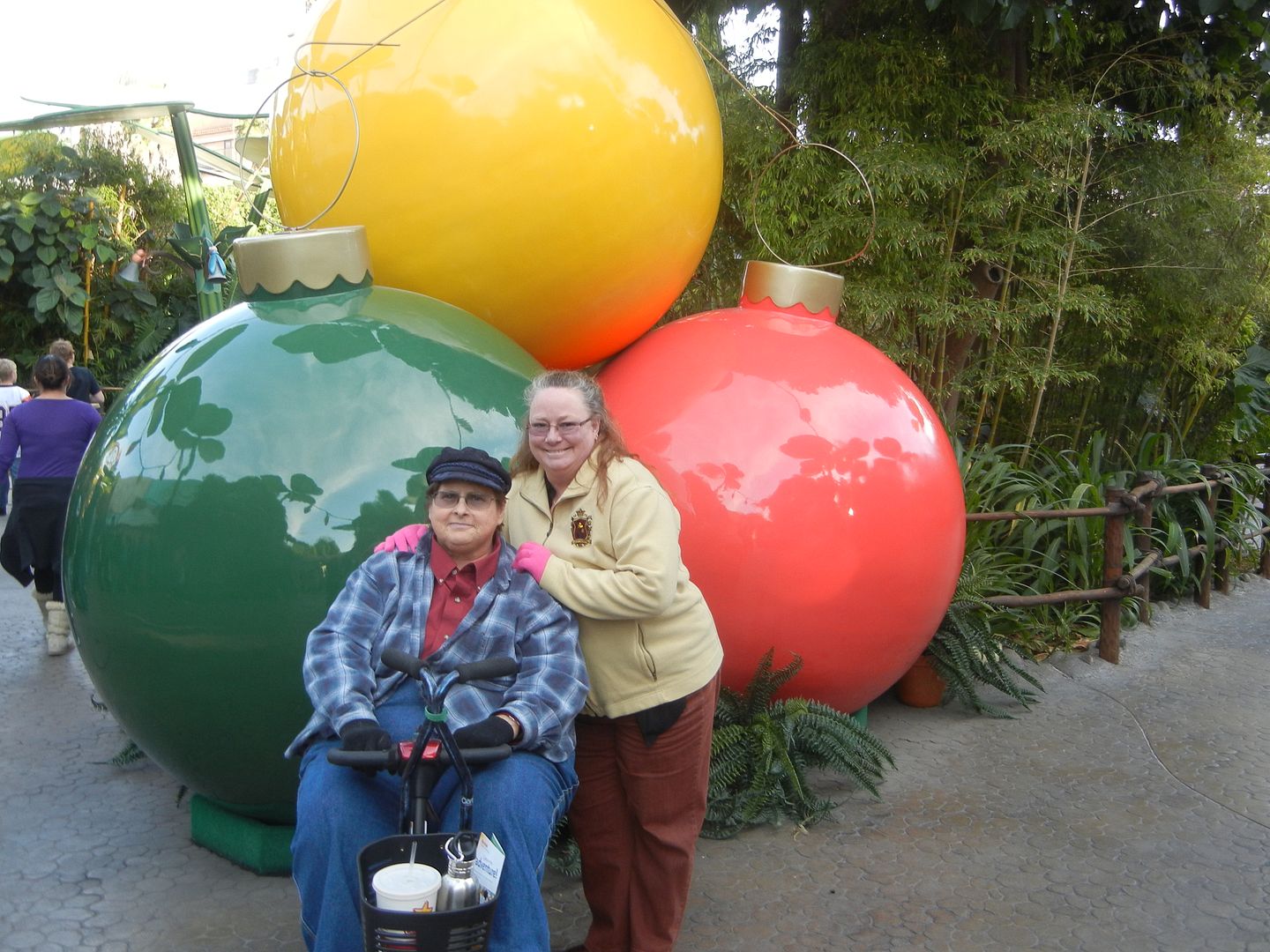 Now I'll tell you, I wanted to post a picture of the two of us somewhere out in nature. We both love a good roadtrip and enjoying beautiful scenery, the thing is I'm generally the only one who gets out of the car when we stop. And even if we both got out of the car, no one would be around to take our picture! So these are the best photos I could find that we were not at a dinner table, with a Disney character, or a ride selfie!

About a year ago when talking about vacations, Fran said to me. "I don't want to go back to WDW until we have been somewhere else." I mentioned above that Fran doesn't like to get out of the car when we are taking scenic drives and visiting vista points. It's a lot of work for her to get in and out of the car, so she enjoys the view from the comfort of the driver's seat.

For those of you who don't know our history, starting in 2001 Fran's arthritis had become so severe that she really couldn't travel and enjoy it, the pain in her daily life was just too overwhelming. Then just when the Doctor got her arthritis under control with new drugs, her parents went into a spiral of decline. From 2004 until the end of 2009 we were playing run to the hospital, take them to the doctor, prepare meals and other caregiving activities.

While we were able to fit in a few trips once her mother passed, we couldn't really plan to be gone much because of her father. Then after he passed, she was in the middle of a series of replacements due to painful and deteriorated joints. When she was finally at her healthiest, the whole 19 month venous ulcer fiasco hit (check it out on Wikipedia, the picture there looks like a cat scratch in comparison to hers). She was on the verge of recovery from the almost never healing wounds when we decided to step up our vacationing and start to plan trips to places other than WDW again.

Fran had always wanted to go back to Monument Valley. She visited there on a six week road trip to drive across country with her mother several decades ago. Since then the Navaho nation has constructed a beautiful hotel overlooking the Valley. Those of you following PIO's "Two Castle's and a Road Trip" TR, you've seen the hotel and the views.

I've always wanted to go back to Bryce Canyon. My first trip there, I took three pictures from the closest scenic overlook inside the park. Then we turned around drove back out to I-15 to continue on our way. I have no idea what to expect from the Bryce Canyon Lodge, but I'm hoping we have a couple relaxing days there.

This is an overview of our driving directions.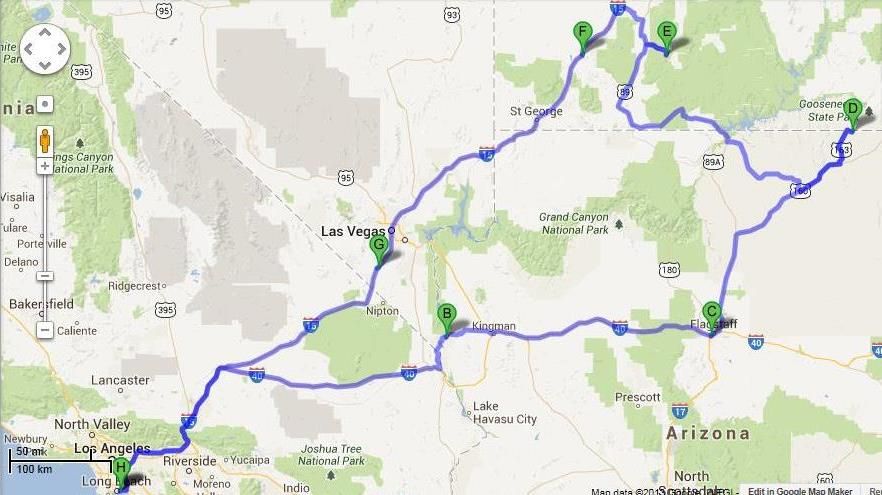 So here's the grand plan.

Friday, May 2
Drive to Laughlin, Nevada, 292 mi - about 4 hours 36 mins
We are booked into Harrah's, they have a great selection of in house restaurants, a Friday night Seafood Buffet and plenty of other choices. Hoping the blackjack table minimums are low

Saturday, May 3
Drive to Flagstaff, Arizona, 179 mi - about 3 hours 1 min
This gives us some time after checkout for more blackjack!

Check-in at the Hilton Garden Inn is 3PM, so really not a lot of point leaving before noon.
In Flagstaff we will do some grocery shopping since we have a refrigerator and microwave for the next six nights. There's a Safeway less than half a mile from our hotel. If I didn't bring it with me, this would be the time to pick up adult beverages. The Navaho nation is dry so you need to bring anything you want with you.
There's a number of chain restaurants nearby plus a Triple D rated Mexican restaurant, Salsa Brava. They serve a Navaho Taco made with Fry Bread. It's less than 5 miles from our hotel, I think I can sell Fran on this one. She loves Fry Bread.

Sunday, May 4
Drive to Monument Valley, Indian Nation, 278 mi - about 4 hours 47 min
My goal is to watch the sunset from the hotel, not the car. I know that our room faces the sunrise from PIO's TR, but I'm sure there is someplace pretty to watch the sunset. I stole these pictures from PIO's TR. I didn't ask, but the last time I did ask, she told me to "steal away". So I did, you can credit her or her DH with these wonderful shots.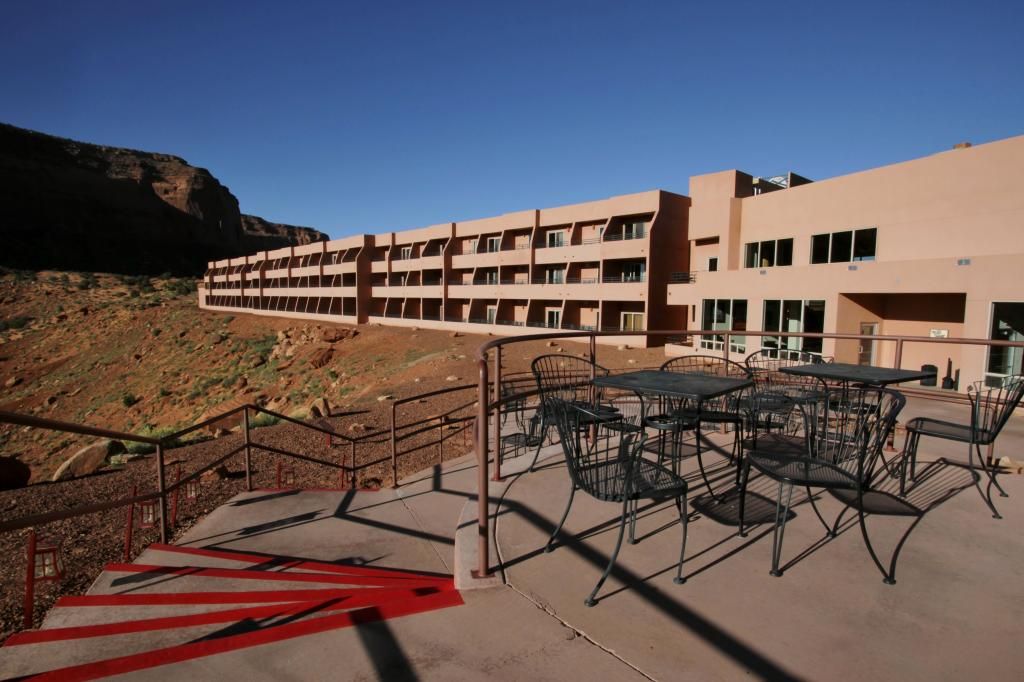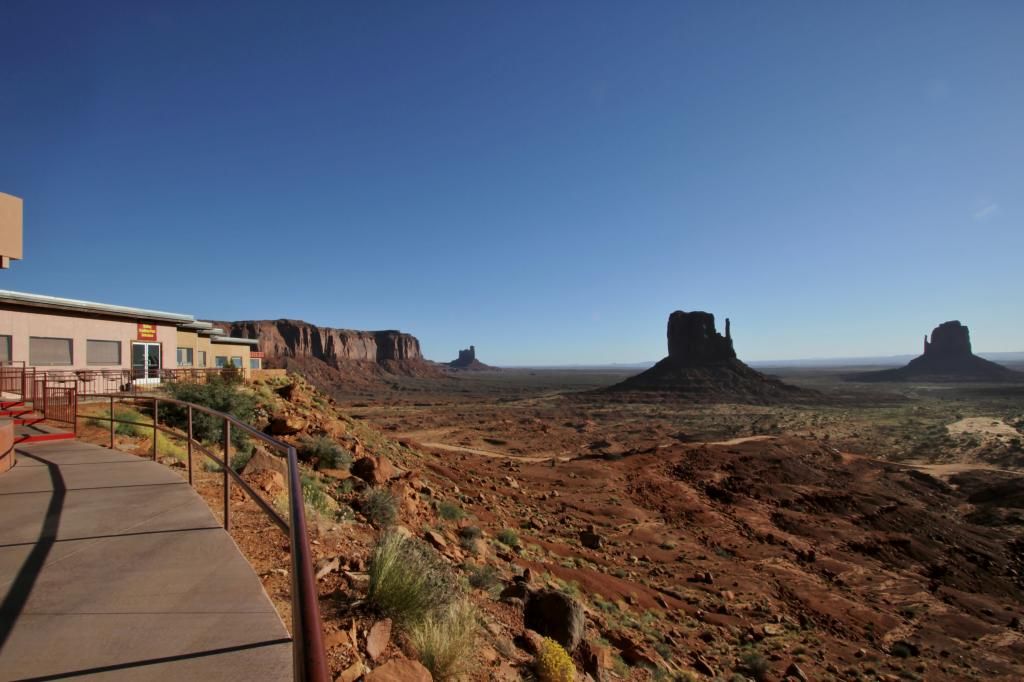 And this is the View from "The View" Hotel.




We plan on having dinner at the hotel. There is nothing else around for miles, and I've heard it's pricey, and sort of "meh" food, but it is authentic American Indian cuisine, so I figure we need to try it at least once.

Monday, May 5
We have booked a sunrise tour for this morning. I had wanted to see the sunrise from the hotel room, but I suspect that it will be more grand from the Valley itself. Our tour leaves from the hotel at 5:30AM and covers the Southern part of Monument Valley. We have arranged for a private tour so that we don't slow anyone down, and Fran doesn't feel rushed. The tour lasts for three hours and returns us to the View Hotel.
This is also where our grocery store run will pay off. We can grab a yogurt to eat on the tour. I hear from PIO that breakfast at the hotel is a buffet and like $26pp. That's a little too rich for our taste, plus the restaurant gets mediocre reviews. I suspect we will be raiding the pantry when we return from the Sunrise tour.
Later we will venture into Kayenta (the "town" half an hour away) to see if there is anything interesting. This will probably be a short lived excursion. We may have lunch at Subway or McDonald's, but I will have a whole chicken in the fridge in the room for sandwiches too.
We will definitely want a nap in the afternoon and evening. Dinner choices are from the microwave. I have a packaged jambalaya or we could also have Frito pie for our dinner, plus we found lots of options of dinners to reheat in the microwave at our local Vons (affiliate of Safeway) all are easy to make in the microwave.
We have a Starlight tour booked that goes from 12AM-3AM. It's not a full moon while we are there, but the gentleman I spoke with on the phone said there will be enough light for an enjoyable tour.

Tuesday, May 6
We are definitely sleeping in on this day! I plan to totally wing it this day until 5PM, our sleep clocks will be totally off from the strange tour schedule of the previous day. I wouldn't even mind if we just stayed in the room with the curtains open looking into the Valley while just relaxing. I imagine though we will do more than that.
At 5PM we have our final tour for this part of the trip, the Sunset Tour. Again this is three hours long, and I believe that for this tour, we venture into Mystery Valley.

Wednesday, May 7
Drive to Bryce Canyon Lodge, Utah, 278 mi - about 4 hour 45 mins
By this point we might be craving Fast Food, and if we get packed up in time, we might hit Mickey D's for breakfast, otherwise it's our same supermarket fare.
About halfway through the drive we hit a little town in Arizona called Page. There are a number of interesting stops here, and we might even have lunch. I'm not sure that there is anywhere else to stop for lunch along the way.
Then we'll head on to Bryce Canyon. We have an ADA room so it should be on the ground floor. There are no elevators and I think that the rooms have no TVs!
From my research there also are not many options for dining in the area. Good thing we have all the provisions that we picked up in Flagstaff! Could be microwave dinner again tonight.

Thursday, May 8
Unless we find some place spectacular for breakfast, it will again be in the room. I found a driving tour of Bryce Canyon which allows you to hit some of the top view spots on the Canyon. Since Fran won't be much up for hiking, this our best option to see as much as possible. The driving tour only takes half a day, so we might go back for a nap or check out what there is of the town.
The tour suggests that you have dinner at Ruby's which hosts an Old Fashioned Western rodeo complete with cowboys and bucking broncos. We'll see how we feel about that once on the road. They suggest reservations.

Friday, May 9
The trip is starting to wind down at this point.
Drive to Cedar City, UT, 91 mi - about 1 hours 30 mins
We've got a room at a Hampton Inn for the night, and there are a number of restaurants to choose for dinner. We no longer have a refrigerator or microwave in the room, so it's good we will have options. This is mainly a stopover to break up the drive.

Saturday, May 10
Drive to Vegas Baby! 178 mi – 2 hours 33 minutes
We'll wake up to an awesome breakfast of "make 'em yourself" waffles and whatever else they offer. Who cares?
we've got the waffles!
And then we'll hit the road down I-15! We're staying at our old favorite Sam's Town.




Nothing fancy, off the strip and low table minimums for blackjack! We'll get some lunch and if the room isn't ready, we can just hit the tables until it is!
They have a Steakhouse, Mexican Restaurant, Buffet, TGI Friday's and a whole bunch of Fast Food places at the Food Court, so we are set. We don't even have to leave for the night if we don't want to. However, given that I will have potentially spent four nights cooking food in a hotel room microwave and I've got some of the best grub in the world right in the same city…well, we'll see how Fran feels after all that driving. By this point we will have driven close to 1500 miles (1400 from place to place and then there are the driving tours and jeep tours, not to mention grocery stops etc). We'll see.

Sunday, May 11
Drive to Home.
283 mi – 4 hours 16 minutes, not on a Sunday!

What was I thinking? LA folks returning back from Vegas on a Sunday evening, yikes! This is also very dangerous for us. We have been known to get caught up in shopping or gambling and not made it out of Las Vegas until after 6PM. Several times we have actually had to stop at Stateline and get a room because we were just too tired to make it home! I think by this time and nine days away from the kitties, we will be a little more motivated to get home to see them and our comfy bed.

Summary

So that's our plan and we'll stick to it (at least the accommodations). Anything can happen on a road trip with Fran, both of us can be held hostage by shiny objects, sometimes even dull ones. With the amount of turquoise out there, she could be on the side of the road haggling with an old Indian for who knows how long!

I have it on good authority that in at least one of our stops there are some pretty nice Indian artifacts up for sale, and she already told me she wants to bring some cash on this trip. If you have shopped or traveled with us, you have a good idea of what that means.

Unlike my Disney trips, I will probably be on radio silence for much of this trip. I'm posting the plans well in advance before we leave so that I can give my readers (hopefully there will be readers) a head's up and get them on board, make my replies before we get on the way. None of the multi night stay hotels have wifi (at least in the rooms, but probably not anywhere) given the remote locations we'll be traveling to.

Perhaps at the Hilton chain hotels, I'll pop in once or twice, but neither of the Casino hotels offer free Wifi, it would take us away from gambling! So I hope that you will join me on board this exciting adventure! It's coming right up!