I highly suggest anyone who loves to bake and loves dessert to make it! It is a little time consuming but it's worth it! It was incredible and my bf said it tasted just like it came from 'Ohana (success!)
I found the recipe here on the dis boards
'Ohana: 'Ohana Bread Pudding with Bananas Foster Sauce a la mode
5 large eggs
1⁄2 teaspoon salt
1 1⁄2 cups sugar
1⁄2 teaspoon cinnamon
1⁄8 teaspoon nutmeg
3 cups whole milk
1 loaf challah bread or egg-style bread (large enough to fill 10 cups)
1⁄2 cup crushed, canned pineapple
1⁄4 cup sweetened shredded coconut
1⁄4 cup raisins (optional)
we did not add raisins
1 tablespoon unsalted butter
1⁄2 gallon of vanilla bean ice cream
Sauce:
1 cup dark brown sugar 1⁄2 cup each: corn syrup and unsalted butter
1 cup each: heavy cream and spiced or dark rum
1 teaspoon vanilla extract
3 bananas
Heat oven to 350 F. In large bowl, whisk eggs, milk, salt, sugar, cinnamon, and nutmeg. Cut bread in 1⁄2-inch cubes. Add bread, pineapple, coconut, and raisins (if desired) to egg-and-milk mixture. Grease large baking dish with butter. Add bread custard mix to the greased baking dish. Bake 1 hour and 10 minutes. Remove from oven. Let stand 5 minutes.
In a sauce pan, combine dark brown sugar, corn syrup, butter, and half of the heavy cream. Using high heat; bring to a rolling boil. Allow mixture to boil 10 minutes and add remaining heavy cream. Let it boil additional minute. Now add the rum and vanilla extract. Carefully flambé pan using a long stemmed lighter. Let boil until the flame goes out. Reduce to a simmer and stir with a high heat spatula.
Peel and slice bananas; add them to the caramel sauce. Remove the caramel from the heat and set aside.
Place scoop of ice cream on top of each portion of bread pudding. Top with bananas Foster sauce.
pictures:
the bread pudding hot out of the oven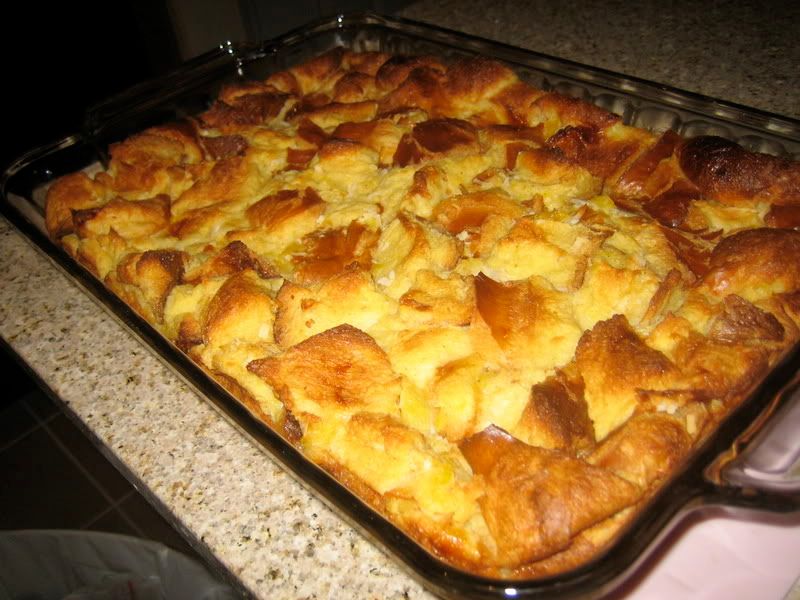 the pudding with ice cream and foster sauce on top. There are no bananas in the picture because we chose not to add it to the sauce for left-over reasons. Instead we just cut up a banana and added it afterwards and I forgot to take the pictures with the bananas on it and my bf couldn't wait any longer to eat it haha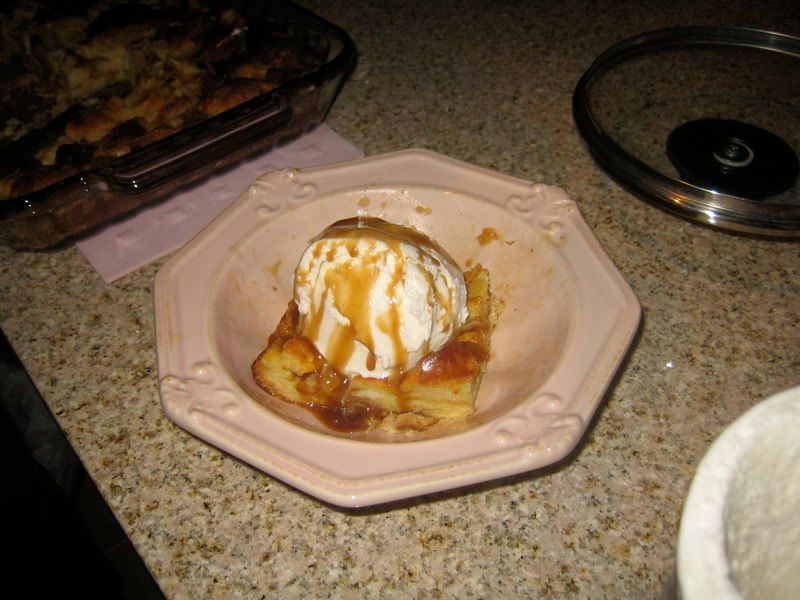 end result: INCREDIBLY moist! It was so, so, so moist that you could eat it without the ice cream on top! It was great the next day re-heated as well
Baking is one of my favorite things to do but since I am on a diet, I can't really bake but my bf is trying to GAIN weight so when he visits I go on a baking spree!