I really benefitted from others WOC reports in recent weeks - especially SS Columbia, Disneyland 1951, DLR29 and LurkyLoo
- and some of you going soon have said you are looking forward to mine. So here it is.
No spoilers!
For those of you looking for viewing information look no farther than here:
WOC Viewing Chart
.
We are having a great time and I do not have the time I need at the moment to do a thorough job. So I will stick to some essentials. I will talk first about heart and then a bit about some hard facts like viewing locations...
I am not good at taking night time photos but do not have anything all that new to add to some other better photos. So this is photo light at the moment. I may add some in next week when I have time.
The Heart...
Last night Wednesday July 28 we saw the 9PM World of Color show. I worked hard to get us to a good viewing location and everyone in my family was very appreciative afterwards.
Like most of you I have seen mostly positive reviews mixed with some not so positive. I was with DW, DS18, DS17, DS15 and DS14. Plus DS18's GF18. My four sons are hard to impress, media savvy modern teenagers.
We all thought World of Color was spectacular!
We like Fantasmic (saw it again Tuesday night from reserved dessert area) but World of Color is a whole new world. The only other Disney show I have seen comparable was Remember Dreams Come True. Both gave me goosebumps on first viewing and grabbed my heart and would not let go. Fantasmic is really good but has never once given me goosebumps. World of Color gave me goosebumps. Over and over.
We all stood there for 25 minutes with our jaws dropped to the ground. DS18's GF18 proclaimed afterwards WOC was the most incredible thing she had ever seen in her life.
Yes, the reports you have heard of WOC being light on story are true. It is more like RDCT - no real story - just more focused on celebration. RDCT celebrates Disneyland's history while World of Color celebrates Disney color and colorful characters and colorful music and colorful imagineering. WOW!
We are planning to catch WOC a second time tomorrow night using FPs.
DS18's GF18 had the idea last week to make tie-dye tee-shirts for our trip, and I suggested we wear them on our World of Color day. So we each made our own shirt and debuted them at DCA. We were stylin' all day at DCA and a lady on Soarin Over California said we had the best shirts she saw all day. So, at the risk of being too personal, I have a photo from our WOC viewing spot of the whole crew below in our personally made new shirts...
The HydroFamily at the World of Color Preferred Dining Section - July 2010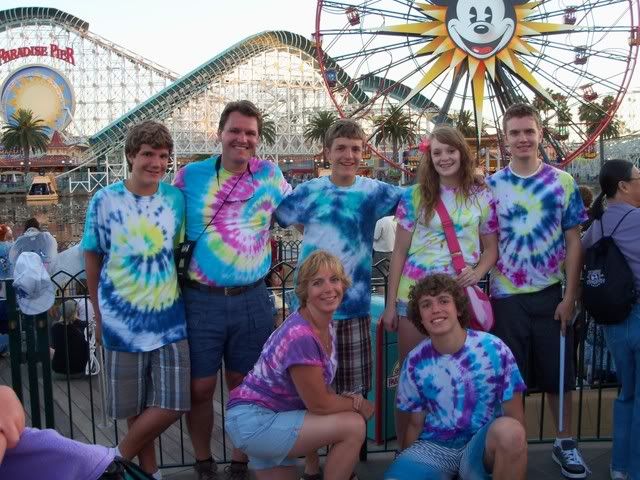 The Facts...
We did Ariel's Grotto at 5:30PM. The food was great! We had tri-tip, fish, lobster and pasta. Everyone loved the food.
We arrived at the preferred viewing area line at 6:55PM and were second in line. See
this post
for pics of where the preferred line started on our night. We only had one WOC CM tell us the wrong place to go. Most of them seem to know the drill now and gave accurate WOC information. They told us they would take us to the viewing area at 7:45PM but someone came at 7:25 and took us. We went straight down to the front rail and staked out our spot. It is location #1 in DL 1951's excellent map here
http://www.disboards.com/showpost.php?p=37402384&postcount=37
, right down in the green area closest to the water - close to the black centerline and a little to the right. There were a few people down below us but we hardly noticed them. Our view was 99%+ unobstructed.
Our zone was called a "wet zone" but we hardly got wet at all - a little misted is all.
There were several people who showed up an hour later with younger kids who tried to push them in front of us in kind of a rude way but we said "no, we have been waiting for over an hour". So be prepared to stand your ground unless you are OK with kids you do not know getting in front of you and possibly disrupting your show. If it was my second or later time seeing WOC I would not mind as much - but I wanted the first show to be a good, clear view without interference from people I do not know.
On Friday we plan to skip all the long waiting in line and get FPs for the 9PM show in DL1951's earlier link - spot #3 or 4 near the VIP section. We will arrive at 8:30 or so. That will give us a view from the back.
On our Segway tour Tuesday morning our guide Tyler - who has seen WOC 15 times - said his favorite view was from the bridge in the blue area. FWIW.
OK, time for a quick nap and then back to Dl tonight.