Hello everyone! A little background. My name is Brittany, I'm 26. Very big Disney fan, as I'm sure most people who are reading this are as well! Been to Disney World many many times. My husband Lance (29), who is also now a big Disney fan (since the honeymoon almost 3 years ago) came on this trip to the Mediterranean with me. This is my 5th cruise and DH's 2nd. I have been on the Wonder way back for a DVC member cruise with my parents and the Magic 2x for the Caribbean. Just recently I introduced DH to Disney cruising on the Dream back in November. We have never been to Europe before but we are currently/newly living in southern Spain so we decided it was time and we booked the Sept 10th 7night out of Barcelona.
Sept 9
So to start things off we got up at 3am to catch our 6:35 am flight! We drug our tired selves to the airport and we were there about 45 minutes before the Ryanair counter even opened. Everything went very well, we got on our flight and arrived in Barcelona quite early at 835. By 9 am we were into a taxi and on our way to the Hotel!
We booked the Barcelo Raval about two months prior to the stay. We were worried about the location because a lot of people said the location was in a sketchy area. We didn't think so at all! It was actually nice not being in the touristy area because I didn't have to immediately worry about pick pockets the second I walked outside. It was about a 5 min walk from Las Ramblas which was very easy to get to. We checked in but our room wasn't going to be ready. They were able to hold our bags and we checked our bags in then we went to do some exploring. Here's the inside of the hotel.
First things first, we walked down to Las Ramblas. And went right into a Starbucks (yes I know I know "you're American why are you getting Starbucks in Spain" Well because we can't get it where we live in Spain, we have to drive quite a bit!). And we got some pumpkin spice lattes! Yum! Afterwards we kept walking, North I think. We made it to a large square, which was actually pretty unexciting. Here's a very cheesy picture of us (we were tired but quite caffeinated, an interesting thing to be).
Afterwards we continued walking and came across
Casa Batlló
. It was a lot cooler in person. It was something we had on our list to visit. Wish we would have went inside and got a tour though.
We stared to walk back. Went in a few stores. Bought some things from Kiehls. Here's another cool building we saw on the way back.
On the way back we made it to the large square we were in before. And what did we do? Went to the Hard Rock Cafe.
Here are our drinks. Lance got a mojito (this will become a recurring theme for him) and I got something with curaçao and pineapple juice. I forget the name.


Both drinks were perfect and refreshing as it was 90 degrees and very humid this day. For lunch DH got a pulled pork and I got a chicken arugula salad. Both were very good and hit the spot. Service was very very good, which is something we noticed throughout Barcelona. Everyone was friendly, and everyone we talked to spoke English (in case anyone was curious). Barcelona is also very easy to get around.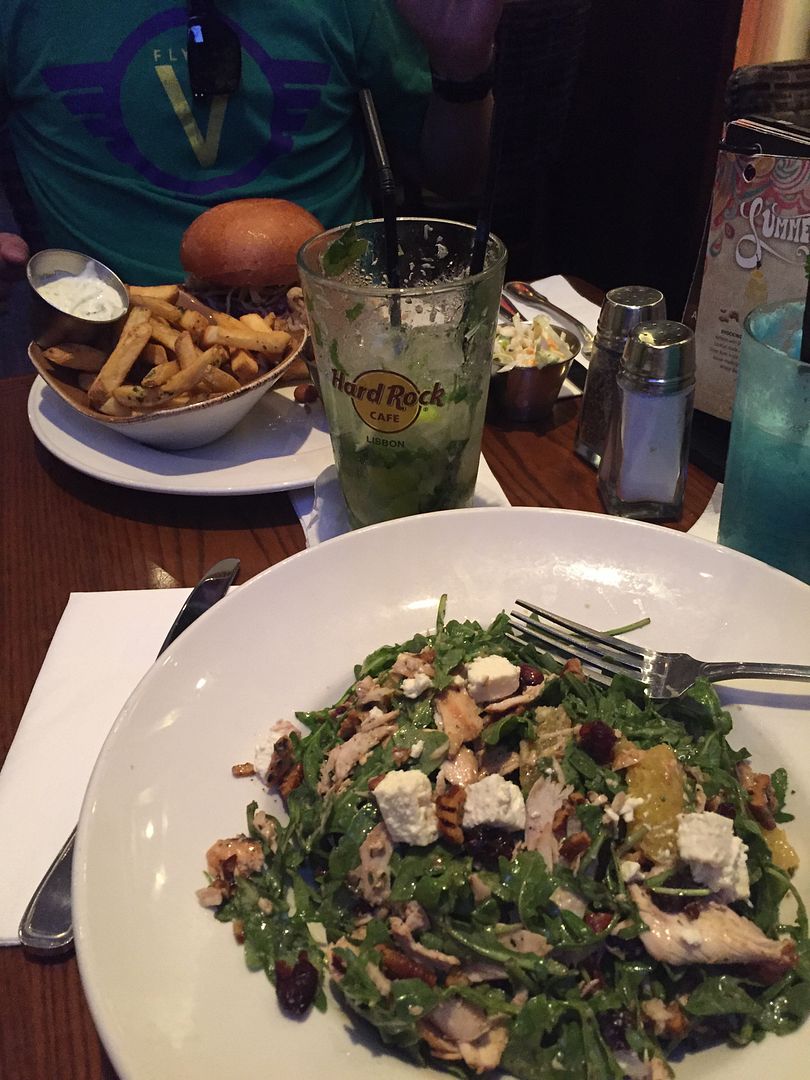 That's it for now. To be continued!
Last edited: