Day 1 – Welcome to Aulani!
At 4:00am PDT, the alarms on both my wife's and my phones went off. I purposely chose the built-in ukulele ring tone because I thought it was quite fitting given our travel destination today. This amused my wife greatly. Our bedroom door opened almost immediately, as the 12 year old, our daughter, the child we have to use a crowbar to get out of bed on the weekends, rushed in with a huge grin on her face. It was vacation time!
Quickly showered, dressed, and somewhat fed, we finalized our luggage and carry-ons, triple-checked that everything was all set for the house and the cat sitter, and eagerly awaited the 5am arrival of my dad for our ride to the airport. Just before the top of the hour, he pulled up, we said our goodbyes to the cat, loaded up the car, and we were off! Amazing how little traffic there is on the San Diego freeway system at 5 in the morning on a Sunday.
As our flight was on Alaska Airlines, we were dropped off at Terminal 1 at San Diego Lindbergh Field. Thanking my dad for the way too early lift, we made our way into the terminal and queued up to check ourselves and our luggage in. There was a bit of a line, but not bad at all. Checked in, baggage fees paid, and luggage riding away on the conveyor belt, we were surprised to learn that our flight was actually departing from Terminal 2, so we trekked over to the "other side" and entered the TSA line. Again, not bad at all, but busier than I expected it to be this early in the day.
Through security, we needed food, so while my wife and daughter headed to Peet's Coffee, I popped over to the Jack in the Box counter service. Initially, I queued up in the line behind six people, but quickly noticed a self-service touchscreen monitor just off to the right with no one using it. I quickly placed and paid for my order, then stepped aside with my receipt. Within a few minutes, my number was called and I sauntered over to a nearby table area to enjoy, noting that three of the original six people who were in front of me in the original line were still waiting to place their orders with the live person. It pays to use technology folks!
All of us now happily fed, we made our way over to our boarding gate seating area. Grabbing three spots along a wall, we were pleasantly surprised to see that the seats had built-in plugs to charge our devices. Unfortunately, the chairs themselves were not plugged into any power source and there didn't seem to be any along the wall nor in the floor. Sigh. Such a tease! This corner of the airport seemed to be reserved this morning for Alaska Airlines direct flights to the Islands. While we awaited our flight to Honolulu, we heard calls overhead for flights to Maui and Kauai, including mention of seat upgrades. "Seat upgrades," questioned my wife, "What are those?" First class of course, I replied, but also a few rows in the front of the main cabin with a bit more room and free drinks (adult drinks) for $99 per seat. "Are any of those available on our flight," she retorted. I interpreted her question less as an inquiry and more of a request, though she would never admit that. Seeing an Alaskan representative appear at our gate desk, I slyly maneuvered over and inquired about availability. Sure enough, they had seats available and the next thing I know I am handing over our original tickets and the credit card. Strutting back to my family, I handed over the new tickets to my wife. She was most pleased.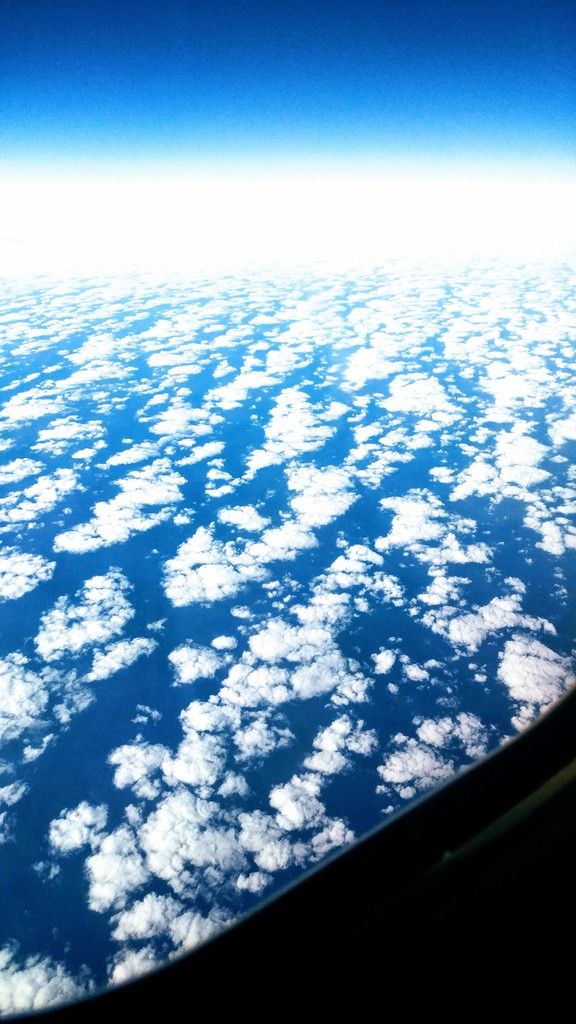 Our flight was direct from San Diego to Honolulu, leaving at 7:30am. Our new seats provided ample additional space; it was actually just a few more inches, but it sure felt good, and a free adult beverage for my wife and I was certainly nice. Flight time was scheduled for 6 hours, but we must have caught a tail wind because we landed about 30 minutes early, around 10am Hawaii Time. Off the plane, we made a quick trip to the restrooms and then down to baggage claim, where we waited for only about 10 minutes or so for two-thirds of our bags to come out. As my wife and daughter's bags came out first, they scooped them up and stood waiting as I scanned the conveyor belt for mine. While doing so, I noticed that a man appeared in the corner of my eye near the exit doors, holding a sign labeled Hele Hele Shuttle. Having booked our airport transfers with Hele Hele, as recommended via the Aulani website, I motioned to my wife, asking her to check to see if he was there for us (and possibly others). Sure enough, he was there for us and us only. Grabbing my bag soon afterwards, I joined up with them and we headed outside. Making our way across the first lane of traffic, he led us to the center island area, where just off to the left he told us to wait as he called for our vehicle. Within a few minutes, our van arrived, our bags were loaded in the back, our greeter was tipped, and we climbed aboard. Warmly welcomed by the driver, we learned that the van was ours alone! Cool! Off to Aulani!
Sunday mid-morning traffic from Honolulu to Ko Olina was very mild, at least from our perspective; the driver actually commented on the unusual number of cars on the road, but to us it was nothing at all. While making our way west, our driver asked if we were planning to explore the island at all, to wit we responded that we intended to rent a car for one day for that exact purpose. Immediately, he reached for and handed me a tall, thin visitor guide and a pen, telling me to unfold the map in the back section. He then proceeded to enthrall us with a list of sites that we had to see, all of which we could apparently see and enjoy in a single day. Yeah, I had my doubts about that, looking over and smirking at my wife. Actually, we already had a plan in place for our day of exploration (one that was ripped thoroughly on the DIS Boards I might add) and we were quite happy to stick with it; we appreciated his recommendations nonetheless. At the very least, he reaffirmed some of our choices.
I think we pulled up and into the Aulani entrance-way about thirty minutes or so after leaving the airport, putting us there around 11am. This arrival time turned out to be key because that is check out time and as a result the entire lobby area was a madhouse! Exiting from the van, we were immediately greeted by a CM, asking us if we were checking in. Upon my affirmation, she welcomed us home and placed a kukui nut lei around my neck and a floral lei upon both my wife and daughter. Confirming with us that we checked in online ahead of time, she retrieved a packet from a nearby kiosk and escorted us into the lobby entrance (incredibly beautiful by the way) and off to a flat surface on the right. Since we arrived so early, our room was understandably not available yet, so she showed us where the Bell Desk was, provided us with a resort map, marking important (and currently accessible to us) locations upon it, and gave us our eventual room key cards and another to the Luana Lounge. Beyond hungry at this point, we quickly checked our bags and made our way to the Ulu Café.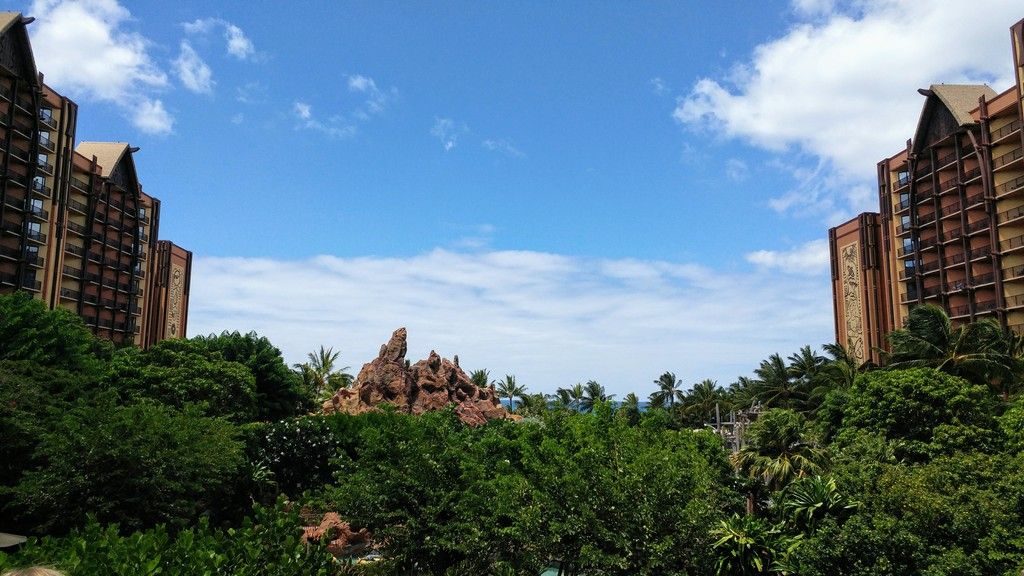 Refillable mugs procured, our dining selections consisted of the daily sandwich special for me (a delectable Korean bulgogi), along with a Mickey-shaped spam masubi (also delectable), while my wife enjoyed a "decent" customized poke bowl and our daughter a BBQ kalua pork flatbread, which she loved. We also shared slices of exquisite pineapple, a common thread for this trip. We never had a bad bite of pineapple over the entire two weeks in the Islands. The seating area for Ulu is very widespread, which we hadn't realized at this moment. Thankfully, we managed to snare a table just in front of Ulu, but let me tell you, that space was crazy busy with guests coming and going into Ulu itself, as well as accessing the drink dispensers off to the left.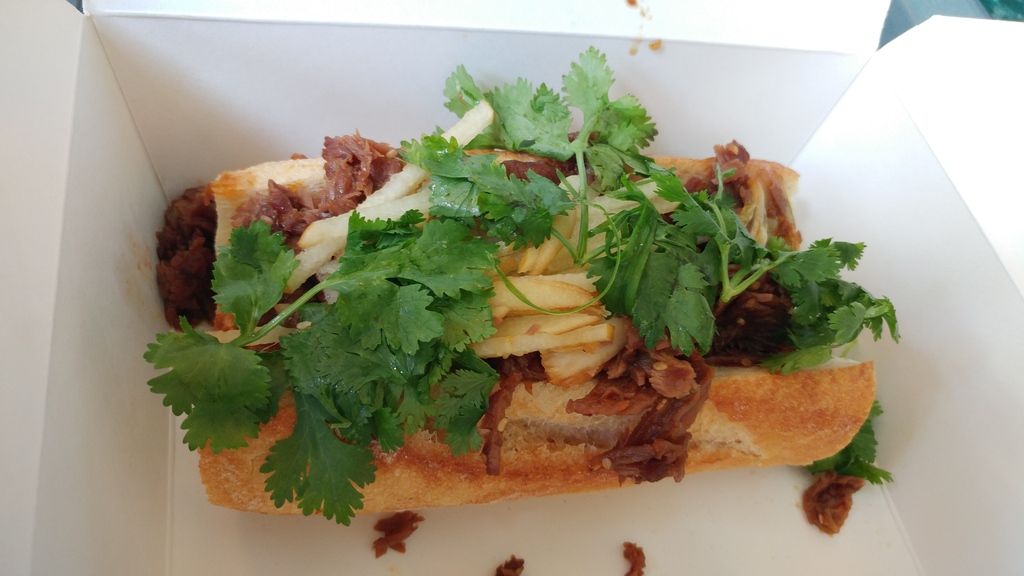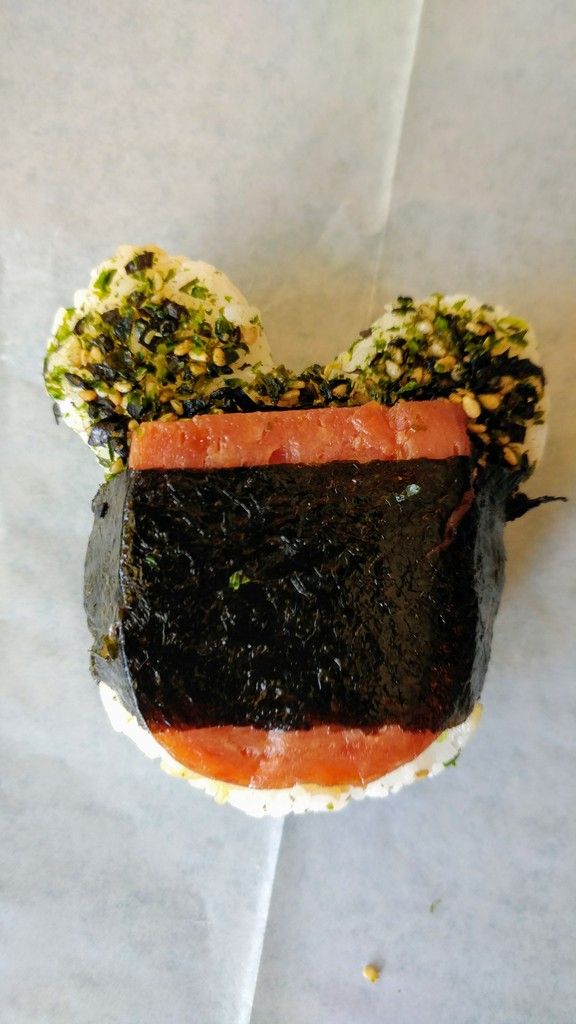 Happily fed, we explored, walking around all of the pools, the lazy river, and the beach area. We meandered through the two gift shops, making several purchases of course in Kalepa's Store and thinking about a few items in the higher end Hale Manu. I tell you though, I was really surprised in Hale Manu that there was no Aulani specific Tommy Bahama camp shirt. There were two TB camp shirts there, but neither had Aulani emblazoned upon it; in fact, the one printed shirt, filled with all kinds of blue designs, had graphics with signs for Disneyland and Walt Disney World, but no Aulani (at least that I could find). Nearby, there was a nice, blue Tori Richard shirt with Menehune strewn throughout the design, but still no indication of Aulani anywhere. Oh well.
We then walked back out into the exterior space, making out way over to Aunty's Beach House to complete our daughter's registration and get her wristband. Now, I'll be honest, she's 12; too old for the kiddy activities and too young for the teen. The truth is, she just humored us in getting her band and signing up. She looked around and immediately knew that Aunty's wasn't for her. Still, we completed the registration with the possibility of her participating in one of the evening tween hours (7:30pm to 8:30pm each night), but during our five night stay, she never used it; instead, she had a blast with us. Ohana means family you know.
Left with seemingly nothing else to do (our swim gear was packed and checked with Bell Services), we decided to check out the Luana Lounge. Upon entering, we were immediately struck with how crowded it was. It was a decent sized space, but with so many people (remember it was Sunday and not long after check out time) it was uncomfortable and honestly not a place that we wanted to be, so we left. Returning to the main lobby, we grabbed some open seats and just chilled, people watching, soaking in the ambiance, and reviewing the paperwork the CM handed us earlier. I noticed in the Daily Iwa that there were two stargazing events that night, so I headed over to the Pau Hana Room to see about availability and got us signed up for the 9pm session. Now around 2pm, I returned to my family after another quick little stroll around Kalepa's Store and our daughter asked me to check my phone to see if they texted. Having never felt my phone vibrate, I assumed it was a fool's errand, but there it was! One message waiting! Could it be! Yes!!!
Our room was ready! Number 544. But where was it exactly? Which tower? The message didn't say, so we headed off towards the Ewa Tower. Eventually running into a CM, we asked and guess what? We guessed wrong. We were in the Waianae Tower. So, we turned around and marched across the way, finding the elevators and heading up to the fifth floor. Now, I will mention here that we booked a standard room with an Island Gardens view. When I attempted to complete the online checkin the week prior, I ran into issues with the website, so I ended up calling the resort to complete it. While talking to the CM, when it came to a room request, I simply asked for something with a nice view. I also added that it was our first time at Aulani and our daughter's first time to the Islands. I hoped for something nice, but was blown away by what we got!
As we walked towards our room through the corridors, I quickly realized that the even numbered rooms were on the inside of the resort. Was it possible? Did they give us an upgrade? I dare not speak a word of what I was thinking as we approached. Our daughter excitedly demanded that she be allowed to insert the key card, which we happily obliged. We opened the door and I immediately looked straight out into the space, through the glass doors leading to the balcony. I could see the other tower! I COULD SEE THE OTHER TOWER! Keeping my cool, I walked over to the balcony door, slid it open and stepped outside. The view was sublime. Yeah, we could see the ocean; a little bit of it off to the right, but still WE COULD SEE THE OCEAN!!!! I called the ladies over to check it out. "What do you think? Not bad, eh?" We all hugged. We were here and this was our view: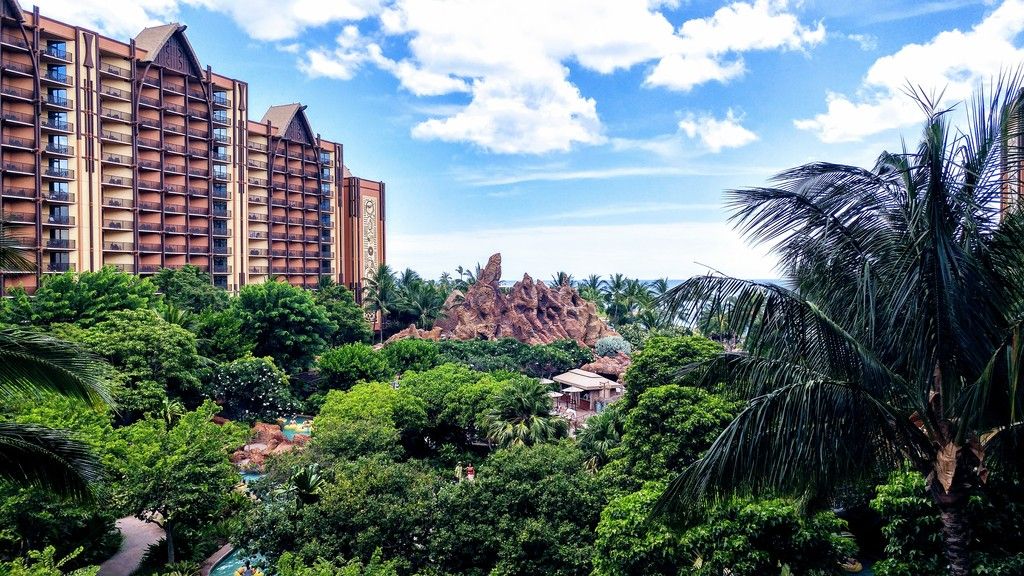 We scheduled an early (4:45pm) dinner at Makahiki tonight since our stomachs were still essentially three hours ahead. Arriving a few minutes early, the space in front of and around the greeting desk was rather disorderly with excited guests of all ages rushing around and CMs trying to manage them. Finally, one of the CMs admirably took control and got everyone in line, putting together a stantion area near the base of the stairs leading up to the main (second) level of the resort. Group by group, we were granted exit from the stantion area, across the front of the stairs, and into a second queue for pictures with Donald Duck! The mantra here is patience folks. You are on vacation, right? So, take it easy, yeah? I say this because we frequently found ourselves behind large groups, especially during photo opportunities. Yes, they took the standard full group shots, but they also wanted several individual shots with a variety of singles and pairs. It was totally fine, but it did take some time. Eventually, it was our turn to meet the Duck and snap our pics.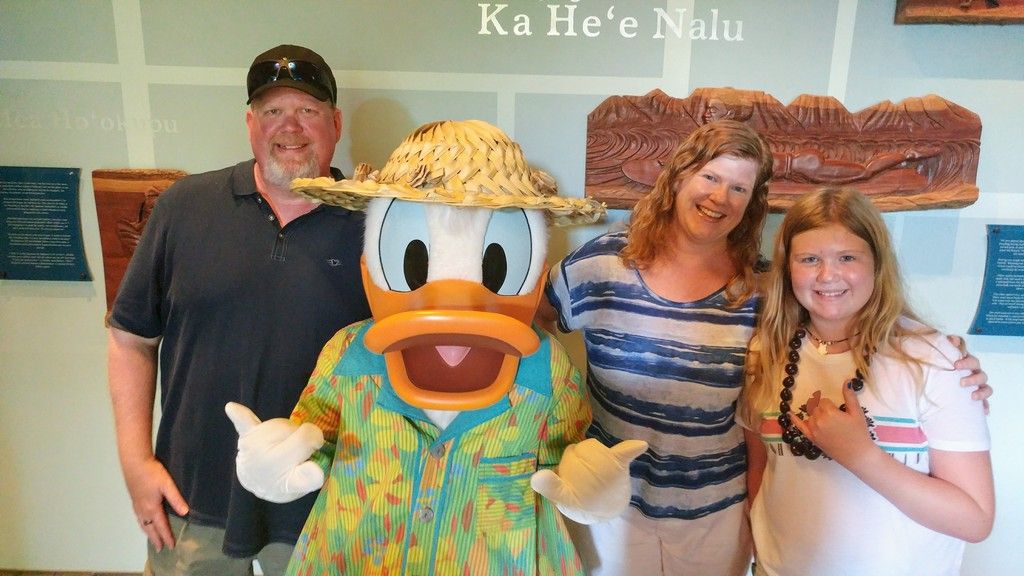 Escorted to our table after a quick introduction to the buffet options, we found ourselves seated in the exterior section of the restaurant, which was perfect because it was cooler out there and offered a wonderful soft breeze at that time. A couple adult beverages and a specialty drink ordered, we hit the buffet for round 1. The offerings were excellent, especially the more Japanese focused items. I very much enjoyed the sushi section, while my wife loved that night's fish entrée. Of course my daughter and I hit the prime rib carvery station, which was very tasty, but I always wish they cut thicker slices; I suppose I could ask them to, but I never think to at the time. The desserts were plentiful and wonderful too. Overall, it was a very nice dining experience. But then, you don't come here just for the food: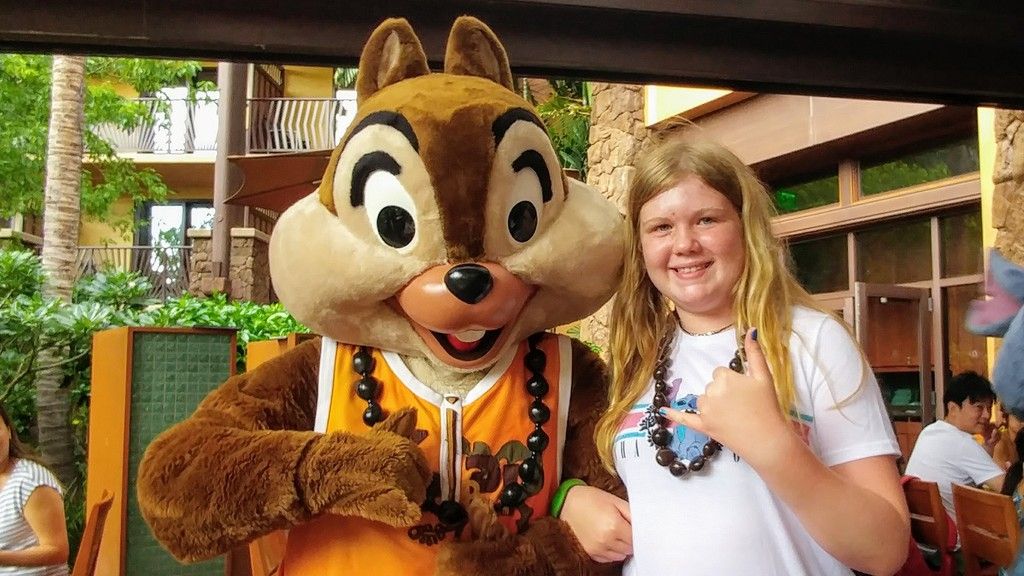 Being a character meal, our table was visited by Stitch and Chip and Dale. "Uncle" also walked around the tables playing his ukulele, singing songs and leading the younger kiddos in parades (yeah, our kiddo preferred to observe rather than march…no surprise there).
Well fed and back up in our room, being that it was still so early and the stargazing event wasn't for several hours, we changed into our swim suits and went down for our first of many visits to the lazy river. But first, we had to get our daily swim wristband!
After about an hour or so of playing and lounging in the lazy river, we returned to the room to freshen up. A word about that tub and shower. Unless you have long legs, the tub requires the use of a small trampoline or rope to climb in. While wonderfully tall for bathing and soaking, getting into that darn thing required a certain level of yoga flexibility. Secondly, the overhead shower head! Oh my god, that thing was so wonderful! You know what they say, once you go ceiling mounted, you never go back. Sadly, we did go back (home) eventually and now I weep quietly, fondly remembering our Aulani shower each time I take my morning shower. OK, I am being overly dramatic, but it was a fabulous shower!
Just before 9pm, we reported to the Pau Hana Room for the stargazing event. Since I didn't have our room number at the time I signed up, I made the point of checking in and getting the payment squared away. Yeah, this was one of the Premium experiences that came with an extra charge. Admittedly, it was a tad pricey, but in the end we loved it and felt that it was well worth it.
Once everyone was checked in, the entire group was escorted outside to a designated space between the fire pit and the infinity pool. There, we found our instructor with two telescopes set up, as well as a good number of seats along the entire perimeter of the space. Once settled, he introduced himself, talked about the equipment he brought, and detailed what we were about to see. For lack of a better word, it was stellar! Saturn (we could see the rings!), Mars, Jupiter, and different types of star clusters were made visible between the two scopes as we took turns looking through each for about an hour or so.
Finally back in our room, we shut down after a very long day. While my wife and daughter chilled inside the room, I grabbed a seat on the balcony, soaking in the sounds of the entertainment from the Oleo Room. Honestly, it couldn't get much better than this.
More to come! Six nights at Aulani, one day exploring some of Oahu, and then a week on the Big Island just before Hurricane Lane. Care to come along for the ride?!
Last edited: