Hi all
*edit* This is my pre-trippie. For the trippie go here:
Day 5 (Seattle)
Day 6 (long drives)
Day 7 (Walt Disney museum, Apple, Lucas & San Fran)
Day 8 (Pacific Coast/101)
Day 9 (Disney Studios, Dave Smith, Walt's grave & LA)
Day 10 (Disney's California Adventure)
Day 11 (Disneyland)
Day 12 (USS Midway & Coronado)
Day 13 (Disneyland & the Halloween party)
Day 14 (Disneyland & the Tour)
Day 15 (LA & long drives north)
Day 16 & 17 (San Fran, Alcatraz & heading home)
Welcome to my pre-trippie trip report. I've just booked my flights today so I'm VERY excited...let the planning begin
Ok, so where should I start? I guess I should intro the cast.
Firstly there is me:
I'm Helen, I'm 37, single, have two spoilt cats and I work part-time in the UK for the mouse himself as a Disney Ambassador. I guess this gives me a different perspective on all things Disney related because I am both very critical and a HUGE fan of how they represent the magic that Uncle Walt began. I've worked for Mickey on and off for nearly twenty years and I've had some amazing times and met some amazing people. I am a very proud cast member. Having said that I do need to point out that the comments, adventures, opinions etc posted here are all mine and do not reflect those of the Walt Disney Company. I'm posting as me, the traveller, not as an ambassador. Ok, with that bit out the way let me continue.
Besides working for the mouse I also have a small filming company recording anything from weddings to documentaries. I'd like to do this more but in the current climate it's a bit hit-and-miss hence the two jobs. I used to teach audio post-production at Salford Uni but quit that about two years ago.
My partner in crime for this adventure is my birthday twin, Andy: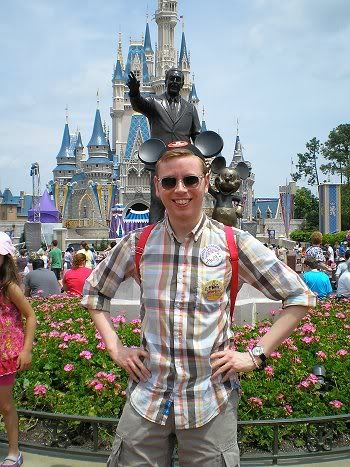 Andy and I met best part of a decade ago when he transferred to my store...yep, he used to work for the mouse too
We bonded instantly over the fact we share a birthday (although he's younger at 34) and our mutual love of the best princess ever, Pocahontas :grin:
Andy now works for Starbucks and although he is all loved up, his partner has kindly agreed to let him come and run around the west coast of the USA with me :d:
We've travelled together twice before; in 2010 we took a trip to WDW with another cast member and this January we travelled with two other cast members to DLRP for a couple of days.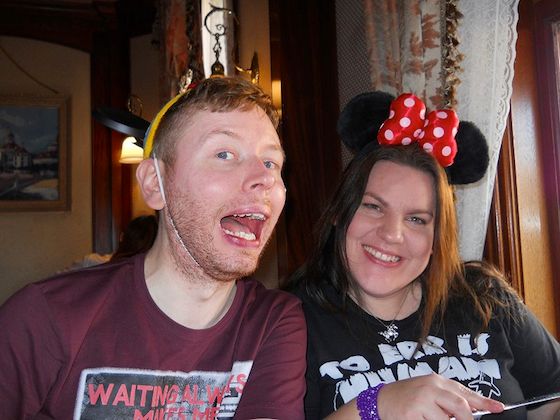 As you can tell we are very sensible when we are together *ahem*