Ok, day 3.
We woke up and got going at a reasonable time. Our plan for the day was to get to Crater Lake. I'd heard a lot about how gorgeous the water was there and we were both pretty excited about it. The weather wasn't wonderful but it was clear and warm so we weren't too bothered.
The start of our route took us along Crater Lake highway and through a wood. It was gorgeous as you can see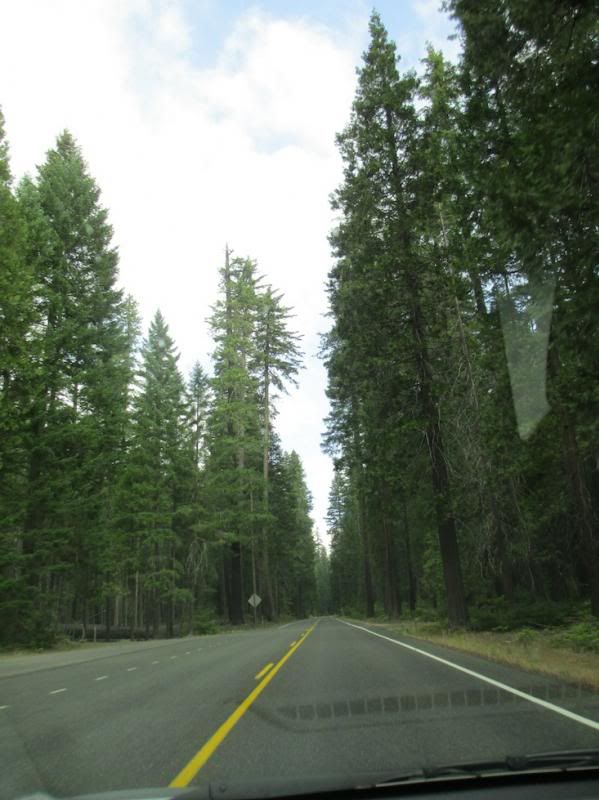 There were hardly any cars around and as it was getting nicer out we paused a couple of times to take photos. This little picturesque spot in particular was far too tempting to pass, although Andy did laugh that he was standing in the middle of the wood with no one around making himself Cougar fodder. He asked what I'd do if he was attacked. I said I'd drive off
We continued up the mountain to the Visitors Centre. As we entered the park itself the woman did say the weather was 'changable' but as we could see some grey clouds getting closer we weren't too surprised. We paid anyway and went in. At the visitors centre we wandered around a little, and I bought some stamps for postcards but the centre was pretty tiny. One sight I wasn't quite sure what to make of was a couple changing their child's diaper/nappy on the floor outside the toilets :erm:. Felt kinda sorry for the kid laid down on the dirty floor, especially when there were counters inside the toilets. Odd :confused2
Having got back in the car we headed to the next visitors centre up near the late. The weather was getting worse and by the time we parked there it was hammering down. Luckily we'd bought ponchos at Golden Gate so we shoved those on and ran inside to browse and get warm. Amazingly for us we didn't buy anything...anyone who knew us would think we were ill but I think we were more in the 'we need coffee' mode tbh lol.
Coming back out to the car we laughed that there was some snow and figured we should get going before it got worse. I'm still not sure if this was a good or bad idea. All I know is by the time we got to the lakeside we were in a full blizzard :confused2
Andy refused to get out of the car but I'm a photoholic so I ran to try and take a photo of the Lake. And I saw... NOTHING! Whilst I was stood there a lady asked if I could take her photo, then she took mine. Fir those of you who don't know what Crater Lake looks like...this is it: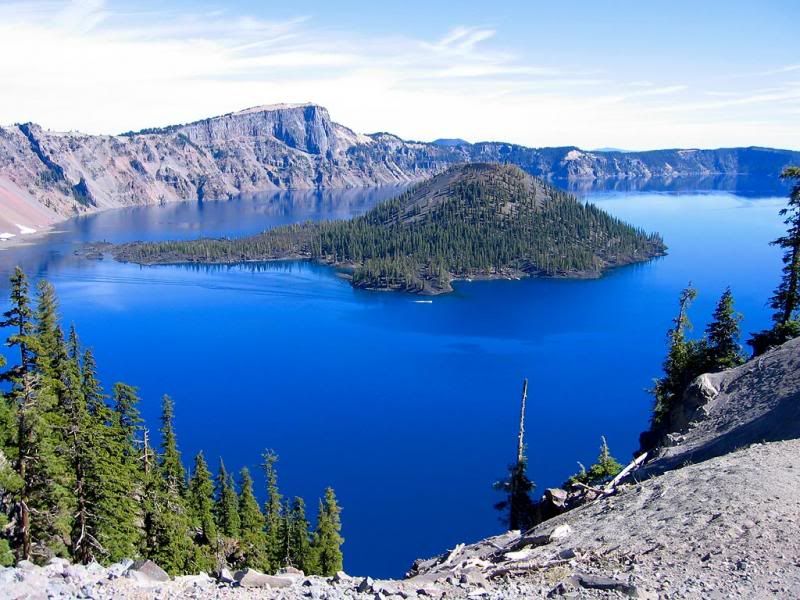 And my picture of the same view: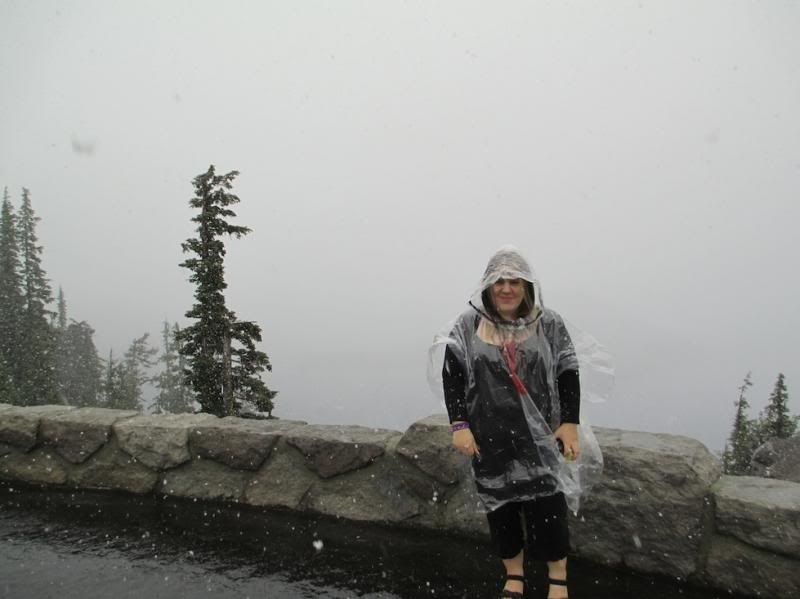 I'm pulling a strange expression because whilst I'm grateful for the photo, at this point, in sandals, I was desperate to get back to the warmth of the car. Behind me in this photo is the Lake and Wizard's Island... beautiful isn't it? :erm:
We decided we should push on...it was either that or turn back and as we didn't know how bad it would get and had a long way to go, we kept going. The photo above really doesn't do it justice so we took this one a minute later:
Yep, this was USA extreme driving test part 2. Mountain, tight bends, new car and blizzard! Just to add to the joy, just after that photo was taken a warning light came on in the car...