Current COVID-19 reopening brochure and additional information for Swan/Dolphin....(thanks to poster Dave006 for locating this)
MOM POPPINS (Robin), who has thankfully maintained these long running Swan/Dolphin Resort threads for so many years, asked if I would now maintain the thread. When a thread reaches 250 pages, the board closes the thread to additional posts. A new thread is then started, runs for 250 pages, and so on. With the fourth iteration now at its limit, a new thread begins. (It seems now that this board rule is not in use anymore)
For this now fifth version of the Swan/Dolphin Resort thread, I simply did a copy/paste of MOM's previous initial post, updating a few items, a few pricing updates, FastPass Plus, etc. If you come across an error, a non-working or out of date link, etc, please let me know so I can update this initial post.
And again, thank you, Robin, for many good Swan/Dolphin years.
Read, learn, enjoy.
Dan
.
Walt Disney World Swan and Dolphin Resort
​
You'll likely not need to read the whole thread to find answers to the most common inquiries and even many obscure ones! Pause on Post #1 and take a look! You can even do a quick search on this web page by pressing [Cntrl] + [F] and typing a keyword search.



In the heart of the Walt Disney World Resort, the award-winning Walt Disney World Swan and Dolphin is your gateway to Central Florida's greatest theme parks and attractions. The resort is located in between Epcot® and Disney's Hollywood Studios (DHS) and nearby Disneys Animal Kingdom Theme Park and Magic Kingdom Park.

The Orlando International Airport is the most convenient choice if you are flying into Orlando. From there, its just a short 20 minute drive to the Walt Disney World Swan and Dolphin.

Once on property, Guests enjoy complimentary scheduled transportation around the Walt Disney World® Resort. Take a leisurely cruise on Disneys Friendship Launch to Epcot® and DHS, or take a Disney shuttle bus to all other areas within Walt Disney World Resort. The buses and Friendship launch arrive at the Walt Disney World Swan and Dolphin every 15-20 minutes so you can come and go as you please with very little wait time.

The Walt Disney World Dolphin
1200 Epcot Resorts Boulevard
Lake Buena Vista, FL 32830-2653
(407) 934-4000


The Walt Disney World Swan
1500 Epcot Resorts Blvd.
Lake Buena Vista FL 32830-2653
(407) 934-3000
​
You can make room reservation, room/view request, etc. from this link.
http://www.swandolphin.com/reserve

You may want to join the Marriott program and earn points for your stay. It may be possible to get an upgraded view even on your first stay. The Marriott program, BonVoy, is free to join the link is below.
htmlhttps://www.marriott.com/loyalty.mi
After joining the Marriott program be sure and add your Marriott number to your reservation. Upon check in kindly remind the employee of your Marriott status and ask for an upgraded room if it's available.


Swan/Dolphin Kiosk link (helpful information) https://swandolphin.com/kiosk/index.html
A very well done, up-to-date (as of August 24, 2019) review from The Points Guy of both the Swan and the Dolphin. Lots of good photos. I found the review to be very much right on target, no glaring, if any errors.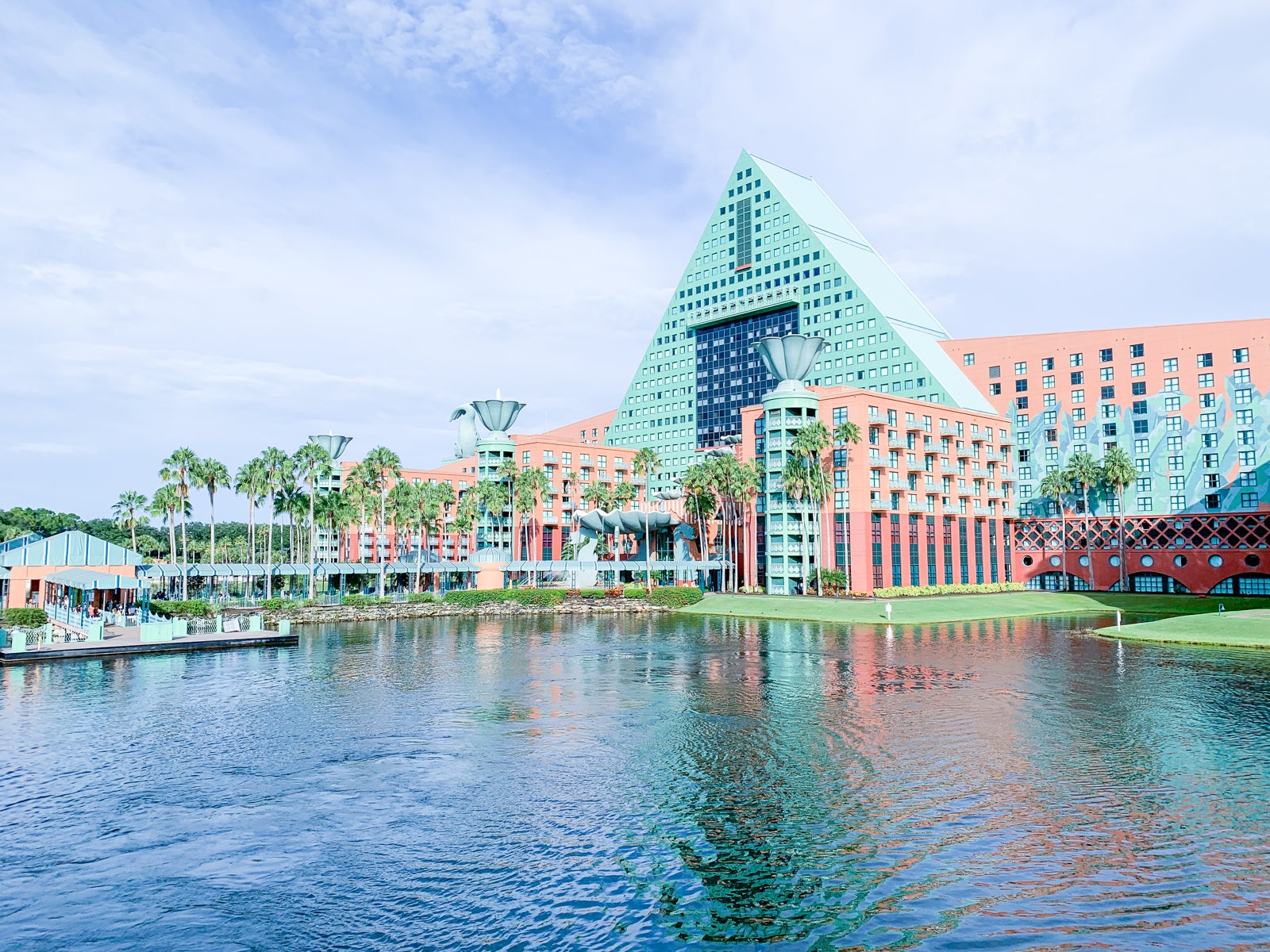 Going to Disney World? Congratulations! Now for the bad news, deciding to take a trip to the Most Magical Place on Earth is the easy part. When it comes to picking among the hundreds of hotels in the Orlando area, things can get tougher in a hurry. There are trade-offs involved with each choice...
thepointsguy.com
ACCOMODATION INFORMATION
​
STANDARD GUEST ROOMS



STANDARD GUEST ROOMS
At the end of the day, our guest rooms offer the perfect retreat for rest and relaxation. All guest rooms at the Walt Disney World Swan and Dolphin Resort offer a fresh, contemporary look that reflects a luxurious sophistication designed by world-renowned architect, Michael Graves.

The centerpiece of these rooms is Westins Heavenly Bed® - featuring a pillow-top mattress, a white goose-down comforter, and four overstuffed pillows. You dont just sleep in it, you lose yourself in it!

In addition, custom designed carpeting and draperies, accented by a Graves-designed insignia, compliment the designer wall coverings.

Guest room features include:

King or queen/queen-bedded rooms (Swan wing)
King or double/double-bedded rooms (Dolphin wing)
Fresh, contemporary decor
High-speed Internet access
Standard in room mini refrigerators
Personal Pantry Service
In-room safe, which accommodates most lap tops/tablets/electronics.
32 Widescreen flat-panel LCD TV
Resort Information System Interactive system on TV provides up-to-the-minute details on resort services, amenities, events and more
Full bath (additional private vanity in some rooms)
Two dual-line telephones (1 cordless) with voice mail messaging
Individual climate control
Hair dryers
Make-up mirror
Iron/ironing board
Complimentary daily weekday newspaper (available by elevators each floor
Entire indoor resort isnon-smoking
Disability accessible rooms available

$25 for each additional adult beyond the 2 adult limit per room.
Swan Guestroom Layout

~






Dolphin Guestroom Layout ~


Grand Deluxe Guest Room
​
http://swandolphin.com/accommodations/grand_deluxe.html

A new category (possibly temporary) for recently renovated rooms at the Swan, with a slightly higher price.

BRAND NEW: Grand Deluxe guest rooms are now available at the Walt Disney World Swan as the resort is undertaking the largest renovation in its 25-year history. This fabulous new room design is inspired by the resorts water-themed architecture to create a serene and sophisticated atmosphere.


Experience our newly designed guest room completely renovated with upgraded furniture, chrome fixtures and all of the latest technology including large HD TVs. Additional power outlets provide corporate executives and family travelers more options for use of personal electronics.

The Grand Deluxe guest room blends a beautiful combination of whites, blues and grays creating a tasteful ambiance that appeals to adults while abstract artwork playfully delights children as well.

The centerpiece of the room is the famous Westin Heavenly Bed with its all-white custom-designed pillow-top mattress set, cozy down blanket, a trio of crisp sheets, goose down comforter and four over-stuffed pillows.
The design continues into the completely new bathroom where guests may enjoy two separate vanities and a back-lit mirror mounted on iridescent glass tiles.

Most rooms feature a wonderful view of the beautifully landscaped resort grounds, but you may also choose to upgrade to a Grand Deluxe room with a balcony to further enhance your view of the pools, lake or Disneys BoardWalk entertainment complex.





Suite Information



Slip into the luxurious comfort of the suites at the Walt Disney World Swan and Dolphin. Our 167 award-winning suites provide you with a refuge so soothing, you wont want to leave. Combine the luxurious charm and contemporary décor of your suite with attentive service and your vacation or business trip is complete! From check in to check out, accommodating your every need is our pleasure.

To book one of the suites, please call 1-800-227-1500.

Features of our different suite types.

Deluxe Alcove (Located at the Swan and Dolphin)
Deluxe Alcoves are nestled in the corners of our unique buildings, providing striking views of our magical surroundings. These rooms are larger than a standard guest room and feature a distinct alcove for dining and/or working.

Premium Studio (Located at the Dolphin)
Almost twice the size of a standard guestroom, our Premium Studio provides comfortable bedding with lots of extra space for the working professional or the vacationing family. The sitting area can be used for entertaining or converted into additional sleeping space.

Executive Suite (Located at the Swan and Dolphin)
The Executive Suites provide a spacious alternative to a standard guestroom, with comfortable bedding and a distinct living area, perfect for work or family gatherings.


Grand Suite (Located at the Swan and Dolphin)
Accomodate the largest of families or motivate the corporate executive with inspiring views of our majestic surroundings and stylish, comfortable furnishings and décor. Our Grand Suites provide the perfect mix of living and work space, with equally impressive connecting guestrooms.

Governor's Suite (Located at the Swan and Dolphin)
The ultimate in world-class elegance and sophistication, our Governors Suite offers a spacious, elegantly appointed parlor, complete with wet bar, connected to a spacious, lavish guestroom.



Views



I think this is one of the most asked questions. Epcot Views are in the far East Wing. DHS views and Pool Views are in the far West Wing. There are 9 floors on the wings. If you want to try for a view of Illuminations. Your request would be in the far East Wing, upper floor with an unobstucted view of Epcot. We have been able to see Illuminations from the upper floors while staying in the "triangle" but there are no balconies up on these floors so it is much harder to see. We also could see DHS and Fantasmic off in the distance from these upper "triangle" rooms.

Occupancy Limits for the Swan and Dolphin.

The Swan has an occupancy limit of 4 per room. The Dolphin has an occupancy limit of 5 per room. A rollaway bed can be obtained for a fee by calling housekeeping. The fee for a rollaway bed is currently $25.00 per night.

Will the Swan and Dolphin transfer my luggage?

One of the benefits to staying at a Disney resort is that the resort will transfer your luggage as you change resorts during your stay. The Swan and Dolphin is not considered a Disney resort, but they have been known to extend this same luxury. All you need to do is call the Bell Services of your current resort and ask if they will transfer your luggage. They have always provided that courtesy.



Is there a resort fee?



The resort service fee at the Walt Disney World Swan and Dolphin Resort is $30 +tax. The service fee includes:
Unlimited access to the resort's health club facilities including 24 hour access to Dolphin Health Club
Unlimited domestic, long distance, and local calls
2 bottles of water refreshed daily
In-room enhanced high speed wireless internet access
Complimentary daily scheduled fitness classes
Complimentary daily scheduled recreational resort and pool activities
$30 off spa services of $175 or more during each day of your visit at Mandara Spa
Complimentary Swan Paddle Boat rentals
Complimentary S'mores Fun Kit each day of your stay to be used at our evening Campfire & S'mores event
I heard there's a charge to park at the resort -- is this true

?

Yes, the Walt Disney World Swan and Dolphin resorts charge for self-parking as well as valet parking. Self-parking rate is $27 per day and Valet is $37 per day, both + tax.



When can I check in?



Check in time at the Dolphin is 3 p.m. Early check in is available if your room is ready; if not, luggage storage is available for later check in. Check out time is 11 a.m. Guests can usually check out no later than 12:00 pm without penalty. Late check-outs are, 12:00 PM- 2:00 PM - $40, 2:00 PM- 5:00 PM - 1/2 Day's Rate. After 5:00 PM - Full Day's Rate. All subject to availability.

Marriott Guests can earn points, inquire at check-in.



Since the Swan and Dolphin aren't considered Disney Resorts, do I still get the Disney resort amenities?



Guests at the Swan and Dolphin enjoy many of the same amenities as Disney operated resort guests. A stay at the Swan and Dolphin includes WDW transportation to all Disney attractions, theme park free parking (just show your room key card), Extra Magic Hour (EMH) privileges, package delivery to your hotel from the parks, preferred tee times, and access to guest services. You can also purchase your Disney tickets right there at the Disney Guest Services desk.

Fastpass Plus selections can be made 60 days in advance of your trip, same as regular Disney owned resorts. Magic Bands are not included free, but may be purchased for $12.99 each.

However, unlike other Disney resorts, charging privileges don't extend beyond the Swan and Dolphin. All purchases and dining expenses ONLY AT the Swan and the Dolphin, can be charged to your pre-arranged account.

Marriott Guests can earn miles and points, inquire at check-in.

Transportation Options...




Dolphin guests enjoy full use of all of the WDW transportation services. The buses and boats start picking up resort guests about 6:30 AM, for early dining reservations at the parks. Buses run directly from the front of the hotel to Magic Kingdom, Animal Kingdom, Downtown Springs (Marketplace, West Side and The Landing), Typhoon Lagoon, and Blizzard Beach. Some of the buses service only Swan and Dolphin resorts; others service the Boardwalk and Yacht and Beach Club as well.

Epcot can be reached by catching a Friendship launch (boat) from the courtyard/water-way between the Swan and Dolphin, or by taking a short stroll across the BoardWalk and to Epcot's International Gateway and World Showcase. The walk is a pleasant one and takes about 10 to 15 minutes. Note that the Epcot and DHS launches are shared with the Yacht & Beach Clubs and the BoardWalk. If you miss the launch to Epcot, you can walk over and catch it at the BoardWalk or the Yacht Club. Please note....the Boardwalk is the last resort stop on this transportation leg.

DHS can be reached one of two ways; via the Studios Friendship launch or by walking. The boat launch is found in the courtyard between the Swan and Dolphin. The walking path begins directly behind the Boardwalk's Atlantic Dance Hall and continues to the DHS Parking lot. This is about a 15 to 20 minute walk. The boat transportation to the DHS is quicker, because the Swan and Dolphin is the last resort stop on that transportation leg.

Town cars, taxis or vans are also available should you want a ride directly to another Disney resort, the Parks or elsewhere. The valet can assist you with getting a vehicle. They are usually parked out front and will pick you up in minutes.

Additionally, a National/Alamo car rental desk is located in the lobby area of the Dolphin.
SWIMMING POOLS


POOLS, BEACH AND ELECTRIC BOATS

Get ready for fun in the sun! With five heated pools - not to mention whirlpools, fountains and waterfalls - all nestled in an exotic tropical environment, you'll find the perfect spot to relax in the shade or tan in the sun. Our expansive pool area provides the best of both worlds: quiet alcoves for those who prefer a private place to unwind and more lively areas with seasonal disc jockeys and entertainment for those who prefer a little more excitement.

Work out in our crystal blue lap pool, which was recently named #1 of 10 hotel lap pools in the country by AthleticMindedTraveler.com! Or take a leisurely ride around Crescent Lake on an electric Fun Boat!

Enjoy a day of sun-splashed fun for the whole family. Choose from a variety of things to do:

Grotto pool with tropical waterfall and water slide
Two lap pools
Spring pool
Four whirlpools
Kiddie pool
Two poolside restaurants
Water volleyball
Electric boat rentals
Staff supervised pool games
Two sand volleyball courts
Basketball hoops
Ping Pong Tables
Giant Checkers Game

We also provide a variety of pool-fun essentials at the Cabana Beach Hut, located by the Dolphin Spring Pool:

Tube and raft rentals
Electric boat rentals
Skin care products
Sunscreen
Sunglasses
Complimentary life vests
Beach towels (Can be checked out with your room key)
Volleyballs (Available in the Health Clubs)
Basketballs (Available in the Health Clubs)
Note: All Sporting Equipment is available in Health Club(s).
​
Camp Dolphin
​
There are 2 sessions available to children ages 4-12. The evening session is from 5:30pm to Midnight. It includes dinner, activities, trip to the Game Room, video games, arts and crafts and Disney movies. The cost is $12.00 per child per hour. Your child must be dropped off by 7:00pm. Reservations are required and cancellation less than 2 hours prior will result in a full charge. The programs are staffed by counselors. Camp Dolphin is located in the Dolphin hotel on the first floor next to the Health Studio.




Recreational activities at the Dolphin and Swan Resort



There is a beautiful white sand beach with Swan watercraft rentals. The beach is quiet and peaceful in the hours after dark, which makes for a romantic spot. There are 4 tennis courts and a basketball court that are kept lighted throughout the night, for those that still have energy left over after a day at the parks. A large play area for children is located near the Grotto. A jogging and walking path winds around the Dolphin and Swan. Add to that the Boardwalk around Crescent Lake (near the Yacht & Beach Clubs and the BoardWalk), and you'll have quite an extensive walk or jog.

Electric Boat Rentals - Recline and relax on a leisurely ride around Crescent Lake on a Chaise Lounger which can accommodate up to two adults.

There are 2 health clubs servicing the complex -- one at the Dolphin and one at the Swan. Massage therapy and Body Treatments are available for a fee at the health clubs. Saunas, whirlpools, and aerobics are also offered.
​
For those that like their indoor activities a little less strenuous, there is a video game room on the lower level.
​
Fantasia Gardens is a few minutes walk away. This miniature golf adventure opened in the spring of 1996, and includes two 18-hole courses. There is something for everyone-- fun and Disney magic on the Fantasia Gardens course and a more challenging game on Fantasia Fairways.

Don't forget to explore activities offered at the nearby BoardWalk and Yacht & Beach Clubs.



Guest Laundry Information



There is a credit card/coin operated laundry located on the first floor of The Dolphin. Washers are $3.00 per load and dryers are $3.00 for 45 minutes. Machines also take quarters, change machine is available.


DINING INFORMATION

Menus can be found at Deb's site.
http://www.allearsnet.com/menu/menus.htm#res

This resort offers a Dining Passport Program information can be found at these links.

http://www.swandolphinrestaurants.com/loyalty/index.html
http://land.allears.net/blogs/dnews/2012/07/frequent_dining_program_at_wal.html
S/D signature restaurants honor the Tables of Wonderland discount card program and 20% discount with your AAA card at the following dining locations.

AAA Card accepted at the following places ~
GARDEN GROVE in the Swan
FRESH MEDITERRANEAN MARKET in the Dolphin
THE FOUNTAIN in the Dolphin
CABANA BAR AND BEACH CLUB at the Grotto pool
SPLASH TERRACE & GRILL at the rectangular pool by the Swan
PICABU 24/7 in the Dolphin


Tables-in-Wonderland-discounts included Il Mulino New York- Garden Grove- Kimonos- Shulas Steak House- Todd English Bluezoo



CASUAL DINING



360 degree photo tours of the casual dining places can be found at the link below.
http://www.swananddolphin.com/dining/casual.html

Relax and enjoy a perfect meal without worrying about the dress code. Our casual dining options include Fresh Mediterranean Market, The Fountain, Cabana Bar & Grill, and Splash Terrace. You will find that these restaurants offer a vast selection of entrées sure to please every member of your family.

Garden Grove
Enjoy buffets for breakfast and dinner or casual a la carte favorites for lunch in Garden Grove, having a Central Park theme. Disney character dining featured nightly or for breakfast on Saturdays and Sundays. Perfect for family dining.
​
Fresh Mediterranean Market
Savor fresh, made-to-order menu items from our Mediterranean-style market. Open for breakfast and lunch.
​
The Fountain
Crisp salads, custom grilled burgers, and a delectable array of sandwiches and desserts. Take away homemade or soft serve ice cream. Open for lunch and dinner.
​
Cabana Bar and Grill

The Cabana Bar and Beach Club offers a sophisticated venue for outdoor relaxation, conversation, cocktails and light dining just steps from the Dolphin lap pool. Now offering extended hours until 10:00 p.m. and a South Beach chic feel, Cabana Bar and Beach Club is the perfect place to transition from day into night.

Guests will enjoy the new intimate seating areas that are framed by exotic wood and enveloped in flowing white sheers. Night time is signaled by the lighting of the towering fire torches, which bring warmth and a touch of magic to the scene. A signature chandelier sits above a glowing Onyx bar in the center of this resort oasis
​
Splash Terrace, lunch, snacks and ice cream, just steps from the pool and white sand beach. Outdoor seating with table service. Open seasonally.




SIGNATURE DINING
​
Enjoy an exquisite meal where the setting, menu and service create a unique dining experience. Our signature restaurants are anything but ordinary. Celebrity chefs and award-winning architects have brought four of the most breath-taking restaurants to our resort. Learn more and reserve your table at one of these innovative and award-winning restaurants.

Il Mulino New York Trattoria
Traditional Italian cuisine from the Abruzzi region of Italy, served in a dynamic rustic trattoria. Features a diverse offering of exciting and bountifully presented dishes, prepared from original Italian recipes. Open for dinner. For dining reservations, call 407-934-1609.
​
Todd English's bluezoo
Enjoy coastal cuisine from celebrity Chef Todd English, incorporating an innovative selection of fresh seafood in an energetic and vibrant atmosphere. AAA Four Diamond Award and three-time recipient of Wine Spectators Award of Excellence. Open for dinner. For dining reservations, call 407-934-1111.
​
Shula's Steak House
Shulas serves only the biggest and the best, including Certified Angus Beef®, the freshest seafood, and 3-5 lb. live Maine lobsters. Critics choice for Orlandos Best High-End Steak House, critics choice for best chain and seven-time recipient of Wine Spectators Award of Excellence. Open for dinner. For dining reservations, call 407-934-1362.
​
Kimonos
Experience the art of sushi, karaoke, and an intimate atmosphere in our authentic Japanese sushi restaurant. Open for dinner. For dining reservations, call 407-934-1609
​
QUICK SERVICE



Sometimes a quick bite is just right! If you're looking for a light lunch, a snack or drink, youll find that we offer some delicious options.

fuel
On the go? Looking to stock up with snacks for the theme parks? Stop by the all-new fuel to recharge, refresh, and fill-up on coffee, ready-made sandwiches and snacks. fuel offers guests a convenient way to energize during the day, whether it's filled with business meetings or exploring the theme parks. Our baristas can create your favorite caffeinated concoctions to carry you through the day. You can also enjoy a fresh frozen dessert at our D.I.Y. yogurt stand or grab a decadent sweet pastry created by our very own two-time World Championship Pastry Chef, Laurent Branlard. fuel is located in the Walt Disney World Dolphin lobby and is open daily from 6am to 10pm.




Picabu
A curious gallery of evocative food and decor, Picabu was created to delight both kids and the young at heart. The always-open adventure eatery serves up an affordable and unique dining option for the entire family in a buffet/cafeteria setting. The centerpiece is Picabu, a delightful and adventurous wood-carved and brightly painted animated character who diners will find behind every corner leading the way through the unique and unforgettable dining experience. Picabu, designed by Kakadu Art & Design in Wood, Ltd. will fascinate kids (and parents) as they make their way through the restaurants selection of Americas favorite foods. Open 24 hours a day; seven days a week, Picabu is located in the Dolphin wing, and also offers a 24-hour sundries shop that includes toiletries, magazines, snacks and gifts.

At Picabu the refillable mugs with all of the resort restaurant logos on them are now for COLD beverages ONLY. If you want refillable coffee or tea, you must buy the new silver-toned hot mug with the Javabar logo on them.
​
Splash Grill
Just a few steps from the Swan lap pool, Splash Grill is the perfect choice for lunch if youre anxious to get back in the water. Enjoy a variety of all-American lunchtime favorites like pizza, sandwiches, burgers and more. Self service restaurant with indoor seating. Open seasonally for lunch and snacks.

Java BarAn inviting and relaxed setting to enjoy espresso, cappuccino, or variety of coffees, along with a selection of freshly prepared pastries. Also serving an assortment of other refreshing beverages.
​
24-HOUR ROOM SERVICE



We know you have a busy schedule youre at Walt Disney World! Sometimes you dont have time to wait for table service or maybe you just dont want to go out. And when those midnight-snack cravings set in & you can count on us. Just take a look at our 24-hour room service menu that you will find on your desk, well bring your selections to your room and your appetite will be satisfied in no-time.
SPA INFORMATION
MANDARA SPA
​
The Mandara Spa at the Walt Disney World Swan and Dolphin blends the lovely resort architecture with its signature Balinese style to provide a fresh and original setting where guests may indulge in world class pampering and beauty services. From the moment the guest arrives all of the six senses of hearing, sight, sound, taste, touch and perception are aroused creating expectations of a memorable spa experience. The spa visit becomes an adventure both sensory and physical as guests explore the Tea Gardens unique Asian Bale and the Meditation Gardens signature Meru Temple. The two beautiful interior gardens provide exotic retreats before guests begin the spa ritual. The spectacular Mandara Spa creates an unforgettable guest experience within a magical setting surrounded by the paradise that is the Walt Disney World Swan and Dolphin.

Elemis was created in 1990 as a lifestyle brand of aromatherapy products aimed at treating each person holistically with plant essential oils and marine extracts mixed in natural bases. Our philosophy was, and still is, based upon using the wisdom that had been learned by our forefathers thousands of years ago. Our product concept was designed to work in conjunction with our own exclusive services to ensure maximum relaxation & outstanding results are achieved&

Walk into a world of complete sensory heaven where time is left at the door and a new journey begins&

Your journey continues through The Ten Cultural Touches of Elemis, a new sequence of massage movements influenced and inspired by an exotic blend of cultures and techniques...


The Mandara Spa at the Walt Disney World Swan and Dolphin offers an array of healing treatments, such as:

Swedish Massage
Balinese Massage
Reflexology
Elemis Aroma Stone Massage
Deep Tissue Massage
Nurturing Massage
Novalash Eye lash extensions
Ionithermie Cellulite Reduction Treatment
Elemis Cellutox Aroma Spa Ocean Wrap
Elemis Musclease Aroma Spa Ocean Wrap
Traditional Javanese Lulur
Exotic Frangipani Body Nourish Wrap

For Walt Disney World Swan and Dolphin Guests

Children ages 4-12 may enjoy 2 complimentary hours of fun at Camp Dolphin when you purchase any spa service lasting 75 minutes or more! Simply present your receipt to a Camp Dolphin counselor for proof of purchase. (Camp Dolphin is open evenings from 5:30pm - 12:00am).

Spa link

http://www.mandaraspa.com/spa/Orlando-Walt-Disney-World-Swan-and-Dolphin.aspx


PICTURES

Pictures of the Swan and Dolphin can be found at the link listed here.
http://www.swandolphin.com/gallery/index.html

http://www.wdwinfo.com/photos/swan-Dolphin/index.htm


Narrated Video Tour
http://www.swandolphin.com/video/index.html
​
Directions from Orlando International Airport (MCO) to the Swan and Dolphin Resorts:

Follow the signs for the South Exit from the airport to pick up SR417 South (also called the Central Florida GreeneWay) toward Disney World. Once on SR417, you'll have 2 toll plazas for $1.25 each. After the 2nd toll, take exit 6 (SR 536/International Drive). Go straight through two sets of traffic lights (first intersection will be International Drive; second will be SR535) which will put you on SR536. Continue straight on this road and go straight through the next set of lights. You will pass the Marriott Orlando World Center on the right and the Holiday Inn Family Suites on the left, then I-4.

Just after I-4, you'll pass under the WDW welcome arch. After passing under the WDW welcome arch, follow the signs for MGM/Epcot Resort area -- it will be the 2nd exit after the arch. This will put you on Buena Vista Drive. Stay in the middle lane. Follow Buena Vista Drive straight. You will pass Caribbean Beach Resort on your left and the Boardwalk Resort on your right. Get over to the right hand lane as you pass the Boardwalk. Turn right at the next set of lights (Epcot Resorts Boulevard). The Swan will be the first street on the right. The Dolphin will be down a little further on the right.
Link to the thread dated 2008 ~
http://www.disboards.com/showthread.php?t=1567343
Link to the thread dated 2009 ~
http://www.disboards.com/showthread.php?t=2137287
Link to the thread dated 2010 ~
http://www.disboards.com/showthread.php?t=2566726
Link to the thread dated 2012 ~
http://www.disboards.com/showthread.php?t=2904771
​
Many questions that get asked on this thread are also answered (with many photos) in this posting from The Points Guy's website. Maybe give it a look.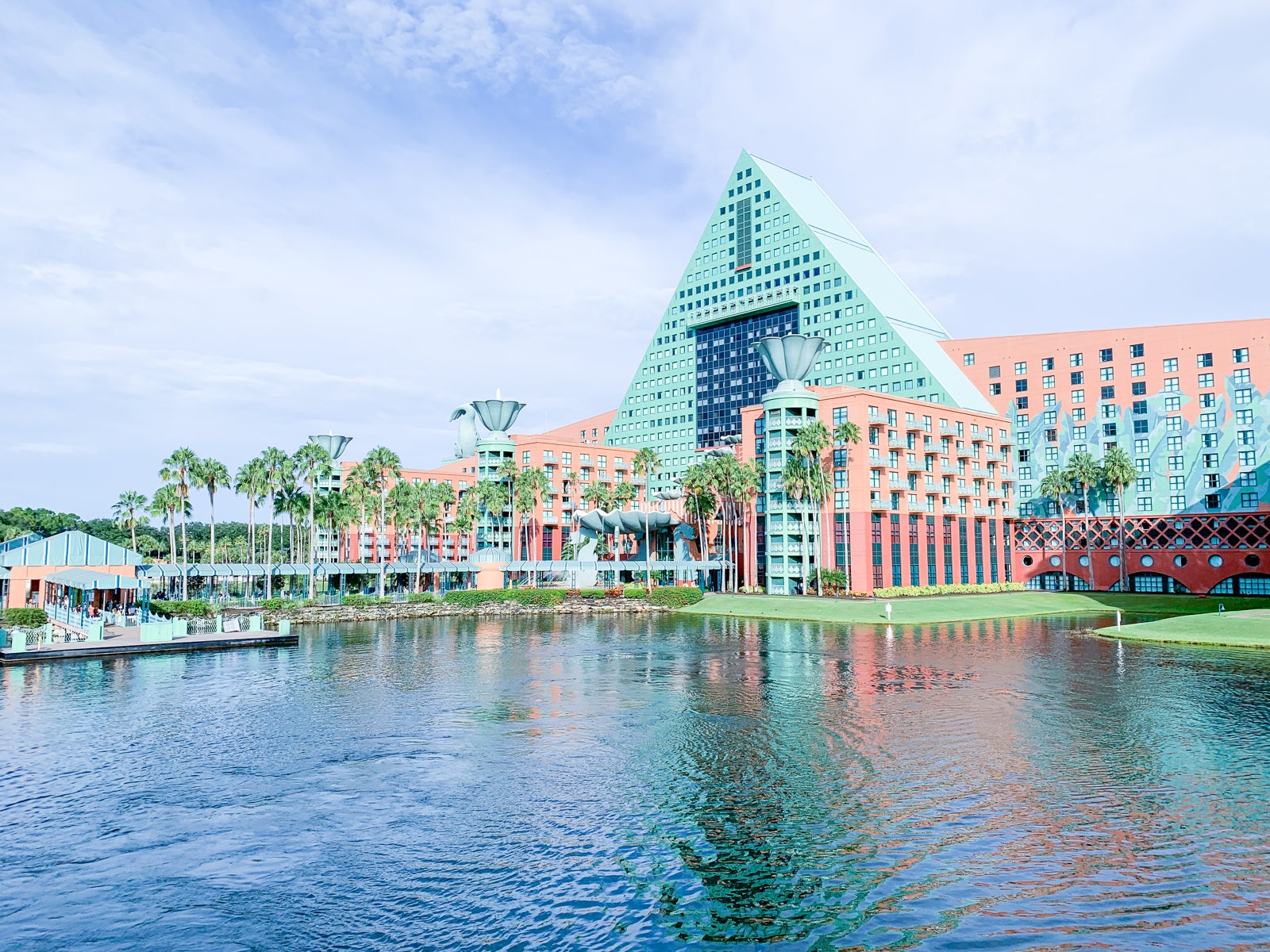 Going to Disney World? Congratulations! Now for the bad news, deciding to take a trip to the Most Magical Place on Earth is the easy part. When it comes to picking among the hundreds of hotels in the Orlando area, things can get tougher in a hurry. There are trade-offs involved with each choice...
thepointsguy.com
Last edited: