The WDW Merchandise Walking Bible
There was much discussion during this week's shows about volunteering at Give Kids the World. As someone who has volunteered there several times, I thought I'd offer my insight so that more people feel comfortable signing up to help out.
Give Kids the World
Background
Give Kids the World Village is a 70-acre resort with over 140 villa homes, entertainment options, specialty attractions, eateries, and more. It is designed to provide families of children with life-threatening illnesses a "care-free" vacation. Everything from accommodations to food to park tickets are provided free of charge for these families. All areas of the village are handicapped accessible so that wheelchairs and other special needs of the children can be met.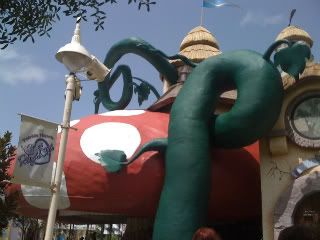 Story
- from gktw.org
The story of Give Kids The World begins with a little girl with a wish and the desire of one man to make that wish come true.
The little girl's name was Amy. Amy had leukemia and one wish - to visit the theme parks in Orlando. To facilitate Amy's wish, the request of a complimentary stay was made to a respected hotelier. As he had done many times before, the hotelier gladly obliged and Amy's wish was that much closer to being realized. Sadly, the remainder of Amy's travel plans took too long to arrange and her wish was never granted; Amy had passed away. Time simply ran out.
This unfulfilled wish inspired a man, the hotelier, to make a vow that no child in need would ever be failed again. That man was Henri Landwirth and his desire to ensure that Amy's story would never repeat itself is where the story of Give Kids The World begins.
DIS Connection
Mr. Bob Varley, a former podcast host who passed away suddenly, supported this great organization and, as best to my knowledge, is the individual who introduced it here on the DIS. If anyone knows otherwise, please correct me if I am wrong. Bob's family encouraged donations to the organization in his name after his passing. Since then, it has become a major focus of DIS members to support GKTW financially or through volunteering.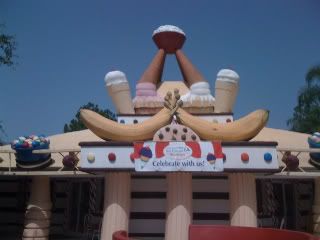 Voluteering at GKTW
The Logistics
Give Kids the World relies heavily on volunteers to help man the 1,200 shifts each week at the village. Positions include assisting children during pony rides, scooping ice cream, serving meals, operating the merry-go-round, delivering meals, working the kids' spa, and much more. Groups or individuals can volunteer and should contact Volunteer Services via email at
volunteer@gktw.org
or by phone at 1-800-995-KIDS or 407-396-1114. In the past, I have organized small groups to volunteer and our contact person was Connie, who to the best of my knowledge, is still working in this department. She is familiar with the "DIS Unplugged Group," and is very easy to work with as are all of the staffers there.
Volunteer Positions
When setting up time to volunteer, you can be either a part of a group or go individually. Shifts range from one to several hours; you may volunteer for more than one shift depending upon your availability. Groups will be given the choice of several areas in which shifts are available. The group leader can then divide them amongst the participants. Please note that most shifts are not near one another. Sometimes one person will be working alone while others will be working in a pair or group of three. Feel free to ask questions about this when contacting GKTW.
Individual volunteers are either assigned or given a choice as to what their shift will be. Please be flexible as you may be filling in a single shift that a larger group could not accommodate. It's a great way to network with social, college, or religious organizations that regularly volunteer at the village.
Groups or individuals who are new to GKTW may request a tour of the village either before or after your shift. This tour highlights the major points of the entire property and really provides a lot of the back story behind each building, how they work with sponsors and families, etc. I highly recommend going on a tour as it only adds to this special experience.
Before Arrival
Before arriving at GKTW, you will be asked to fill out a release form. This will serve as a basic background/safety check to make sure that everyone stays safe. The form will need to be completed before you arrive at the village.
Depending upon your shift, make sure to wear comfortable shoes and appropriate clothing. I have volunteered at the village when it was very cold and very hot. You will enjoy your time there more if you dress for the weather.
Upon Arrival
When you arrive at GKTW, be sure to follow the signs into the parking lot. Park near the main building and report to Volunteer Services. There you will be checked in and instructed accordingly. You may also need to be trained on special equipment and sign an additional release depending on which shift you are responsible for. An example of this would be the merry-go-round which requires special training for its operation and an additional safety release.
After Volunteering & Personal Reactions
Many people think that volunteering at Give Kids the World would be a sad experience. This is certainly not the case. The village is beautiful and very cheerful. The full-time staff does an incredible job of being discrete when emergencies or extraordinary circumstances occur.
Many of the individuals who I have volunteered with or set up volunteering for have told me that the experience really recharged them for daily life. While yes, you may find yourself emotional during the tour or another experience, most walk away feeling very good about themselves and the work they have done. I have yet to meet someone who has volunteered there that felt the experience was not worth it. Most do not want to leave when their shift is over. I have always been one of those people and am sure to visit nearly every time I am in Florida on vacation.
The village has a small gift shop selling t-shirts, snow globes, car magnets, and other trinkets. The proceeds benefit the village and organization itself. You can also order something online by visiting
http://www.givekidstheworldstore.org/
.
For more information about Give Kids the World and its volunteer opportunities, visit
http://www.gktw.org
.
To view a video celebrating the great work Give Kids the World does and to see more of the village, visit
http://youtu.be/01_f9bTSTJI
.
Contact Information:
Give Kids The World Village
210 South Bass Road
Kissimmee, FL 34746
800-995-KIDS (Tel)