Faith, trust, & pixie dust
Hello there lovely ladies & occasional gentlemen
My name is Michelle Sanchez & i'm a HUGE disney fan... I am so happy 2 c other brides out there who are as crazy as me 4 everything disney
I have been searching the boards 4 a while now & thought it was time 2 start my own PJ..
About us:
I am 27 y.o & i am a Labor and Delivery Nurse. I was born & raised in Philadelphia PA. My Husband is 31 y.o & he works in waste management driving trucks. His name is Immanuel but we call him Manny. He was born & raised n Brooklyn NY.
How we met:
Manny's father kicked him out the house when he 15 bcuz he said he couldn't support his drug habit & raising kids at the same time, so he chose his drugs over him
So he packed his bags moved here 2 philly with his aunt. We met thru church @ a youth convention. I was 13 and he was 18. My mother was real strict. U might be thinking "well how strict was she"? I was 18, had a job, in college & i still couldnt date
What was crazy was my 2 brothers started dating at age 12. Her response was they are boys & ur not
She wasn't the religious type of strict either. I had 2 clean the bathroom, livingrm, both dinning rms, my rm, her rm, the whole house by myself when i had 2 brothers living here. It was home right after school. So church was my safe haven. 1 time she didnt allow me 2 go 2 church bcuz i had hung the wrong pair of pants up 2 dry. She knew i enjoyed going so she would fine stupid things 2 punish me so i didnt go. If anything wouldn't u want ur child 2 go?? Manny & I had been talking & seeing each other at the youth groups on friday nights. We began 2 get close with 1 another but knew we couldn't get serious bcuz of my mother. We just couldn't help it
Manny decided 2 wait for me 2 turn 18 to approach my mom about us officially dating. So from the age of 14-18 we got 2 know each other & go on trips with the youth group. I graduated high school june 2002 and that summer i turned 18
I had started college in july & had a job at subway. Manny and i decided aug 29, 2002 for him 2 come over & approach my mother. Well what a mess that was. He came over & my mother FREAKED OUT. Let me give u a visual- Across the street from my house is a playground, i ran out the house & she CHASED me around the jungle gym, she was sreaming and cursing, finally she said "if u want 2 be with him u have 2 get out" then look at him and said "now u have 2 support her". I did not want 2 move in with him just yet bcuz 1-we really had not been dating yet 2-we were not married yet. My aunt took me in. Another funny thing was that 1 wk later she calls me and says "are u ready 2 come back?" I said "come back where?" she said "home" " NOPE
"
The Engagement:
I moved in with my aunt after that. Me and her are best friends. She was ok with us dating. About 1 month after officially dating we started talking about marriage and both decided hey why not. We both knew this is what we wanted some day so why not now. We bought the ring early oct 2002 and set the date for november but he didnt officially ask me yet. All of his family live in NY so we would visit there quite often. On oct 21,2002 His older sister was having a baby shower in NY with friends & family over. Towards the end of the party they had everyone sit in a circle in the livingrm. They told everybody 2 say something nice about his sister & the baby's arrival. Manny went 1st then so on & so forth. Then manny raised his hand 2 go again. I'm thinking dude how much more do u want 2 say. He got up, turned 2 me, got down on 1 knee, said some lubby dubby things, & asked me 2 marry him
.
Marriage:
We got married Nov 9, 2002. I was 18 & manny was 23 when we got married. I know we were young but we are still 2gether 2day bcuz of the grace of God
. We got married by 11am at a wedding salon, went 2 red lobster for a mini reception, change our clothes, went 2 the movies, & shopping!! It was a fun spontanious day. Only his father and sister were there 4 us. Manny reconciled with his father b4 we got married so it was nice 4 him 2 support us. We kept it a secret 4 about 3 months then told everyone. My dress was actually my prom dress
!
A quick time line: officially dating 8/23/02, engaged 10/21/02, married 11/9/02
Our plans are 2 do a 10 yr vow renewal in Disney World!!
Could u tell i'm excited !!!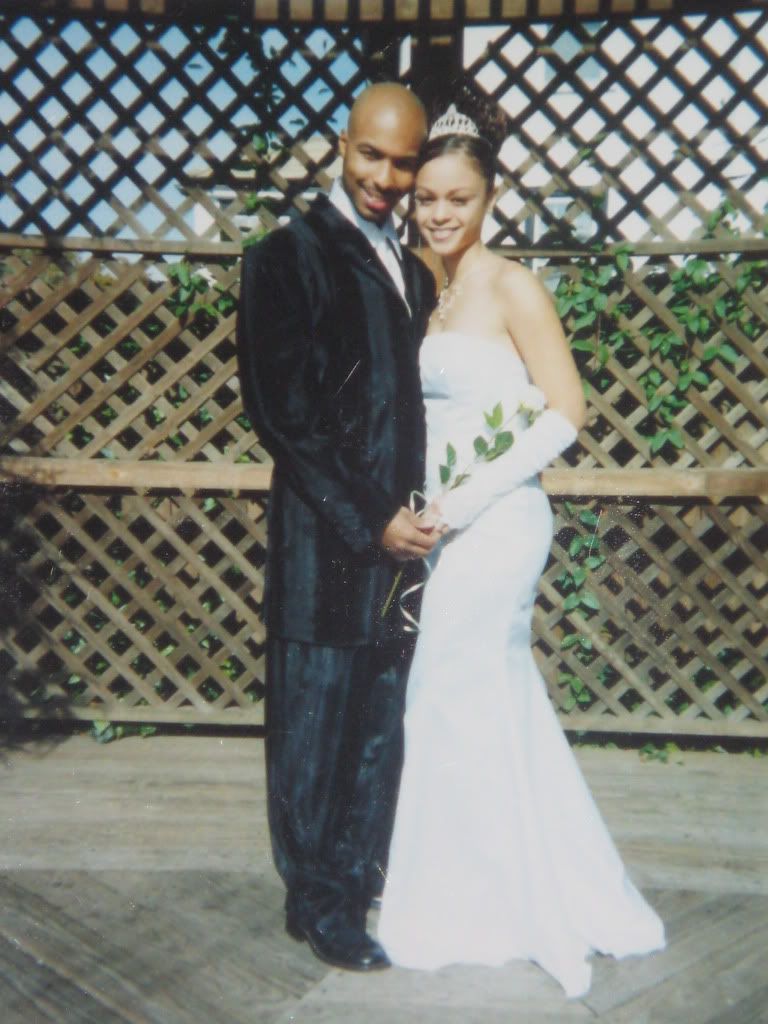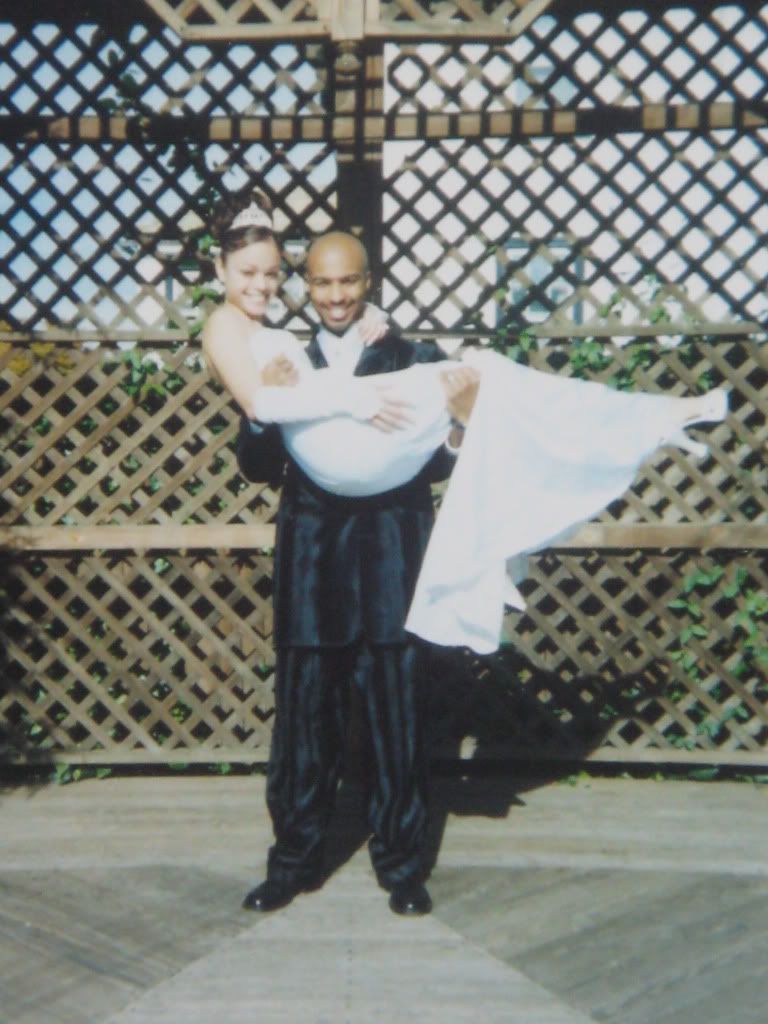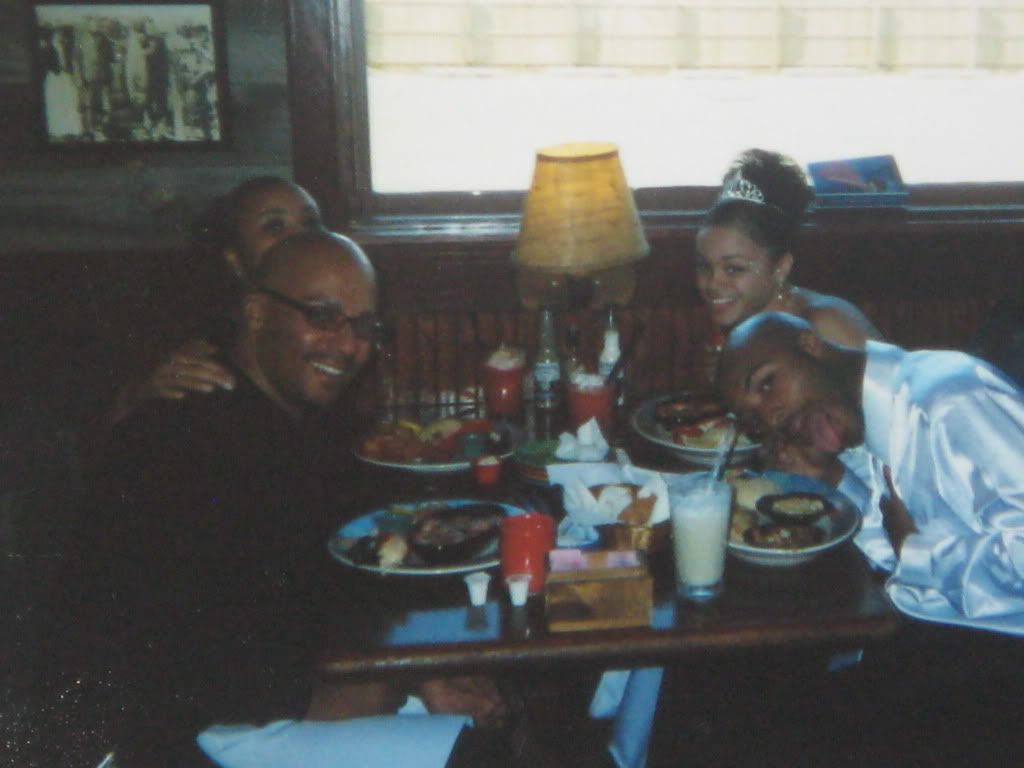 Up next details about Our disney Vow renewal!
Peace out