Day 5 - Naples, Italy
Way back when I first signed up for the ABD add-on, my one disappointment in the itinerary was that it did not go to Pompeii. I contacted DCL, but they weren't able to really help me with any options, except that I was free to skip any days of the ABD that I wanted to, and pay for other excursions. I was kind of hoping to arrange a trip to Pompeii in the morning of the Naples day (instead of the pizza-making activity), and then re-join the ABD group for the trip to Capri. But as it got closer, the visit to the "Agriturismo" farm sounded more & more appealing. When I met with Robyn & Tina the first day, the subject came up, and they echoed what DCL had said. And confirmed that there would really be no way to re-join the group. So no Pompeii (and, in retrospect, I'm glad I didn't skip the Agriturismo. Visiting the farm, and making & eating our own pizzas *was* a really fun activity, and I'm glad I didn't miss it. But I'm getting ahead of myself. )
We were split into 2 smaller buses for this trip. (It turns out that the way into the Agriturismo is *really* twisty & turny, and a big motorcoach would never have made it there.) Our local tourguide in our bus was Tony. Tony was *very* Italian! His father's name was Tony, and his grandfather's name was Tony. His father was mad at him, because he *didn't* name
his
son 'Tony'! (Note the castle in the background. It will be re-visited later...)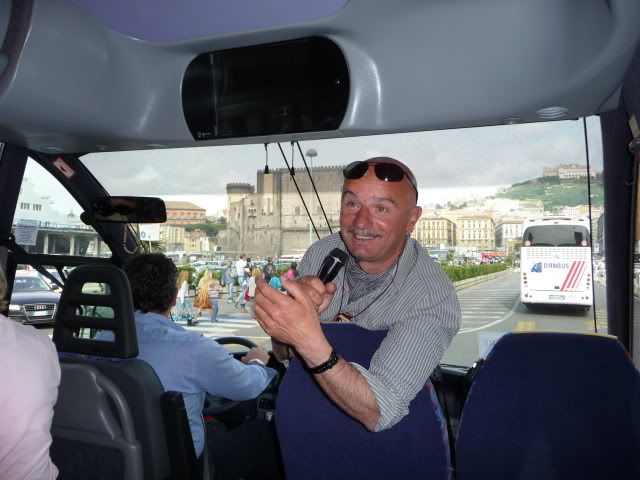 This trip began with a drive from Naples to Sorrento. We made it to the start of the gorgeous Amalfi Coast. Just spectacular views. We pulled off the road a few times for photo ops. We would be joined at most of them by large excursion buses. But we were a bit ahead of them, so we'd have *some* of the time without the crowds.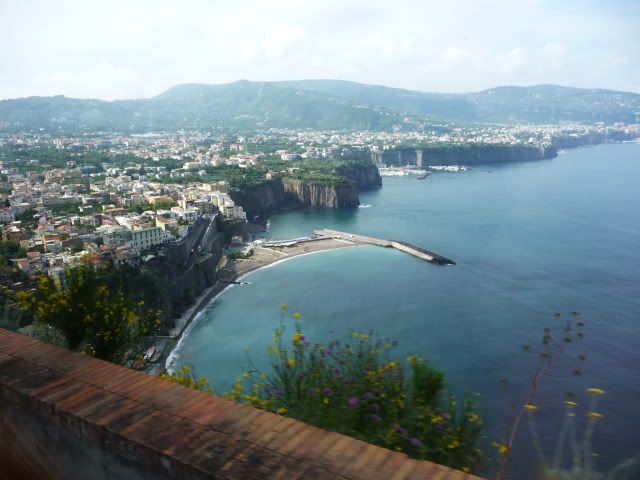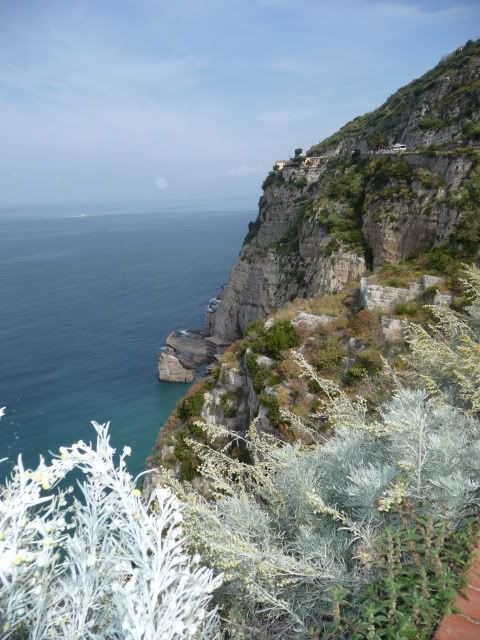 After some pretty hair-raising manuevers by our trusty bus driver ("Don't *look down*! Really, don't look!") we made it to the Agriturismo La Galatea Farm near Sorrento. We walked down a beautifully arbored entrance, and found ourselves in a lovely, shaded porch area. They had tables set up for us, and a long table set up with wine and appetizers. After that, they demonstrated how mozzarella cheese was made.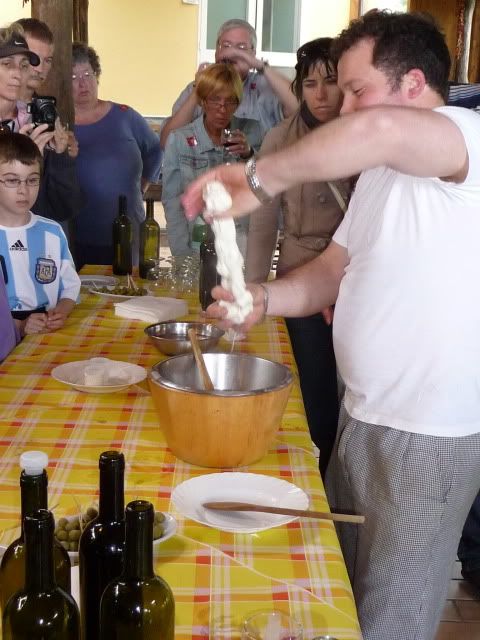 We also got a talk on how they made their olive oil. The woman who gave the talk had the most delicious Italian accent!
We then took a walk around the farm grounds, and had a visit with their cows. Yes, they use their own milk to make their mozzarella!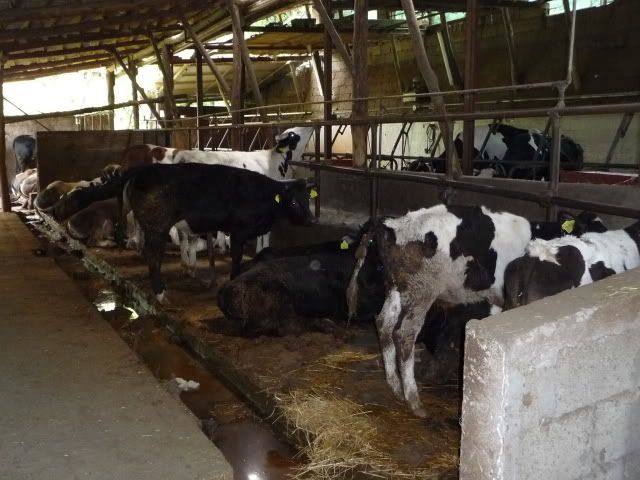 They had fresh peas growing in one spot, and they picked some of them, and let us eat them. Oh my gosh! Fresh-off-the-vine peas are DELICIOUS!!!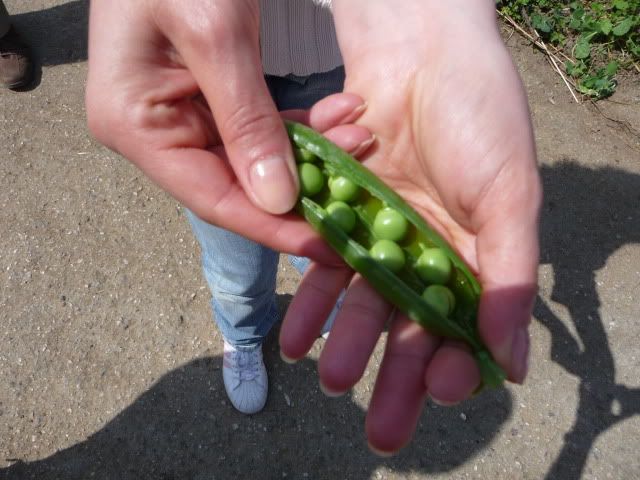 We then made our own pizzas. It was a tremendous amount of fun. They gave you a lump of dough, and showed us how to spread it out. (Of course, they helped some of us by picking it up & spinning it a bit!) Then we got to put the toppings on. Since I can't do tomatoes, they got me some olive oil (they make their own olive oil, too!) and I made a lovely white pizza with olive oil, cheese and fresh basil. After they baked (which didn't take very long with the brick oven they had!) we got them sliced, and then went back out to the covered porch, and ate our pizzas for lunch. YUMMY! Seriously YUMMY!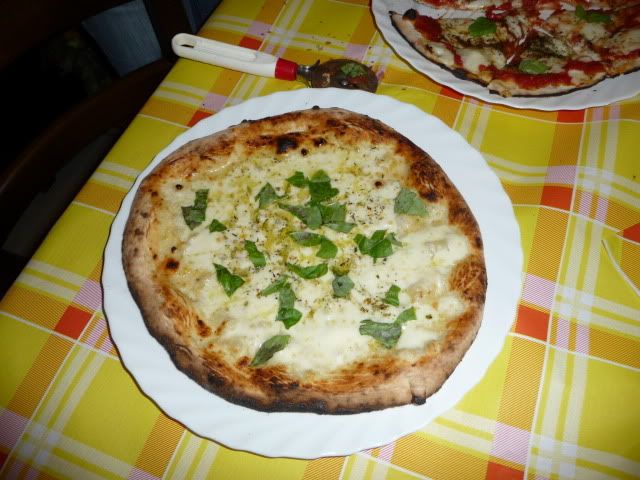 Their dogs had learned the fine art of begging. And they were *very* patient... which did pay off!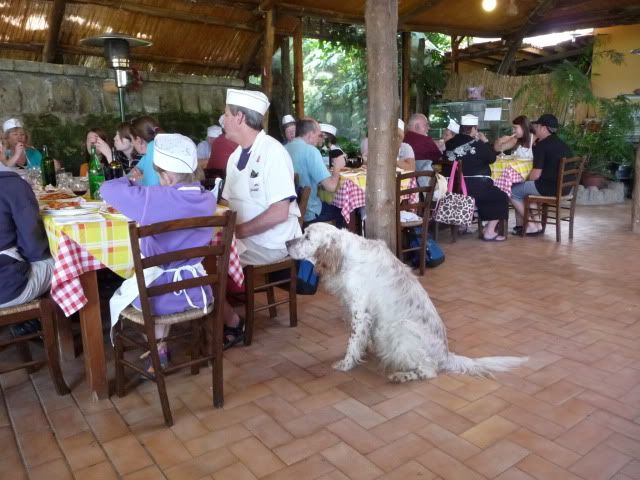 After lunch a few of us changed into swimsuits under our clothes, in case we ended up able to swim on Capri. We then loaded up into our buses, and headed out to catch the ferry to Capri. The area where we waited had gorgeous views of the surrounding cliffs.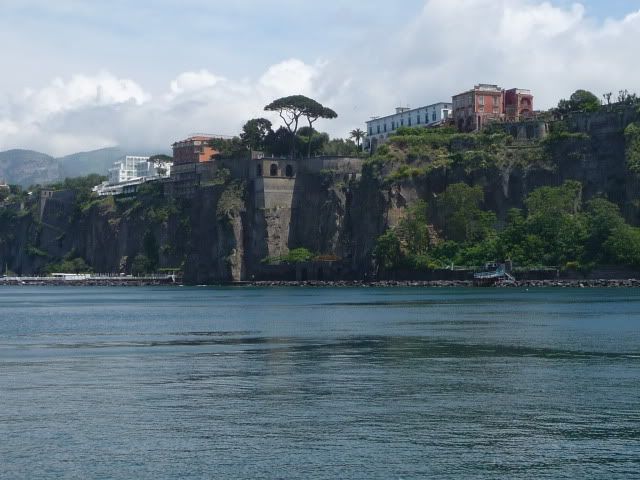 We actually didn't spend much time *on* Capri. We boarded a couple of small boats and sailed around the island.
The seas were still really rough, but it was a gorgeous trip. The coastline is rugged and colorful, and the water was beautiful, if choppy.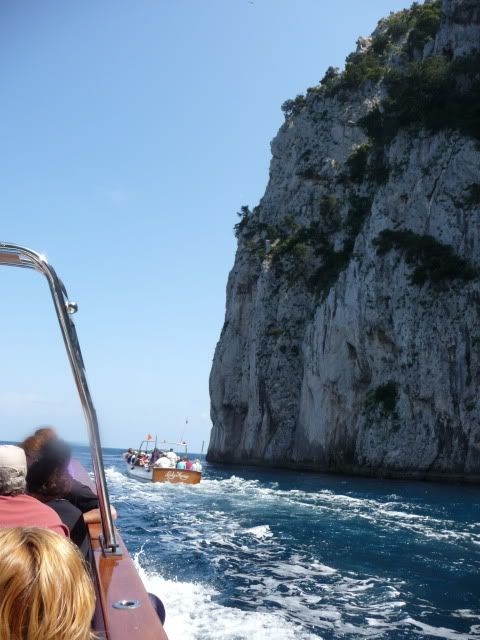 They took us close to a couple of caves so we could see the formations & different colors there.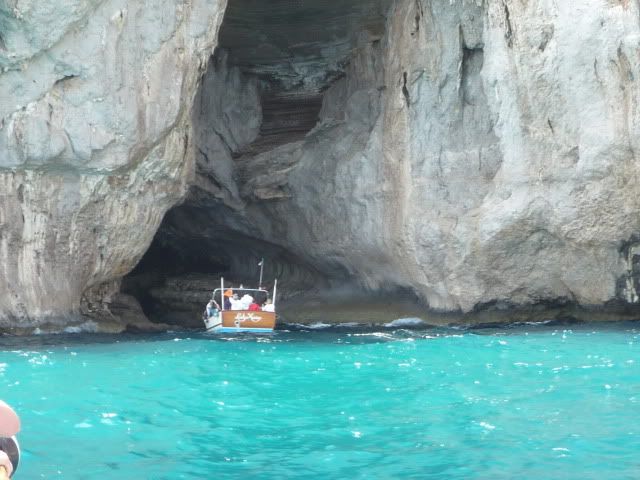 It's a video. Click!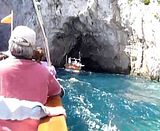 It was a beautiful coastline, and a wonderful boat trip.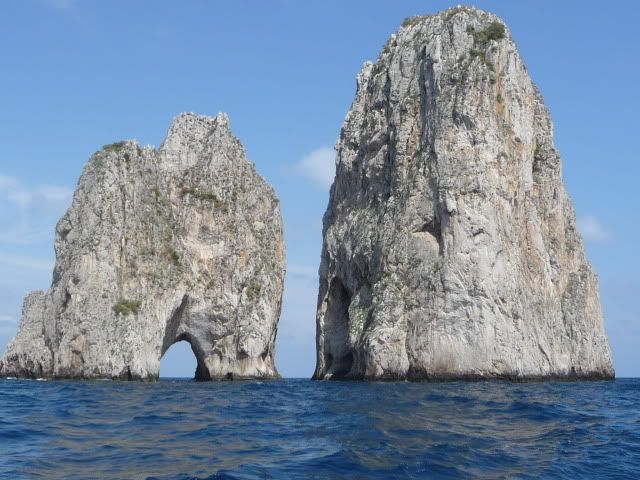 We got to one point near a cove, and they decided to anchor the boats so that those who wanted to could take a swim in the Mediterranean. I really wanted to do it, and say I've swum in the Med. I did manage to get in. I kind of jumped off the edge, and went deeper than I'd intended. I guess everyone was pretty worried, because it took me a bit to resurface. But I *do* know how to swim! I was raised swimming in the ocean of Southern California. I was OK, but it was *so* choppy that I kept getting hit in the face with water, and between that & the cold, I wasn't able to properly catch my breath. So I went back in the boat after a few minutes. I felt good that I'd done it, but I really wish the conditions had been better so I would have felt like I could stay in the water longer. But it was still a cool thing to have done and very exhilarating.
Once we got back to shore, we were taken to the restrooms (where Tina & Robyn had to pay for us!) and I changed out of my wet bathing suit. We were then taken for more delicious gelato. We then had some free time to wander the shops, etc, of the town. There was an area right down the walk where there was a Funicular that went up the extremely steep hillside to the top of the island. Tina said we probably wouldn't have time to go up, and then wait for a ride back down (there's usually a line) so she suggested we instead walk up the 100 steps that paralleled the Funicular. I and the family of 4 (the gluten free family) decided to try that.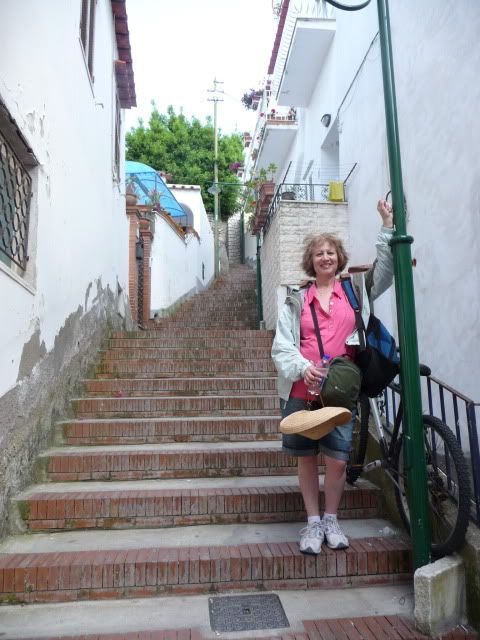 Well, there may have "only" been 100 steps, but no-one mentioned the infinite amount of
steep
ramped road between the steps. Not realizing how much there was, I really didn't pace myself properly, and became winded quite too early. I'm afraid they probably thought I was horrendously out of shape rather than just dumb... If I'd been on my own, I'd've hung out on one level until I caught my breath. Instead, the mother slowed down to my speed, and we kept climbing. It went on *FOREVER*.
Whenever we thought we'd hit the top, there'd be a sign saying "Steps continue this way ==>". We finally gave up, as we did need to make sure we had enough time to walk back down in time for our meetup. And as we were doing this, it occurred to me that what we *should* have done was take the Funicular up to the top, and then just walked *down*. Would have been much simpler, and given us some time at the top (going down was, of course, much easier and quicker). Oh, well. Hind sight is 20/20. I mentioned it to Tina that the next time, she suggest people do Funicular up, stairs down.
But we did get some lovely views, even without going all the way up. And there were some really cool doorways, and courtyards off the steep road. I can't imagine having to climb up & down to those houses every day... Yipes!
*Somebody* has a nice yacht...
After that, I stopped in one shop to buy a refrigerator magnet for Capri. We then caught the ferry straight back to Naples, and then headed back to the ship. We still had a couple of hours until All Aboard time, so a few of us chose to stay ashore and wander the area of Naples right across from the port. I decided to head off to check out the castle that was just sort of sitting there, at the other end of the parking lot. It amazed me that this castle was just *there*. It wasn't particularly a tourist spot or anything of that nature. It was almost like "Oh, yes, another castle, Ho Hum". Amazing to have so much of that sort of thing around that you can take a *castle* in your midst for granted. A sign said it was "Castel Nuovo", or "New Castle".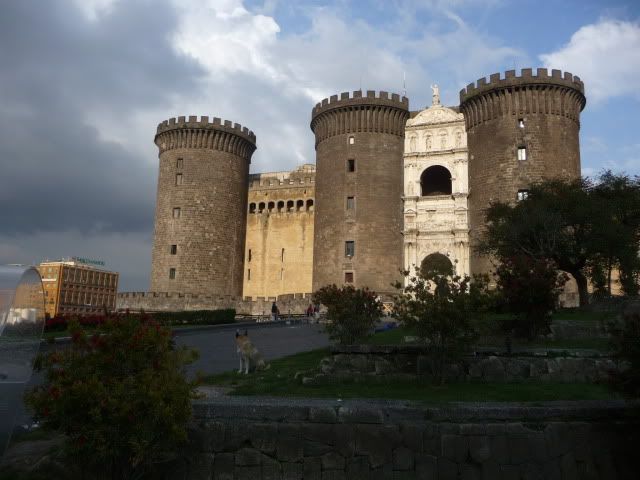 The weather was still lovely, so a long walk around the castle, taking photos, was a nice break. I thought it was pretty. They were doing some sort of construction on one side of it, so I really had to walk all the way to the opposite side of it to get unobstructed photos. And I found I could also get some really nice views of the Magic from there.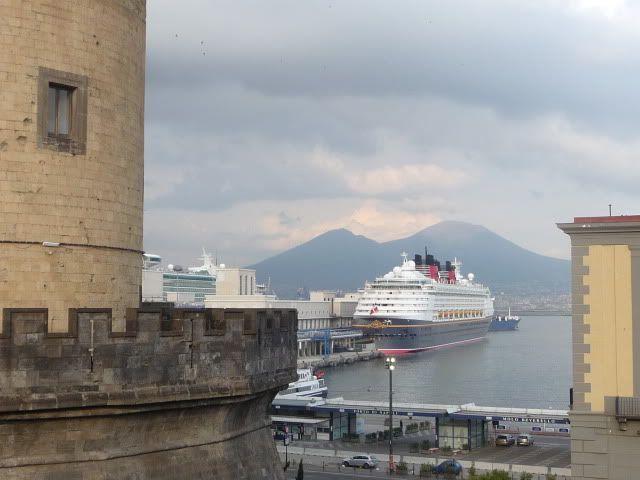 I really enjoyed my time spent wandering, and made it back to the ship with plenty of time to spare.
Today's towel animal.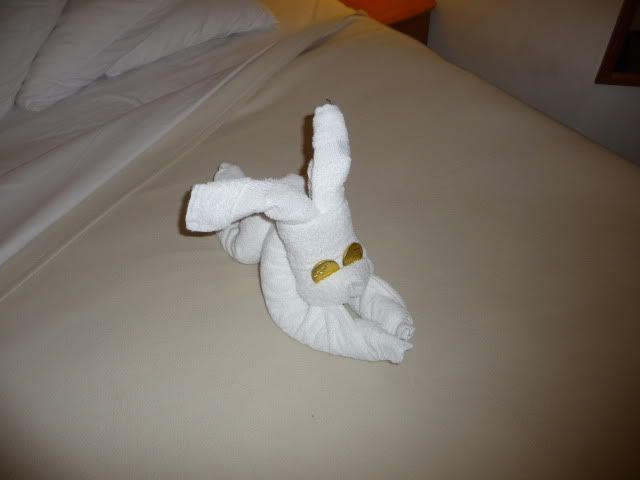 Tonight was the "show" night at Animator's Palate. For those who don't know, Animator's palate is all done up in black & white sketches all over the walls. The servers all are dressed in black & white, too. As the evening goes on, the sketches and various elements of the restaurant's decor go from black & white to color.
Personally, I thought it was going to be a much more gradual, subtle change. It was not. They went from picture to picture, it would be black & white, then color, then go back to black & white, and change to a different sketch that then went through the same cycle, etc. And then the serving staff all came out in color vests.
It was nice, but not the "transformation" I'd been led to expect. Different, but certainly nothing I need to see more than once.
I can't remember exactly which night I had which picture taken, so I guess I'll just throw this one up here. This gal actually seemed to know what she was doing. Some of the photographers, I really had to wonder just how much training they'd actually had in photography. Some of the photos were seriously bad. But I really liked this one.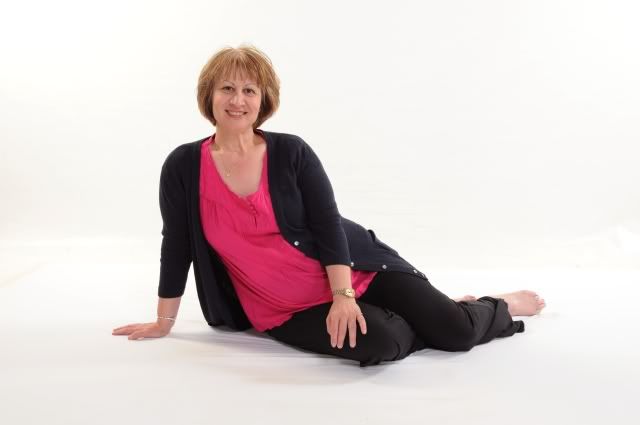 It was an early night, because the next day was going to be a death march... Fun, but a death march!
Day 6 - Civitavecchia & Rome
Well, Day 6 was the really long, hard haul to Rome. The port we landed in is Civitavecchia (pronounced Chivitahvehkeyah). We boarded our motorcoach for the long ride to Rome. Sydney, the 4 year old, was wisely left on the ship. We adults were going to have a hard time of it. Poor Sydney would have been miserable.
Our first stop -- the Vatican Museum.
This is the old entrance to the Vatican Museum, which isn't used any more. The new entrance is much more modern.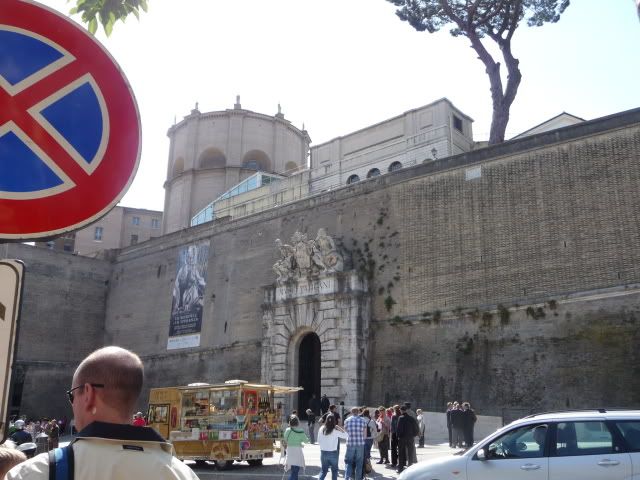 Our local guide (whose name I can't remember, argh! I had to get a lot of the names from Tina & Robyn!) told us this view from the Vatican Museum was the best view of the dome of St. Peter's Basilica. Since the Basilica itself was so big, it obscured a lot of the dome when you were actually standing in front of it.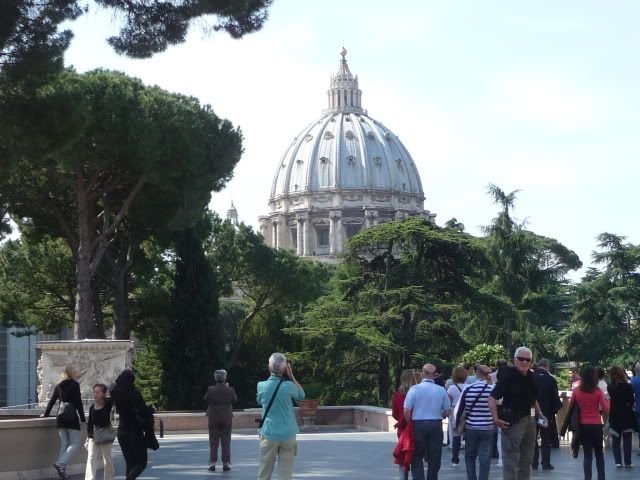 This is the courtyard outside the Vatican Museum and the Sistine Chapel. I really like that globe-like sculpture. Sort of looks like the Death Star...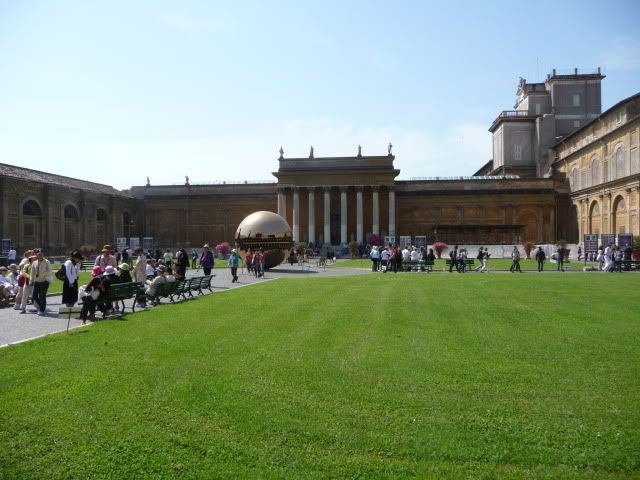 Our local Guide showed us a representation of the artwork in the Sistine Chapel, and explained some of the images & symbolism.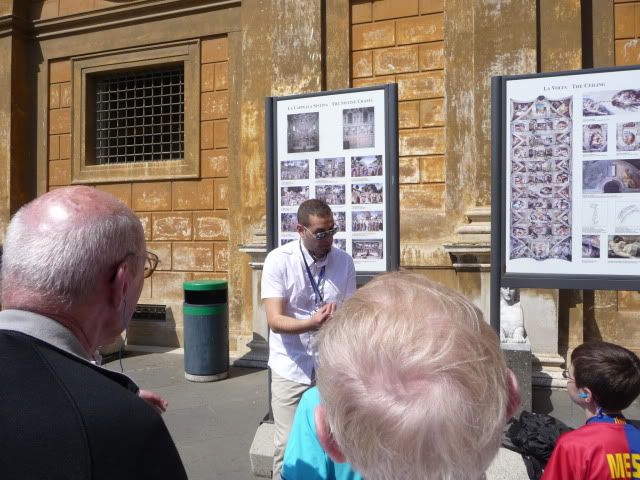 I'm really glad he did that. It made the experience even better, which is hard to believe, because the Sistine Chapel was awe-inspiring. Unfortunately, there are no photos allowed in the Chapel. I'd've loved to have taken some photos, but I'd've been there for days in that case! The ceiling is absolutely
beyond
phenomenal. It was panel after panel of masterpieces, all concentrated in one room. Truly, truly amazing.
THIS is just a hallway in the Vatican Museum, leading up to the Sistine Chapel. Amazing!!!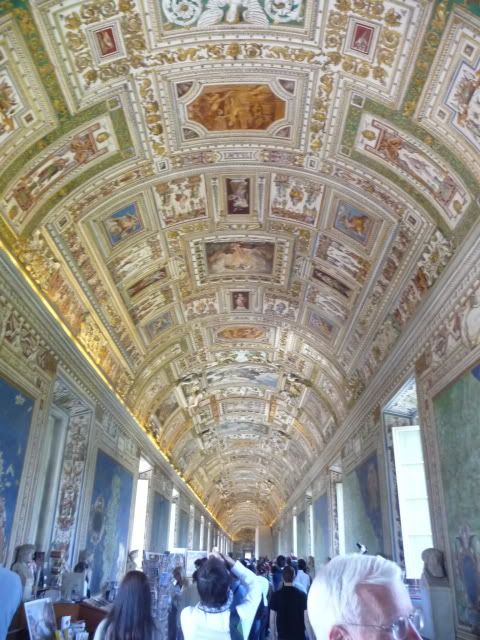 Wellp, I've reached the limit for number of pictures in one post.
More of Rome in
Part 5.